I am spending about 60 days in Las Vegas to work on assorted content and audience building projects.  If you are interested in building audiences and that sort of thing I encourage you to follow my series called 60 Days in Las Vegas.  You can find Part 1 HERE and Part 2 HERE and Part 3 HERE and Part 4 HERE and Part 5 HERE
February 17
Some Notes – I edited, organized and uploaded all of my photos from Red Rock Canyon.  I wrote 2 blog posts for the 60 Days in Las Vegas Part 4 & 5.  I posted photos of the Living Statue I seen at Fremont Street here in Las Vegas to 11 Facebook bike groups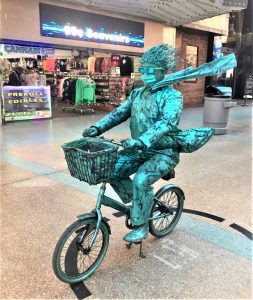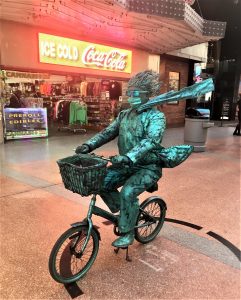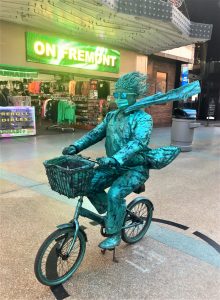 Living statue photos
I wrote out the questions and answers to a Belize YouTube video (and blog post) to be recorded in the very near future.
A fairly productive day all around.
February 18
Some Notes – The morning started out with a check in with The Healthy Way Vibes Show that went very well.  I was actually nervous because I didn't really have much to report on because I have been sitting in front of my computer since the end of January and they were giving me a full 45 minutes for this check in.  But the show went really well.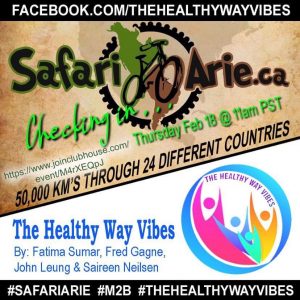 I wrote most of a new blog post about Stealth Camping.   And had a great video conversation with Aidan & his partner Matt.  They seem to be pretty excited about a potential Safari Arie t-shirt line.  I continued to worked on my Belize blog post.
February 19
Some Notes –  First thing this morning me and Brandon did an Extended Road Show about my back story of Belize found HERE.
I shared my Stealth Camping blog post to 14 Facebook bike groups.
I shared my One Tree Planted tree planting platform and received $360 donated between Jake Volz & anonymous.
I scheduled more Instagram images to Hootsuite.  Three posts per day are now scheduled until March 6.
I completed my Come to Belize blog post.  And I wrote another 3 short stories – Recognized again, The evening that everything changed and started The hat off her head.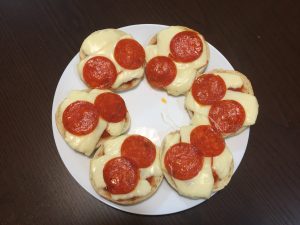 I made English muffin pizzas this evening and posted this photo.  It was a bit of hit on my profile
February 20
Some Notes –  I reviewed and updating my Media Kit notes for Jordan my website guy.  I then got all my website notes ready for all the changes/add-ons I want Jordan to make to my website to connect the bigger message of tree planting to my website.  Some of those add-ons and changes are adding a One tree Planted donation link in my Home page introduction text and adding a new Home page blog category called Environment and Tree Planting under my Friends and Hosts section.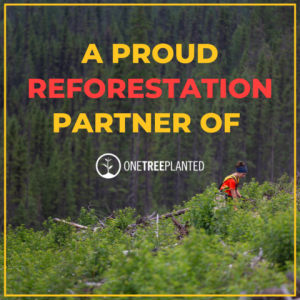 I am also adding a separate Tree Photos page under my website regular Photos page.  So for that page I set up another Flickr account for just trees and then sorted and uploaded all my best Canadian tree photos to that account.
February 21
Some Notes –  I started the morning posting a photo of my bike fully loaded to 15 Facebook bike groups.  I messaged Andy Sward if he would be interesting writing any environmental blogs for my new Environment and Tree Planting section of my website for the purposes of cross promoting.
I published my stealth camping blog.  Probably one of my longest blog post written.
February 22
Some Notes –  I shared my stealth camping blog to 14 Facebook bike groups.  I spent some time organizing my research notes.  I had a quick pow wow with Brandon about the future Belize video.  I wrote 2 more short stories – The randomness of it all & You must be biking across Canada.  And I did some reading.
February 23
Some Notes –  I worked on and updated some of my "hosting" notes on my Friends & Hosts pages for future short stories.
I then wrote and finished but not posted my Mahogany tree blog post.
All the photos for the future Belize video got picked out.
February 24
Some Notes –  I did the voice recording for the Belize video and then decided to pick out more photos for the video and then I put everything together for Brandon.
I didn't feel very productive.  I feel like staying in Las Vegas a second month is a huge waste of money and it's too late to do anything about it.
February 25
Some Notes –  I posted the stealth camping blog post to 16 more Facebook bike groups.
I finished the last part of my latest short story & then proof read and edited all 11 short stories that I have written so for.  The purpose of these short stores is yet to be determined but hopefully to help with content required for magazine article(s).
February 26
Some Notes –  I posted my Plant a Tree Friday post this morning again.
I emailed Matt (my media guy) all my short stories.  He right away encouraged me to set up an account with Medium.  Medium is a platform to post blogs and get paid when people actually read your stuff.
So I set up a Medium account.
This evening Jordan (my website guy) updated my website Home Page and a few other website edits to start connecting the bike ride to the greater cause of tree planting.  (As mentioned in my Feb 20 post).
I finally wrote a potential magazine/journalist pitch.  I posted the Mahogany tree blog post.
I spent some time organizing my Instagram notes & hashtags and my Facebook bike group notes.  Posting as often as I have been this last week to up to 35 different bike groups is a bit of work to make sure that you are not re-posting to the same group too often or re-posting the same content twice.
Facebook Groups
This is actually how I have grown much of my bike rider audience.
I actually organize everything on an excel spread sheet.  For reference I have a column with the list of close to 45 Facebook groups (mostly bike related) and their current follower numbers etc.  I then create columns every time I post some thing new.  For example, if I post my YouTube video of jumping in with an alligator, I have a column for that post.  And if I post a photo of my latest camping site or bike photo, I create a new column for that.  And then if I post the video or photo or blog post to a particular group, I put an "X" beside the group name in the respective columns.  That way if I want to post the same photo/video next week to different groups I don't accidentally re-post to the same group and then I can make my way down the list of groups.
You can image if you have different posts between 30-40 groups that mostly have the name "bike" in them.  It would be impossible to keep track of.  Typically, I try to post something once a month.  But as you can see from my notes as of lately, I am posting regularly and often.  Photos usually get the best response, but I am trying to push the blog posts to get people thinking about my website when they start researching their own ride out.
Also, some groups I have been able to join as Safari Arie instead of under my name.  In those groups if I get a post Like and I get a notification of that from Facebook I can go back to the post and click on the Likes and then invite that person(s) to Like my page if they haven't already.  A very handy tool for growing an audience from a Facebook group.
Also, many groups have rules.  Historically I don't really pay attention to rules due to lack of time.  Resulting in some posts being removed for self promotion.  So this week I made a new column for group restrictions in an effort to see if there is some loop holes or the way I word my posts to keep them on the timeline.  Or to avoid certain type of contents; for example some groups are website links or blog posts only; no photos.
So I am trying to be more careful.  For example, instead of cut and pasting a blog post and then moving on to the next group.  I post a short message with the post on how "I think this post could be helpful" or "recently I noticed a lot of people asking or commenting about this subject recently."
February 27
Some Notes –  This morning I woke up to a $40 tree planting donation from my good friend Jeanne of Hamilton Ontario.  Awesome!
I posted my What you don't see blog post to 12 Facebook bike groups with good responses.
I scheduled some updated Instagram posts to Hootsuite.  Currently updated until March 11.  I should mention that while in Las Vegas I generally have 3 posts scheduled for Instagram.  Currently I am posting a mural photo, a building from Las Vegas photo and a landscape shot of Death Valley or Red Rock Canyon.
I also got current for this year so far with my Belize and bike ride expenses, receipts, VISA and bank statements.   This is always my most anxiety building task.   I hate looking at the numbers of how much money I spend.
Assuming no one unfollows me, I reached 2,600 Facebook followers with close to 50 new flowers.  And on Instagram I reached 600 followers with 40 new followers and me and Brandon reached 260 YouTube Subscribers.  That's the way it works.  One at a time, slowly but surely.
I also worked on understanding the Medium platform some more.   Aspects of posting posts are complicated and because I am not a paid member, I can only post like 2 or 3 posts in 24 hours?  I am not sure exactly because sometime I have to delete a published post because I screw up the formatting.
February 28
Some Notes –  I posted my 21 crazy and not so crazy ways I saved for this bike ride to 10 Facebook groups.
After going to get a coffee and groceries I wrote & published a 1,500 word blog post on touring with bike trailers.
I started organizing and turning my notes into my daily post entries for my 60 Days in Las Vegas posts such the entry that you are currently reading now.  And proof read and organized Part 1 to 5 of this 60 Days in Las Vegas.  I went to bed after 2am.