Bike touring has it's challenges.  But this is where the memories are made.  This is my "what you don't see" blog post.   You get to see all the beautiful photos and videos I post.  But there are also the physical and mental challenges that come with living on a bike that for the most part you don't see.
Fellow cycle tourist can appreciate a lot of what I am about to write.  And we all have our ways of dealing with these challenges.  I had the additional privilege to be able to have experienced some of the winter challenges that many cycle tourist don't get to enjoy.  (a bit of tongue and cheek there).
Winter bike touring challenges

I remember being so tired at 4 pm for example and it being pointless to set up my tent to take a nap because it was the middle of winter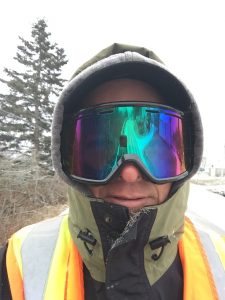 And the reason I would be so tired at 4pm was that I would toss and turn all night in my sleeping bag until 4am because I slept horribly in the cold.  Even though I would be exhausted and actually enjoyed winter camping in the tent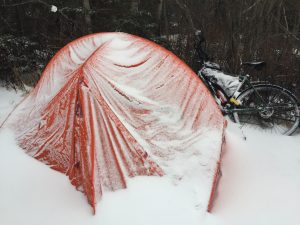 My bike bags (panniers) being caked in snow and ice and having to put them in my tent knowing they would melt inside my tent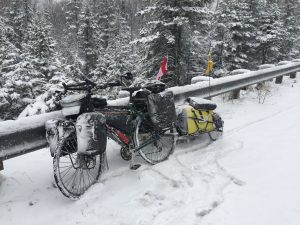 Putting cold cycling clothes on in the morning.  I would change out of my daily biking clothes every night into sleeping clothes to let my biking clothes air out
I ate in restaurants every meal because I discovered I hated cooking in the cold because was too difficult to do.  Your fingers would freeze and it would be near impossible to do dishes because everything would stick.
Summer bike touring challenges

Did you know sweat soaked clothes don't dry over night?  And they are cold and sticky to put back on in the morning (when the mornings are cooler)
Sweat soaked clothes get heavier each day
Your hair being drenched in sweat at the end of the day when you get in your tent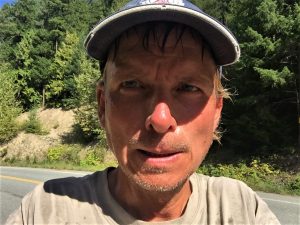 Needing a bathroom in the morning when you are stealth camping
And being anxious if you are going to need a bathroom first thing in the morning when you are stealth camping
Having difficulty finding a place to camp sometimes such as in a city and then it gets dark
Your battery packs starting to drain
6+ days without a shower
Running out of clean clothes
Being soaked from pouring rain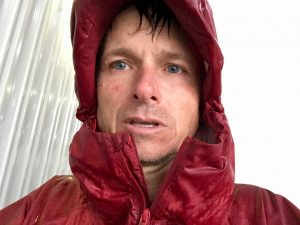 Setting up you tent in the rain
Making supper/breakfast in the rain
Biking 8+ hours a day in hot, cold or rainy conditions
There is always one last hill to your destination
When you can smell your clothes in your tent
Facing (and actually) climbing steep mountains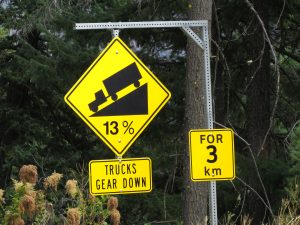 All your gear and bags being wet from the rain and having to put them in your dry tent
Setting up a wet tent
Setting up camp and making meals with 1,000+ mosquitos buzzing around your head
All the different noises that forests make (was that a bear or your imagination?)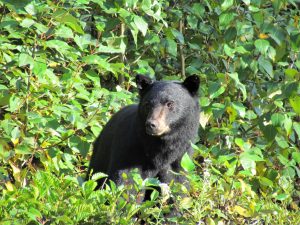 Sleepless nights because of hearing car traffic from the highways all night
Being stuck in an absolute down pour and having no where to go but to continue pedalling
On cool/cold days and being drenched in sweat when you climb hills (also a factor in the winter)
Climbing in your tent with soaking wet clothes on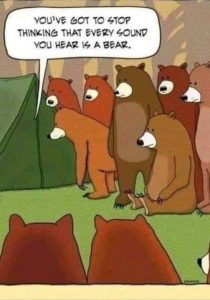 Most People
Most people have experienced many of these experiences (soaked from rain or sweat) but then they go home and have a nice warm shower and feel great.
Others bike touring challenges
Potentially another challenge for many cyclists is loneliness.  Fortunately I can not really speak to this as I don't have or feel loneliness whether I don't see anyone all day or all week.  I ended up doing a YouTube video about loneliness HERE.  I don't know if it's really bike related?  But you can check it out.  I also did a YouTube video but fear that can be found HERE
Being away from home.  This would also be another challenge that I don't really have to deal with.  I was a long haul truck driver for 6½ years leading up to my bike ride.  Finding a new place to sleep every night is nothing new for me.  Actually I was homeless and living in my truck for the last 2 years leading up to my bike ride.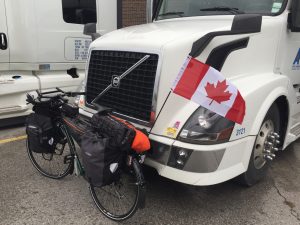 In front of my old truck
In conclusion – I love living on my bike and finding a new place to sleep virtually every night.  At the time of writing this I have been on the road for over 275 days (Oct 8,2020).  And for all the challenges – I just deal with them.  What problems that can be helped and solved through other people usually are solved through other people.  The challenges that I am required to face by myself I simply face. And on a side note, all the challenges and uncomfortableness described in this post are what make the greatest and life changing memories and best stories.
Who wants to go on a bike tour?