Come to Belize!  The following post are some of the questions and answers that were covered in a recent YouTube video done between me and my YouTube guy Brandon.  You can watch the YouTube version HERE
What is the purpose of this blog post/video?
The purpose of this video is to get people excited about planning their next adventure.  With Covid-19 and isolation and not being able to travel the next best thing is planning your next adventure.  So this video is about getting you to start researching your next great adventure.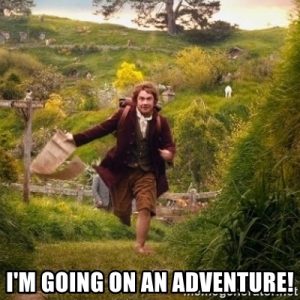 Can you give some background on Belize?
Belize used to be known as British Honduras until 1981 when they got their independence from Great Britain.  The official language is English.  Belize is largely a black country but is also a very diverse multicultural country.  With many Spanish people from surrounding Central American countries along with Native Mayan, Mennonite, Chinese, Eastern Indian and of course American, Canadian and British all mixed in.
The currency is one US dollar is two Belize dollars.  The country is considered stable and unlike all the other Central American countries has never had a genocide or coup.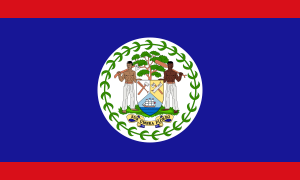 Additional information about Belize can be found HERE
What is Belize famous for?
Belize has the second largest Barrier Reef in the world next to the Great Barrier Reef of Australia.  With the second largest barrier reef in the world a lot of people come for the islands or locally known as cayes and beaches and all the activities that come with that such as diving, snorkeling and spending time on the beach.
Belize is also home to 12 major Mayan ruin sites spanning 1,000's and 1,000's of years old.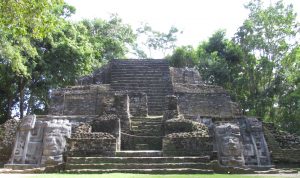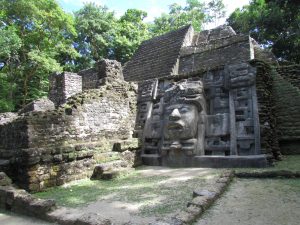 Mayan Ruins
You can find more information about the barrier reef HERE.  While I have been to and have access to a private caye I have never been to popular tourist cayes such as San Pedro on Ambergris Caye or Caye Caulker or the Great Blue Hole.
What can I say, I am more of jungle guy than a beach guy.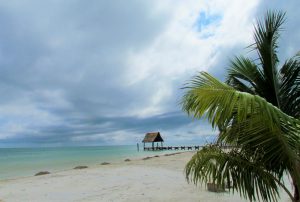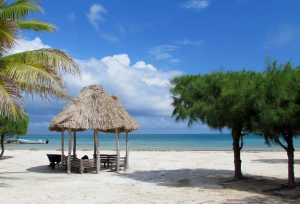 A private caye that I have access to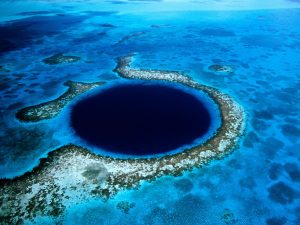 Blue Hole National Park (not my photo)
Why would I want to visit Belize?
Besides snorkeling and Mayan sites, Belize is famous for its wildlife and bird watching.  Belize is home to almost 600 species of birds and 145 species of mammals.
Also, in my humble opinion Belize is the greatest country in the world.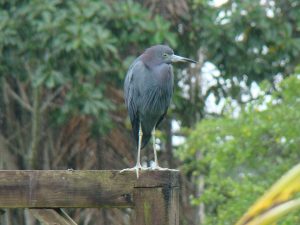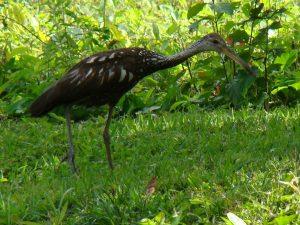 Bird Watching – Little Blue Heron & a Limpkin

I'm convinced.  I want to come to Belize.  But where do I stay?
It just so happens that I can help you with that.
Describe your house and farm
My home is approximately 1000 square ft that has an additional 1,000 square foot wrap around deck.  The house built about 4 feet off the ground.  The home is part of a 42 acres farm right on the Belize River in the Community Baboon Sanctuary.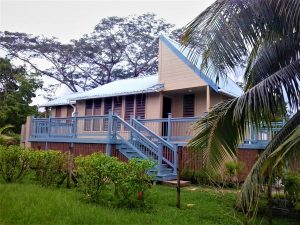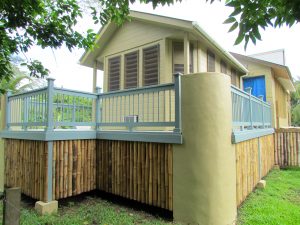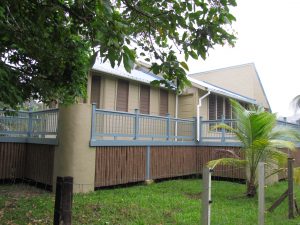 The house has a master bedroom with an ensuite bathroom.  An open concept kitchen/living room.  And a loft above the kitchen.  The living room has 2 regular size futons and there are 2 single mattresses in the loft.  So, in total the place can sleep 8 people.  And yes, we have a flush toilet and hot shower.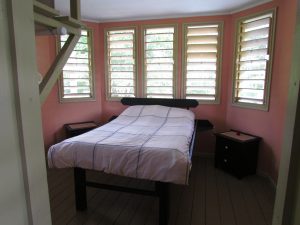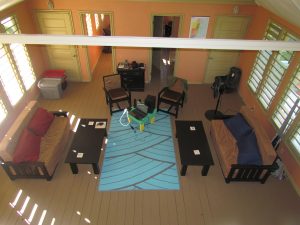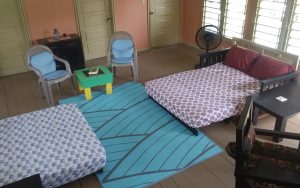 Master bedroom & living room
Lots of photos can be found on the website HERE.
The kitchen is fully stocked but we do not supply food or groceries.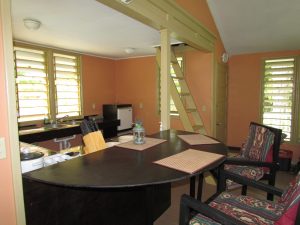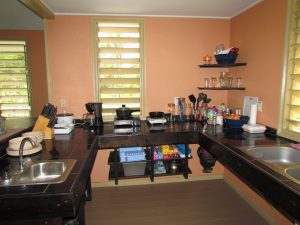 The kitchen
Most of the farm is reclaimed jungle but there are also close to 500 young coconut trees on the farm.  There are also 2 large fish ponds on the farm 300 ft long x 50 ft wide x 10 ft deep.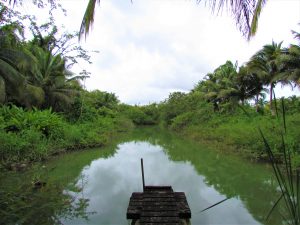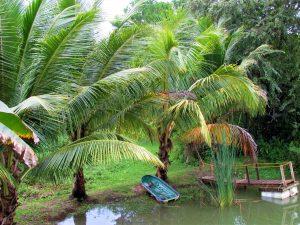 Fish Ponds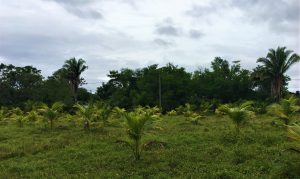 One of my coconut fields
Why would I be interested in staying there?
If you are looking for the beach than perhaps not.  If you are looking for some adventure, bird watching and hopefully some wildlife viewing than look no further.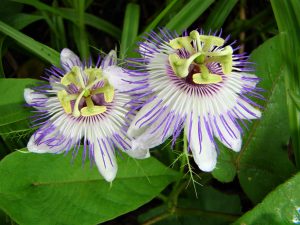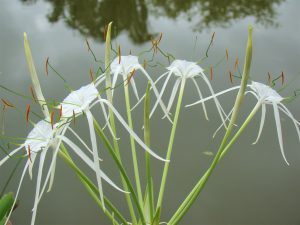 That being said Belize City has water taxi services to all those islands and the barrier reef.  Belize City is only 40 km's away.  So you can enjoy the best of both worlds.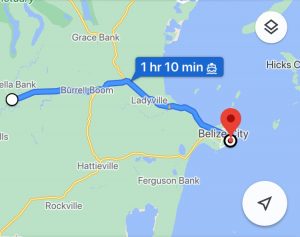 40 km's to Belize City
Tell me more about the Community Baboon Sanctuary
In 1985 a grass roots conservation project was developed.  Over 200 private landowners in seven villages, stretching over 20 square miles, have voluntarily pledged to do their best to adhere to certain farming practices to help conserve their land for the protection of the Black Howler Monkey habitat.  According to my research the population of the Black Howler Monkey in the Sanctuary has risen to over 2,000 monkeys.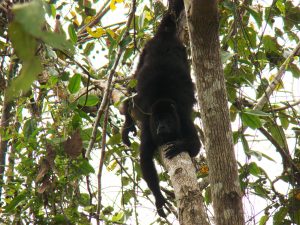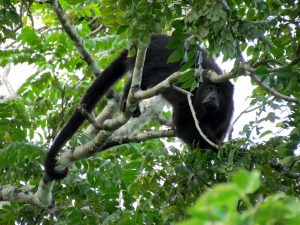 Black howler monkey's on the farm
More information can be found HERE
What kind of animals can be found around the house?
Apparently, Belize has almost 600 species of birds with close to 200 of those species right in our area.  We have a large concentration of jaguars and wild cats crossing our road.  It's actually believed that the road might go through a corridor they use regularly.  Of course, we have lots of black howler monkeys which can be seen almost daily and for sure heard all through the day.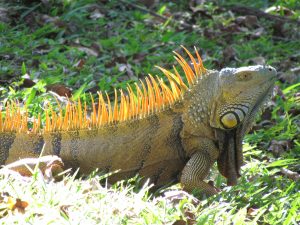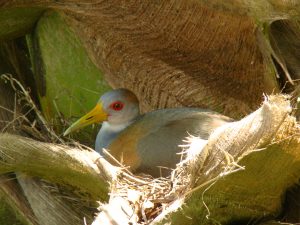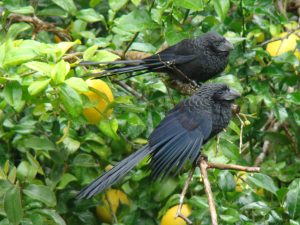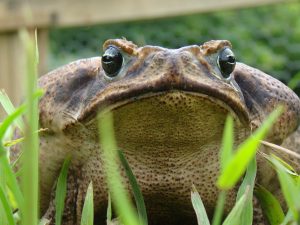 Green Iguana/ Grey-necked Wood Rail/ Black Ani's/ Cane Toad
Crocodiles can be seen in the ponds.  Other animals spotted but not often seen are jaguars, puma, ocelot, jaguarundi, tapirs, coatimundis, anteaters and Mexican porcupines just to name a few.  There is also the potential for tree frogs, snakes, scorpions, tarantulas and turtles.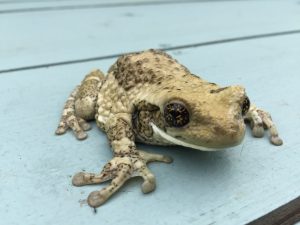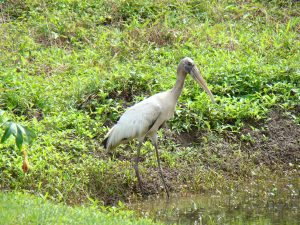 Milky Treefrog & a Wood Stork (I think)
What are your favorite past time activities to do in Belize?
First thing in the morning I like to walk out to my fish ponds to see if any wildlife or different types of birds are visiting.  I love taking a walk down my road.  You never know what bird or animal might be out and about.  And in the evening to sit on my deck to watch and listen to all the bids and parrots come back from where ever they went for the day.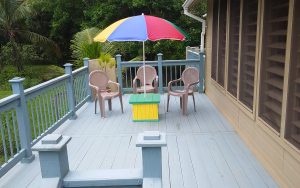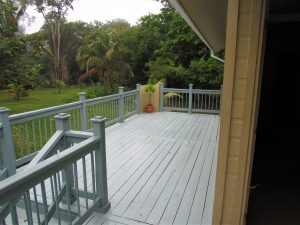 I love chillin on my deck in the evening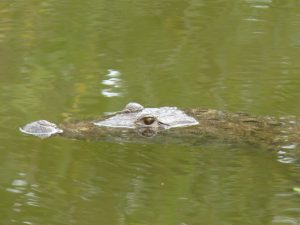 If your patient one of the crocs will show himself at the ponds
Are there any stores around for supplies?
In our village of Scotland Halfmoon, about a 3 km's back down our road is a local Spanish family that sells the bare essentials.  Another 2 km's further, on the main road towards Bermudian Landing is a gas stations with a larger selection of groceries and supplies.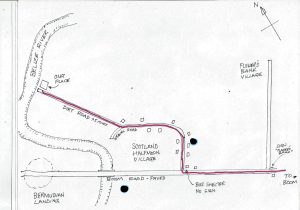 The 2 black dots shows the 2 closest shops to the farm

What happens when I land?
You can either make arrangements to rent a car or for $75 USD we can make arrangements to have you picked up and brought to the farm.  We use our regular guy who is very trustworthy and can be counted on.  Heather one of the property managers will be there to greet you once you leave the airport terminal.
If you rent a car generally 4 wheel drive is recommended.  The last I heard was renting a car was approximately $100 USD a day.
Once you have left the airport by whatever means you chose it is recommended that you stop at the Sky City Grocery store right when you get to the Northern Highway (less then 3 km's down the road).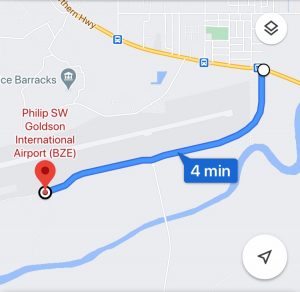 3 km's to Sky City Grocery
Sky City Grocery store is going to have your best selection and prices for groceries.  This is also where you will probably want to pick up any beers or liquor.  If you are taking advantage of out taxi services Derrick will take all the time you need for shopping.
The farm is about 30 km's from the airport.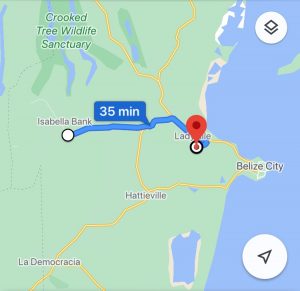 The airport is 30 km's to the farm
What other services do you offer?
Derrick our taxi guy is generally willing to chauffeur and taxi you around the country.  Usually the average charge is $100 USD plus gas for the day.  Heather the property manager has travelled from one end of the country to the other and is happy to help you figure things out and give advice.
Don't forget it's another $75 USD for taxi service back to the airport.  We do not receive any kind of cut for these services.  100% goes to Derrick and his family.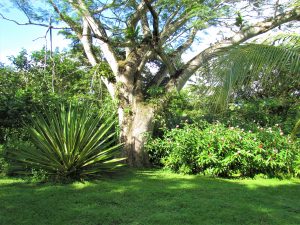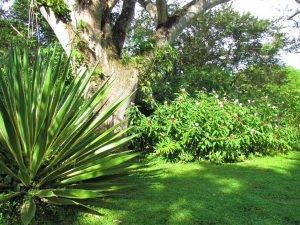 My backyard and the tree responsible for me rebuilding my house
How much does it cost to rent the house?
Including hotel taxes etc it generally works out to about $109 USD a night.  I try to use Airbnb discount pricing as often as Airbnb lets me and there are generally deals for week long visits and longer.
Also, where staying at my place is especially to your benefit is there is no extra charges for up to 8 people staying.  So the larger your group the better the individual price per night.  Unlike a typical hotel room that only sleeps 2 people.  We sleep up to 8 people.
Also 100% of all money from the house rental stays in Belize. Rent my home on Airbnb HERE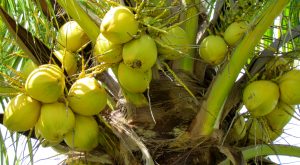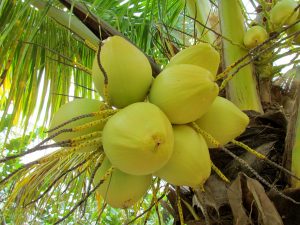 I live my coconuts
You mentioned property managers?
Dan and Heather Michalewicz originally from Canada live on the farm in a cabana about 600 ft from the house.  Dan and Heather are Canadians that have been in Belize almost 30 years.  They are the people that introduced me to Belize and who built my house.  They can help you with anything and everything.
Do you have a website or social media pages?
Website: www.riverviewbelize.com
River View Farm and Retreat of Belize on Facebook
@riverviewfarmofbelize on Instagram
YouTube under my full name Arie Hoogerbrugge.  But you have to scroll through all my bike ride videos first.
Please reach out with any other questions that you may have.  Also check out our FAQ page on the website for more information HERE.