Consider a better bike route through western Saskatchewan and eastern Alberta.  Get yourself off the TransCanada Highway and see a whole other side of Canada.
A better bike route through western Saskatchewan
Many people cycle the TransCanada Highway straight through Saskatchewan.  This route is approximately 650 km's across.  I took an alternate route and pedalled 805 km's and I am glad I did.  I feel that there is a lot more to Saskatchewan than what the TransCanada offers.
On a side note Moose Jaw has a lot to offer.  I suggest that you Google Moose Jaw attractions.  You will find that Moose Jaw is famous for their murals, Mac the Moose, the tunnels and has a Burrowing Owl Interpretive Center to name a few of its attractions.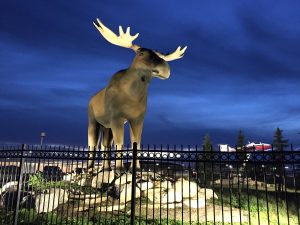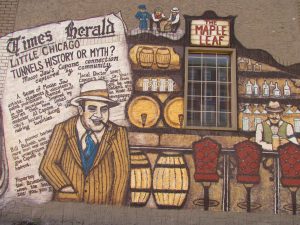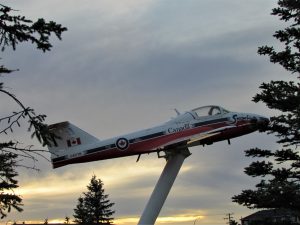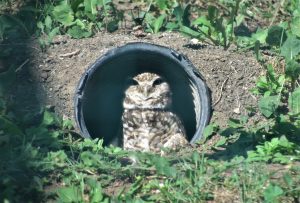 Moose Jaw
I biked west bound.  Many pedal east bound.  Simply reverse the following details according.  Ultimately I was looking for an alternate route to The Hoodoos and Drumheller from Saskatchewan.  I found a few interesting attractions along the way.
I took Hwy 32 that heads north west just west of Swift Current.  The highway had good shoulders and is a lot flatter than the TransCanada was west of Moose Jaw.  The best part about highway 32 is way less traffic.  The piece and quiet was amazing.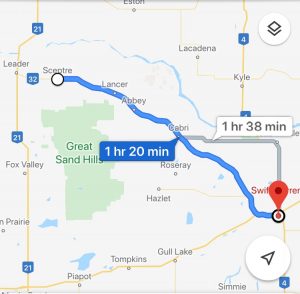 A Google Map screen shot showing Swift Current to Sceptre (disregard travel time)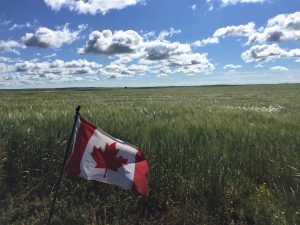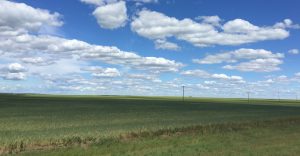 Saskatchewan
I was also able to have a completely new experience of Saskatchewan's flatness and vastness.  If people find the TransCanada flat and vast Highway 32 takes it to a whole other level.
I noticed that almost half the cars/drivers coming your way will wave at you.
On the flip side there is not a lot of sources of water or supplies going this way.  Following Hwy 32 Cabri has a completely stocked Co-op grocery store (closes at 6pm on Monday to Friday, 5pm on Saturday and I think closed on Sunday).   Cabri is 66 km's from Swift Current
A little further west is Abbey.  They had a hotel that looked like it had a restaurant.   Further west is Lancer which look like modern day ghost town.  I saw no services there.
When I pedalled into Sceptre I pedalled up to the museum which was closed.  I noticed an outside faucet and was able to top up my water there.  Sceptre is 130 km's west of Swift Current.  On the window of the museum was a map of how to get to the Great Sand Hills.  Road signage to the sand hills seems to be lacking???  Sceptre does have a restaurant.  See the map for directions.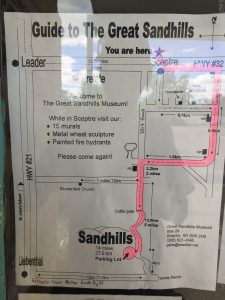 It is about 20 km's of gravel roads to get to the Great Sand Hills.  There is no camping at the sand hills.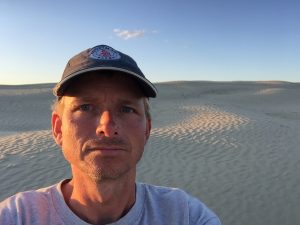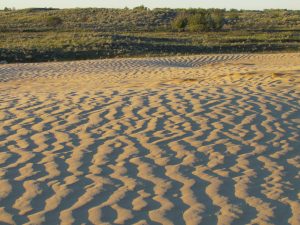 The Great Sand Hills
Exiting the sand hills I turned left (west) instead of backtracking north.  Either way is 20 km's of gravel.  I found the road heading west was softer gravel and I got stuck pedalling into a headwind which was miserable.
Heading west though I came across the historic Blumenfeld Church and Shrine to Our Lady of Sorrows.  The cemetery at this church had rows of unmarked crosses that I would quickly realize were graves of babies/children.  I also seen my first mule deer's and pronghorn antelope out this way.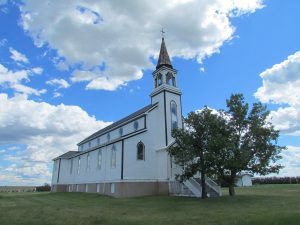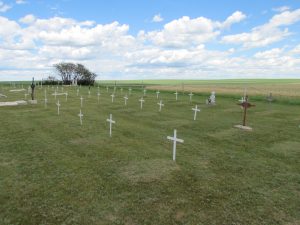 Blumenfeld Church and Shrine to Our Lady of Sorrows
Leader SK is about 40 km's north west of the sand hills.  Leader is a full service town.  A fully stocked grocery store and everything.  There is a Lion's/village campground.  I did not bother using it.  It appeared to be a full service campground in the center of town.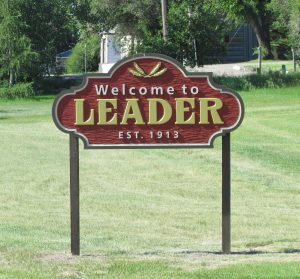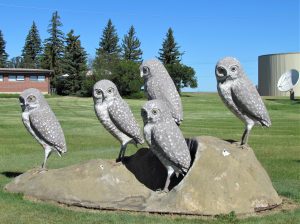 The Alberta border is a 47 km's gravel road away from Leader.  The road had hard packed tread paths most of the way.  In Estuary there is cool but very short ferry to take over the Red Deer River.  On the other side of the ferry on your way up and out of the valley look to the shoulders for small Prickly-pear Cactus growing.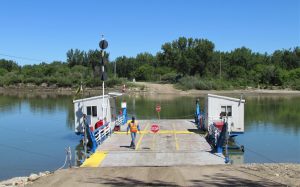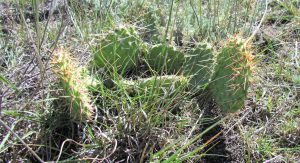 Estuary Ferry & my first prickly pear cactus
A better bike route through eastern Alberta
The pavement starts at the Alberta provincial border.  Five kilometers into Alberta is the town of Empress.  They also have a full service campground and a general store called That's Empressive.  So in Empress all necessary services are available – camping, showers and groceries.  100 km's down the road (west towards Brooks) in Jenner is a gas station.  You would not know it from the outside of the building but they do have a few groceries inside.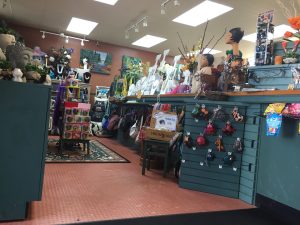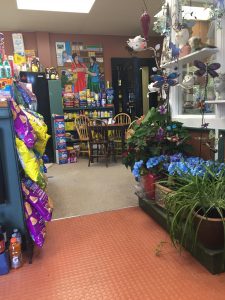 That's Empressive
Another 50 km's towards Brooks is Patricia.  Patricia has the Badlands Mercantile.  Kevin the owner is a really good guy.  He helped me out big time with a bike issue.  Unfortunately he is mostly a gift and souvenir shop and only has cold soft drinks and ice cream; that's it.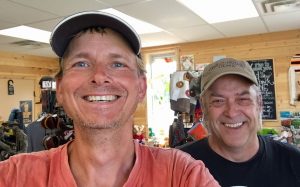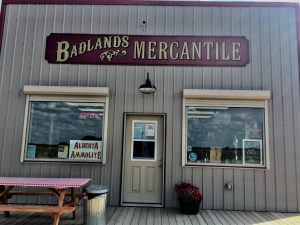 Kevin is a great guy
Brooks is another 32 km's down the road from Patricia and Duchess is about 23 km's down the road.  Brooks is a city and according to Google Maps Duchess has a convenience store.
When I entered Patricia my plans where to head to Dinosaur Provincial Park.  Dinosaur Provincial Park is a bit less then 30 km's into the actual campgrounds of the park.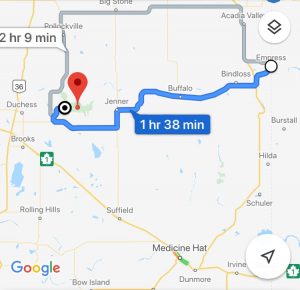 A Google Map screen shot from Empress to Dinosaur Provincial Park.  Showing Medicine Hat & Brooks for reference.  (Disregard drive time)
I had some bike issues when I arrived in Patricia and had to catch a lift with Kevin from Badlands Mercantile into Brooks.  This allowed me to stock up on groceries but then I had to back track to Patricia to reach Dinosaur Provincial Park.  From Brooks I pedalled approximately 50 km's to the park.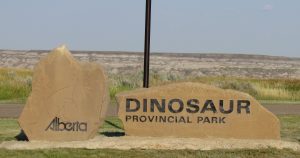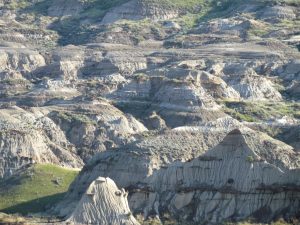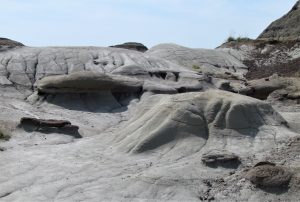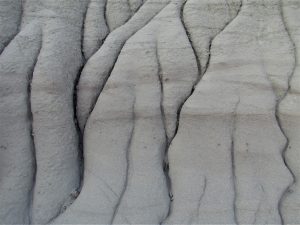 When I left Dinosaur PP I had over 6 litres of water with me.  Dinosaur PP to Drumheller is 165 km's.  The Hoodoos is about 16 km's before Drumheller.  At the Hoodoos during tourist season there are 2 ice cream trucks that sell expensive cold drinks (only).
I did not stop at Emerson Bridge Park Campground about 53 km's from Dinosaur PP.  But you might want to top up your water there.
I also visited Dorothy just before I reached the Hoodoos.  Dorothy is like a ghost town with the last remaining standing grain elevator in Alberta.  Tom Cochrane's video Life is a highway was taped here and at the Hoodoos.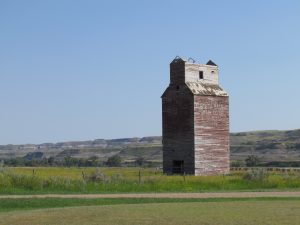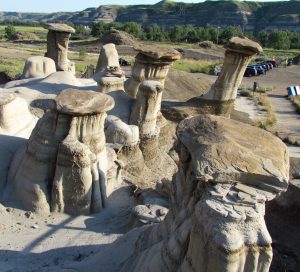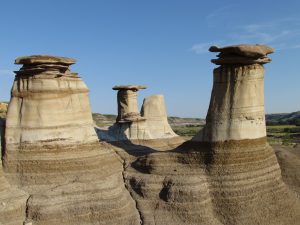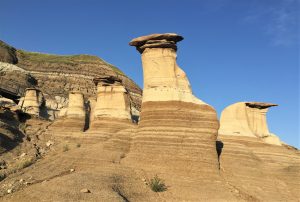 Dorothy & The Hoodoos
In Drumheller I also visited The Royal Tyrrell Museum.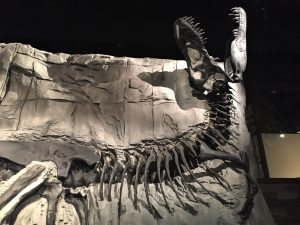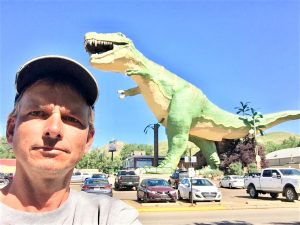 The Royal Tyrrell Museum & Drumheller with the worlds largest dinosaur
From Drumheller to Calgary it is about 140 km's with the full service town of Beiseker about midway.
Horseshoe Canyon is on the way to Beiseker.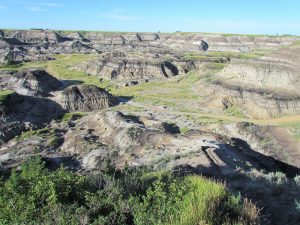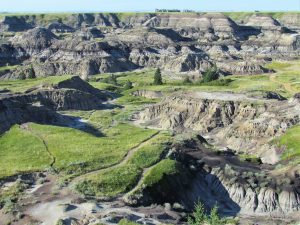 Horseshoe Canyon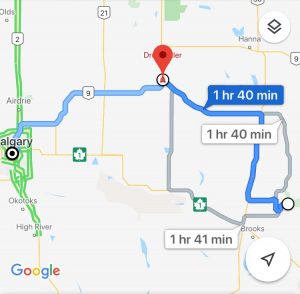 Screen shot of Dinosaur Provincial Park to Drumheller to Calgary (disregard travel time)
Water
Water sources are somewhat limited on Hwy 32.  Swift Current to Sceptre (130 km's) but with some available sources.
And biking between Dinosaur PP and the Hoodoos (165 km's) I was basically out of water.  I initially brought about 6 litres which is a lot of water and pretty heavy.  Keeping in mind I pedal slower than most.
I imagine water from locals is possible; keeping in mind most farms have a 5 km driveway (both ways).
Attraction Highlights
Taking this way I was able to pedal past, through and visit
In Conclusion
It seems most people don't really like pedalling through Saskatchewan.  Saskatchewan was a real experience for me.  Taking Hwy 32 was so vast and flat; far more then what is experienced on the TransCanada.  To be so exposed and in the open and not being able to escape the elements.
Every night I camped 100 feet off the road beside the farmers field in the wide open.  No one bugged me.
I feel like I had a far more richer experience in Saskatchewan than most bike tourists and am glad I took this route.  Consider a better bike route through western Saskatchewan and eastern Alberta
My Blog Posts Written Along This Route
Alberta – The Hoodoos to Calgary – August 2 to 8
Alberta Badlands – July 28 to August 1