July 28
Some Notes – Arriving in Empress Alberta yesterday.  Today is my first full day in Alberta.  Today I also get to celebrate 200 days on the road (not including time off for Christmas and Covid-19).
I celebrate the day in front of my computer.  Internet speed were slow being the end of the month.  I have so much to do and am always way behind.  I feel I was still productive with slow internet speeds.  But because internet speed is so slow I will move on tomorrow even though I have so much work to do.
I wrote a blog post reflecting on 200 days on the road.  You can read it HERE.
My time with Pat and her son Ted has been amazing and awesome.  Pat has so many stories from her past.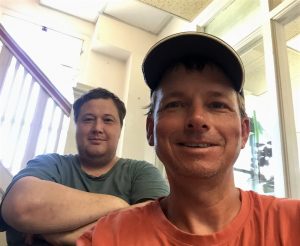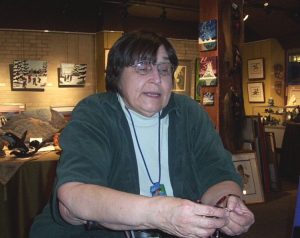 Ted and Pat Donaldson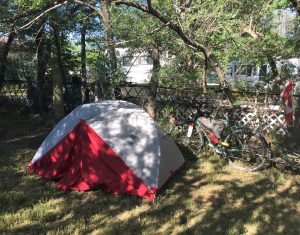 July 29
Km's Pedalled – 83 km's
Destination – just past Atlee
Some Notes – Today was a hot day with headwinds.  A Telus technician by the name of Fabian out of Brooks stopped to give me water.  That was appreciated.
I discover a second species of cactus that I was completely unaware of.  It was just by chance that I saw it.  So I was pretty happy about that.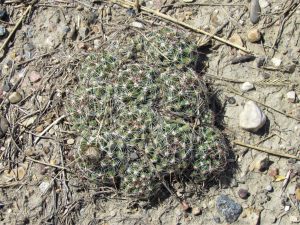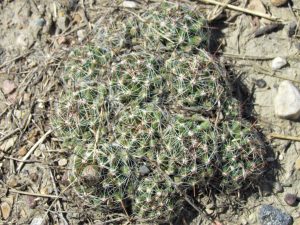 Coryphantha vivipara var. vivipara – beehive cactus, pincushion cactus
Today was a good day to see wildlife.  I came across a Pronghorn antelope.  Actually, I think we were both a bit startled.  Very luckily, he did not run off so quick and I was actually able to get my best antelope photos of him.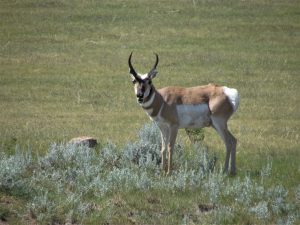 Pronghorn Antelope
I saw my first Bull snake in the wild.  Unfortunately as road kill.  Looking for snakes in an abandoned 100 year old barn I found a Great Horned Owl.  He was pretty quick to fly away.  Instantly out of nowhere 2 hawks were on him.   I also saw a white-tail jackrabbit and a mule deer.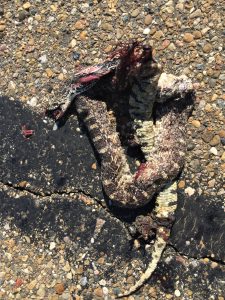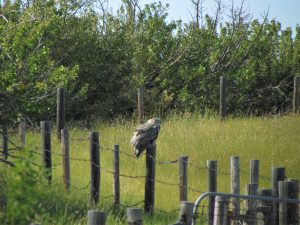 A dead Bull snake and a scared off Great Horned Owl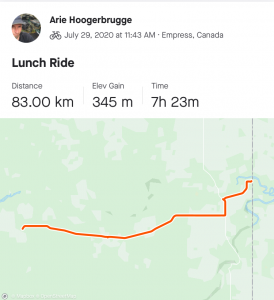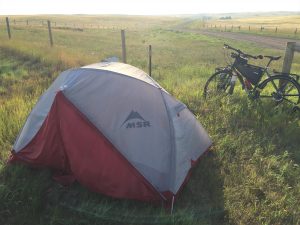 July 30
Km's Pedalled – 68.5 km's
Destination – Patricia and then got a lift into Brooks
Some Notes – Another hot sunny day and the winds were not horrible.   I saw more Pronghorn antelopes.  I saw a badger run across the road way up ahead of me and then seen him stick his head up through the grass and watch me pedal past him.  I also saw a hawk picked up a dead snake off the road directly in front of me.  And I startled another Great Horned owl in another abandoned barn.
Almost getting into Patricia my chain and pedalling started giving my trouble.  I instantly recognized this as a potential rear hub issue.  A close inspection revealed grease over my cassette.  The hub cap must have loosened and grease was escaping my hub.
I walked into Badlands Mercantile gift shop/snack shop and Keven the owner right away got on the computer and phone looking for options for me.  We ended up discovering that there was "this guy" in Brooks that worked on bikes.  Lucky for me Kevin lived in Brooks.  Lucky for me Kevin had a pick-up truck for my bike and gear.  And lucky for me Kevin was closing in 15 minutes.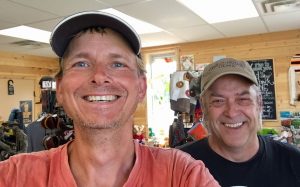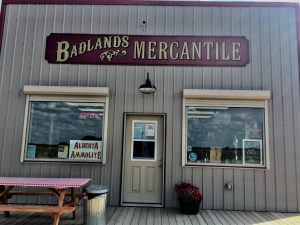 Kevin the owner of Badlands Mercantile
It took a few more phone calls and some searching to find "this guy."  He doesn't run a proper business so there was no phone number and he wasn't expecting me.  We just had a description of a yellow garage with about 50 bikes piled all around and roughly what neighbourhood to look in.
We found the place at about 5:30 pm.  No one was home and I waited until 8 pm when "a friend" arrived.  I explained why I was waiting and he offered to look at the bike for me.  This friend was aware of what kind of tools the bike guy had.  And this friend realized that the bike guy would not have the tools to remove my cassette to get at my hub.  We both figured out that if I was able to inject some grease into my hub I could keep pedalling to Calgary.
Putting my wheel back on we discovered that the rear derailleur hanger wheel was also completely seized.  This was actually what was causing my chain to shake when I puedalled into Patricia.  Thank goodness for Kevin as I would never have made it into Brooks without his truck.
This friend quickly swapped my derailleur wheel out for another one and I was on my way.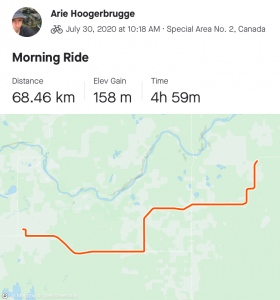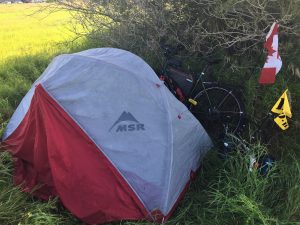 July 31
Km's Pedalled – 53 km's
Destination – Dinosaur Provincial Park
Some Notes – Another beautiful day as usual.  Except I had headwinds heading east.  I am finally heading in a direction to take advantage of the prevailing westerlies and the wind is SE.
I had a busy morning in Brooks between Canadian Tire (for grease for my hub) and grocery shopping and doing some YouTube videos with Brandon and packing up.  I didn't leave Brooks until 2pm.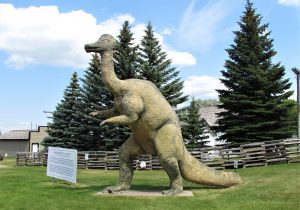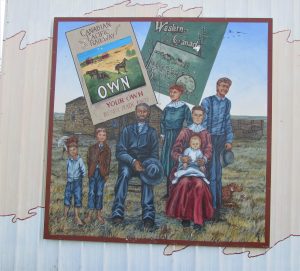 Brooks Alberta
I pretty much arrived back in Patricia 24 hours after I had first arrived. I visited Kevin for a bit and then made my way Dinosaur Provincial Park for the evening.  I hiked one trail and took about 100 photos or more.  I made dinner in the park but because I did not have a proper camping site I pedalled up and out of the park and camped right on the park boundary beside the road.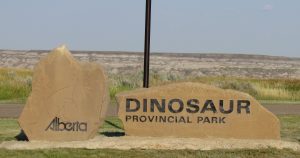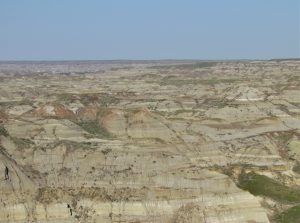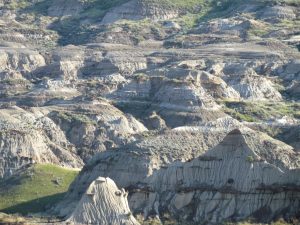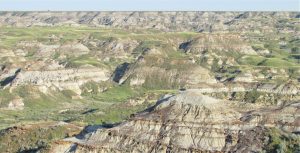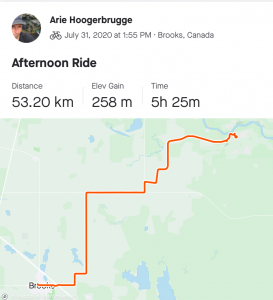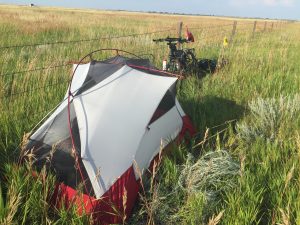 August 1
Km's Pedalled – 78.5 km's (about 60 km's towards Drumheller from Dinosaur Provincial Park)
Destination – Highway 36 north of Deer River
Some Notes – I started the morning glimpsing a rattlesnake.  These people stopped on the road opposite my tent and mentioned that they had received a tip that a Prairie rattlesnake lived under the Texas gate at the entrance of the park.  Sure enough we heard the rattle and I got barely a glimpse before he disappeared into a pipe.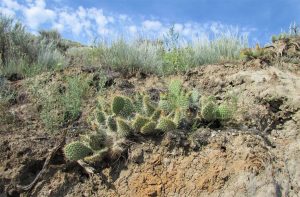 Prickly Pear Cactus – this post shows photos of 3 distinctly different cacti
A beautiful day and I spent it exploring the rest of the park.  I hiked at least 10 km's and I must have taken over 400 more photos.  My bike attracted quite a bit of attention and I had a few interesting conversations.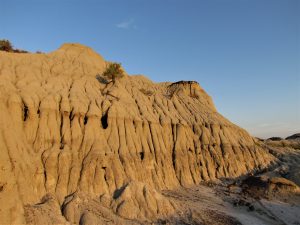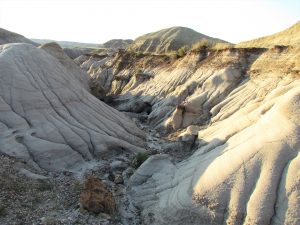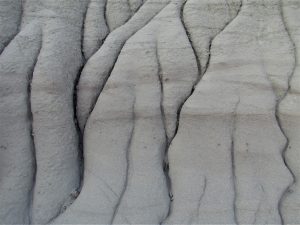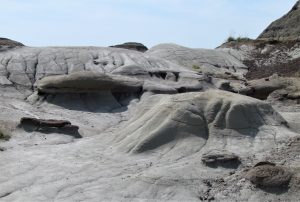 I highly recommend Dinosaur Provincial Park to explore the Alberta Badlands and to see some amazing and stunning Canadian scenery.
I biked until dark as I had no winds.  In the evening north of the Red Deer River I had the most amazing and awesome experience of seeing a Prairie Rattlesnake.  I caught it out of the corner of my eye and I instantly knew what it was.  There was no place to lean my bike so I had to lay it on the ground.  There was also garbage or sticks that I could move grass out of the way for better photos but I did get a few good photos.  Seeing this rattlesnake was truly my greatest find.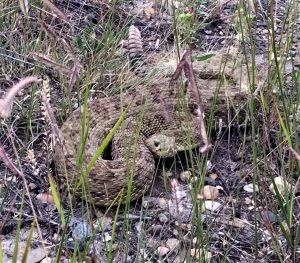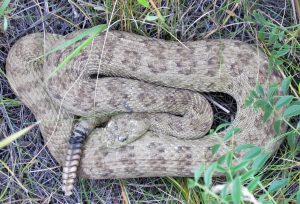 A Prairie Rattlesnake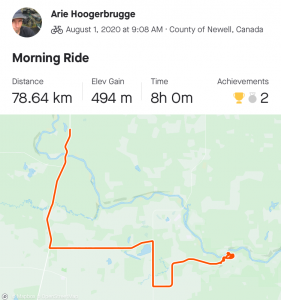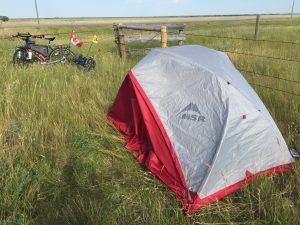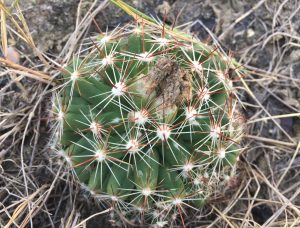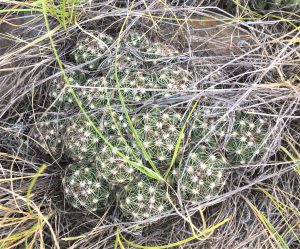 The next morning I found a bunch of cacti.  These guys again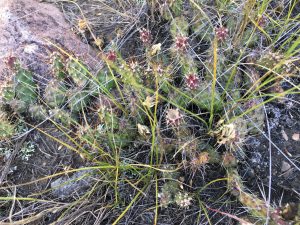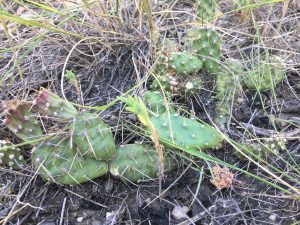 And these guys.  I think these guys are a 3rd species – Opuntia fragilis – brittle/little prickly pear cactus
Saskatchewan – July 17 to 28 & Summary