July 6
Km's pedalled – 106 km's
Some Notes – I traded the hills for a headwind.  Today has been very windy, hot and sunny.  The headwind seems to have made the temperatures or at least the humid index more manageable.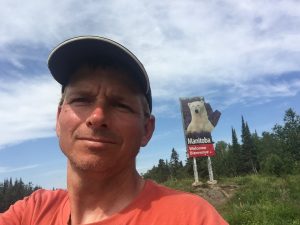 I saw 2 (separate) cycle tourist heading east in Manitoba near the border.
Today ended up being the second day in a row of pedalling over 100 km's in a day.  This is a first for me.  I basically pedalled into the dark and pedalled just past the Hwy 12 interchange (by Ste. Anne) and camped beside the TransCanada in a corn field behind a mobile billboard.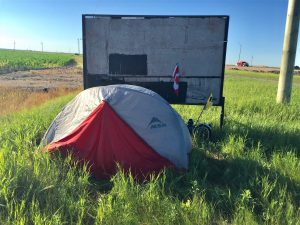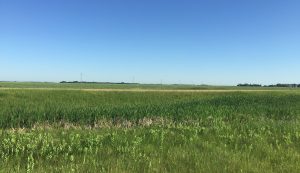 July 7
Km's pedalled – 51.5 km
Some Notes – I made it to Winnipeg.  I returned my faulty rear bike tire (that was replaced in Thunder Bay) and was able to get a bit of a tour downtown.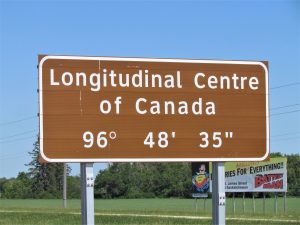 My host is Louis Masur and I found her on Warm Showers.  She lives in the Corydon Area which seems to also be known as Little Italy.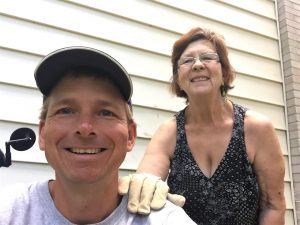 With Louis Masur
It was a real nice day to bike and the winds were light.
July 8
Some Notes – I pretty much spent the day updating my blog and uploading and editing my recent photos.
July 9
Some Notes – I had planned to move on from Winnipeg quickly.  I had got pretty caught up on blogging yesterday and had just been stuck in Fort Frances for a whole week.  My host Louis convinced me that I should see some of Winnipeg.  So I decided to do so.  Today I did a walking tour of Winnipeg and was glad I did so.  I walked around the Legislative Buildings, I visited the Winnipeg Art Museum (WAG), the Human Rights Museum and I walked to the Boniface Cathedral, I walked through The Forks and then I walked back to my host.  Winnipeg is a lot more then I thought it was.  Realistically I walked a bit over 15 km's today.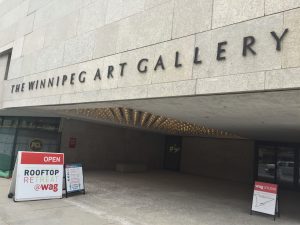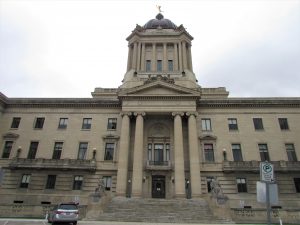 The Art Gallery and Legislature building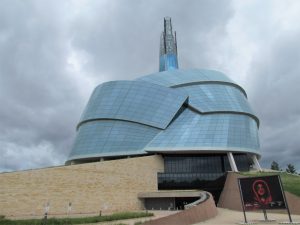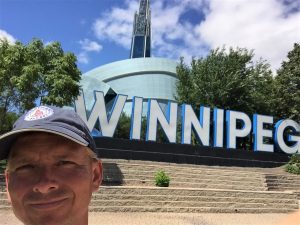 The Human Rights Museum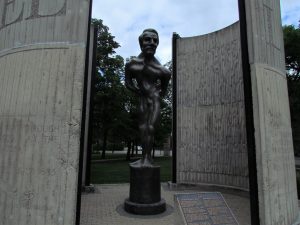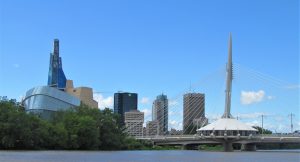 The most hated statue of Louis Riel and Winnipeg's famous walking bridge
July 10
Km's pedalled – 105 km's
Destination – 10 km's east of Macgregor MB
Some Notes – A beautiful sunny day as usual.  There was some head winds.  Because I was a little south-west of Winnipeg downtown I took Hwy 105 west to the 241 just underneath Headingly to avoid unnecessary traffic on the TransCanada.  The 241 was a good idea but Hwy 105 was under construction.
So far I have noticed that there are not many options for stealth camping here in Manitoba.  Most places where any trees are usually wind breaks for a farmer's home.  And between the "wind breaks" are corn fields, wheat, barely or canola fields.  So what I am finding myself doing is pedalling until about 9 – 9:30 pm and camping right out in the open next to a crop field a few hundred off the TransCanada Hwy.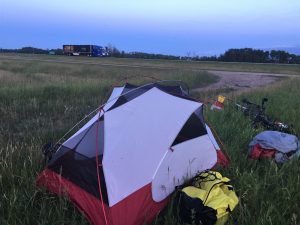 Setting up camp at 9:30 pm
The new type of wildlife I am seeing is prairie dogs but they are very difficult to photograph.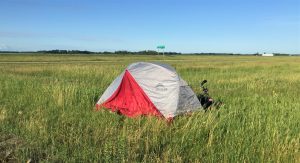 July 11
Km's pedalled – 77.5 km's
Destination – CFB Shilo
Some Notes – Today was another beautiful sunny day and the headwinds were not to bad.  I met another cycle tourer heading east named Isabel from Montreal.  It sounds like she has done a much of cycling in Europe and Asia.
I made it to a host named Steve Sloat who is a Captain in the Artillery division in CFB Shilo.
Click here for a map to CFB Shilo – cfb_shilo_map_mslc
July 12
Some Notes- Today was a day of touring around.  Steve gave me a bit of a tour of CFB Shilo and then we went to Camp Hughes and then later in the afternoon we went to Westman Reptile Gardens.
This is my first time on Canadian Forces Base.  So I am thankfully for the experience.
More information on CFB Shilo can be found HERE
Camp Hughes is an old World War 1 training base.  More information on Camp Hughes can be found HERE
We then went to Westman Reptile Gardens which was a huge disappointment.  I don't recommend going there at all.  There were no photos taken and no hyper-link will be provided
While Steve was explaining the G11 Light Armoured Vehicle the Last Post happen at 5:30 pm.  Last Post is when they lower the Canadian flag on the base. During Last Post you stop what you are doing and face "the flag" until the music (over the loud speakers) is completed.  If you are in uniform then you salute.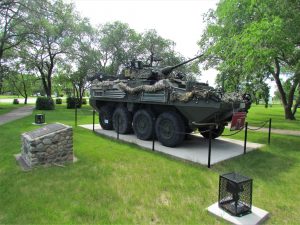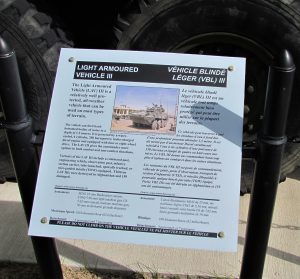 July 13
Some Noted – This morning was the first morning that I woke up to rain since Newfoundland.
After the weather cleared up I took a tour of the Royal Canadian Artillery Museum.  A very fascinating museum and very well done for a small museum.  For a small museum it took me almost 3 hours to complete.  I was very pleased to taken the time and took a few hundred photos.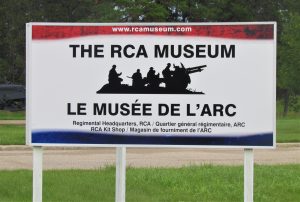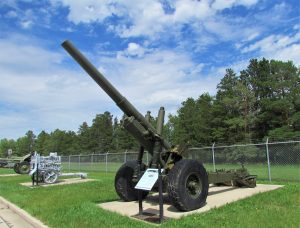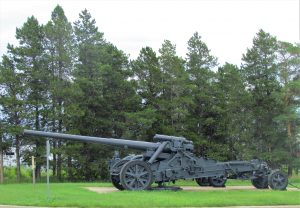 My host Steve's wife Kathy made me an amazing t-shirt this evening.  One that I will be shipped home as to not be ruined on the road.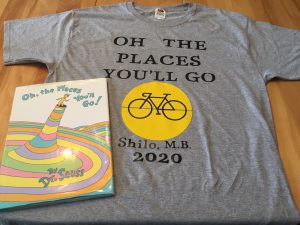 A gift from Kathy
I have found myself having such an enjoyable time here at my hosts that my blogging progress has been fairly slow.  And now with a few hundred photos from the museum to edit as much as I need to start pedalling I will take an extra day here.  This is a little crazy because cyclists that I have been in contact with over the last few months and started weeks and weeks after me (since leaving Kingston) are now catching up to me pretty quickly.
July 14
Some Notes – Just getting caught up with photo editing and blogging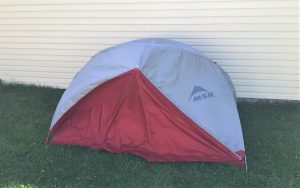 Camped at the Sloat's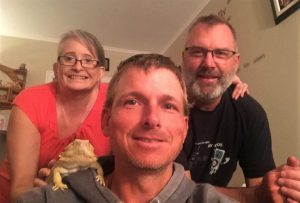 Steve & Kathy Sloat
July 15
Km's pedalled – 75 km's
Destination – Oak Lake
Some Notes – My Strava app crapped out on me and only posted 62 km's.  Today was a beautiful and sunny day as usual but with some killer headwinds.  I pedalled into Brandon to meet and say good bye to Steve where he works at the 26th Field Regiment building.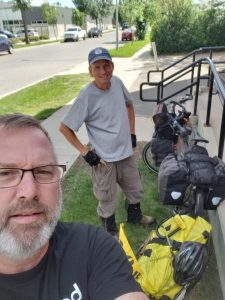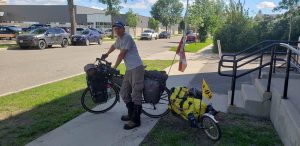 I got into my tent just as it was starting to rain.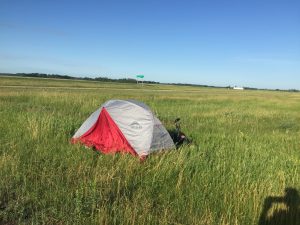 At Oak Lake
July 16
Km's pedalled – 79 km's
Destination – 4 km's west of the Saskatchewan border
Some Notes – Another beautiful sunny day with headwinds.  I met 2 cyclist from Red Deer – Logan and Ryan heading east and a Quebec cyclists heading west.  I called it an early day today given how beat and hungry I was by the end of the day.
Today was my last day in Manitoba.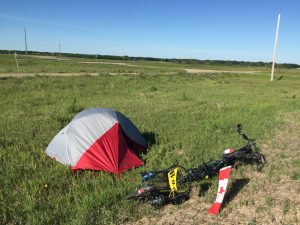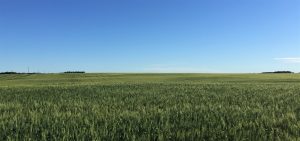 Manitoba Summary
A had very few expectations of Winnipeg and Manitoba.  I had driven through this province enough times in the winter by truck.  I was very unexpectedly and pleasantly surprised how much I have enjoyed Manitoba.  While there were some headwinds the flatter terrain was a welcoming experience after such a gruelling and hilly Ontario.  The wide open skies and fluffy clouds were beautiful along with the canola fields.  Manitoba has a very rich and interesting history which I was able to get a taste of due to visiting a record number of museums [for me].  Manitoba exceeded my expectations for sure.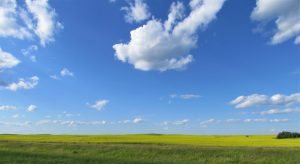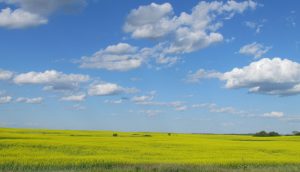 Manitoba canola fields
Also, I never attempted to hide my tent/stealth camp.  Every evening on the road I camped about 1-200 feet off the TransCanada on the edge of a crop field in the wide open.
By the Numbers
Manitoba was 488 kilometers across for me and I was actually in Manitoba 11 days with 5 down days.  I was down a day for blogging and an extra day in Winnipeg to visit the city and museums.  I was down 3 days in Shilo in part from having such a great time and visiting their museum.
I spent $104 on food and I spent $34 on 2 museum fees and a t-shirt.