July 17
Km's Travelled – 100 km's
Destination – 4 km's east of Kipling
Some Notes – As usual beautiful day but with killer headwinds.
I actually left the TransCanada Hwy in Moosomin to cut across Hwy 48 to Regina.  In many ways this was a mistake as I got stuck pedalling 38 km's on a (loose) gravel road in absolute killer headwinds.  I ended up pedalling 18 km's out of my way to avoid another 24 Km's more gravel roads.  My bike and panniers are covered in dust.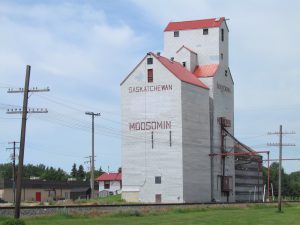 I saw a fair amount of wildlife today – deer, a fox, red tail hawks and a white tailed jack rabbit.  The white tailed jack rabbit really threw me for a loop when attempting to identify exactly what it was because it pranced and ran like a white tail deer; only much smaller (obviously).  I heard lots of coyotes tonight.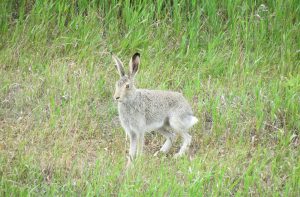 White Tailed Jack Rabbit
Physically one of the toughest days in weeks.  But in order to not let the day get the best of me I pushed into the dark to pedal 100 km's.
I received a message that host needed to cancel in Regina due to medical concern with Covid-19 and a few hours later I received a random message from a new person to host me.  Not too bad.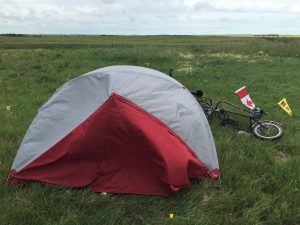 July 18
Km's Travelled – 110.5 km's
Destination – Vibank
Some Notes – Today was overcast with unusually cool temperatures.  I had wicked headwinds all day. I also had to put my rain coat on a bunch of times for about 5 minutes at a time.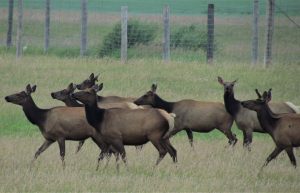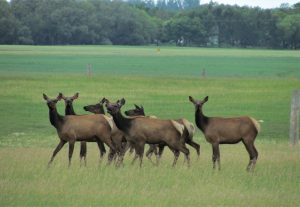 A random elk farm entering Kipling

Kipling was sort of an unusual town.  I took a few photos around town.  The strangest thing I saw was a Tim Horton's with no front entrance.  At first I did not know how to enter.  I eventually figured out and discovered that the restaurant was in the back of a pharmacy.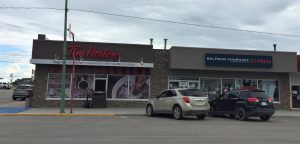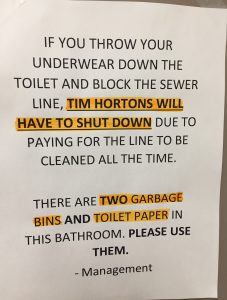 Tim Horton's in Kipling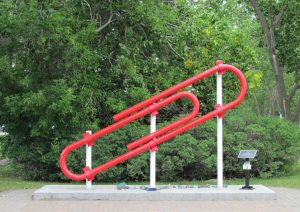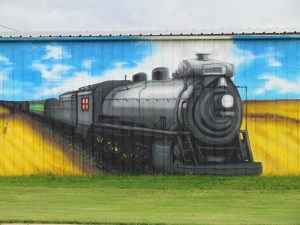 Kipling Saskatchewan
I pedalled till 11:30 pm and camped at the ice rink/community center in Vibank.  I noticed that these small towns do not have paved roads but are gravel.  Today is the 2nd time to break 100 km's 2 days in a row but the first time a single province.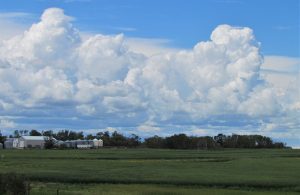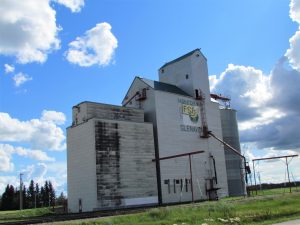 Part of the reason I pushed so hard and late is that I have a newspaper interview tomorrow and a waiting host in Regina.
I heard coyotes again this evening getting in my tent.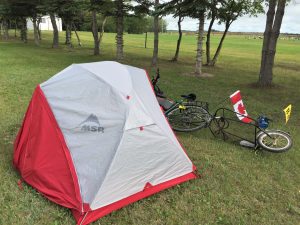 Camping at the ice rink in Vibank
July 19
Km's Travelled – 61 km's
Destination – Regina
Some Notes – Today was another nice day with headwinds – but not killer headwinds.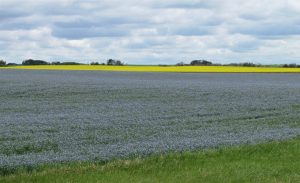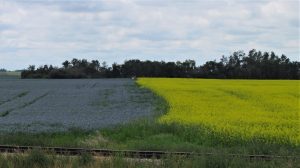 I ended up meeting Brad Brown just outside (east of) White City on his bike and we pedalled to Western Pizza where Brad treated me to lunch while he interviewed me for his local paper called The Forum.  Brad actually own and runs the whole paper with wife.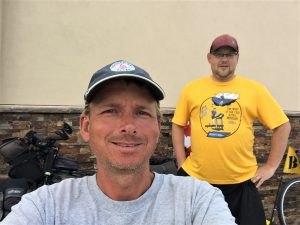 Brad Brown of the Forum
From White City it was just a short ride to my host Chris and Lindsay Sasseville.
July 20
Some Notes – Taking a day to update blogs and post and edit photos.  Got to enjoy lunch at my hosts restaurant – The Wok Box.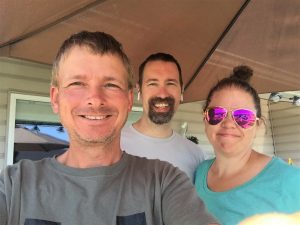 Chris & Lindsay Sasseville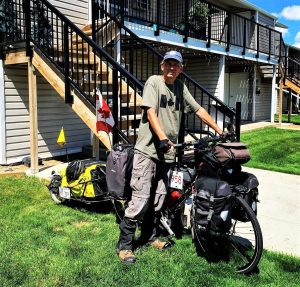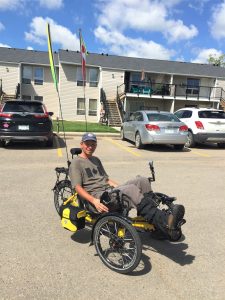 July 21
Km's Travelled – 88.5 km's
Destination – Moose Jaw
Some Notes – Today must have been the best day for biking.  Today was sunny and no wind.  Moose Jaw apparently is pretty famous for its murals.  I feel I must have taken over 100 photos in Moose Jaw.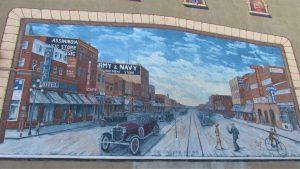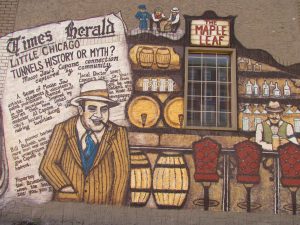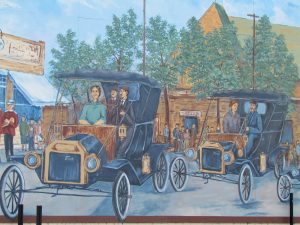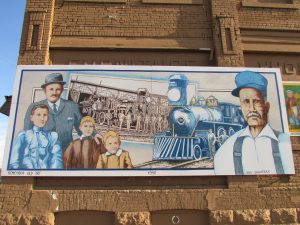 I biked in circles all over town looking for the murals.  I found them everywhere.  I also found a military/artillery outside display with many vehicles on display.  And of course there was Mac the Moose and the Snowbird plane.  I made dinner at Mac the Moose taking advantage of the gazebo.  By the time dinner was finished it was dark and I discover Mac was lit up at night.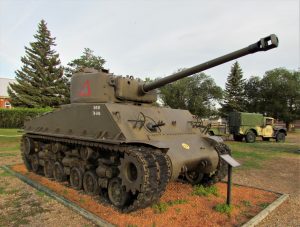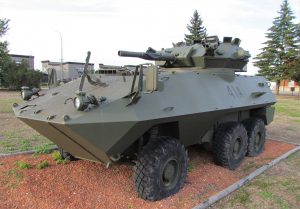 The Saskatchewan Dragoons Memorial
Mac the Moose stands 32 feet and for 31 years was considered the biggest moose statue in the world.  For more information click HERE.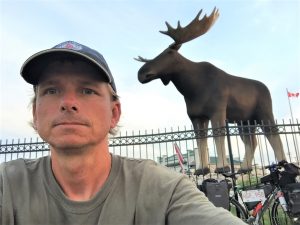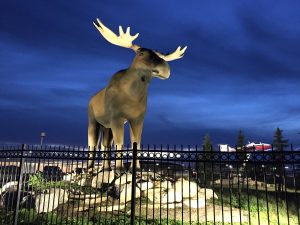 Mac the Moose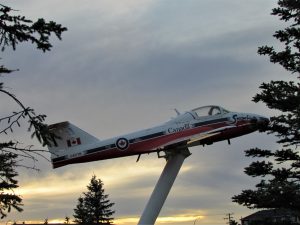 Snowbirds Plane
Tomorrow I have an appointment to visit the Burrowing Owl Interpretive Center.  The Center is located on the agriculture fair grounds.  I thought that was a perfect place to camp for the night.  Within minutes I was discover by security.  After about 5 minutes of phone calls I was allowed to camp there for the night.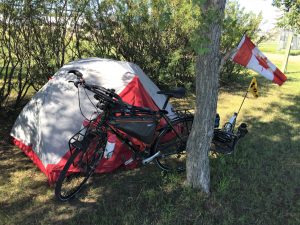 July 22
Km's Travelled – 118 km's
Destination – Morse SK
Some Notes – Initially my appointment to visit the Burrowing Owl Interpretive Center was for 1 pm.  Because of Covid-10 they are requiring everyone to make appointments.  I was able to go right in at 10 am.  The center was small but interesting and I spent over an hour there.  I was able to see 7 of the 9 owls they have on display.  (Later I would discover that my photos turned out pretty good).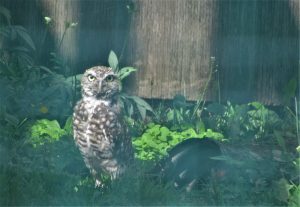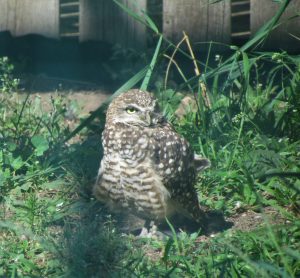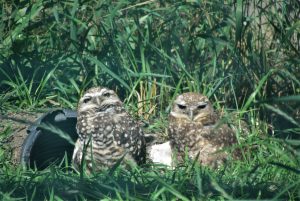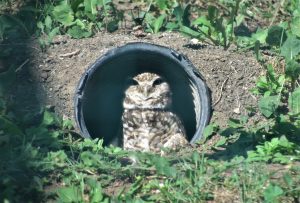 The day was beautiful and a sunny day as usual.  It was also hot with no clouds.  The heat really took a number on me.  Moving west from Moose Jaw I ran into long but low hills.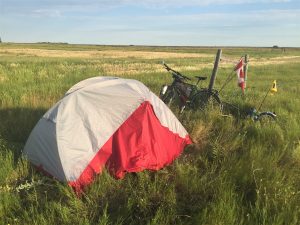 July 23
Km's Pedalled – 70 km's
Destination – Swift Current
Some Notes – Today was overcast, cloudy but somehow still humid.  I am physically beat with very little energy today.
I heard a strange noise coming from my trailer wheel this morning and pretty much instantly knew what it was.  A quick inspection verified that my protective cap from my trailer wheel had broke away and now my hub and bearing were exposed.  This happened the first time in Nova Scotia over the winter.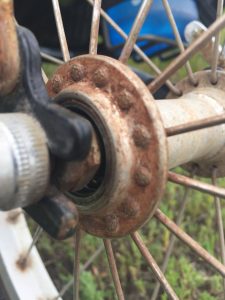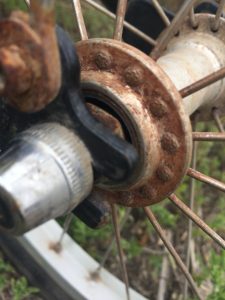 Bike trailer wheel issues
I pedalled to Pedal Works in Swift Current.  The shop was about to close and the owner Grant agreed to come in early the next morning to have a look at it.
I spent some time (in the evening) editing photos and ended up camping behind the Walmart.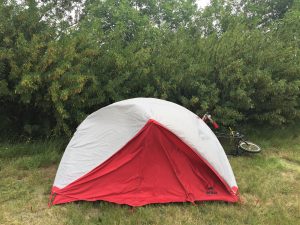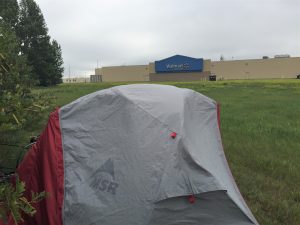 Two views of the same tent site
I have noticed some interesting shore birds out this way.  I have also noticed lots of different wildflowers since getting into Manitoba. But for some reason I have a hard time taking photos of flowers and generally I have no place to lean my bike to take photos of wildflowers.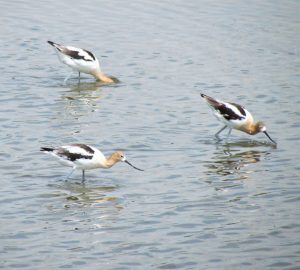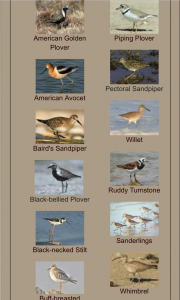 Some of the birds I have seen.  Second photo is a screen shot of a website page.
July 24
Km's Pedalled – 106 km's
Destination – Abbey
Some Notes – When I got out of the tent it was cool and overcast but it got hot real quick.
I spent the morning at Pedal Works bike shop dealing with my trailer wheel.  Grant was nervous about taking a hammer to my wheel because if anything actually broke it he did not have any replacement parts to fix the wheel.  So Grant left and went and got me a replacement 16" bike wheel from the dump.  He regressed the wheel and we installed that wheel to use until I get to Calgary.  Charge was free.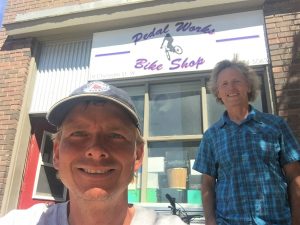 Grant at Pedal Works
I don't think I left Swift Current until about 1 pm.  Pedalling west I had mostly no wind. Today was a great day to be on the bike.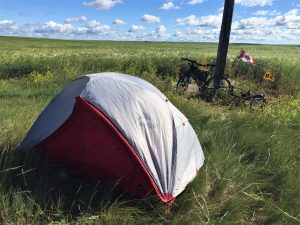 July 25
Km's Pedalled – 69 km's (about 30 km's on gravel roads)
Some Notes – I didn't sleep great.  The tent shook the whole night.  Today was very strong headwinds.  The weather is nice and sunny.  Since leaving Swift Current and getting on Hwy 32 the road was and continues to be fairly flat.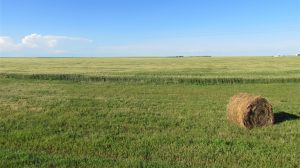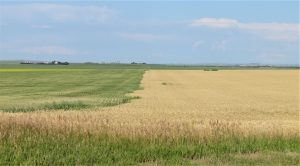 The other observation is that Hwy 32 is extremely vast and you really begin to appreciate the vastness.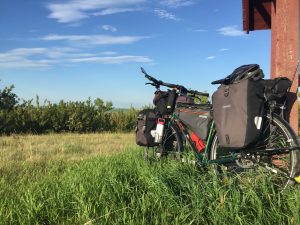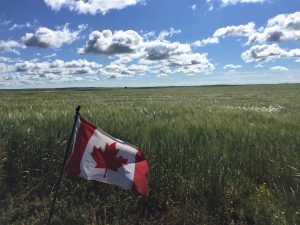 I visited Great Sand Hills this evening.  It was kind of neat.  I had to pedal 20 km's of gravel to get there.  Fortunately the gravel was not too bad and I had some tailwinds.  In the park the road turned to sand and I had to push my bike a bit. I was able to see some mule deer in Great Sand Hills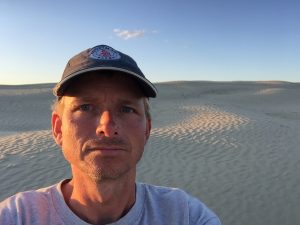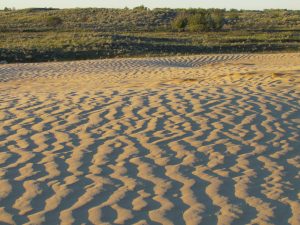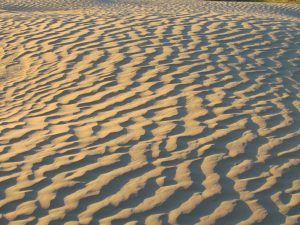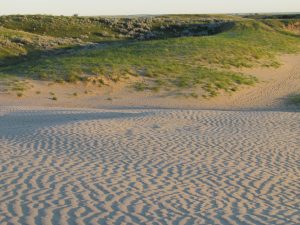 Great Sand Hills
I pedalled into the dark and out of the park a ways because there was no wind.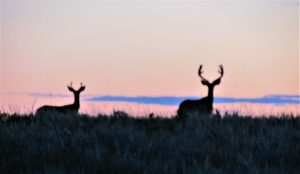 Today was a long day and my allergies were really bad with such strong headwinds.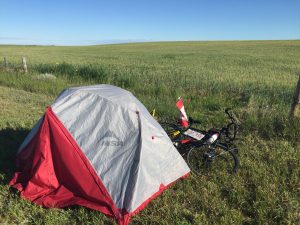 July 26
Km's Pedalled – 36.5 km's
Destination – Leader
Some Notes – Today is another beautiful day.  But I am totally exhausted from yesterday.  Yesterday's headwinds took a far great toll on me physically then I anticipated.
I had to pedal 16 km's on soft gravel into a very strong headwind.  I turned left out of the park last night when maybe I should have backtracked.  Except I had a few cool experiences turning left.   I saw my first pronghorn antelopes in Saskatchewan and I stopped at this historic church called Blumenfeld Church and Shrine to Our Lady of Sorrows in the middle of nowhere.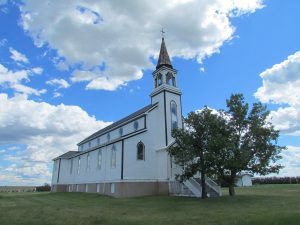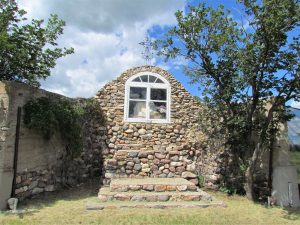 Blumenfeld Church and Shrine to Our Lady of Sorrows
I noticed that the cemetery had some interesting grave stones and crosses.  I also discover that at the far end of the cemetery are a bunch of unmarked crosses.  At first I though that they must have been the poor people.  But then I noticed the ground disturbances due to the coffins and discovered that these were rows of babies/children.  I also found it interesting that these ground disturbances were still so noticeable given that nearby death dates dated to the 60's or earlier.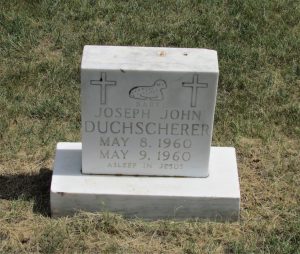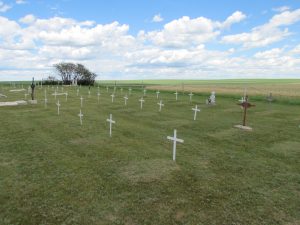 Almost 100 unmarked crosses.  Notice the small disturbances in front of the crosses suggesting baby/children coffins
I also noted the water from Sceptre tastes like crap.
Yesterday's headwinds took more of a toll on me than I thought.  I am beyond exhausted.  I basically just crashed on a picknick table bench in Leader.  Later in the evening I worked until after midnight editing photos
I am camping in an old rail yard.  The Lion's campground did not look very inviting.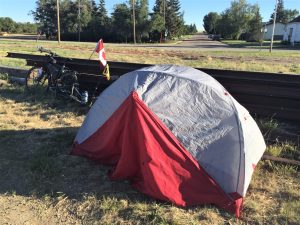 July 27
Km's Pedalled – 52 km's total – 47 km's of gravel in Saskatchewan and 5 km's in Alberta
Destination – Empress, Alberta
Some Note – I was woken up by the noise of workers in the yard.  I guess I should have known better.  But it forced me to get an early day.
Today was a beautiful day with no winds.  Today is my last day in Saskatchewan
I pedalled west out of Leader to Estuary to catch my first ferry (since Quebec City) and I saw my first cacti on the north side of the ferry along the road shoulder.  The gravel roads heading west out of Leader were not too bad.  There seemed to be a hard packed lane in most sections in the road.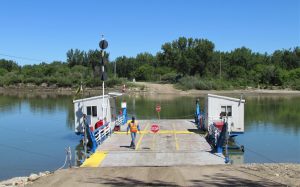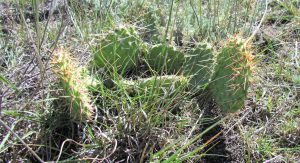 My first ferry crossing this summer and my first cactus in Canada
Pedalling into Empress I went over to the campground area trying to make sense of the instructions.  I waved a guy down who told me to go to the red brick building down the road.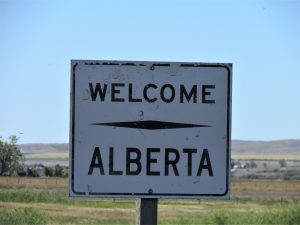 I walk into the building and am instantly recognized as someone who is biking across the country.  They didn't recognize me.  Ted the son of the owner (Pat) simply recognized me as a cross country bike tourer because he had crossed Canada 1 ½ times himself.  I was instantly given a place to set up my tent behind their house free of charge.  I was told that my private shower (not public shower) was upstairs and that dinner is at 6 pm.  And whatever I wanted to drink was on the house.  This was all within about 3 minutes of walking through the door.  All of this was very unexpected and a bit overwhelming.
Saskatchewan Summary
Initially had very little expectation of both Manitoba and Saskatchewan.  I had travelled through both provinces enough times in a truck to know that there was not much out here to begin with.
I found Manitoba to be far more enjoyable that expected and I have found Saskatchewan to have exceeded my expectations greatly.  Saskatchewan was a tough province with a lot of head wind and a handful of gravel roads.
Saskatchewan was a bit frustrating to navigate as so much is still closed due to Covid-19 in the middle of July.  I found everyone in Saskatchewan to be very friendly.
I have also discovered that much of the real Saskatchewan is off the TransCanada Highway.  I have seen so much more and have a much greater appreciate being off the TransCanada.
People often talk about the flatness and vastness and the never ending prairies.  Historically I never really seemed to notice that.  In a truck I guess I drove too fast to appreciate the flatness and vastness.  Or perhaps driving through Iowa and Nebraska and Wyoming as often as I did diminished my appreciation for the Canadian prairies.
Getting off the TransCanada at Moosomin gave me my first introduction to tiny towns with no pavement.  Getting off the TransCanada west of Swift Current gave me my real appreciation of the flat and vast Saskatchewan everyone talks about.
Getting  off the TransCanada allowed me to see far more then a typical cycle tourist that simply sticks to the TransCanada.  I am so glad I left the highway.  That being said it is very difficult to leave the highway and not end up on gravel roads.  Supplies and water can be difficult to replenish.
By the Numbers
Saskatchewan is almost 650 km's across on the TransCanada Highway.  I pedalled 805.5 km's in 11 days with only one down day in Regina.  It was exhausting and often I physically spent.  Technically I only had 1 shower in Saskatchewan.
I spent $196 on food and I spent $10.87 on a can of butane for my lighter.  I did grab a bit more restaurant food then usual and a fair bit of cold drinks.