August 2
Km's Pedalled – 99 km's
Some Notes – The day started with sort of tailwind and then it turned into a headwind.  Before I got to the Hoodoos I stopped at this ghost town called Dorothy.  They have the last remain grain elevator still standing in Alberta and the town was used for much of Tom Cochrane's video – Life Is a Highway.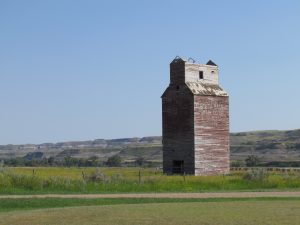 Alberta's last grain elevator
By the time I had reached the Hoodoos I was basically out of water.  Between the heat and lack of water I was pretty beat.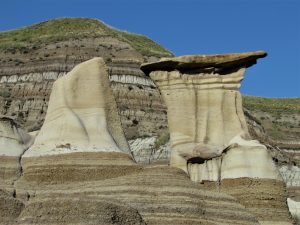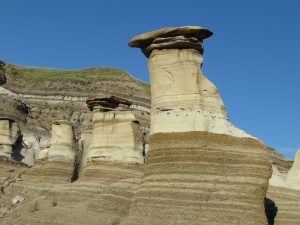 I ordered an "expensive" lemonade and the lady at the ice cream stand wouldn't fill my water bottles but gave me a free water and then one of the guys there gave me another lemonade while they were closing shop.  So I guess I made it ahead.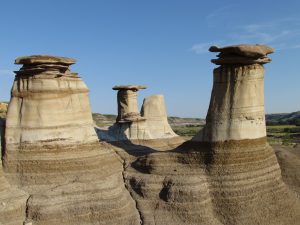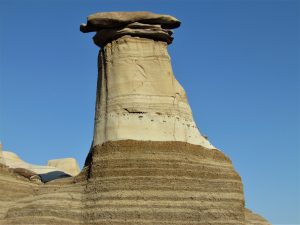 The Hoodoos were amazing just as I remember them and I took over 100 photos.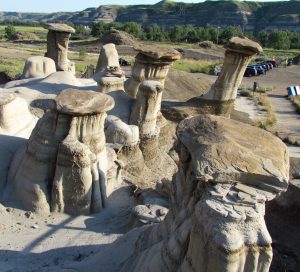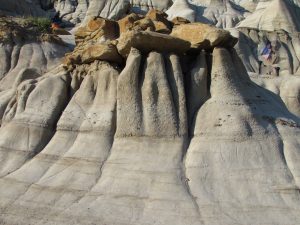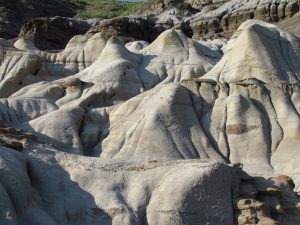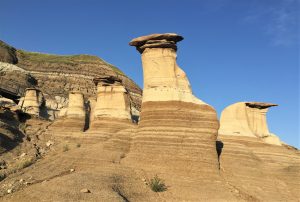 I hadn't had a shower in 6 days, my battery packs were basically drained, I didn't have enough water for supper and I was totally beat because I had just basically pedalled 100 km's on a hot sunny day into a headwind.   When searching campgrounds in Drumheller it seemed the average price for a tenting campsite was $40.  That just seemed totally unreasonable to me.  And it was now 8:30 pm.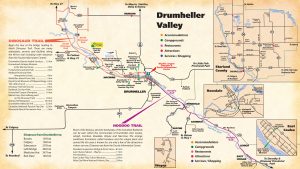 A map of the area
Instead of worrying about my immediate problems I was more worried about what I was going to do in Calgary and where I would stay while my bike was getting worked on.  So I put a post out that I was looking for potential hosts in Calgary.  Friends from Hamilton.  Lance and Wendy Cuell saw the post about needing a place in Calgary and thanks to them I ended up getting me a host in Leigh just 3 km's east of the Hoodoos.  How amazing and crazy was/is that?  A host just down the road and all my immediate issues solved in minutes.  What a life saver.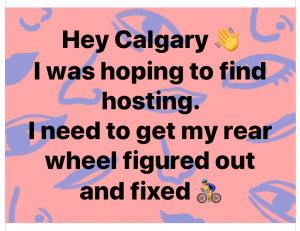 I also saw 3 Pronghorn antelope earlier in the day.  And I was able to secure a host in Calgary this evening thanks to my post.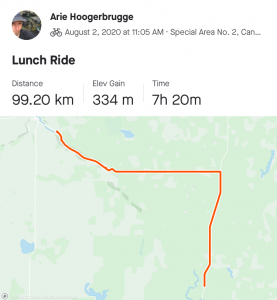 August 3
Some Notes – Spending another day with my Hoodoo hosts Dave and April De Smet.  I have a 2pm time slot to visit The Royal Tyrrell Museum tomorrow and I have so much photo editing to do.  I was very productive in front of the computer editing the over 400 photos from Dinosaur Provincial Park and over 100 photos from the Hoodoos.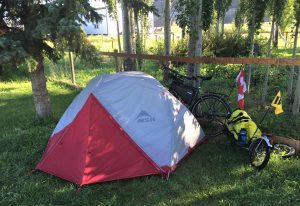 In the afternoon there was a pretty wicked hail storm.  We did not get it so bad but photos started to emerge from surrounding towns of tennis ball sized chunks of hail and broken windshields.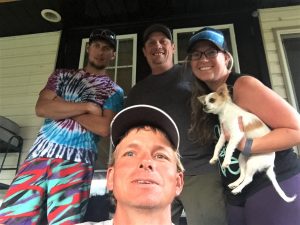 Dave & April De Smet (with Sam Stahl on the left)
August 4
Km's Pedalled – 86 km's
Destination – Just east of Beiseker
Some Notes – Today was a beautiful day and because of yesterday's hail/thunderstorm much of the humidity was gone.  There was no wind getting to and out of Drumheller.  I did good time headed to Drumheller and leaving Drumheller.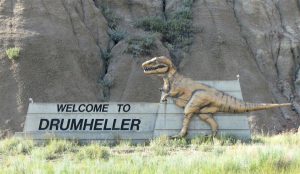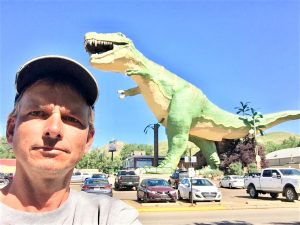 Drumheller – the home of the worlds largest dinosaur
I spent 2 hours at the Royal Tyrrell Museum.  I took a few hundred more photos and video.  The museum is definitely world class.  You can check out more information on it HERE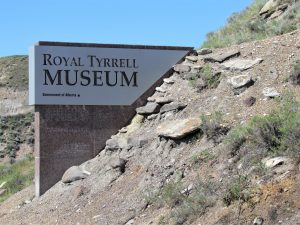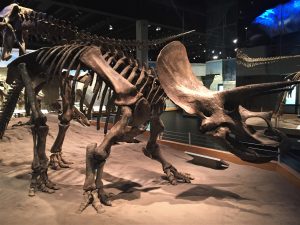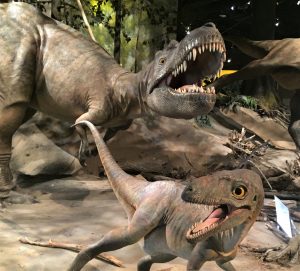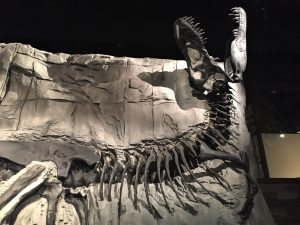 I stopped at Horseshoe Canyon on my way to Calgary.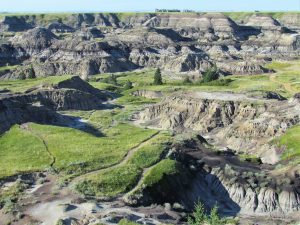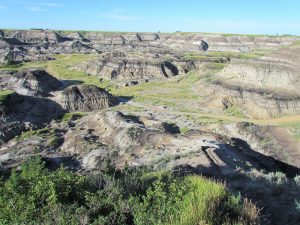 Horseshoe Canyon
I pedalled right till dark because there was no headwinds all the way west.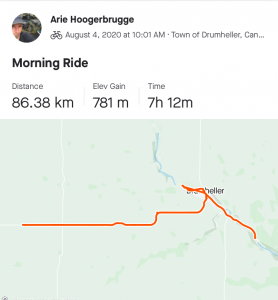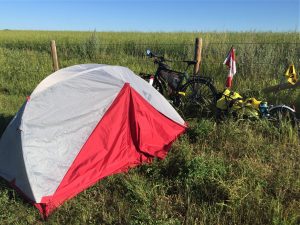 Last campsite on the Badlands & Prairies
August 5
Km's Pedalled – 86 km's
Destination – Calgary
Some Notes – Today was a hot day with strong headwinds pretty much all the way to Calgary.  But I am FINISHED the prairies and badlands.   Making my way and finding my host was not too difficult.  He lives in the Quarry area.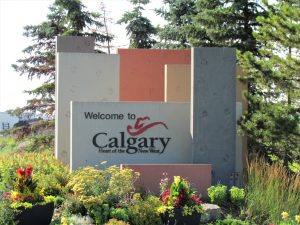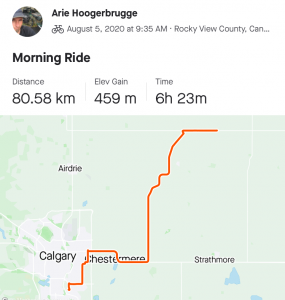 August 6
Some Notes – I took the bus to the Westbrook bus station (about halfway to Bow Cycle in Calgary) and then biked along the Bow River bike/walking trail system.  My bike almost fell off the bus rack because the front wheel holder was unable to hold my bike wheel properly with my front bike rack.  Getting off the bus and talking to the bus driver a cop car pulled up behind the bus and 2 cops got out and one cop was with a machine gun.  I believe this is the first time I have ever seen a machine gun being carried in Canada.  The cops didn't seem to be in a rush but the bus driver took it as his cue to be moving on.
The Bow River has an amazing trail system that follows the river.   There was a lot of rafts on the river.  It would seem that is a pretty big tourist draw.  And the Bow River is beautiful.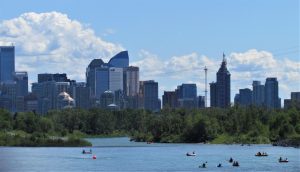 Today was my first day in shorts as I did not have 2,000 mosquitoes to worry about later in the evening.  I was also able to get all my photos edited, in Dropbox and Flickr and all video in Dropbox.  So a pretty productive day all around.
August 7
Some Notes – Another very productive day.  I did my audio for multiple YouTube videos.   I spent a few hours in conversation with Brandon and we got 2 shows finished, uploaded photos to Facebook and I figured out my route planning for Calgary and Banff to Jasper.
August 8
Some Notes – Another productive day.  Three almost 4 blogs got written and posted.  Photos got posted to Facebook and I posted to all the Facebook bike groups.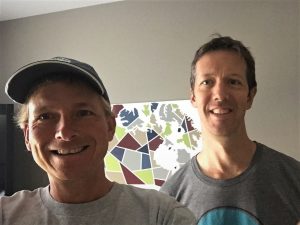 My Calgary host Josh Hart
August 9
Some Notes – I slept in real bad.  Josh drove me to Bow Cycle.  The bill came to $135.  Somehow, I thought it would be more.  They did a fair bit of work.  Both my bike rear hub and trailer wheel were repaired plus new brakes and adjustments.  But even $135 is way too much.  But my bike adjusted and tuned up better then it ever has been.  I biked to The Military Museums.   I got there about 1 pm and I was the last to leave at 4:30 pm.  Security almost locked me in.  I was taking my last photo outside.  Thank goodness Josh drove me to get my bike this morning.  I took 341 photos at the museum.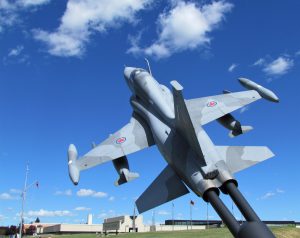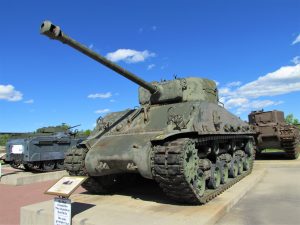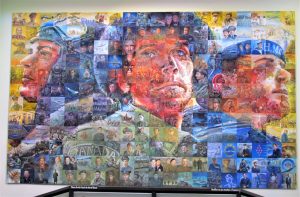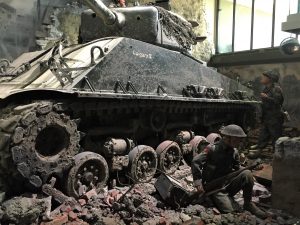 Alberta Badlands – July 28 to August 1