February 12
Life in the jungle: On my way to chopping at the ponds I saw my first deer in Belize and then I saw an agouti.  I spent a good part of my afternoon with my chainsaw.  I cut down pretty much everything that needed to be cut down in the coconut field.  I then cut down everything that was going to interfere with the completion of finishing the fence line by the house.   And then I started cutting behind the house.   The last part of the day I spent cleaning up what I cut in the coconut field.  Overall, a productive and physical day of work.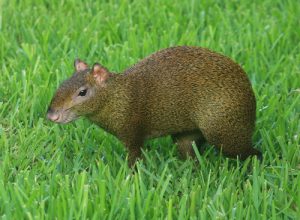 An agouti – random photo off the internet
February 13
Life in the jungle: It took forever and ever to fall asleep last night.  I biked the weed eater up to the village this morning to get a lesson on changing and maintaining the weed eater head from Derrick.
After breakfast there was some on off rain.  There is not lots of rain but every day it rains a little bit.  I can't paint my gates so I spent most of the cleaning up all the trees I cut yesterday behind the house.
Tomorrow I take some R&R.
February 14
Life in the jungle: I set my alarm for 5am to walk out to the village to catch my bus to the city.  I am taking a few days and heading to Caye Caulker.  Caye Caulker is a main tourist destination in Belize.  In all these years I have been coming to Belize I have never visited Caye Caulker or Ambergris Caye (the other main tourist caye).  [I walked to catch the bus vs bike to the bus because I don't want people to see my bike unattended for that long to give away that no one is at the house.]
It was an overcast day that may have spit some rain for a few seconds through the day.  It was actually a fairly cool day and was very glad that last minute I decided to bring my hoodie.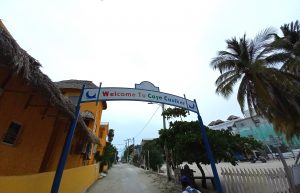 Welcome to Caye Caulker
I checked into the Bela's Backpackers Hostel.  The cost is $12 USD for a dorm bed.
The caye seems nice enough.  A good place for tourists to come see Belize.  Admittedly being around tourists and in such a different environment was weird for me.  Partly because of the rainy weather I retreated inside the hostel to work on my computer.   My laptop has not been hooked up to WiFi since Chetumal Mexico.  Admittedly though there is a part of me that misses my farm already.  There are lots of people not wearing masks (though they are required).  Which is nice.
I posted Belize blog posts Part 1 and 2 this evening.
February 15
Life in the jungle: Today was on and off rain showers all day, with heavy showers at times.  So, except for meals I spent the whole day in front of my computer.  I posted my Belize Part 3, 4, 5, 6 and 7 blog posts and I wrote and posted So what's going on in Belize? blog post.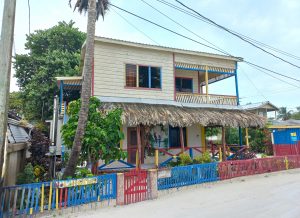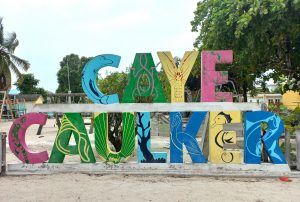 Because it rained mostly all day, I booked another night at the hostel.  I should at least explore the caye for a day since I have taken the time to come here.  I thought I came here for some R&R but so far I have been working on my computer the whole time.
February 16
Life in the jungle: A mixed day today.  The morning was overcast.   I thought I would take a walk to explore the caye a bit but after a while I felt like I was kind of wasting my time.  I can't really explain.   In a way I kind of felt like the whole experience of coming to caye was a waste of time.  The plan was to relax but I had mostly failed at that so far (working in front of my computer ever since I arrived here).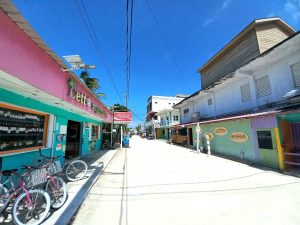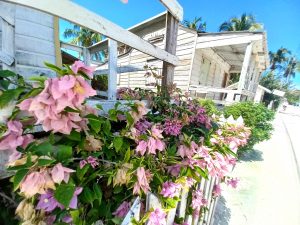 So, I headed back to the hostel.   I reached out to Brandon to see if we could do a Home Show (the show we use to call the Road Show when I was biking).  Which we did.  By the time the show was over the sun had actually come out so I decided because of the sunshine I should take another walk.  When I did get back to the hostel, I found a hammock and I didn't leave it for the rest of the afternoon.  So, I didn't work, but I am not sure what I accomplished either.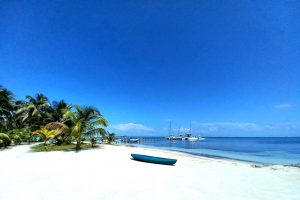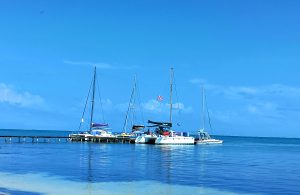 I feel like I have lost my creativity.  I love working hard on my farm but at the end of day it only satisfies certain needs and other needs that either I can't identify or I don't want to identify and continue to be empty.  And at the same time, I don't see the path forward and so I simply wake up in the morning and take logical next steps by working on the farm not really knowing if I am on a wrong path or not.
I posted Belize Part 8 and 9 blog posts.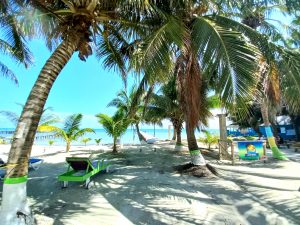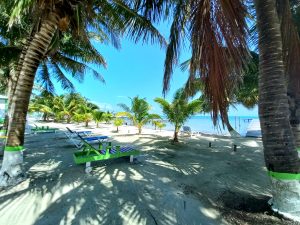 February 17
Life in the jungle: I left Caye Caulker on the 10:30 am boat during a sunny morning.  About half way back to Belize City there was some heavy showers.   I found out when I got back to the village they got the same rain I experienced while on the Caye Caulker.  I wonder if the rainy season will ever end considering the dry season started weeks ago.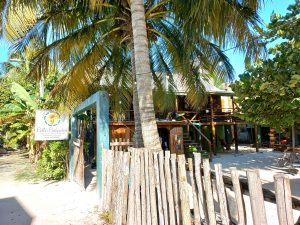 Bela's Backpackers Hostel
I had to walk home down our road and bike back up to get groceries.  And that was pretty much my day.  Everything at home was still in one piece from being gone since Monday.  I spent some time trying to consider my purpose here in Belize after getting home. I don't think I had much luck.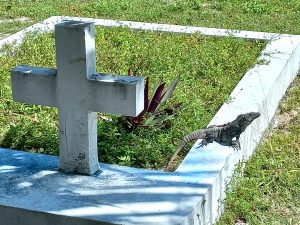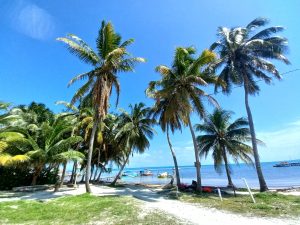 Caye Caulker over all worth taking a visit to.  It gives you a pretty good look and experience of island life in Belize.  Staying at the hostel, though not the most enjoyable experience made it affordable.   There seems to be a lot of tourists exploring options specifically diving opportunities.   For me spending money is hard so I did not go for the island experiences that most people come for.  So, for me the island life is little unexciting.  Thank goodness for internet access that let me get some work done.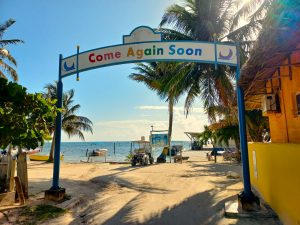 February 18
Life in the jungle: It took two hours to get my passport stamped this morning.  All of a sudden without notice they now wanted a copy of my bank statement.   This caused what might have been interpreted as a bit of an argument.  They wanted to know how I supported myself?  As if I am living off a nonexistent Belize food bank.  There was a minute at immigration I thought I was about to get kicked out of Belize.
Given how much more grief dealing with immigration has been since dealing with them in 2010 I certainly can't wait or delay my residency any longer in my life.  And then I bused it to Ladyville to get an update on internet service.  Still another couple of months.  By the time I got back to the city, grab lunch to go and got to my bus I got the last seat.  Fridays are the worst for going to the city.  Getting back to the village I got my haircut.
Getting home I ran the water pump to top up my vat.  I discovered my pump wasn't pumping water.  I had to fill and bleed the pipe.  I was successful but I am not pleased about this.  By the time I got the pump running it was late afternoon.  So, I spent my final few hours of the day cleaning the bush area behind the house.
Tonight, I realized something sort of, kind of profound particularly considering my recent question to myself – what is my purpose here in Belize.  Tonight, I realized that I don't really make a difference.  And that statement can be interpreted on many levels.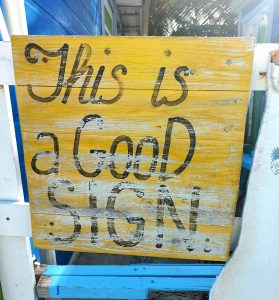 Belize Part 13 (Jan 26 to Feb 3)
Glossary
Glossary of words or people that may or may not be part of this blog post.  This glossary will be at the bottom of every blog post for Belize.
Jack & Jill – These are my ex-property managers (names changed).  They are Canadian, they introduced me to Belize in 1997, sold me their house in Belize in 2003, and rebuilt my house from 2014 to 2018.  I have known them for over 30 years.  After almost 20 years of me supporting their life here in Belize Jack decided quite unexpectedly to declare "war" on me right before Christmas 2021.  They live on the farm, but not on my land.
Wayne – He is the son of the original owners of the farm (both owners are deceased).  The original farm was 2 – 30 acre pieces minus 2 – ¾ acre parcels for my house and 2 – ¾ acre parcels that Jack & Jill own which were all originally purchased from the original owners.  In 2017 Wayne sold me 40 acres of land from the original 60 acres (30 acres plus 10 acres).  Wayne lives in his parent house and has a few cows on his remaining 17 acres of land.
Nery – a local in the area that helps me with certain projects when needed.  A very knowledgeable guy originally from El Salvador. He teaching me a lot about farming and tree.
Derrick – a local in the village that helps me with certain projects when needed.  Mostly he helped early on after my arrival to Belize.  He doesn't help me so much into the future.
The ponds – I have 2 large (300ft long x 50ft wide x 10ft deep) ponds on my 30 acre parcel of land which is basically jungle.  I have about 60 coconut trees (mostly mature) around the ponds.  I have plans to plant a few hundred papaya trees here plus other fruit bearing trees around the ponds.
The coconut field – I have about 400 coconut trees planted (various growth states) on about 3 acres of cleared land of the 10 acre parcel.  I plan to add various fruit trees to the same field as soon as I can.
The river lot – my house sits on a ¾ acre lot.  I have a second joining ¾ acre lot that allows me river frontage on the Belize River
The dry – Belize has 2 main seasons.  The rainy season and the dry (no rain)
Chopping – using my machete to clear brush and unwanted trees