December 1
Life in the jungle: I started my morning chopping the coconut field as usual.  I got a lot of trees de-vined.  I seen the black tail of large snake in some vegetation.  At first, I thought it was a large boa.  The next view I got as it slithered through the dense vegetation was a section of gold.  I instantly knew that I was looking at a Black-tailed Cribo snake.  The thing that had me instantly excited was that this snake was easily twice as big as I thought a huge one would be.  In my wildest dreams this would be the largest snake I have ever seen (aside from boas and pythons) and I have seen 1,000's a snakes in my lifetime.  I have never seen a girth as thick as the girth I got a glimpse of.  And then he was gone into the vegetation and I never got another glimpse of him again.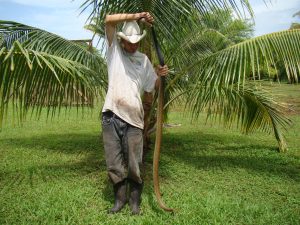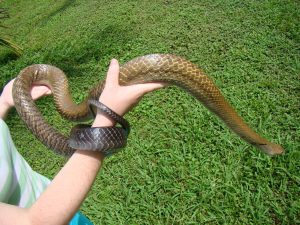 A Black Tail Cribo that I caught in 2010.  The snake I saw had to be twice as big as this guy
I got a call; the road is being fixed starting tomorrow.  For 10 years the other Canadians living on the farm have been complaining about our road.  In 3 days I was able to make arrangements to get something fixed that has been a mess for over the last 10 years.
After getting some groceries I started 4 piles of Crepe Ginger plants.  Three years ago, I started using Crepe Ginger for landscaping purposes.  I don't know where it came from but it grows on the farm.  It's an aggressive growing plant but it has pretty flowers that attract humming birds.  Basically, I dig up a small area of earth to expose the dirt and then I toss a good-sized handful of cuttings over the dirt and the cutting take root.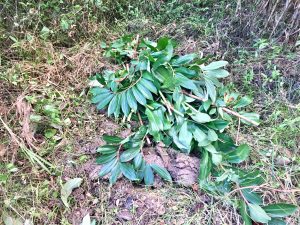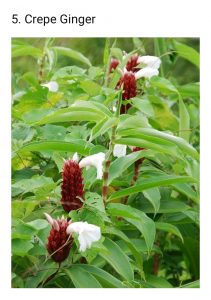 Crepe Ginger cuttings
This evening I wrote Belize blog post Part 1 and 2.  Perfect weather today.  I hope the weather holds out for the road repair.
December 2
Life in the jungle: I started my morning de-vining coconut trees.  Derrick and Jaydon showed up to do more chainsaw work in the coconut field.  We got a good piece of work done.  The road-fixing guy took his sweet time getting here.  He did not deliver the bull dozer until after 5pm.  He was supposed to be here at 12 pm.
I had planned to take my time fairly slow and easy when I arrived at my home in Belize.  My coconut field is virtually unrecognizable from when I first arrived and is now is looking pretty cleaned up already and now I am fixing a government road.  I am moving pretty fast for taking my time.  A hot day in the sun with a short shower later in the afternoon.
December 3
Life in the jungle: I was exhausted yesterday evening.  I tried to go to bed early but I couldn't fall asleep. I had to watch tv late into the night to finally fall sleep.
First thing I walked down the road.  I ended up intercepting the road guy.  We did our meet and greet.  He wants the government to help me.  He said "this is a government road, it's not your job. You are not even supposed to do this."  It makes me wonder how much trouble I would be in in Canada if I tried to do infrastructure work on a Canadian road? Lol.  By the time I walked back to the house I was exhausted already.
I did some more chopping and then I walked out to check the road progress.  And when I walked back to the house I did some more chopping.  I still have blisters and scabs but my hands finally feel good.  And then I walked out to the road again.  It's a little stressful to look at a road that you don't own but you just had ripped up.  Not to mention when you are not sure how much all of this is going to cost.
My alarm is set for 5:15 am to head to the city tomorrow morning but I went to bed rather late organizing some more of my stuff.  Perfect weather again today.
December 4
Life in the jungle: I caught the 6:30 am bus to Belize City.  Getting into the city I headed straight for the bank machine.  And that's when my day took a turn.  My plan was to use 3 different cards and withdraw $1,000 BZ ($500 USD) from each card to pay towards the road construction.  After I took my first $1,000 out the bank (along with trying 2 other banks) and no ATM would not let me withdraw any more money out of other 2 unused cards.  I had apparently withdrawn my daily limit as according to the current Belize Covid cash restrictions.
In other words, I could do basically none of my other shopping as I needed at least $1,000 for the road guy.  The worst crappy part was that it was barely 8 am and now I was stuck in the city until the 12:20 pm return bus.
Fortunately, I did have a few other dollars in my pocket and was able to get a new machete and file.  A new machete is essential for me to continue my daily work on the farm.
I caught the 12:20 pm bus back home.  I received a call from Ernie my road repair guy.  From the original estimated 15 loads of sand to fix the road I am being told that they are going to need 10 more loads. This road is getting expensive quick.  The rest of the afternoon was spent hanging with Ernie and the bull-dozer driver Justin.  The road is completely unrecognizable and there is so much sand and dirt that makes the road look destroyed.  Perfect weather today.  The weather has been perfect since I arrived in Belize.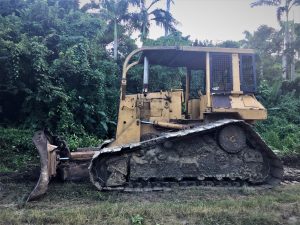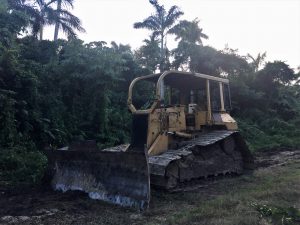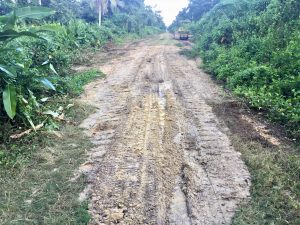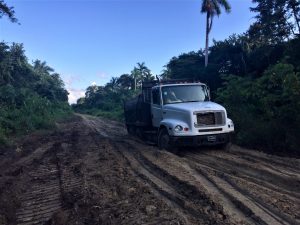 Road construction
I find myself very unmotivated in the evenings.  I don't even really want to take the watch TV.  I mostly want to go to bed so I can wake up nice and early and get back to work.  The problem is no matter how tired I am I can never fall asleep.  I toss and turn all night long.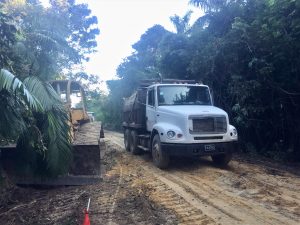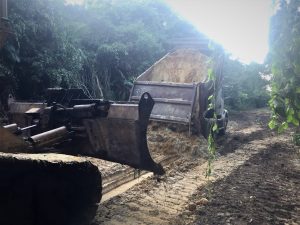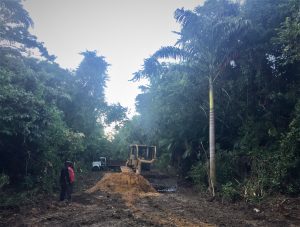 More road construction