On November 25th I arrived home after biking for over 2 years on the road to get here.
November 27
Life in the jungle: Perfect weather today.  I got an early start and started de-vining my coconut trees.  I got a pretty good section completed between working the morning and a bit more in the afternoon.   The jungle and vegetation never stop growing and typically grows at unaccelerated rate.  For vegetation such as vines it is a race to climb as high as possible.  They use young trees to help them reach for the sun and in the process can choke and strangle some types of trees such as coconut trees.  While coconut trees are young, they need to have these vines removed to help them grow.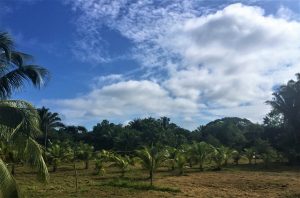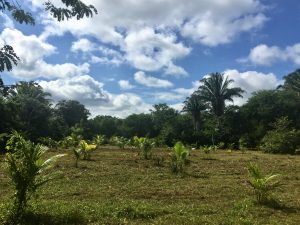 Starting to get cleaned up
There were lots of birds singing and monkeys howling as usual.  Unfortunately, I found a dead boa that got hit by yesterday's tractor.  My hands, specifically my fingers are sore from swinging my machete.  I also got a few blisters.  So, part of my afternoon was spent reacquainting myself with my hammock.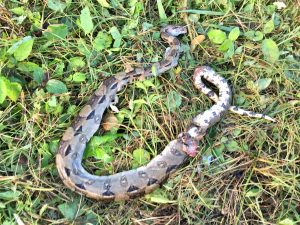 An unfortunate casualty from the bush-hog
This evening I spent some more time organizing my personal belongings.
November 28
Life in the jungle: I woke up in the middle of the night last night and couldn't get back to sleep so I finally got up and organized more of my belongings for a few hours before going back to sleep.  This caused me to sleep through my usual 6 am alarm.
Once awake I chopped a section of my coconut field to help the bush-hog see my smaller coconut trees whenever he returns.  My hands are sore and blistered.  After making some lunch I found myself exhausted and on my hammock for the better part of the afternoon.
I received a text from Derrick that he is coming tomorrow to work.  There are at least 2 good sized trees that need to be removed due to heavy damage for starters.  That motivated me to get back out into the field for about an hours more work.  Derrick is my go-to guy in the village for maintenance help.
I want to clean and prepare my coconut field to raise sheep to eat the grass instead paying a bush-hog to cut the grass.  My field has received virtually no maintenance or care.  I need to cut out all the unwanted vegetation to keep from getting out of hand and going to seed.
I can't say I worked a lot of hours today.  But I probably worked longer than my hands could stand.  In the evening I put my notes together for Brandon to a Road Show without me as I do not have internet strength for a video call.  My notes are as follows.
The relevant information would be that I left Chetumal Mexico and entered Belize on November 23.
In Mexico I biked 6,054 km's over 168 days.
I arrived at my home on November 25 biking only 178 km's over 3 days in Belize.
My total Stats for the bike ride are as follows – 26,429 km's pedalled, 632 days on the road, 322 of those days in a tent and 86 amazing and awesome hosts across the 4 countries.
I am currently taking time considering my next steps. I have a lot of work on my farm and will start working on my residency in Belize.
My hope and plan regarding my biking is to resume bike touring throughout the country of Belize after Covid has passed.
In the mean time I will be working very hard on getting my farm running and productive.
With interests in agroforestry, coconut and tree farming, aquaponics, raising chickens, sheep and beekeeping.
One thing I am interested in finding is a roommate. If anyone is interested in the ultimate adventure of living in the jungle. Please reach out to me.
And of course, please Subscribe.
November 29, 2021
Life in the jungle: The weather was perfect.  It took a long time for me to fall a sleep last night but I did wake up to my 6 am alarm this morning.  I spent a few hours chopping my coconut fields.  My hands are sore and I now have 4 blisters per hand.  I am disappointed by how many spots are missing coconut trees in the field.  I have a lot of trees to replant.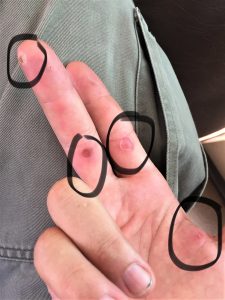 Blisters
Derrick arrived with son Jaydon at 10 am.  We got a lot of work done today.  We were able to cut down 3 wild grape trees along with about half of a 4th tree cut down.  Wild grape trees are very messy and grow a very thick wide trunk.  They are not a good tree for a field that you are trying to maintain.  The field is really starting to take shape.  I had some conversations with Derrick about fencing the field for raising sheep.  So, we will start working on the fencing and then build a sheep pen for protection from jaguars and we will also build a few chicken coops off the sheep pen.  Derrick also made a phone call to start getting an estimate on getting our road at least temporarily fixed until the "dry" arrives in February/ March.  We figure we need about 6 loads of gravel and a backhoe to run up and down our road to dump buckets of gravel in the muddy areas.  The road is too rough and muddy to have the dump trucks come down our road but a backhoe should be able to run up and down fairly quickly.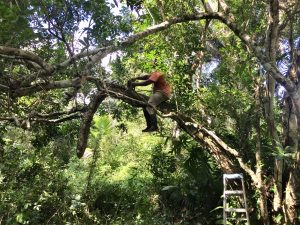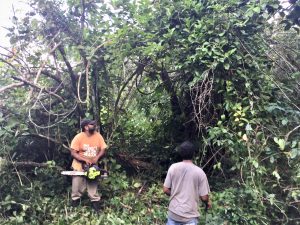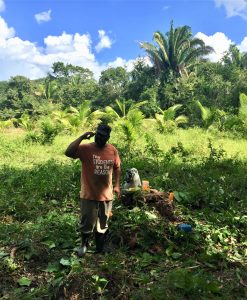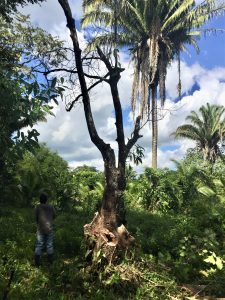 Getting things cleaned up
In the evening I got even more of my stuff organized.  I am almost completely organized.
November 30
Life in the jungle: Perfect weather again though it sprinkled rain for a few minutes in the afternoon.
I started my morning de-vining my coconuts when the bush-hog returned to finish cutting the field. There is still a lot of work but as my hands toughen up I will get this place 100%.  The other day I discovered a plant that the bush-hog would run over so I turned the plant into cuttings to grow near my house. It's a type of Ginger plant but I could not find a common English name.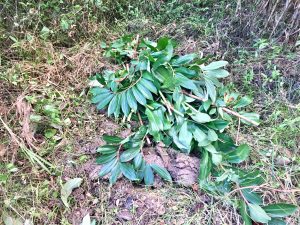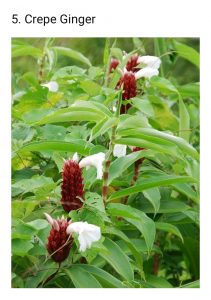 Transplanting ginger
I then went to my ponds to check on my mature coconuts for baby trees to transplant.  Most all my coconuts have been thieved out.  Unfortunately, that's what happens in Belize when you are not around to watch all your stuff.  That's actually one of the worst things about Belize – if it's not locked up or eyes on your possessions it will be stolen.   And yes, I know who took them.  I also took a handful of hibiscus cuttings from one of my mother plants to start future plants.
Exhausted I collapsed in my hammock late this afternoon.  This evening I edited all my Belize photos taken so far.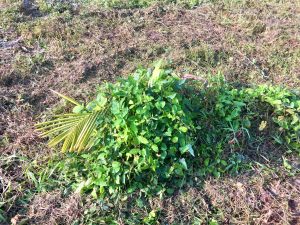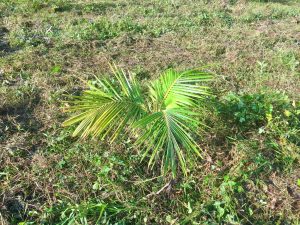 Before and after de-vining a young coconut tree