I have just spent the last 8 days at a hostel in Chetumal and am prepared to leave and enter Belize.
November 23
Destination – Buena Vista
Km's pedalled – 55 km's (14 km's Mexico/ 41 km's Belize)
Some Notes – I left the hostel at 10:15 am and arrived at the Mexican border at 11:15 am.  I was told that I can not cross the border to Belize by bicycle.  They called me a taxi.  This is what I describe as more Covid ridiculousness in the world.  It's amazing how the government thinks of everything and at the very same time thinks nothing through.  I can't bike 2.5 km's to help prevent the spread of Covid but they force me to take a taxi with a potential carrier that I would never have crossed paths with if it was not for this government rule?  I had to unhook all my bags and bike trailer to fit my bike in a tiny taxi for a 2.5 km ride to the Belize border and it cost me $200 pesos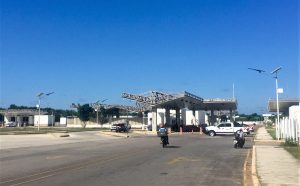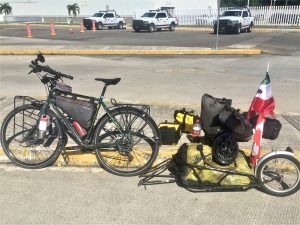 Mexico Immigration and waiting for a taxi
I thought the Covid rapid test was going to be this horrible feeling of something being shoved into my throat through my nose.  They barely stuck the swap inside my nasal passage.  But they are making a good profit at $50 USD a swab.  By 1:30 pm my passport was stamped and I was biking in Belize and it was a hot day today.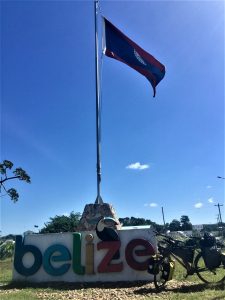 Down the road a Laughing Falcon flew by.  I also right away noticed the road sides are so much cleaner of garbage than Mexico.  What a feeling being in Belize.  My favorite country in the world.  The first person I met along the road yelled "I love Canada!"  He must have seen my flag waving in the wind.
In Corozal I got my new phone number.  I hope that I can keep this number for the rest of my life.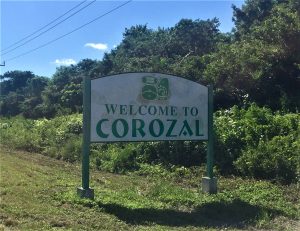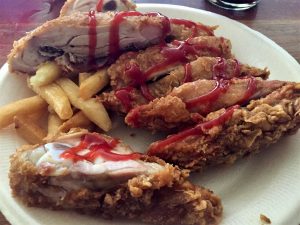 It's been 3 years since I had fried chicken from Belize
I ended up on a wrong road leaving Corozal.  My plan was to take Corozal Progresso Road.  I guess I missed my turn and ended up this dirt road that went through all sorts of sugar cane fields.  I came through on the other side in Buena Vista right before dark and I had a flat tire.  Alexander Bul came up and started taking to me.  He mentioned if I needed anything and that's when I mentioned that it was almost dark and I could use a place to set up my tent.  You have to love biking in an English speaking country.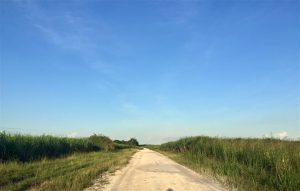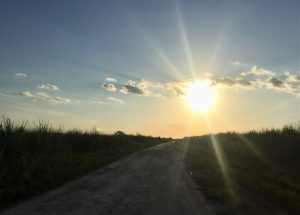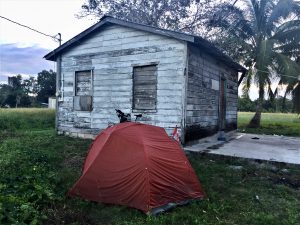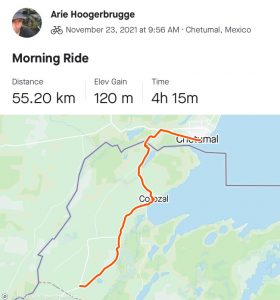 November 24
Km's Pedalled – 47.5 km
Destination – 15 km's north of Maskall
Some Notes – I got a late start this morning.  Alexander showed me around his family land and I met most of his family.  He showed his plantains and coconut trees.  I actually learned a few things.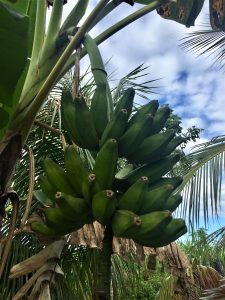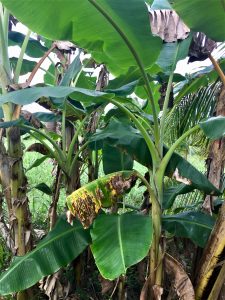 Plantain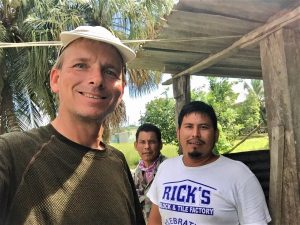 With Alexander Bul and his uncle

The only town I biked through was Orange Walk.  From Orange Walk I took the Old Northern Highway towards Altun Ha.  I was surprised, It's actually kind of a rough road.  I didn't get as far as I thought but I am not to upset about that.  Today was perfect weather.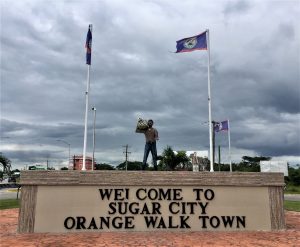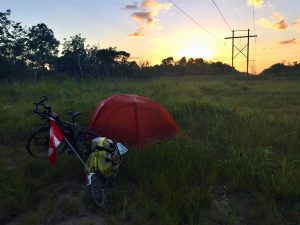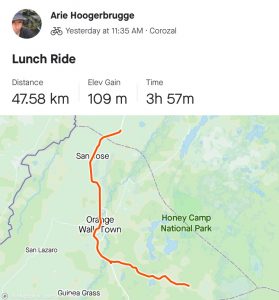 November 25
Km's Pedalled – 90 km's
Destination – Home
Some Notes – The day went smoother and quicker than expected.  The road continued to be rough until I got to Altun Ha.  I visited the Mayan ruins at Altun Ha and they were smaller than expected so it did not take long to see everything.  By the time I got Sand Hill I realized that I was going to make it home this evening.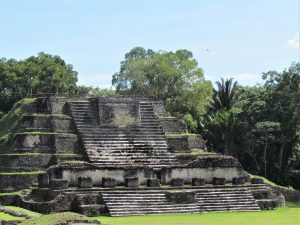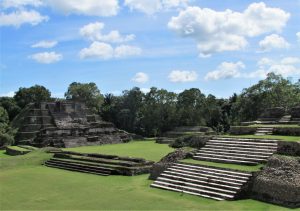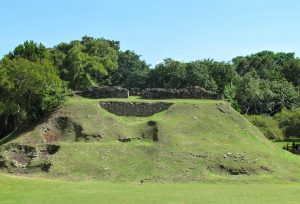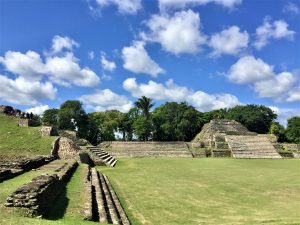 Altun Ha Mayan ruin
This morning I helped a Red Cheeked Mud turtle cross the road and this afternoon I helped a Central American Wood turtle cross the road.  These are Belize's 2 most common turtles.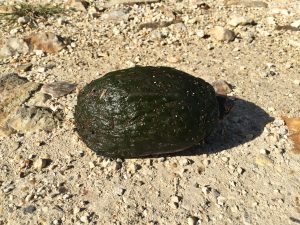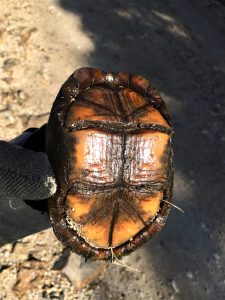 Red Cheeked Mud turtle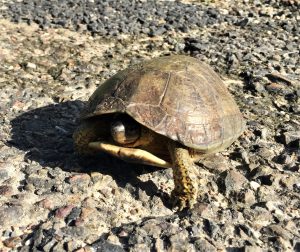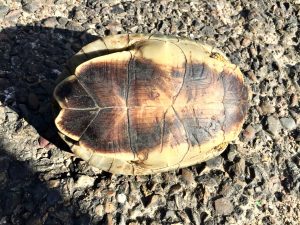 Central American Wood turtle
Arriving at my village of Scotland Halfmoon I stopped at my good friend Verna Mae.  She is my favorite Belizean.  She had a cold beer waiting for me.  I made it down my road and to my house right before dark.  The house is in amazing shape as it has been getting repainted this last month.  As far the farm and property I can barely recognize it as everything (trees and jungle) has grown multiple feet higher and thicker.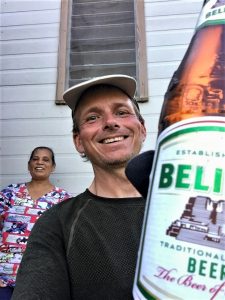 With Verna Mae
There is so much to do.  I am trying not to think about it so I can sleep and get an early start tomorrow.  I tried to go to bed at a reasonable time but after tossing and turning until 11pm I started dragging and organizing my stuff from below my house until 2am.  The weather was perfect today.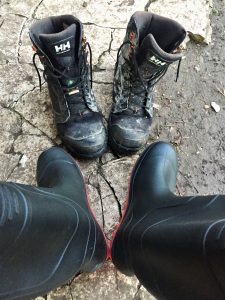 Trading my biking boots for rubber boots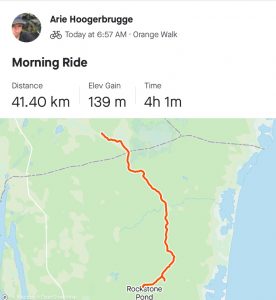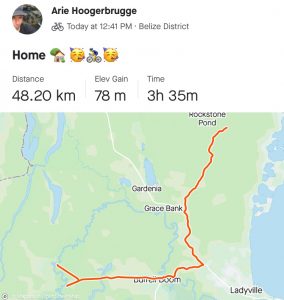 November 26
Life in the jungle – A mixed day.  While I am content being home there is a lot of work for me to do here.  If I think about too much it can get a bit overwhelming.  That being said this place is so magical to me that upon reflection of arriving here by the time I leaned my bike against my house I had already forgotten that I just spent 2 years on a bike.
When I finally woke up this morning and took my morning walk to my ponds, I intercepted a tractor coming my way.  It was our bush-hog guy coming to cut my coconut field.  I was not informed he was coming.  Actually no one was aware I was arriving yesterday until a few hours before my arrival.  The bush-hog guys arrival was perfect timing as the grass is waist high and the field is going to need a few weeks of work to get cleaned up.  I am thinking one of my first main priorities on the farm is to get that field 100% cleaned up and have it fenced to raise sheep.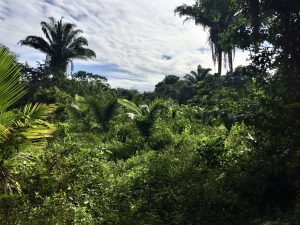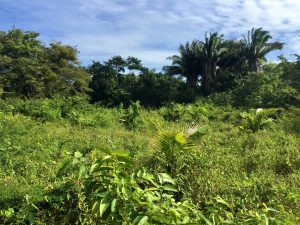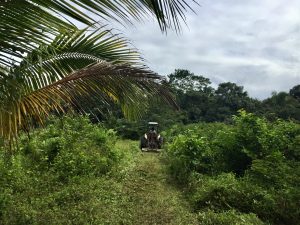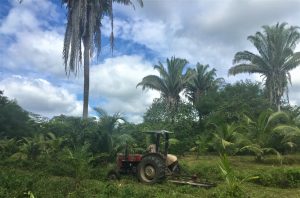 An overgrown coconut field being cut
Our road is in horrible shape and getting it fixed is the key to any success here.  Not to mention in about 2 weeks I have an Airbnb guest arriving.  I have no idea how they are going to make it down our road.  I have made arrangements for Derrick "our guy" to come in a few days to help remove a few blown over and broken trees in the coconut field.  Other then that I biked to the grocery store in the next village over for groceries.  This evening I organized more of my belongings.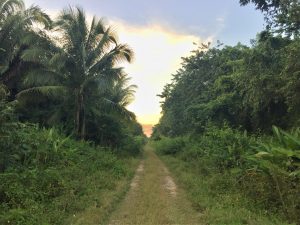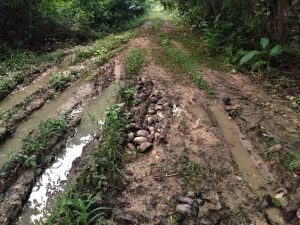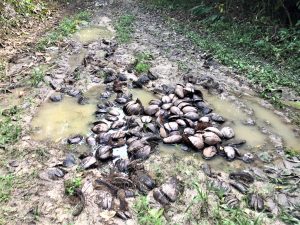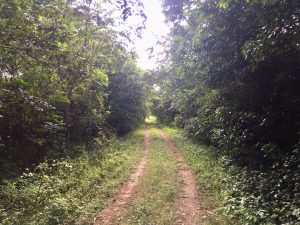 My Road
I would hardly say I was productive today.  Which is okay for today and considering it's my first full day in my house in over 3 years.  But everything here is very labor intensive so I do need to be productive everyday.  I saw some nice birds today including a Lineated Woodpecker.  I also came across few interesting creatures around the farm.  It is so nice to hear the monkeys again.  Perfect weather today again.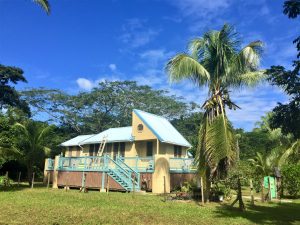 Home
My Mexican Bike Tour Summary (June 9 to Nov 15)