December 30
Life in the jungle: I went to the city this morning.  It was a hectic day and I did not escape my daily portion of grief.  First stop to the bank, and then to DigiCell.  This is my third visit to DigiCell (cell phone & internet provider) and this time I was told that Internet to my farm is not even possible.  This so Belizean.  (Later on in the day I was advised to go to their Ladyville office to get that information confirmed as that information makes no sense.  DigiCell, the worst cell phone and internet provider compared to Canada, USA and Mexico providers).
From there with a little work, I was able to track down the Ministry of Labor office to get the required information for a work permit.
And then from there I took a bus back down the highway to get pricing information on barbed wire from Reimers.  And then to Universal to basically finish purchasing assorted tools that now has me mostly completely self sufficient from having to use any of Jacks tools again.  My morning in the city was so hectic that I didn't have time to bus it back into the city but waited for my bus to go by where I was down the road on the highway.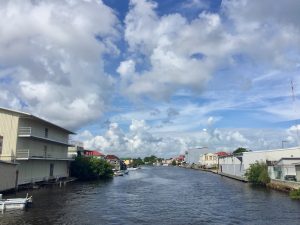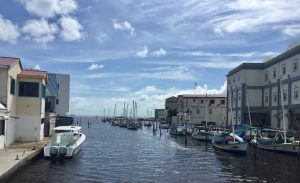 Belize River in Belize City
Getting back to the village more grief for the day continued.  In the interest of clearing some account information I enquired to my local guy about some small loans Jack made to him with my money.  Basically, the problem was that these loans were so old that the local had no idea there were outstanding loans.  I just told him don't worry about it then.  I was not going to create tension between me and the only guy in this country I can count on.  But thank you once again Jack you just cost me another $250 USD.  You made loans with my money and neglected them because it wasn't your money to worry about.  I suppose on a positive there is very little chance and opportunity for Jack to rip me off anymore.  All my loose ends with him are coming to an end.
I was also told that Jill called our local guy and wanted him to enter my crawl space under my house today to remove Jacks junk because Jill knew I was in the city.  Unbelievable, Jack has been storing junk under my house for almost 5 years now.  Yes, another one of my thankless favours.  And trust me when I tell you that it is all virtually junk and I want it out like yesterday.  But to ask someone to enter the premises of another persons property when they are not home?  The unfortunate part for my local guy is that Jack wants him to store all his junk for him.  This guy is a construction guy with 7 kids and no room for junk.  But for once, these are not my problems and I will be so thankful when no one else's junk is on my property.
I had the afternoon to get something done but I just didn't feel well.  Since being under the weather usually the mornings are a little rough for me but as the day wears on I feel better and better.  But today was the opposite.  I took a break on the hammock and didn't stir until almost dark.  This inability to get a full day of productivity in along with the almost daily grief and drama from my old property managers is taking a toll on my anxiety levels.  My ability to deal with headaches is much simpler as long as I am being productive and getting me other work done.  But if I am not getting the work done and dealing with headaches I start freaking out inside my head.
December 31
Life in the jungle: I am feeling way better this morning than I did yesterday afternoon.  I am still not perfect and I am still not setting an alarm in the morning.  I started my morning with some chopping in the coconut field.  This is the first time in what seems like forever with a machete in my hand.  It felt good.  I was actually finally able to officially finish chopping my field as a first completion.  Unfortunately moving forward is the daily maintenance required to keep everything looking as good as it does now and I am behind almost a week on that.
This morning I visited my cherished friend Mel's grave.  I haven't seen his son Wayne around his farm since before Christmas so I thought it was a good time to visit.  James my lawyer called bringing an end to my chopping.  He is determined to continue helping me with my residency.  I am proceeding very cautiously.  But I did get very useful information from him this morning.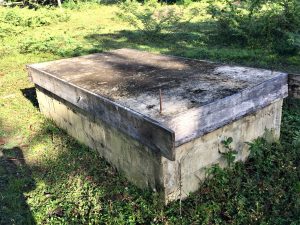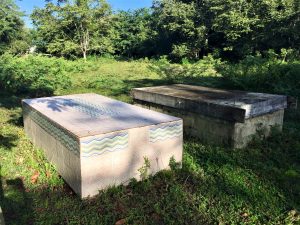 My most cherished friend Melford Hendy lying beside his wife Hilda
I did a little bit of yard work and I found one of my boundary stones that I hadn't seen in a long.  This caused me to go looking for another stone which I hadn't seen in a really really long time.  And I found it because of how the vegetation is so high that the stone is now exposed.  There is one other stone I was unable to find.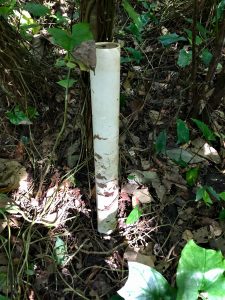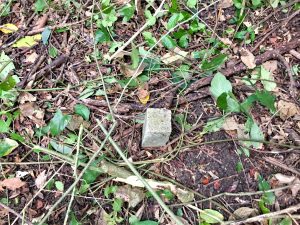 Locating some boundary markers
I went up to the grocery store to pick up groceries and a few empty boxes.  Jack has a bunch of junk in my crawl space (as mentioned yesterday).  Funny enough a bunch of Jacks junk is stored in a bunch of my plastic totes.  Plastic totes are very expensive in Belize.  Won't Jack be surprised someday when he discovers that he didn't get my plastic totes.  So, I packed all Jacks crap up into boxes.
My last project for the day was securing styrofoam across cross members that I keep hitting my head on in the crawl space.  Some animal stole one of my recently planted plums out of the planted pot.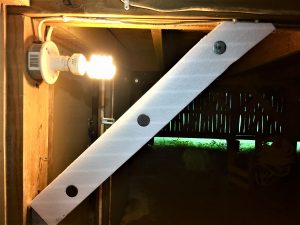 I keep bumping my head off these cross members
I saw 2 agoutis today.  One agouti on the road this afternoon and a second one in my backyard right at dark.  That one was nice to see.  I am thinking today was one the better days since before getting sick.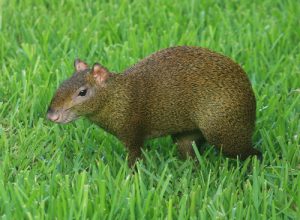 An agouti, locally known as a rabbit.  Fortunately they are reasonably common in the area even though they are hunted. (random photo off the internet)
January 1
Life in the jungle: I woke up at 6:30 am.  I feel okay but still not my usual self.  Yesterday I was looking for boundary markers around my house.  One stone I could not find.  While it's not my biggest priority I chopped a line between 2 stones in order to line up the third stone which it did and I found the stone.  So, I now have a rough line chopped out that is in the very least ready for posts to be put in the ground for a fence line.
This afternoon I worked in the coconut field, chopping "sensible" weeds out and staking leaning coconut trees.  I seen a green headed vine snake but he wasn't sticking around for me to catch him.  I also got around to building a door for my bedroom/loft.
Overall, a productive day.  We haven't had any rain in almost 2 weeks.  We need some rain.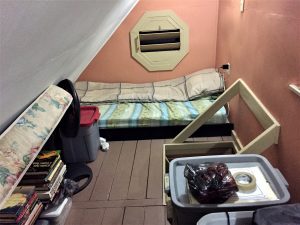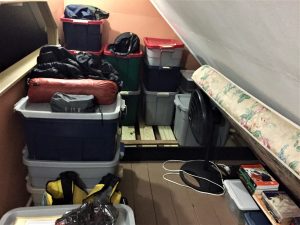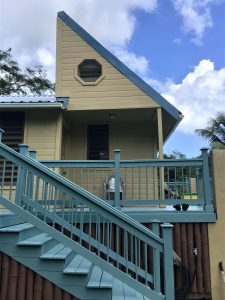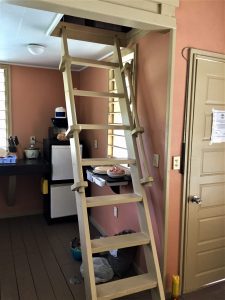 My bedroom.  I sleep in the loft above the kitchen
January 2
Life in the jungle: I slept in this morning.  I am going to start setting my alarm for 6:30 am again.  I put a few hours chopping and staking leaning coconut trees.  And I finally did an official coconut tree count – I have 390 in the field, 21 coconut trees in my front yard and the ponds have at least 50 trees.  I also calculated that the coconut field covers about 3 acres of land.  After breakfast I painted my bedroom door.  This afternoon I started a proper cleaning of vegetation around the ponds.  My watermelon and papaya seeds are starting to sprout and they are going to need a place to be planted.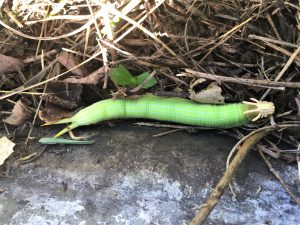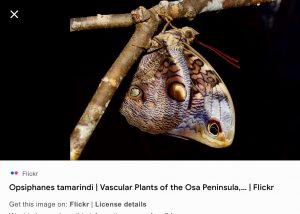 I found this guy today.  Supposedly he turns into this moth (random photo off the internet)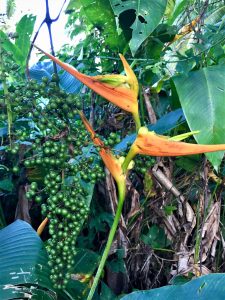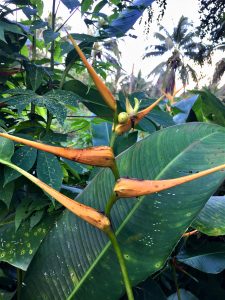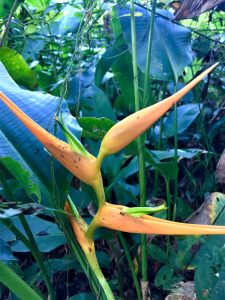 Heliconia flowers