I am spending about 60 days in Las Vegas to work on assorted content and audience building projects.  If you are interested in building audiences and that sort of thing I encourage you to follow my series called 60 Days in Las Vegas.  You can find Part 1 HERE and Part 2 HERE and Part 3 HERE and Part 4 HERE and Part 5 HERE and Part 6 HERE and Part 7 HERE and Part 8 HERE and Part 9 HERE and Part 10 HERE.
March 31, 2020 or my 60 Day Review

What I am trying to accomplish during my time in Las Vegas in no particular order of importance.
Media Reach (mainly Canadian radio, tv, newspaper)
Pursuing and building a contacts list via LinkedIn & web searches
Creating a press release template that can be emailed on mass at certain milestones
Last 30 Day Review – I actually did a little research attempting to create a list of potential media journalists.  During my research I decided that reaching out to Canadian media at this time during a second wave Covid-19 pandemic was not in my interest.  Therefore, abandoning this goal.
Magazine article published focused on Canadian magazines
Reach out to magazine and freelance journalists to see about having a story written about my bike ride.
Last 30 Day Review – This was probably my most important goal in the grand scheme of things.  I actually spent a fair amount of time on this goal this past month.
I wrote a standard pitch and researched two dozen potential magazines (so far).  Many magazines were not good fits after I did my research.  I pitched 10 magazines/freelance journalists.
I received one response from an online magazine asking me to write an article and a second response that they would get back to me in a few weeks.  I will be following up with that magazine next week.  I was able to finish writing the article requested from the online magazine while in Las Vegas.  I will submit it in a few weeks.
Finding and picking potential freelance journalists was more work than I anticipated.  I suppose that I am not surprised with the lack of response.  But maybe 2 out of 10 is a good response? I won't lie, I wish I made this focus more of a priority in February.  There are still about 8 potential magazines to research when I get a chance.
Corporate Sponsorship
I am thinking that my initial contact focus will be on tree planting sponsorship and potentially build on a relationship from there.
And I am thinking once again to stay Canadian focused
Last 30 Day Review – I finally started to put some notes together for a potential first pitch.  I did not get very far.  The reality was that sponsorship has never been a priority.  I simply did not have the time.  But the experience of drafting and submitting a proposal is undoubtedly a worthwhile experience.  I will have to revisit this goal.  Though I can't imagine have the time moving forward.
Create a source of passive income
Last month my 18 year old nephew Aidan has excitedly agreed to create a Safari Arie clothing brand. The website will be safariarie.co.  He will partner with a good friend of his Matt Jelley
A portion of sales would go to plating trees
Last 30 Day Review – This is probably the most exciting outcome of my time in Las Vegas.  Things are moving a little slow because of Aidan's and Matt's current school and work commitments.   But progress and momentum is building.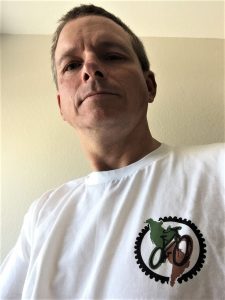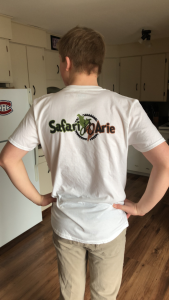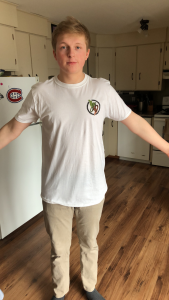 With Aidan Hoogerbrugge
We continued to have had a bunch of video conversations about creating a tree planting community around the clothing brand.  About purchasing an actual t-shirt printing machine and about the "unboxing" experience we wish to create.  Matt continues to make progress developing the website.  I invested a fair amount of time to online research for this clothing line this month.
I also came up with an idea that should set us apart from all the rest of the t-shirt companies out there.  Obviously, I can not share this until the website is live.  Aidan and Matt are excited about the idea.  I feel the idea in its self was worth my time in Las Vegas.
Build my Social Media audience and create quality blog content
Last 60 Day Review – Because this is a 60 day review I will re-post February numbers beside the March numbers.
Blog post written & published avg 1,000 words [Feb – 17 written & 10 published, March – 13 written & 20 published] 60 day total 30 blogs written and published. My grade given – Holly crap!!!
Short stories written & published avg 450 words [Feb – 11 written, March – 4 written plus 4 shorter photo essays] During the month of March these stories along with a bunch of existing poetry was posted to a new blog platform that I am using called Medium. 39 short stories, poetry and blog posts posted to Medium.  My grade given – not to shabby!!
I wrote 2 and finished a third 2,000 avg word pieces and recorded these 3 stories into audio for our YouTube Channel bike ride documentary style videos. Getting this accomplished in Las Vegas will save me so much time against my future work load.  The videos will be title – Prairie to the Badlands, The Rocky and Coast Mountains and The Pacific Coast Highway.  My grade given – This was a lot of work and not really part of my agenda. Damn I work hard!!  A++++
Blog posts edited for SEO. I only learned this month (March) that my blog posts for my website were not SEO compliant.  This was a huge nightmare to discover and a lot of work to learn.  I was able SEO 14 existing blog posts.  What a lot of work.  My grade given – You are a rock star!!
Social media shares of blogs, photos and videos to various 40+ Facebook bike groups. [Feb shares – 120 posts, March shares – 240 posts] 60 day totals – 360 post shares
Instagram – between Feb & March I scheduled and posted 165 images to my profile and spent between 1 and 2 hours commenting on various posts to grow my audience. My grade given – obviously an A+ for effort and work accomplished.  As far as results, that is anyone's guess.  I did not become famous during my time in Las Vegas.
Reading all that you would almost wonder if I ever slept
Social Media Growth
Facebook new growth [Feb – 3 personal followers, 14 new friends & 42 new Safari Arie fans, March – 3 personal followers, 6 new friends & 63 new Safari Arie fans] 60 day totals – 6 new personal followers, 20 new friends & 105 new Safari Arie fans. Note: I make no effort to grow new Facebook friends.
YouTube new Subscribers [Feb – 14 new Subscribers, March – 37 new Subscribers] 60 day total – 51 new Subscribers
Instagram new followers [Feb – 45 new followers, March – 54 new followers] 60 day total – 99 new followers
Strava new followers [Feb – 3 new followers, March – 6 new followers] 60 day total – 9 new followers Note: I make no effort to grow Strava followers
Google analytics shows me with a 21% growth for this February vs last year February
Google analytics shows me with a 178% growth for this March vs last year March. Truthfully this growth is largely due to my blog post on bike touring with a bike trailer.  I don't anticipate the growth in March to last at all.  But I will definitely share my bike trailer blog post regularly.
My grade given – Growing social media followers is a lot of work. I would not know how to grade my results.
Connect my bike ride to my greater passion of tree planting
Website content and Home page message
Blog content
30 Day Review – In this area virtually all progress was made in the month of February.  Virtually nothing was worked on in March.  There are a few items that I am waiting on my web developer to accomplish that I would have hoped had been accomplished this month.  But I try to be a pain in his butt.
That fact that a clothing line that is going to be connected to tree planting is being built is in many ways more progress than I could have hopped for.  Grade given – A++
Belize
Belize content was not initially a major goal but me and Brandon did release an edited YouTube video called Plan your vacation to Belize.  So far, this video has received 138 views.
This video will be shared every Monday to Facebook similar to how the tree planting post is shared every Friday.
Overall
I tried to be as productive as possible everyday.  Considering I was in Las Vegas for 60 days and virtually in front of my computer all day and every day I am shocked I could maintain my effort, focus and productivity as long as I did.  I did a heck of a lot of work during the month of March.  This is likely what kept the momentum moving.  Some goals were abandoned but even that is a good thing to do some work and be able to judge the work as not a priority and move onto the priorities.
While I did spend a lot of time on magazine research in March, I should have been more focused on this priority in February.  I suppose this will be my one and only regret from Las Vegas.
I don't foresee ever taking another 60 day break from the bike tour again.  I can only hope that I will see the fruits of my labor years down the road.  I would like to think the birth of Safari Arie.co will make my time in Las Vegas worth it.
60 Days in Las Vegas – Part 10