February 2

Spent the day inside at Mike & Monique's working on blogs and photos.
February 3
Pedal:  93 km's
Destination:  Liverpool
Weather:  Today was sunny with cloudy periods, most of the day was above freezing.  Leaving Branch LaHave (over by Wentzells Lake) I took a wrong turn before I got to Chelsea and  I practically ended up back in Bridgewater.  I found another back road through to Lapland but took that road too far and ended up on a dead end utility/logging road.  I probably pedaled an extra unnecessary 25 km's today.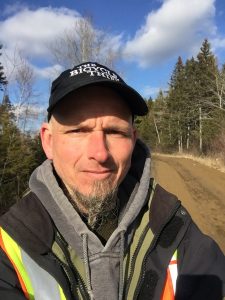 Dead end dirt road
I worked on my blogs and photo editing until 1am at the McDonald's in Liverpool and camped behind an abandon building behind the Sobeys.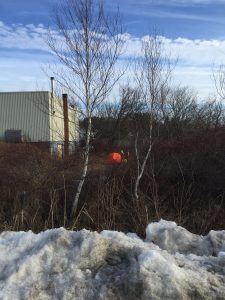 February 4
Pedal:  80 km's
Destination:  Shelburne
Weather:  Felt like spring time when I got out my tent this morning.  Nice and sunny with a high of 4C.  Later in the afternoon the clouds came in and it felt much colder than it probably was.  A few big hills today so I am feeling beat.  Today I passed the 3000 km's pedaled.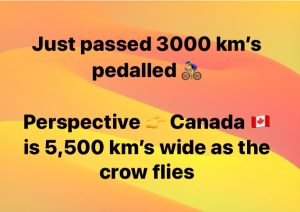 This morning a local followed me into the Tim Horton's parking lot and handed me a $10 bill.  Later tonight at the Tim Hortons in Shelburne a local recognized me and took up a small collection of $22.  Right at the end of the evening at about 10:00pm a woman approached me after hearing about me.  After our conversation she says "I'll be right back" and then disappeared.  By now it was about 10:30pm and I needed to go find a campsite.  I go outside and I don't see anyone.  I pack up my bike and start heading out.
I get about a minute down the road and all of a sudden she pulls up telling me that her husband is checking me into a hotel down the road.  So I got a room at the Wildwood Motel.  Thank you so much Chris and Kathy Goodick.  What a day of generosity!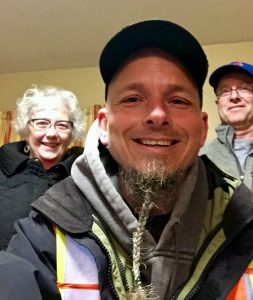 Chris & Kathy Goodick
February 5
Pedal:  95 km's
Destination:  West Pubnico
Weather:  Cooler temperatures today with a bit of a breeze; sometimes a head wind and sometimes a tail wind.  Some wind chill for sure.  A long day and pedaled into the dark to try to get to a restaurant in West Pubnico that ended up being closed.
The last 3 days I was not feeling this ride at all.  I wasn't sure what the deal was.  January 31 I had a sudden memory from my past relationship that had me feeling pretty empty and emotional.  And then Saturday when I got to hear a bit my hosts story of their tragic losses and how they have found happiness.  I remember Saturday being pretty emotional for me and then Sunday I was good.  Anyways, I reflected on all those emotions and sure enough things were still raw.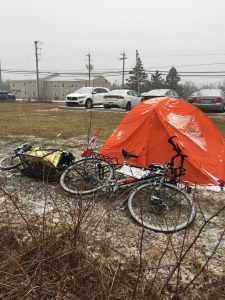 February 6
Pedal:  51 km's
Destination:  Yarmouth
Weather:  They were calling for a winter storm for today and tomorrow.  When I woke up I wasn't too sure what my plan was.  I camped next to the restaurant last night.  It was cold when I started to break camp and it was already starting to snow.   I had everything packed up by 10am and the restaurant door was still locked because they don't open until 11am.  Well I couldn't stand around for an hour for nothing.  So the decision was made for me.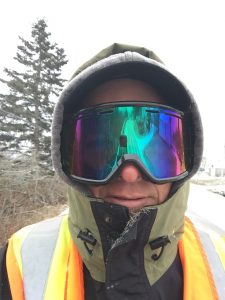 Because of the road and weather conditions I jumped on the 103 because of the shoulder.  Hwy 3 had no shoulder so everyone would be forced to slow down or stop for me.  Anyways taking the 103 was definitely the smart move.   This was technically only my fifth snow storm of the ride.
I got into Yarmouth at a real reasonable time.  The storm wasn't too bad and snow accumulation was minimal.   There was light drizzle coming into Yarmouth.  But that didn't stop a ton of messages on Facebook and Messenger about the impending storm and whether or not I had anywhere to sleep.  It seemed like everyone went into overdrive to find me a place to sleep on Facebook.
In the end Leonard Adams who owns Bayside RV here in town gave me an RV trailer for the night.  Which was a nice thing because when I went out to my bike tonight, my bike was completely caked in thick ice.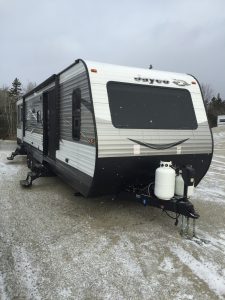 I met some real nice people at the Tim Hortons here in Yarmouth.  I met some real nice people at the Tim's in Shelburne too.  Tim Horton's is a real good place to meet nice people.  It's funny to watch the expressions on the local [groups] when I pull up in the bike and trailer at a Tim Hortons.
February 7
Pedal:  37.5 km's
Destination:  Yarmouth
Weather:  I woke up to overcast with rain in the forecast for the whole day.  During breakfast at the Tim's Elka Semerad from CBC St John New Brunswick called me.  They are hoping to see me Monday morning at 6:30am.  Sounds like a radio interview.  An in-studio radio interview will be another first for me.
The plan for today is to stay in town due to the forecast.  I left my trailer at the RV shop and pedaled to Cape Forche.  What a difference losing that extra weight is.  It was light misty rain heading to the cape.  Photos were fairly difficult with wiping my camera lens dry between every photo.  I got my photos done just in time.  Only minutes after I started heading back to Yarmouth the rain started and was pretty wet by the time I got back into town.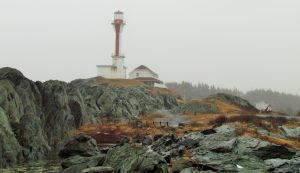 On a side note Cape Forche looks like a pretty amazing place and would highly recommend a visit.  I say "looks" because with the rain and low visibility from fog.
Later today I discovered that my BOB trailer wheel is shot.  The hub bearings failed and the dust shield and all the ball bearings fell out.  I headed to Murray GM car dealer to talk to guy – Allen Dugas who was trying to help me out yesterday.  If he had a pick-up truck I was going to see if he could bring my trailer to Digby for me the next day.  Unfortunately he did not drive a pick-up.  But better yet he was able to get me a Nova Scotia license plate.  Something I had been trying to secure for months.  I also received $50 and a $20 Tim Card today.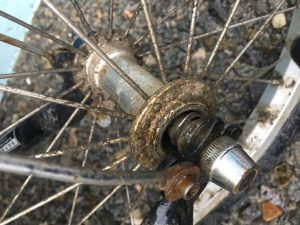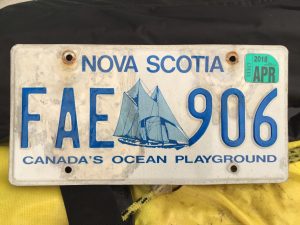 Wind is crazy tonight.
February 8
Pedal:  105 km's
Destination:  Marshalltown
Weather:  The day looked like it was going to be a cold one and it was.  The wind chill for the day was going to be at least -14C or colder.  I pretty much battled everything – wind, snow and cold.  Fortunately I never got too cold; but it was cold.  I am going to state that today was the 6 winter storm that I went through.  Much worse than the storm they had and called for coming into Yarmouth.  Wore my ski goggles for a good part of the day.
During breakfast at the Tim's Murray Robinson who I had met the first evening made a special stop by to say good bye and had a gift for me.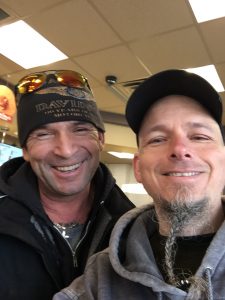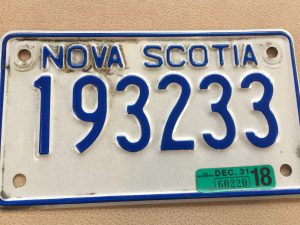 Annie Ferguson a follower of mine was making some calls looking for a bed for me in Digby.  Originally I wasn't planning on going that far.  But the roads were pretty quiet and it is a lot easier to pedal through a winter storm then it is to set up camp.  At the same time Annie forwarded me a potential contact I had a another guy following my ride message me.  I decided to go with Tom Adams (and Joyce Bremner).  They were a little closer for me to get to and they had been following my ride already.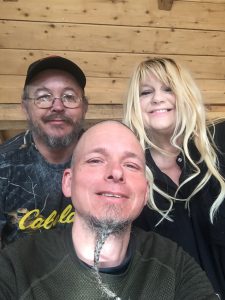 Today I broke my pedaling record again at 105 km's.
February 9
Pedal:  7.5 km's
Destination:  Digby Ferry Terminal to catch ferry to St John New Brunswick
Weather:  It was a nice sunny day in Digby.
I had a great evening with Tom and Joyce last night.  They have a super cool home.  The interior of the house is completely wooden rough cut boards.  They took me out for Chinese last night.
This morning Tom took me up to Point Prim Lighthouse for some photos.  Thank you Tom and Joyce for being amazing hosts.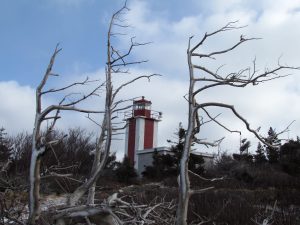 From their place I went through town to the ferry terminal.  I caught the 4pm ferry to St John New Brunswick.

Nova Scotia Summary
Honestly it is hard to know where to start when I talk about Nova Scotia.  My experiences and interactions with the people of Nova Scotia left me speechless almost on a daily basis.  I feel that it will take me many many weeks to process my experiences.  Nothing I could type on this screen would give justice to the generosity of Nova Scotians.  One simply has to scroll through the blog posts or Facebook Timeline and see photo after photo of the main people that reached out and hosted me and handed me random gifts of money.
For other cyclists certain roads had sections of shoulders but many did not.  There are definitely hilly areas in Nova Scotia.  Perhaps the most isolated area (no restaurants) I pedaled was out by Peggy's Cove.
I highly recommend pedaling/visiting to Peggy's Cove, Lunenburg and Cape Forchu.
Stage 2 – By The Numbers
1,133 km's total / 28 days / average 40.5 km's a day
8 down days (2 weather & 4 days in Halifax & 2 extra blogging days)
$303.55 spent on a new chain & cassette & usb chargeable front light and tune up
$210.41 spent on a thermos, new gaiters and a raincoat
$14.50 on Pier 21 Museum admission / $17.19 on a t-shirt / $49 for the ferry to NB
$450.16 for food divided by 28 days = $16.00 per day
I should mention regarding food.  Most of my meals are in someone's home.  I suspect I could eat almost $50 worth the food a day in restaurants with my appetite.
Nova Scotia – January 21 to February 1, 2020
Nova Scotia – January 11 to 20,2020