January 21
Pedal:  45 km's
Destination:  Newport Corners
Weather:  Last night was cold.  At least -14C but I had done -14C before and I did it again.  Marilyn who owns the pub pulled up just as I was taking down camp.  She came in specially to make me breakfast (the pub does not open for or have a breakfast menu).  She even brought her husband to meet me.  She cooked me an amazing breakfast and felt so bad for letting me sleep outside that she handed me my $20 back for super the night before.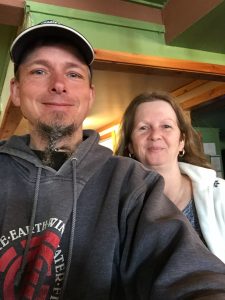 Marilyn at Walton Pub
Between yesterdays generosity and this morning's generosity I am having a challenge in processing all these experiences and interactions.  Little do I realize that there are a lot more down the road in the coming days.
It was not a long day to get to Newport Corners to a waiting warm bed.  Very sunny but it was cold.  The Bay of Fundy Tide was on the rise.  Midway through the day another car stopped with a $10 coffee gift card.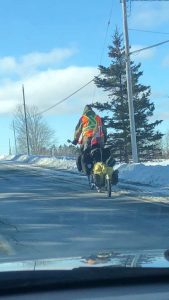 Photo taken by Jeff Starratt
Marcel Capp and Sharon Redden hosted me this evening.  We had good conversation and I really enjoyed my time with them.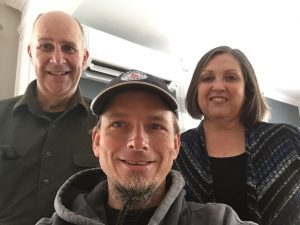 Marcel Capp & Sharon Redden
January 22
Pedal:  62 km's
Destination:  Halifax
Weather:  Sunny but cold today.  Today started out frustrating.  Three kilometers down the road I realized I forgot my phone on the kitchen table.  To make matters worse there were 2 separate roads back to the house and me and Marcel ended up missing each other (when he attempted to go find me) and Sharon had already left for the day.  I felt like crap for the time Marcel wasted looking for me.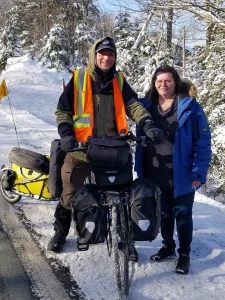 Tammy Boggs
Finally on the road I had 2 really cool local interactions.  Hari and Tammy Boggs pulled over to the side of the road for a quick chat and a photo.  I loved that they took the time to stop.  Tammy handed me a few dollars for a coffee down the road at Mt Uniake.  Reaching Tim Hortons I discovered a message from Brad  Peverill of Mt Uniake wanting to meet.  We ended up meeting at the Mount Uniake Pub & Eatery for fish & chips and a few beers.  Thanks Brad.  We also went outside for a bunch of photos with the local patrons.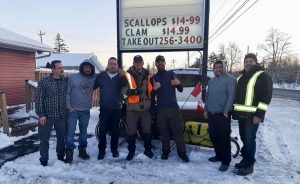 The boys at Mt Uniake Pub
My day had not started out as planned but I was having a great day.  I pedaled into Halifax and arrived at my host Dale Spence at about 7pm.
January 23
I had a great evening with Dale.  Dale is what I consider a super fan of mine.  He has been following me since the very beginning and reading everything I have ever posted.  Dale is more familiar with parts of my ride than me.  Lol.  This is the Dale who's parents had come looking for me on January 11 at the truck stop in Aulac NB.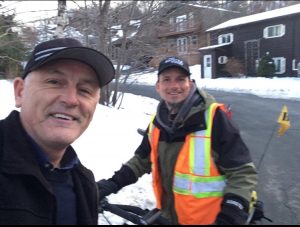 Super fan – Dale Spence
I went with Dale today as he had a few minor errands to run.  During the car ride he told me how much it meant to his parents that they found me at the truck stop.  It was really touching to hear what meeting me meant to them.
In the grocery store both me and Dale spotted this woman with the coolest baseball hat that said "The Bicycle Thief."  I remember seeing the hat and before my mind could process "that is the coolest hat" Dale was asking her if he could show that hat to me.  And before Dale could finish the sentence that I was biking across Canada she handed the hat to me asking me if I wanted it!  Her name was Marian Girroir of Antigonish and her generosity blew me away.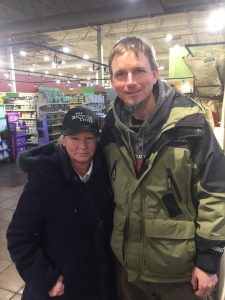 Marian Girroir gave me the hat off her head
Initially when I tried to convince her to take a photo she was too self conscious of her hair!!  What woman gives the hat off her head when she is self conscious of her hair?  I won't soon forget this gift.
I was able to convince her to take a photo with me if we put the hat back on her head.
January 24
Spent part of the day trying to keep up with documenting and blogging.
Later in the afternoon I headed over to Hugo and Vera Ford's home and enjoyed an enjoyable evening with them.  Hugo was from Guyana.  It was so cool to meet someone from there as I plan to bike there and it is not often you meet a person from there.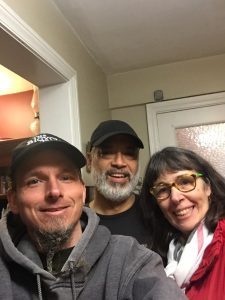 Hugo & Vera Ford
I would like to mention 2 random interactions that touched me pretty profoundly over these last few weeks.  No dates provided in the interest of keeping them anonymous.  I had a lady message me that meeting me took her mind off an upcoming medical procedure and I had someone hand me a $50 bill in a hand shake.
Admittedly it is hard to process these acts of random kindness but perhaps getting back on t he bike will help with this.
January 25
This morning I went with Vera and her daughter Nicole to visit the Halifax Farmers Market.  Later at lunch a family friend of theirs Deloris D'entremont stopped by.  Me and Deloris decided to go to Pier 21 together.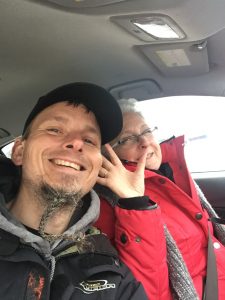 Deloris D'entremont
Pier 21 has family significance for me.  On March 31, 1952 my grandparents Jacob and Wilhelmina and my father and aunt and uncle arrived in Halifax aboard the Skaubryn (ship).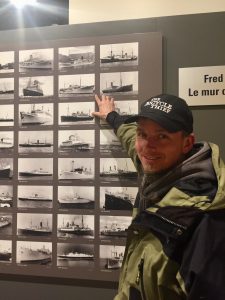 The boat my dad came over in from Holland
Later that evening I made my way over to my next host who has given me an empty house apartment to use for the next few days.
January 26
This morning I did an hour and half podcast with Steve O'Shaughnessy and Bikepack Canada.  It was really neat and cool to be on a podcast that I actually listen to regularly.  Today it is raining and I plan to stay inside for the day.  I did get pretty lazy and watched an entire movie while I ate lunch.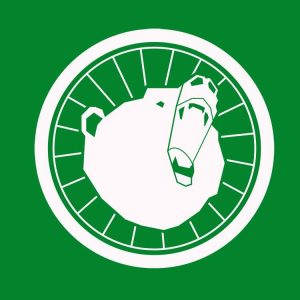 Bikepack Canada Podcast
January 27
Pedal: 40 km's around the city of Halifax
Today was a most interesting day.  I decided to visit CBC and see if I could track down Laura Fraser the Social Media Editor.  She was the only one who responded back to any of the messages/emails that I sent CBC Halifax.  She was unavailable and someone in her office said they would call in the near future for a phone interview.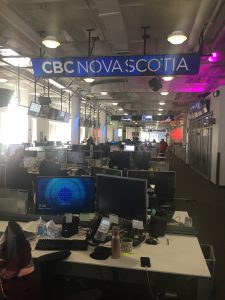 Standing outside CBC contemplating my next move Colleen Jones happened to walk by and noticed my bike.  A few minutes later she said told me we could film me today and a few minutes later I was back inside.  The plan was to film me and Colleen at Dingle Tower at Sir Sandford Fleming Park.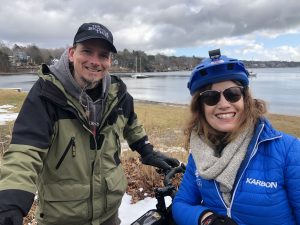 Colleen Jones at CBC
While I headed to Dingle Tower Steve the camera man brought Colleen to her home to pick up her bike.  It was a pretty cool and interesting experience.  Basically we biked around Dingle Tower a few times while Colleen asked me questions.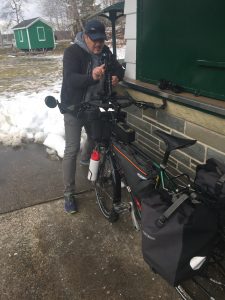 Steve setting up the GoPro
We actually had to do a Take 2 because 25 minutes later they called to say the SIM card had fried.  Whatever,  I was just glad they were willing to put the effort into a Take 2.
From there I pedalled to Halifax Citadel National Historic Site which was mostly under renovations and closed.  From there I pedaled to Fortune Donut and had an overpriced donut to celebrate my first TV appearance.  From there I pedaled to The Bicycle Thief to get a selfie with my hat.  From there I pedaled to Pier 21 to get a photo of the front of the building which I forgot to do during the museum tour.  From there I got a photo of the entrance to Alexander Keith's Brewery.  I had wanted to do the tour but only last night found out that during the winter only offered weekend tours.  So the tour I was hoping for was not going to happen.  And then from there I went to MEC to sort out my studded tire credit and deal with my tent shock cords.  I purchased a raincoat that would be able to fit over my Gortex jacket for additional rain protection.
Today the temperatures were very mild
January 28
Pedal: 45 km's
Destination: Peggy's Cove
Weather: Overcast with little wind.  Temperature wise, not too cold, probably about -4C but it felt way colder.  I practically froze my hands off taking photos at Peggy's Cove.
I got a late start today.  I finally met my host Robinson Lea Myers right before leaving.  We had a nice visit and later she wrote a real nice post with our photo.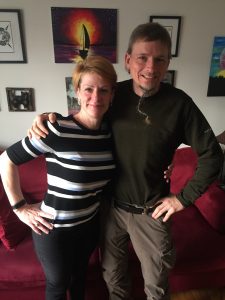 Robinson Lea Myers
"So this is Arie Hoogerbrugge and he is biking across Canada!
His journey so far has brought him from Newfoundland to PEI through Apple River and Advocate Harbour, the beautiful yet isolated part of Cumberland County where my family is from. Such a small world
My lovely cousin hosted him for a night in Parrsboro and I thought what a great idea! We happened to have a unit available for the same days he would be in Halifax and of course, we offered him a place to unwind and relax during his trip to the city.
We connected on his last day for a visit and had a wonderful chat about his journey and the outpouring of kindness he has experienced in his travels through the Maritimes. 💕
You know, we are all really on our own journey but if we are open to it our journeys criss cross, we inspire one another and hopefully we experience more positive human interactions than negative.
While hate and love, judgement and kindness are contagious — do your best to spread more love and kindness than the latter.
If any of my peeps in Fredericton, Ontario and all the way out west want to follow and/support his journey, I would encourage you to do so.
Kindness. Sprinkle that shit everywhere. "
I wasn't sure what to expect at Peggy's Cove but I wasn't expecting what I saw.  The whole area seems to be a massive rock.  Very little trees anywhere.  I assume due to lack of soil?  It is a really cool area and am very glad I made it there.  Nothing was open anywhere in the area.  I got there in time to take a bunch of photos and nearly froze my hands off doing so.  With no expectation of getting any further I decide to camp behind the Information Center so that I might take more photos in the morning.
January 29
Pedal: 73 km's
Destination: Chester
Weather: When I initially woke up it didn't feel that cold.  But I froze my hands pretty good taking more photos at Peggy's Cove.  Once again temperature wise, not cold but it felt pretty cold today.  There was a bit of a head breeze also.  The sun did come out for an hour so and that made the afternoon feel pretty good.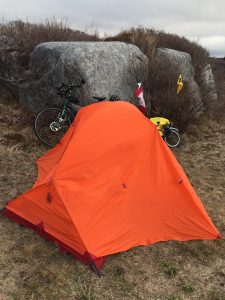 Camping at Peggy's Cove
I am so glad I camped at Peggy's Cove.  It gave an opportunity to take more photos and to be able to say I camped at Peggy's Cove.  I also visited the Swiss Air 111 crash Memorial Site just down the road a bit.  The site also gave a really good place for photos.  I took many photos of Peggy's Cove and surrounding area.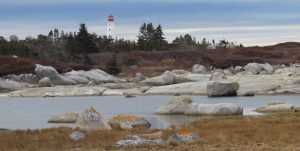 Peggy's Point Lighthouse
Swiss Air 111 was a plane that crashed at the entrance of St Margarets Bay September 2, 1998 killing all 229 passengers and crew on board on its way from JFK Airport in New York to Geneva, Switzerland.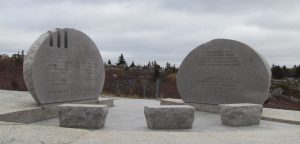 Swiss Air 111 Memorial site
The highway all the way to Chester has been pretty awesome following the coast.  For the first time I noticed a beach where I could access the water with my bike.  I don't know if it counts dipping my bike wheels in the Atlantic Ocean in Nova Scotia instead of Newfoundland but I dipped my wheels in Nova Scotia.  I figure the Atlantic Ocean in Canada is still the Atlantic Ocean.  Anyways I dipped my bike wheels at Cleveland Beach Provincial Park.
FYI for the most part except for small sections here and there there have been no shoulders for cyclists.
I supposedly had a warm bed waiting for me but buddy didn't respond to my text message.  Looks like a cold one tonight.  I got a complimentary sub at a local restaurant on my way out tonight.  He felt really bad that I was sleeping outside tonight.  Calling for a pretty big snow storm this weekend.  Should be interesting.
January 30
Pedal: 26 km's
Destination: Mahone Bay
Weather: Last night was about a low of -11C.  Packing up camp things were a bit windy and had me a bit worried about a cold windy day.  The day actually turned out to be nice and sunny.  I ended up camping in the skate park next to the Tim Hortons in Chester last night.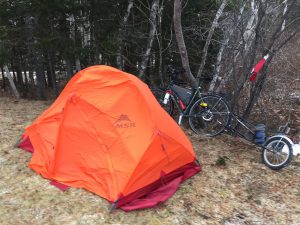 Camping in Chester
I needed to take care of some emails first thing.  Between emails I received a message from Lewis Hinks (only living a mile down the road).  Lewis didn't realize I was in town and asked about the possibility of meeting me.  Of course I obliged.  I had a really nice visit with Lewis and his wife Valerie.  Lewis was able to set me up with a host just outside of Bridgewater and made a small financial donation to my ride.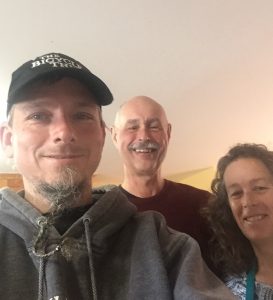 Lewis & Valerie Hinks
By the time I was on the road it was pretty much lunch.  Mahone Bay was a short 26 km's down the road.  Tonight I will be staying with Lloyd and Arlene Nauss just outside Mahone Bay.  I met Lloyd in town and we enjoyed a meal at the local pub.  I ended up going through Mahone Bay pretty quickly and wished I had spent a little bit more time here.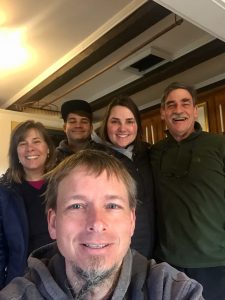 Arlene, Owen, Elsa and Lloyd Nauss
Lloyd and his family live in a really cool 200 year old home with 2 kids and 2 horses.  I had a bath in one of those old claw footed tubs for the first time since I was a child.  The house seemed to have a very unique layout on the ground floor.   On the second floor the hosts master bedroom had to be accessed through the spare room that I slept in.  I have never been in a home where one had to walk through one room to get into another room before.  So cool to spend a night here.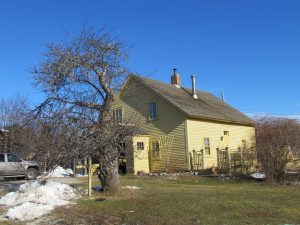 200 year home & 150 year old apple tree
From Lloyd and his wife I found out that they had heard my CBC Halifax piece on CBC Radio.  So I guess I was on the radio also.  Lloyd has lately been returning to his passion of hiking.  Another enjoyable night.
January 31
Pedal: 46.5 km's
Destination: just outside Bridgewater
Weather: Today was another beautiful and sunny and warm day.  Some hilly places.  Visited Luneburg on my way to my next host.  Luneburg was a pretty cool place to visit.  I took a lot of photos.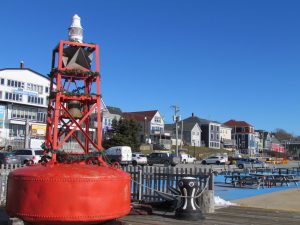 Luneburg
I had an older gentleman recognize me on the docks and said if I wanted a place to stay in Annapolis Royal there was one.  Annapolis Royal is a bit past the Digby ferry so I may or may not take him up on the offer.  I also had a girl from the Fisheries Museum recognize me and asked for a photo in front of one of their historic display ships.
Tonight I am staying with Monique Gaudet and Mike Samson just north of Bridgewater.
February 1
I can't believe that it February already.  In some ways the winter has gone so fast and in some ways it feels like Newfoundland was many lifetimes ago.

Mahone Bay
Mike and Monique decide to take me back to Mahone Bay  for a longer visit.  We went to visit Al and Rose MacEachen who own Sweet Ride Cycle.  Lewis Hinks the other day had suggested that I stop by.  I actually felt bad that I had not stopped by and was happy that I was now visiting their shop.  They have a real cool bike shop and even sell candy.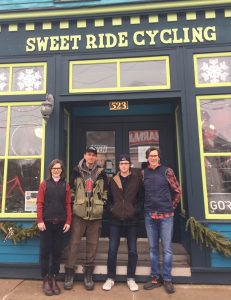 The MacEachen
We ended up doing a bit of road trip along the shoreline to Luneburg and to Bridgewater.
Today has been pretty profound for me and will take some time to process.  I see a lot of happiness between Mike and Monique.  Why this has been so profound and secretly emotional for me is to see them so happy when both have suffered tragic loss of  past partners.
There are times during this ride that I feel that I should be pedaling my bike and have not earned a day or days off.  Interestingly enough these days I feel that I should be riding are some of my most profound days.  I continue to reflect back on my ride and am everyday convinced that every decision that I have made has been the very right decision.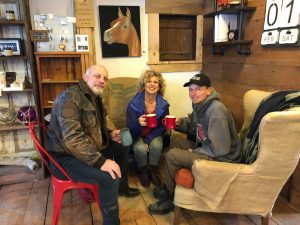 At The Barn in Mahone Bay
Interestingly enough last night I received a Facebook comment about how this ride was not evolving into the ride that this follower was expecting and as a result he would not be following the ride as closely at this time.  His comments were respectful and respected.  What was even more interesting was some of the responses from others.  All of these comments will become part of separate blog post.
Nova Scotia – January 11 to 20, 2020