Of Mahone Bay Nova Scotia
Interestingly enough Lloyd was the only host that has reached out to me through Instagram. Our connection comes through the love of the outdoors.  In recent years Lloyd has gotten back into hiking quite seriously.
Lloyd and his family live in a very cool 200 year old home.  It was the first time since a child that I took a bath in one of those old claw foot bath tubes.  Also for Lloyd and Arlene to enter their bedroom they needed to go through the bedroom that I would be sleeping in.  I have never seen a bedroom layout like this ever.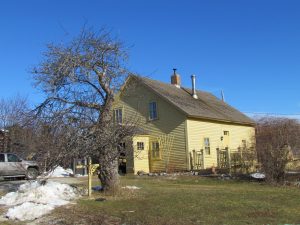 Their 200 year old home.  They figure the apple tree in the front is about 150 years old