I had a plan for Nova Scotia but then it changed.  I was hoping to get to Halifax with enough time to get to Prince Edward Island for Christmas.  By the time my ferry arrived in Sydney Nova Scotia from Newfoundland I was not so confident that I could pull that off.
While taking some time in Englishtown I discover that there was a ferry in Digby, Nova Scotia that could take me to Saint John New Brunswick.  My concern was that if I went straight to PEI I would bypass and then miss Halifax and I really did not want to do that.  I also did not want to back track out of Halifax the same way I arrived if I went in the new year.
This ferry to Saint John would be the key.  And now that I had Newfoundland under my belt the urgency that I once felt on this ride was now lifted. Pedaling along the coast from Halifax to Digby sounded like I good Idea to me.
So my original route for Nova Scotia has now changed.  And I believe it has changed for the better.  The new route is definitely way longer.
Stage 1 (which is now completed)
Upon leaving the ferry in North Sydney I made my way to Englishtown for a few days.  I then made my way to Port Hawkesbury via the TransCanada/Hwy 105 by the Canso Causeway for another few days.
I continued along the TransCanada/Hwy 104 to New Glasgow.  In New Glasgow I headed to Pictou bypassing the Wood Island Ferry to take the Sunrise Trail to Port Elgin, New Brunswick.  From there it was a quick 30 km's to the PEI Confederation Bridge.
Stage 2
In addition to following the coast to Digby I have also decided to follow the Bay of Fundy coastline to Windsor Nova Scotia and then head to Halifax from there.
Some of the sights and places I plan to see along the Nova Scotia Bay of Fundy coastline are Joggin Fossil Cliffs, Cape Chignecto Provincial Park, the shoreline at Fundy Tidal Interpretive Center and Burncoat Head Park.  From Windsor I shall make my way to Halifax.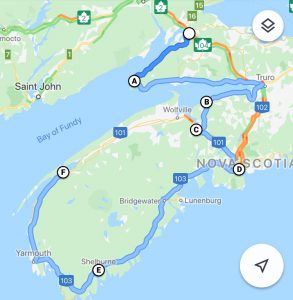 My plans for Stage 2 of Nova Scotia
I suspect that I will spend a few days in Halifax.  There is much to see and I want to start spending more time documenting and creating more content on a regular basis.
Whenever it is that I do manage to leave Halifax I will follow the coast west bound on Hwy 103 to Hwy 101 to Digby.  In Digby I will take the ferry to Saint John New Brunswick.
Stage 1 of Nova Scotia had me pedal 401.5 km's and Stage 2 will probably have me pedal at least 800 km's if not more including everything I would like to see in Halifax.
Some of Nova Scotia's highlights and places that I hope to see are as follows:
Halifax Citadel National Historic Site
Halifax Harbour & Pier 21 National Historic Site
Alexander Keith's Brewery, Halifax
Peggy's Cove
Lunenburg 
Because of the time of year I am bypassing a second planned highlight of my bike ride – the Cabot Trail in Cape Breton.  I just don't think it would have made a lot of sense to take the trail at this time of year.
At this point I think that Gros Morne National Park of Newfoundland and the Cabot Trail will be the only two places I plan to bypass due to the time of year.
That being said, I have now added Nova Scotia Bay of Fundy coastline, Peggy's Cove,  Lunenburg and the southern coastline to Digby to my places to visit in Nova Scotia.
Cabot Trail, Cape Breton Highlands
One of the most visited regions in Canada.  Where the ocean meets forested mountains; I can only image the natural beauty that makes this place so popular.
Unfortunately I will not be taking this trail.
Halifax Citadel National Historic Site
Also known as Fort George is a strategic fort over looking Halifax built in 1749 and completed in 1856.
Pier 21 National Historic Site
"The Gateway to Canada" was an immigration depot in Halifax that operated from 1928 to 1971.  The point of entry for one million immigrants into Canada.  Pier 21 was also the point of departure for nearly 500,000 soldiers in the Second World War.  Today it is a national historic site and museum.
Alexander Keith's Brewery, Halifax
One of the oldest breweries in Canada (c1820).  Why not take a tour that includes beer?
Peggy's Cove
A small rural community located south west of Halifax.  Also the site of Peggy's Point Lighthouse (established 1869).
Lunenburg
A port town on the south shore.  Founded in 1753, the town was one of the first attempts to settle Protestants in Nova Scotia intended to displace Mi'kmaqs and Acadians. (Acadians are the descendants of French colonists)
So far Nova Scotia has been an amazing province to visit and pedal through. I am looking forward to Stage 2.