I arrived in Mexico City October 12th. 
October 20
Some Notes – I started my day visiting the Palacio de Bellas Artes Museum.  At first it didn't occur to me to visit here but then I realized that the building is a main attraction in downtown Mexico City.  It turned out to be horrible value for the money.  Very little to see and most of your time was spent following directions by the usher.  Go this way, go that way, you can't go there and you can't go anywhere actually.  If I knew how to speak Spanish, I would have attempted to ask for my money ($75 Pesos) back. (SMH)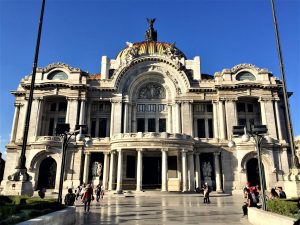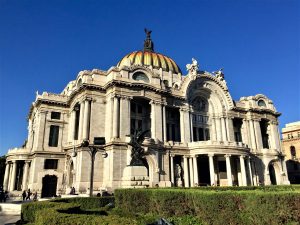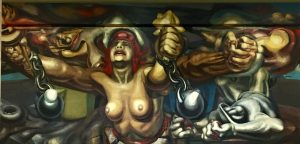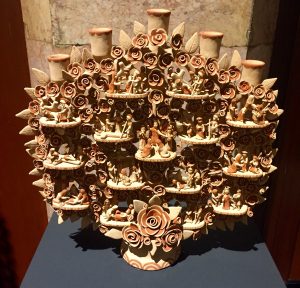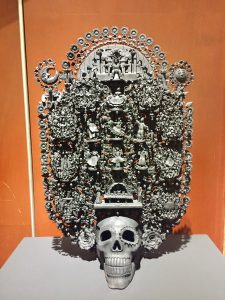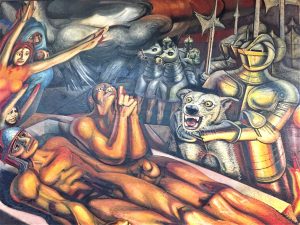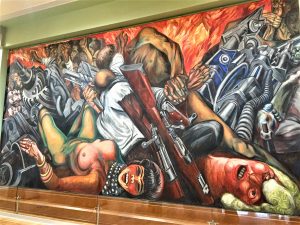 Palacio de Bellas Artes Museum
I then visited Museo de Arte Popular.  A million times better value at $60 Pesos.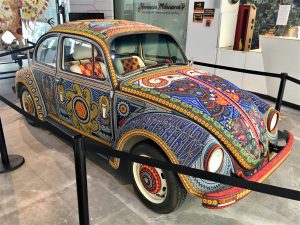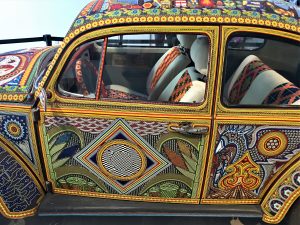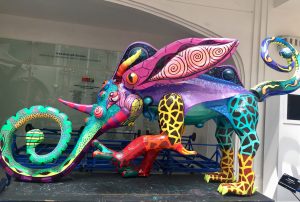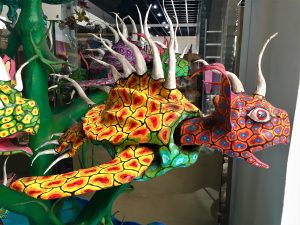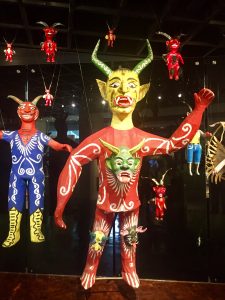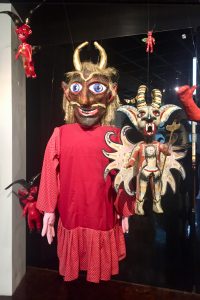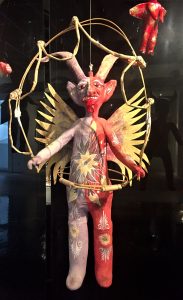 Museo de Arte Popular
I then headed to Museo De la Tortura (The Museum of Torture).  The $60 Pesos was worth it but I was extremely disappointed that no photos were allowed.  I was unable to get any kind of explanation that I could understand.  Admittedly by the time I was through the museum I was a little sick to my stomach at everything I saw and read.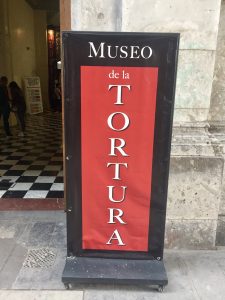 I then spent the rest of the afternoon searching for jewellery supplier contacts.  Back in July I had learned how to make jewelry while passing through Creel.  I am unsure if I plan to pursue this potential business.  That being said any future contacts and suppliers would be coming out of Mexico City (I assume).  I was able to find a guy that can melt silver into wire.  I found a company that sells jewelry tools.  I also found lots of places that I can by tiny natural stones for rings but I wasn't able to find larger stones or grooved stones.
I came across Miguel Lerdo de Tejada Library and Museo de la Cancillería that I was able to photograph the outside of.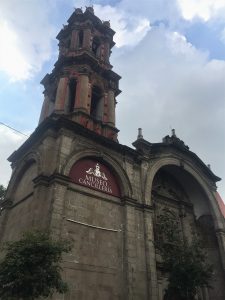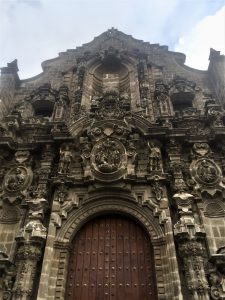 Miguel Lerdo de Tejada Library and Museo de la Cancillería
I realized today that being in Mexico City this long it "feels like" my bike ride is over.  Even though it's not the case it feels weird.  Reflecting on biking Canada and the US I was doing so much more biking with much longer stretches between cities and stops.  I miss that kind of touring.  I need to get out of this city.  I spent the rest of the evening and night editing photos.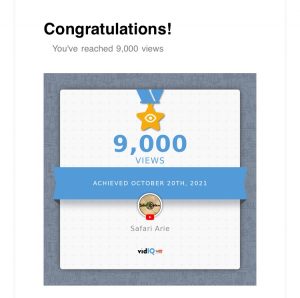 October 21
Some Notes – I started the morning with a Road Show with Brandon.  It had been over a month since the last Road Show.  This was a combination of not a whole lot to update, lack of motivation and difficulty with logistics for doing a show.  After that I was able to finish and get caught up on editing all my Mexico City photos.  I also published my Guanajuato State – Part 3 blog post and I got about 60% of Mexico State & City blog posted.  I was really hoping to leave the city tomorrow but I still have at least a full day of computer work to finish to get myself current with my blogging and bike ride documenting.
October 22
Some Notes – First thing this morning I got my Mexico State & City blog posting finished (from last night) and then I posted my Mexico City blog post.  All my photos are edited and sorted.  I then posted My Mexico Truth blog post to 15 Facebook bike groups and I posted My Finished Canada video to 24 Facebook bike groups.  And then I scheduled 30 future Instagram posts.  I then multi-tasked by posted 1,732 photos to Flickr and writing my How to document your bike ride blog post that I have been slowly working on.  My current bike ride photos total on Flickr sits at 33,195 photos with probably close to 1,000 more photos to post to Flickr.   Overall, a fairly productive day going to bed very late.
October 23
Km's Pedalled – 55 km's
Destination – Ixtapaluca
Some Notes – I finally left the hostel at about 1pm.  Part of me never thought I was ever going to leave Mexico City.  I made a mistake of trying to visit Island of the Dead Dolls on my way out of Mexico City.  But I couldn't figure out how to get there and then realizing I have to get out of this city before dark.  So, I ended up going way out of my way for nothing.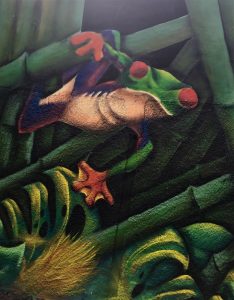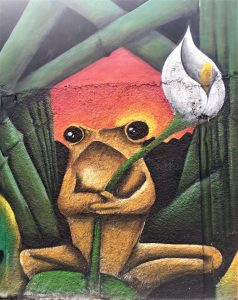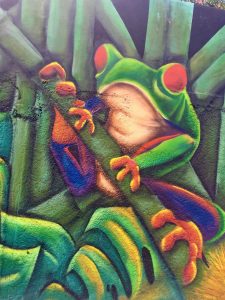 On my way through Mexico City, I came across Parroquia St Andres and Parroquia de San Francisco de Asis Tlaltenco.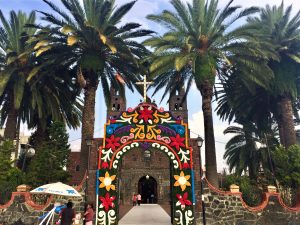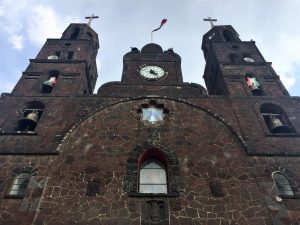 Parroquia St Andres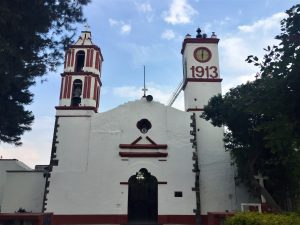 Parroquia de San Francisco de Asis Tlaltenco
But of course, it did get late and I was not out the greater Mexico City area.  Wisdom dictated to get a hotel room, so that's what I did.  Today was perfect weather but traffic and navigation was complete chaos.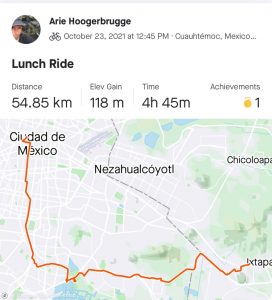 October 24
Km's Pedalled – 79 km
Destination – San Martín Texmelucan de Labastida
Some Notes – I slept like crap last night.  The worst sleep in a long time.  Nothing to do with the hotel.  Just that my monkey mind would not shut off.
Today was a mixed bag of just about everything.  The first half of my day was a nonstop climb up a mountain.  And second half of the day was a long downhill until things flattened out.  The climb was exhausting and mentally I wanted nothing to do with it today.  The day was rather cool and around midday it started raining for a good hour or so.  36 km's into my ride I entered the state of Puebla.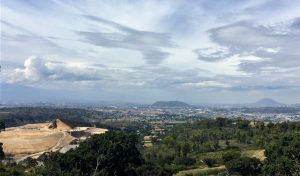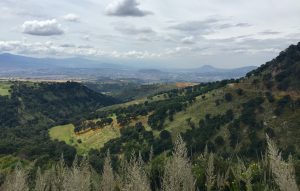 It wasn't until the rain almost stopped did my attitude change and I finally got into my day.  I arrived in San Martín Texmelucan de Labastida and had dinner just before dark.  I had every intention of stealth camping tonight.  And tonight was the first night ever that I had to abandon the idea of stealth camping.  I should have looked for a hotel right after dinner but I was determined to save $14 USD on a hotel.  I headed in the direction of Puebla but it was soon apparent I wasn't going to find anywhere to camp and I was biking further down a road that I should not be on in the dark or on any of these streets for that matter.  This was definitely not the safest decision I had ever made.  And then in the dark the street became this lane way of stone and rock.  I turned around and biked 6 km's back to the city center and checked into a hotel.
What a very long day.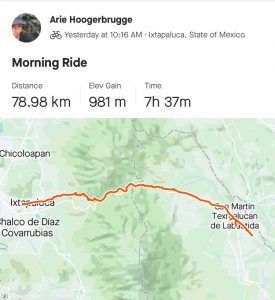 Mexico State & City (Oct 8 to 13)


More photos from the Museo de Arte Popular