Entering Mexico I was warned many times that my life was at risk.  I really wasn't sure what to expect.  Logic dictated that cities that border the US must be the more dangerous cities in Mexico between drug and people smuggling.  I was shocked not to see any police or military presence in or around Mexicali when I crossed from the US.  I should also mention that given my goals I do not have the luxury of being fearful and I have been determined with success to proceed without fear.
I had been to Mexico almost a dozen times in the past flying to and from Cancun to my home in Belize.  One time many many years ago I even took a bus from Belize to Canada.  Any interactions with Mexicans where the briefest of interactions.  Buying a bus ticket, getting a hotel room or tacos and all the time not understanding any Spanish.  So, my expectations were not very high for Mexico.  Just pedal through until I reached my next country.  Little did I realize that would be the furthest from my experience.  Mexico has created so many lifetime memories that I need to condense them for fear of forgetting some.  If that is not any oxymoron, I don't know what is.
I should also disclose that I know no Spanish and while I don't discount the potential dangers of Mexico I have never for one second been concerned for my safety.  As a Mexican explained it to me – "we Mexicans must live with the violence and fear but you are safe here".  I should also disclose that a more than a few times I have had to bike into the night and many camping spots have been less than ideal.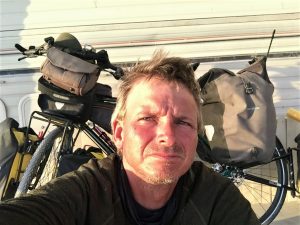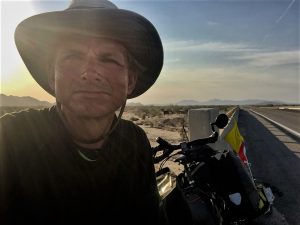 The Baja nearly killed me
My first lifetime memory is not so much created by the people of Mexico but they definitely enhanced the experience.  Entering Mexicali on June 9, 2021 I did not realize that Mexicali was considered the hottest part of Mexico.  The 115 F temperatures nearly killed me everyday as I made my way down the Baja to La Paz.  Biking the Baja for me was exceedingly more difficult than biking a Canadian winter.  In fact, biking the Baja would be what I consider the hardest sustained physical accomplishment of my life.  That being said, I will never forget how many Mexicans offered me cold drinks along he way and how courteous the cars and trucks were with me on the highway.  I will never forget the truck driver that tossed me a cold coke as his truck moved down the highway.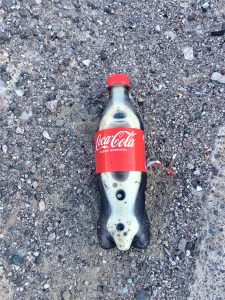 Tossed out of a truck to me.  I don't care what anyone says – truck drivers rock!
While Copper Canyon will be one of the most beautiful views in Mexico (so far) it was during that stretch of the bike ride that I would end up learning how to make jewelry in Creel.  I have never bought or would wear jewelry but I would take 14 days in Creel to learn how to make jewelry from a local.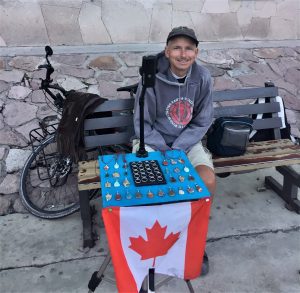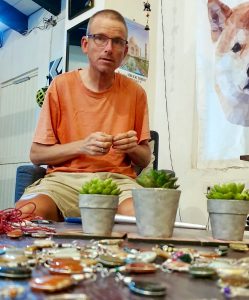 Learning to make and sell jewelry in Creel
For the purposes of this post (since Creel) my multitude of experiences can be summarized in bullet points.
In Chihuahua I learned the difference between a motel and a hotel.
I have been interviewed for 2 newspapers and close to a dozen social media interviews.
Received GPS tracking support by a Mexican GPS company.
Been asked to be photographed with 50 plus people plus countless photos of just me.
So far received $1,500 Pesos in donations from random Mexicans. Imagine a Mexican giving a Canadian money?
Selling jewelry to Mexicans.
I have had hotel rooms paid for me including by the Mayor of Sombrerete.
Being welcomed by the mayor of Sombrerete and given a personal tour guide.
Been welcomed by mountain bike groups including almost 30 members of the Sombrerete mountain bike group coming out to meet me and parade me through the downtown and then take photos with me.
I have been taken out or received 20-30 random complimentary meals and countless cold beverages.
Have been escorted by cyclists between cities numerous times including 5 bike members biking almost 90 km's between Sombrerete to Vicente Guerrero.
Been hosted 15 times to date by Mexicans (including complementary hotel rooms). 5 times staying a whole week to catch up on work.
Recognized in Fresnillo by someone familiar with my ride and then through him I met the fire chief and minister of tourism in Fresnillo.
A ride in an ambulance in Fresnillo
Escorted out of the city of Fresnillo by the fire department
Received and accepted almost 250 Facebook friend requests just between Durango and Zacatecas.
Recognized twice in the city of Zacatecas.
Had one of my poems framed and displayed in a restaurant in Zacatecas
Randomly arrived at a host in Aguascalientes that has been following my ride since the beginning on Nov 12, 2019.
Have easily been approached by well over 100 Mexicans curious about my bike ride
Many bike repairs have been complimentary.
Most of these memories all happened within a 300 km stretch of Hwy 45 between Durango and Zacatecas.
Am I forgetting anything?
Since Creel most of my experiences and memories been almost what I would describe as nonstop causing a feeling of overwhelmingness particularly between the cities of Durango and Zacatecas.  Mexico and its people have exceeded any expectations I could have ever had.  My experience with Mexicans is that when I meet one their focus and priority becomes that my experience in Mexico is good.  I never met so many people that were that concerned about my experience, so quick to drop everything and offer me anything I needed.  This country is so generous and I am forced to write such a blog post because many of these lifetime memories are beyond my abilities to keep up with as I pedal through this amazing country.
For anyone considering biking through Mexico I 100% recommend it.  I would challenge any backpacker or typical tourist to experience this spectrum of experiences like I have had in the 3½ months since I crossed into Mexico.  And I should also point out that these experiences are also all during Covid.  Biking through Mexico is the way to see Mexico and meets its peoples.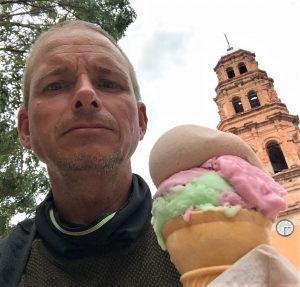 Eating ice cream in Mexico's most dangerous city – Fresnillo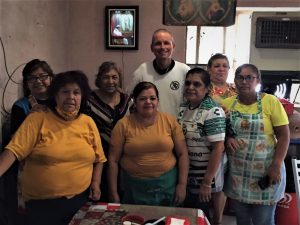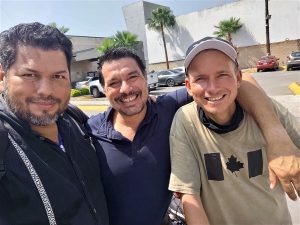 Photos with locals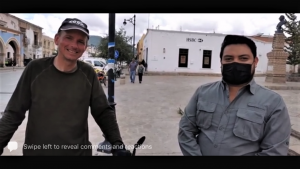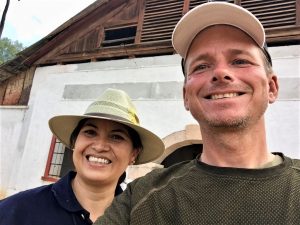 Meeting the mayor of Sombrerete and my complimentary tour guide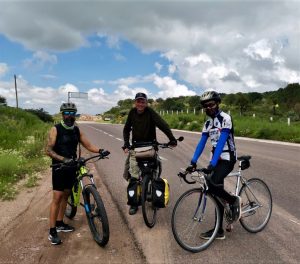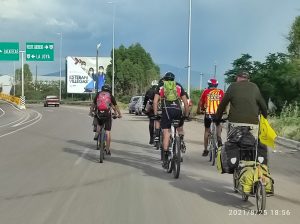 Mountain bike group escorts out of town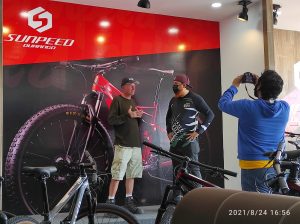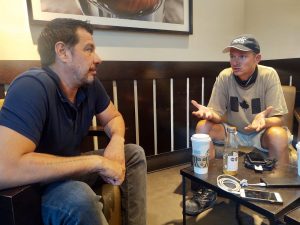 Interviews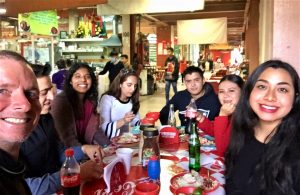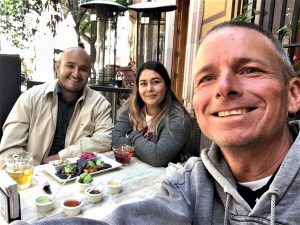 Complimentary meals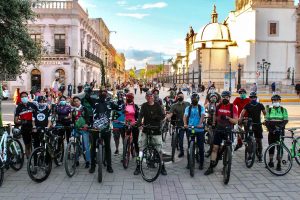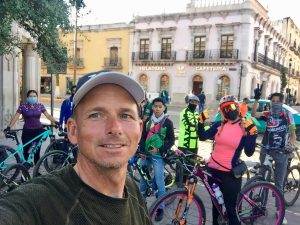 Mountain bike groups welcoming me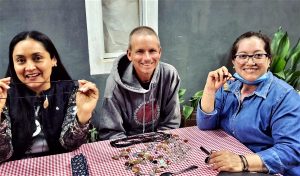 Selling jewelry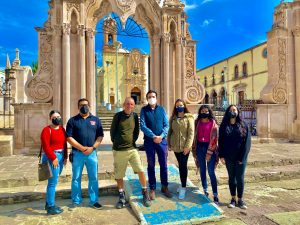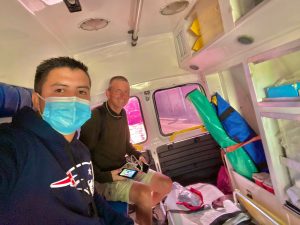 Meeting the fire chief and ministry of tourism and ride in an ambulance all in Fresnillo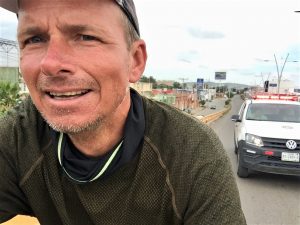 Escorted out of Fresnillo by the fire department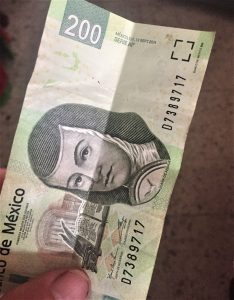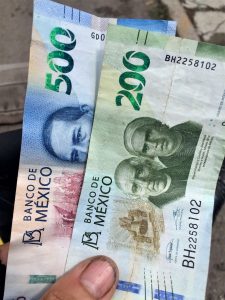 Donations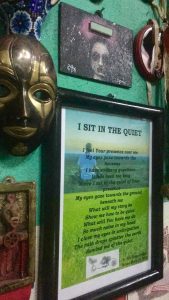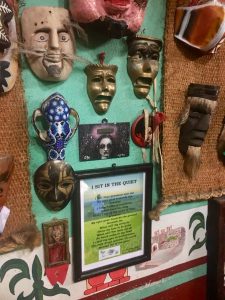 Having one of my poems hanging in a restaurant in Zacatecas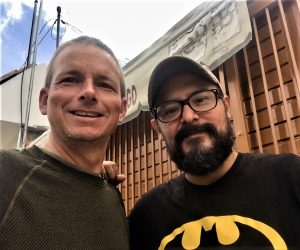 Mario – following me for the past 22 months and didn't tell me until I arrived in living room.  (Only because my original host stopped responding to my messages)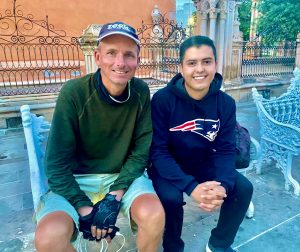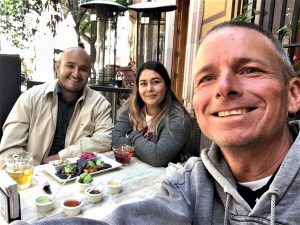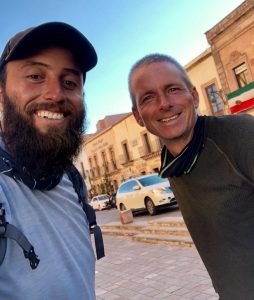 These people actually recognized me by name
A few more photos of hosts and new friends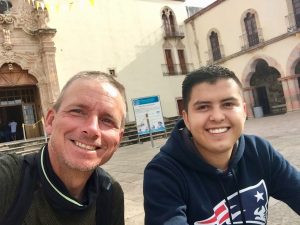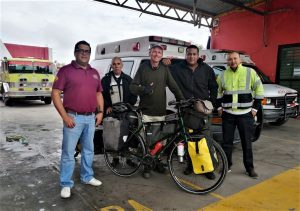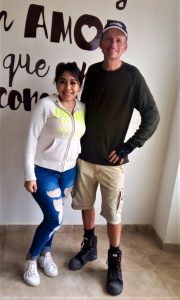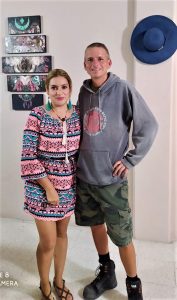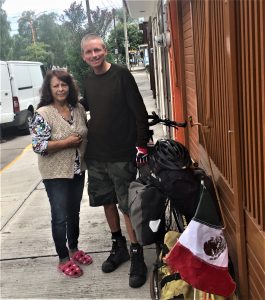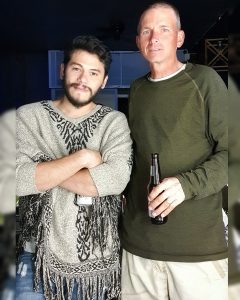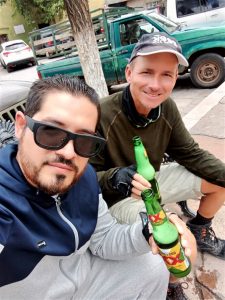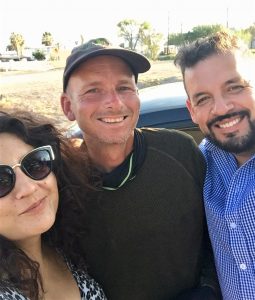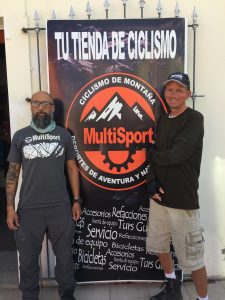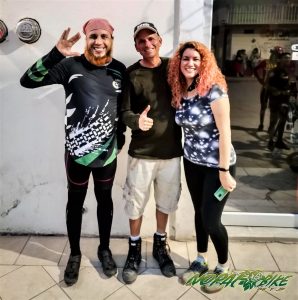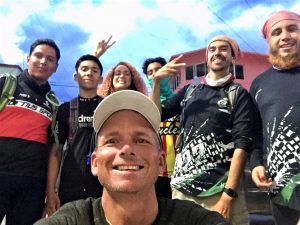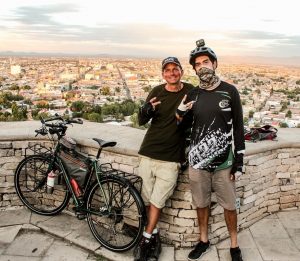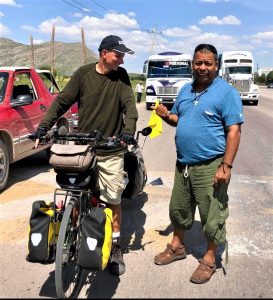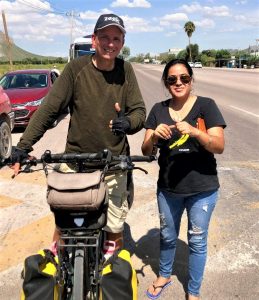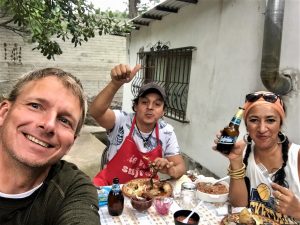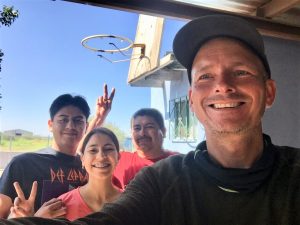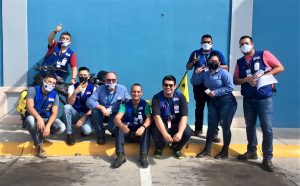 A local hardware store came out for a group photo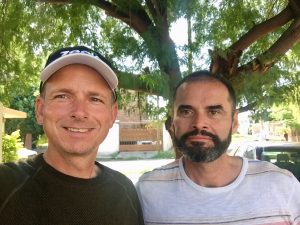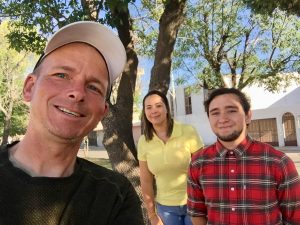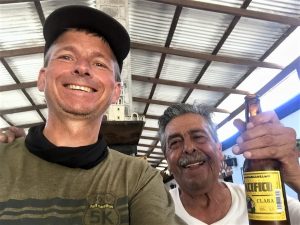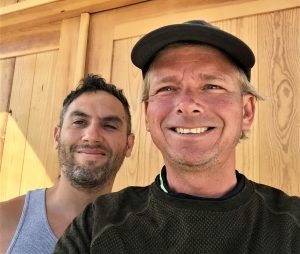 More photos with locals available upon request
Check this blog post out for more craziness – Just the Facts.  What are the chances?