I met Bruce and Rennee Allen of Grande Prairie, Alberta during my first bike tour on July 18, 2011 and stayed with them for 2 nights.  The reason I met the Allen's was thanks to my laptop unexpectedly breaking and my uncle having a trucking company in that city.  Bruce drove for my uncle so my uncle hooked me up with the Allen's to host me while I dealt with my laptop issues.
Years later Bruce and Rennee would move their family to Qualicum Beach on Vancouver Island, British Columbia.
On November 12 ,2019 I would start my second bike tour in St John's Newfoundland.  On January 2, 2020 I would be interviewed by CBC Charlottetown for an online news article which would be published on January 3rd.  That article can be read HERE.
On January 4th Craig Constain of St Lawrence PEI would recognize me as the guy biking across Canada and wave me down his driveway and become my 9th host.  I would meet a lot of people that afternoon in Craig's garage.  One of those people would be Rob Trembley.  I would run into Rob again on January 7th at a grocery store in Summerside PEI.  Rob would be visiting his sister Amanda Campbell and her family on January 12th in Amherst Nova Scotia.  If my schedule lined up with Rob's I would have a host in Amherst. The reality was I was moving at least 2-3 days too quickly to line up my schedule with Robs.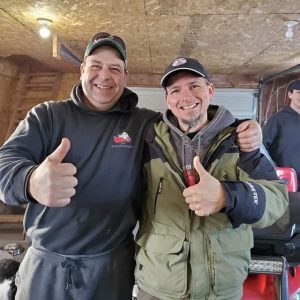 With Craig Costain
Then because of an unexpected host invitation thanks to Kelly Richard of PEI Tourism, I end up on the island an extra night.  And then because of a snow storm I was stuck at a truck stop in Aulac New Brunswick for 2 nights.  The storm was so bad that Rob and his brother-in-law James came and picked me up in Aulac to bring me to Amherst.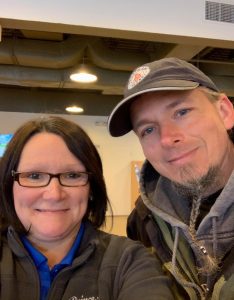 With Kelly Richards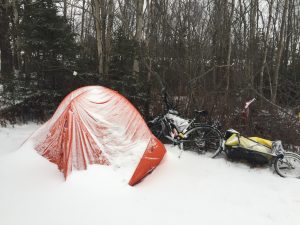 Snow storm in Aulac NB
James and Amanda Campbell become my 12th host.  The next day leaving Amherst Amanda would take a photo of pushing my bike down their driveway and post the photo along with a message for anyone to look out for me and host me along the way.  That post would be shared 592 times.  Which in Atlantic Canada is huge.  So huge in fact that I believe that post is ultimately responsible for being recognized virtually everywhere I went in Nova Scotia.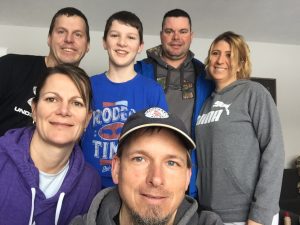 James and Amanda Campbell are the two on the left from Amherst Nova Scotia.  Also in the photo is Rob and Tara Trembley from PEI to the right and Caleb – James and Amanda's son in the center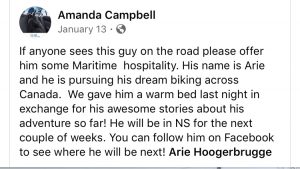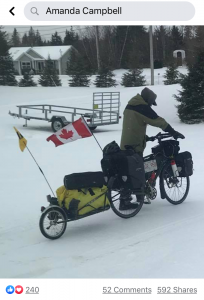 Amanda's message and photo.  Notice the number of shares in the bottom right corner of photo
Fast forward, on September 24th I would arrive in Qualicum Beach and reconnect with the Allen's for a single night and the Allen's would become my 52nd host crossing Canada.  I would then take 10 days to travel to Tofino and back to Qualicum Beach where the Allen's would host me for 7 more nights.
During my stay on September 24th somehow a conversation would come up about Nova Scotia.  It's very hard for me to tell any story about Nova Scotia without the Campbells coming up.  It is then when I find out that the Campbells use to live in Grand Prairie and Rennee and Amanda where actually very good friends.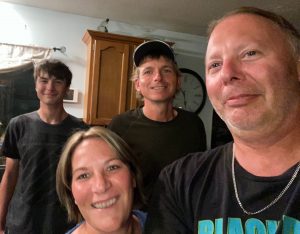 With Spence, Rennee and Bruce
So I ask you what are the chances?