August 6
Km's pedalled – 70 km's
Destination – 20 km's past Saucillo
Some Notes – Today's weather was pretty much nothing short of perfect.  Overall, the scenery was the same as yesterday. Last night I ended up camping in a pecan orchard which on one hand was perfect on the other hand I think they must flood the orchards at some point as the whole area was damp and wet which led to my bike wheels and boots getting completely caked in very sticky mud.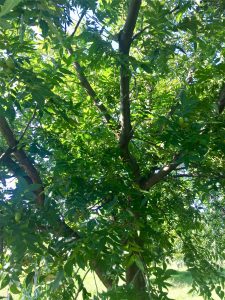 Pecan trees
This morning a car pulled over who was a construction/maintenance worker who had helped me (with some translations) at the hotel I had stayed at in Chihuahua.  He gave me a big bottle of cold water which I was in need of as I had just run out of water.
I visited and biked through Pedro Meoqui, Delicias and Saucillo.  In Delicias I visited the dinosaur museum (Museum of Paleontology).  It was an alright place to visit at only $30 pesos admission.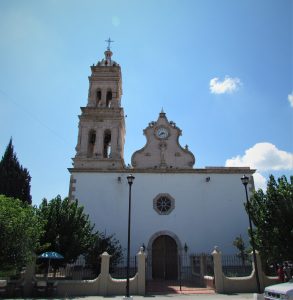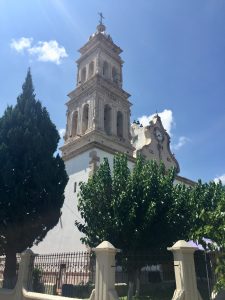 St Paul the Apostle Parish – Pedro Meoqui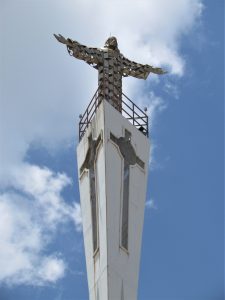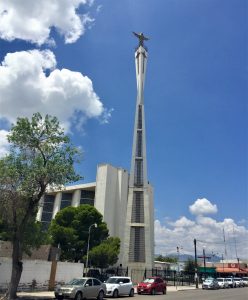 Parroquia Cristo Rey – Delicias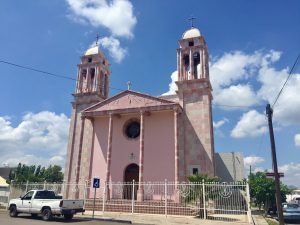 Santuario de Nuestra Senora de Guadalupe – Pedro Meoqui
Leaving Saucillo (6 km's past) a car pulled over which would lead to an interesting adventure this evening.  Roberto and his sister were so awestruck by seeing me and bike that they had to stop.  Roberto spoke a tiny amount of English. Their stop would lead to a beer that would lead to a small crowd of people that would lead to an invitation for a meal back in Saucillo.  Except I had my bike to contend with.  One of the people in the group said it would be safe in a yard that he pointed to.
Pushing, locking and leaving my bike in a strange yard where I never saw the potential owner nor did anyone see me leave my bike caused me to consider that technically I shouldn't be surprised if my bike goes missing by the time I return (whenever that might be).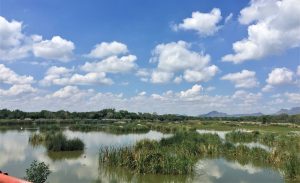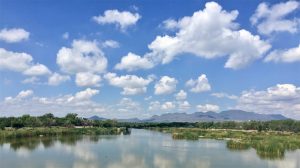 Rio San Pedro flowing through Pedro Meoqui
From there we would proceed to drive back to town with many more beers flowing.  My new friends seemed unsure where to get food and we proceeded to drive in circles around town for some time.  The sister ended up getting some food to go (for some reason) and then we proceeded to drive to I have no idea where.
All the time Roberto constantly asking me questions about my ride not believing I could be so fearless. Telling me how much his sister and him admired my courage and free spirit.  For some reason they decided on eating quite a ways out of town as the beers continued to flow.   All the time they couldn't believe my bravery which I found amusing considering the situation I sort of found myself in.  (On a side note, as potentially weird a situation I found myself in I was never concerned about my safety).
After we finished our meal, they drove me back to my bike where it was waiting exactly as I left it.  I was able to get another 15 km's down the road even after my 4 beers (within about an hour and a half).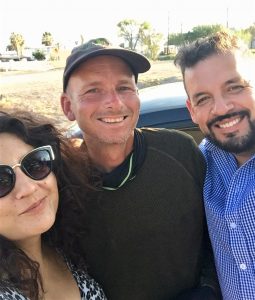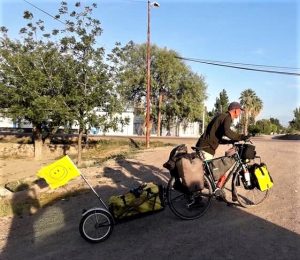 With Roberto & Brenda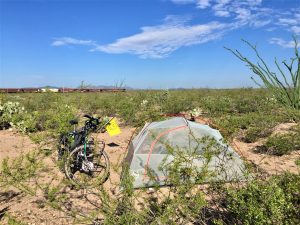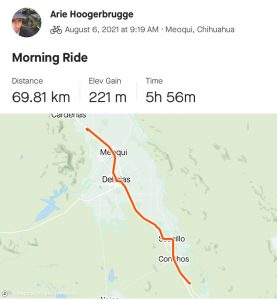 August 7
Km's Pedalled – 87.5 km's
Destination –26 km's to Ciudad Jiménez
Some Notes – Today I visited and biked through Camargo.  While there and on my way out of town 2 people donated $700 pesos ($500/$200) the first person was someone who recognized me from biking through Chihuahuas and then 10 seconds later another guy (who did not speak any English) came around the corner and donated the $200 pesos.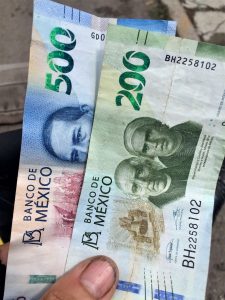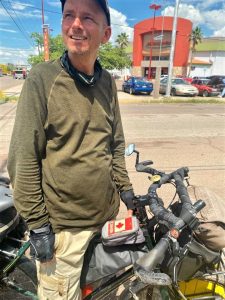 From this morning in Camargo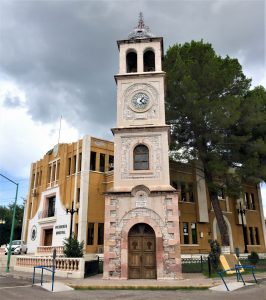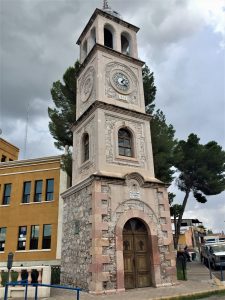 Downtown Camargo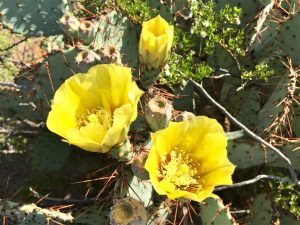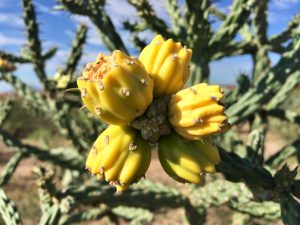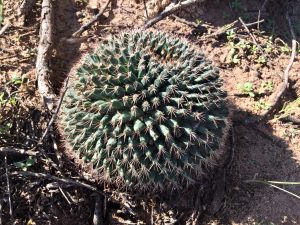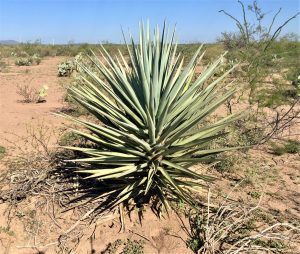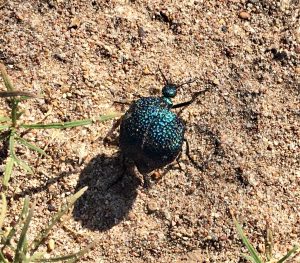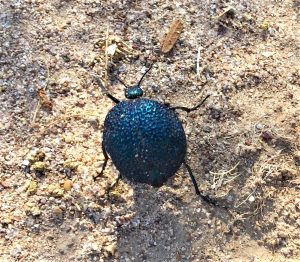 From this morning around my campsite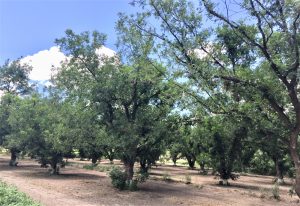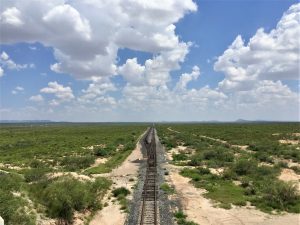 Trading pecan orchards to the wide open
Today the weather was a little on the rough side with some on and off rain.  Towards the end of the day a bunch of guys waved me off the road for a beer which led to an invitation for super and hosting by one of the guys.  In the group there was only one guy who spoke a little English, the invitation was coming from one of the guys that did not speak English.  Biking the 7 kilometers to his house I thought this evening might be interesting and my first evening where there would be no English spoken.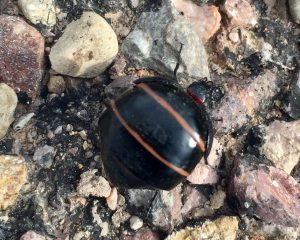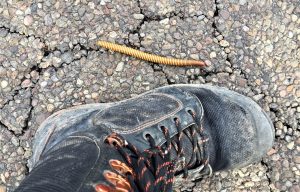 On the road this evening
It turned out 2 of his 3 kids had taken some English in school.  Raul was determined that I enjoy the evening and made sure many beers came my way.  I actually can't remember the last time I lost count of how many beers I had.  Fortunately, I was able to keep myself in check.  And I got an unexpected shower this evening.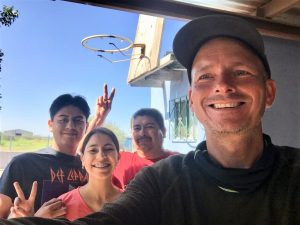 With Raul Recio & family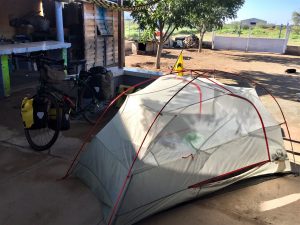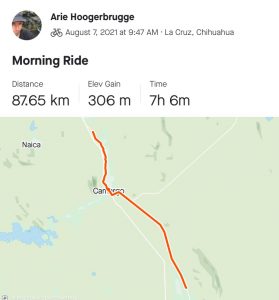 August 8
Km's Pedalled – 105 km's
Destination – Escalón
Some Notes – The only city I went through today was Ciudad Jiménez.  It was hardly an inspiring town. Basically, since leaving Chihuahuas I have biked past 1,000's of acres of pecan orchards.  Leaving Jiménez there was no more pecan orchards.  But there was a lot of flat vastness the entire day.  The temperatures were great but it was the battle of the same old headwinds as usual.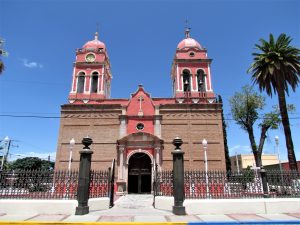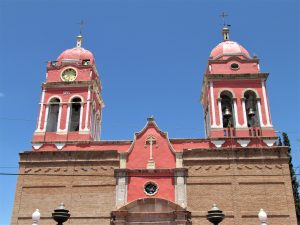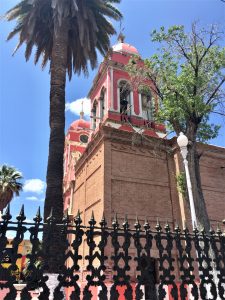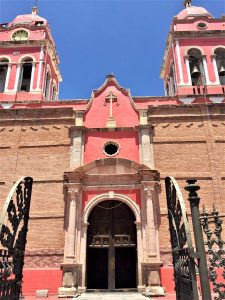 Parroquia Santo Cristo de Burgos – Jiménez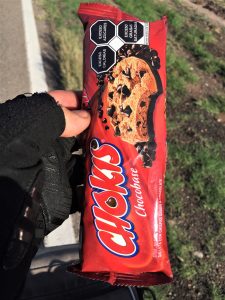 The co-driver of a moving truck with passenger door open reached out to give me this.
Escalón was not much more than large dusty truck stop of a town with a bunch of beat up cafes.  I found a bbq chicken restaurant on the outskirts of town.  The chicken was awesome.
Mexico – Back on the Road – Part 2 (Aug 2 to 5)
Mexico – Back on the Road – Part 1 (July 29 to Aug 1)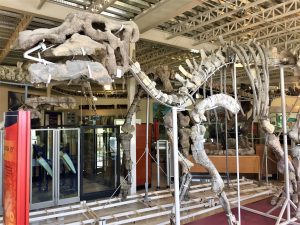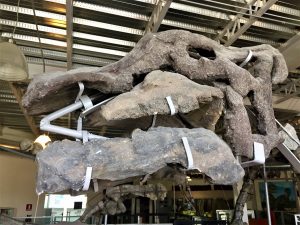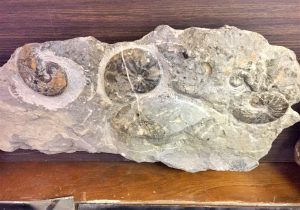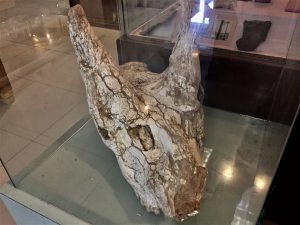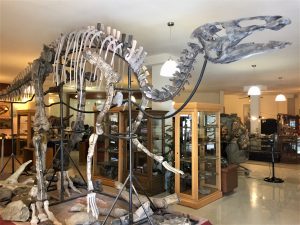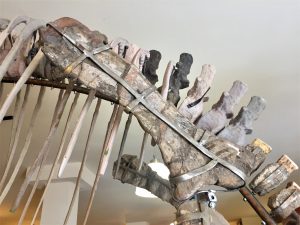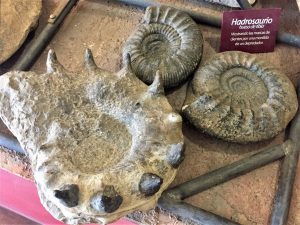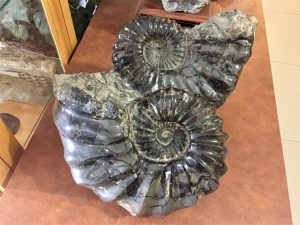 On Aug 6  In Delicias I visited the dinosaur museum (Museum of Paleontology)