August 2
Some Notes – I woke up absolutely exhausted.  I started the morning with a Road Show with Brandon.  I was in no shape to go anywhere.  I edited my photos from the past few days and then I posted blog posts Creel Part 1 & 2.  I really had no energy for anything today.
In many ways I had a pretty rough, rest of the day.  First, I switched my bike tires between my front and back wheels.  Removing my wheels from my bike frame and removing size 37 tires from bike wheels is about a frustrating and miserable job as one can get.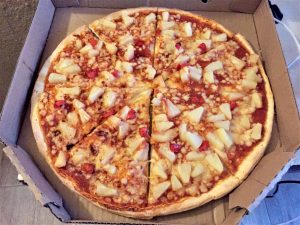 I needed some North American food.  And I am all about the pineapple!
Second, when I left to get something for dinner this evening there was a homeless person curled up on the ground across the street.  I actually couldn't tell if it was a man or a woman and they seemed to be immobile (but not drunk?).  They were just curled in a ball lying on wet gravel and pavement (it rained earlier in the day) with no cover.  I got him/her a tortas (sub sandwich), an orange juice and package of cookies.  I wasn't sure what else I could do.  I couldn't understand what they were saying.
Third, at midnight I get a call from reception that they were looking to collect another $340 pesos from me for the next 12 hours of my stay.  I said "excuse me? I paid this morning."  I don't pay twice in a day for a hotel room.  The girl then explained that there was no one around to speak English this morning to tell me they charged every 12 hours.  I said that's not my problem.  If they didn't like it, they could call the police and have me removed, other than that I wasn't going anywhere at midnight.  They agreed to let me stay.
I went to bed after 1:30 am.  Who knows what tomorrow will bring?
August 3
Km's Pedalled – 35.5 km's
Some Notes – I set my alarm for 8:25 am and sure enough there was a knock at my door at 8:30 am letting me know I had until 9 am to vacate.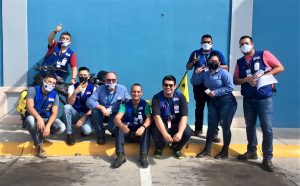 My first stop was the hardware store and before I knew it, I was posting for photos.
My second stop was the dentist.  It turned out that her address was wrong on the business card she gave me (back in Creel).  Somethings are never easy.  Strangely the house number was correct on the business card not the street name???  And of course, when I got to the right address there was no sign on the building to suggest that there was even a dentist office there.  Welcome to Mexico.
Third stop was a jewellery supply store for a few items.  All the while sightseeing and photo taking along the way.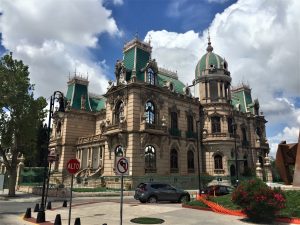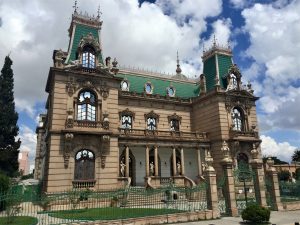 Centro Cultural Universitario Quinta Gameros
Fourth stop was to set up my jewelry table and see if I can sell some of my jewelry.  After about 30 minutes a municipal government official came up to me said I was not allowed to sell in that area of town.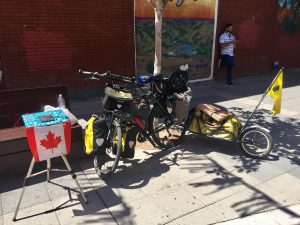 That did not last long
As I moved on, I instantly discovered my front tire was flat.  What grief.  It turned out the patch I installed last night did not hold.  While repairing my flat tire a Mexican bought me a coke.  That was a pleasant surprise considering the last 20 minutes of grief in the heat of the sun.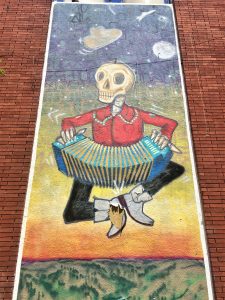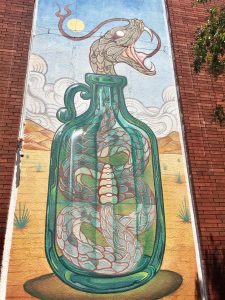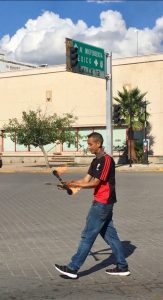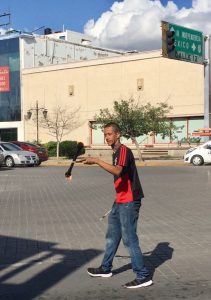 Jesus Moses an out of work circus performer living on the streets
From there I headed to my last host (Luis in Creel) son's home to drop off some obsolete gear that was weighing me down.  And then from there I went sightseeing and photo taking.  That was until a message came in from new hosts Marco and roommate Eric thanks to some more help from Luis.  Marco's home was about 6 km's out of the downtown so I arrived there just before 8 pm.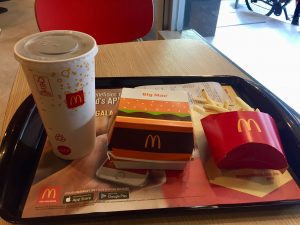 I couldn't resist
All I can say is what a day.  Admittedly I am a little surprised at how many Mexicans come up to me and engage me about my bike ride.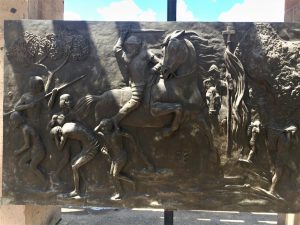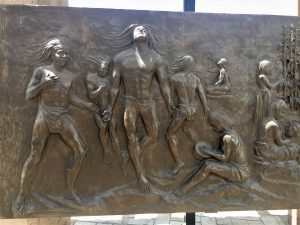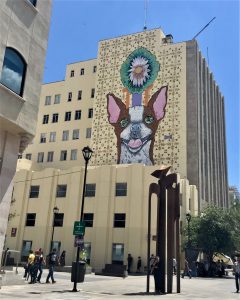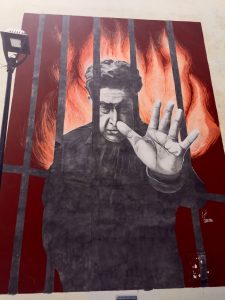 August 4
Some notes – I did not plan to spend another day in Chihuahua as I feel I have experienced a fair bit of a single city.  But having a host(s) and the fastest wifi in many weeks I could not resist another day in Chihuahua.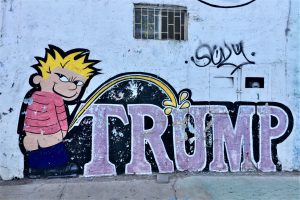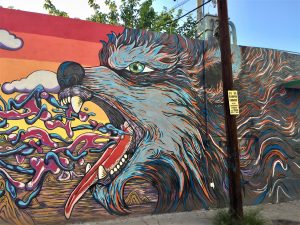 I was able to get all my photos up to Flickr (the first time since La Paz).  I was also able to get all the rest of my video content from the Copper Canyon into Dropbox and I wrote and posted my Mexico – Back on the Road Part 1 blog post.  I was also able to schedule 30 Instagram posts and I also finished posting my US Summary bike ride post to the last 11 (of approx. 40) Facebook bike groups that I started in Creel.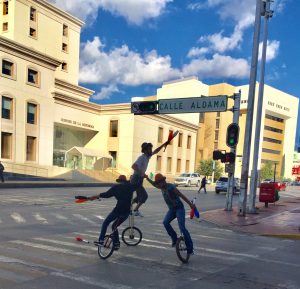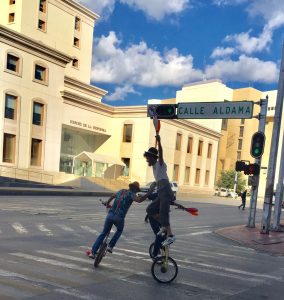 Street performers
This evening Marco took me out to dinner and beers and to meet a few of his friends.  We also checked some of areas of Chihuahua that I hadn't visited yet; specifically at the Presa El Rejon, the big lake at Chihuahua.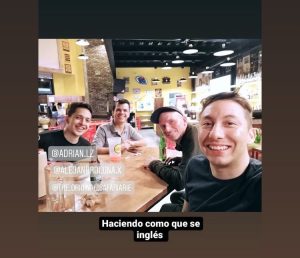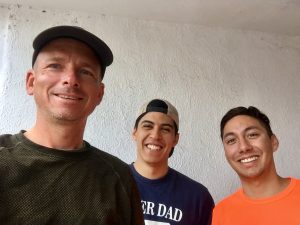 A night out & with Eric & Marco
August 5
Km's Pedalled – 74 km's
Destination – Lázaro Cárdenas
Some Notes – I left my hosts a little after 11 am.  Arriving back downtown Chihuahua I decided to enter the Metropolitan Cathedral of Chihuahua and caught the tail end of a Spanish Catholic service.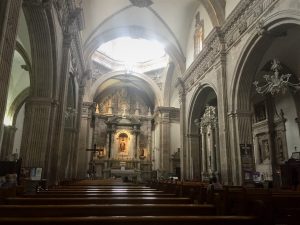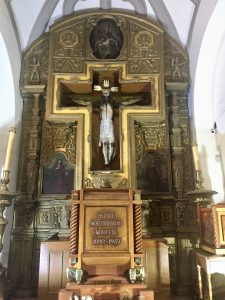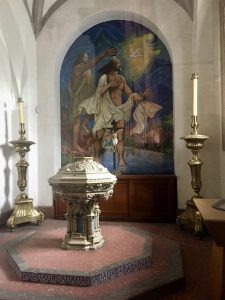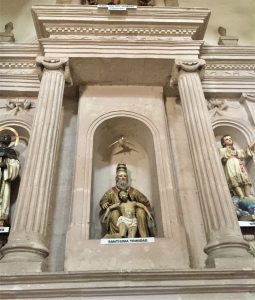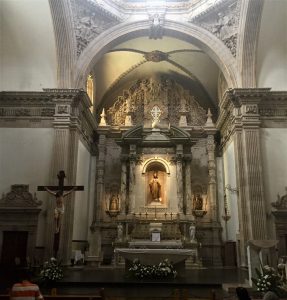 Metropolitian Cathedral of Chihuahua
I have decided to take Hwy 45 to Torreon and then Durango.  I am told taking the backroad straight towards Durango I will likely not find too many restaurants.  Hwy 45 is a typical 4 lane highway. Flat and with a shoulder.  Mountains can be seen in the distance along the highway but mostly uninspiring scenery along the highway.  In the interest of getting some miles under my belt I will take flat, boring and with a shoulder highways between destinations if it gets me to the cities I want to visit faster.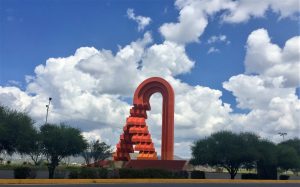 Bye bye Chihuahua
At the end of the day just before dark my front tire repair from the other day failed again and I got stuck fixing a flat along the highway.  I think the patches are failing because the tube has that tire slime in it.  I will never own another bike that uses 700 size wheels again.
The weather was about as good as one could hope for and there was not too much head breeze.  Good bye Chihuahua, you definitely left me with some experiences that I won't soon forget.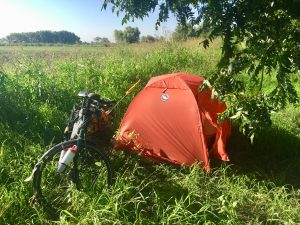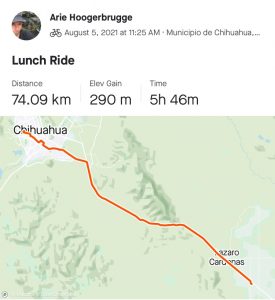 Mexico – Back on the Road – Part 1 (July 29 to Aug 1)