July 29
Km's Pedalled – 36.5 km's
Destination – San Juanito
Some Notes – As usual leaving a host always leaves me with a late start.  I am always a little anxious getting back on the road after an extended break.  I think it's partly because I mentally have to realize all over again that I am heading all the way to Argentina.   Whatever hesitations I may have always disappear very quickly after a few kilometers down the road and once again I am very happy to be back on the road.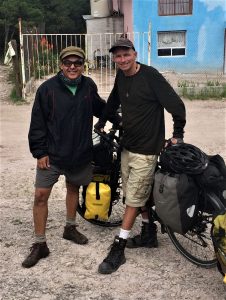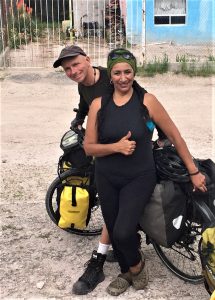 With my host Luis & Ana Pacheco Vazquez
One difference was that getting back on the road in mere seconds I realized that I am too heavy with some of the stuff acquired from Luis for jewellery making.  And it's too late to deal with that now.  When I get to Chihuahua I will review everything and anything that I decide is not practical will be left with Luis's son Israel who lives in Chihuahua.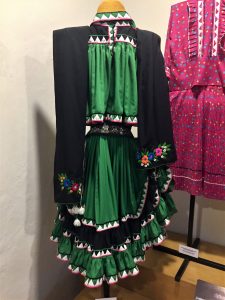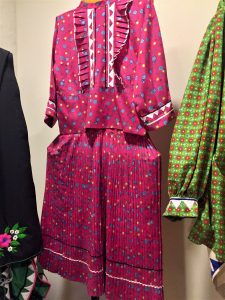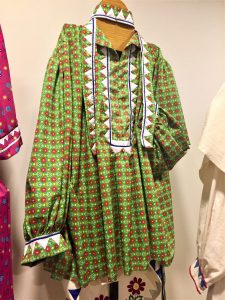 Tarahumara Indian Museum
On the way out of town I stopped to visit the Museum of Tarahumara People.  I never did visit the museum during my daily trips to town.  For the first 15 km's out of town I had to bike in the rain.  The terrain was hilly and I was completely surrounded by pine forests.  This area is truly a beautiful part of the world.  I only biked as far as San Juanito as I am under the impression there is no food (restaurants) for potentially the next 100 km's.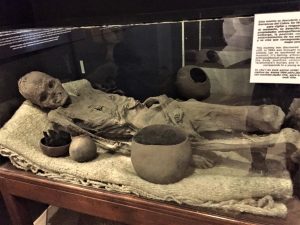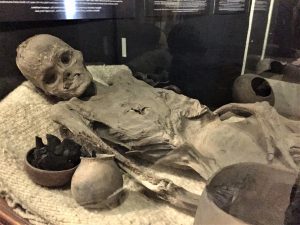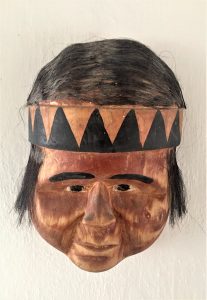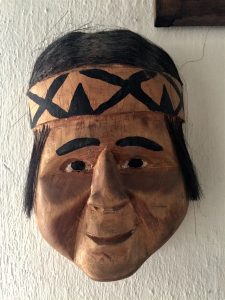 Tarahumara Indian Museum
At first I was worried how far out of town I would have to bike to find a place to camp but I got exceptionally lucky to find forest right outside city limits.  Stealth camping inside a Mexican city can be very difficult.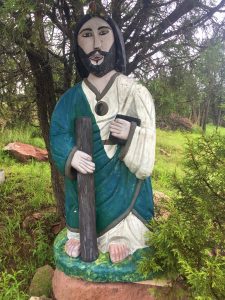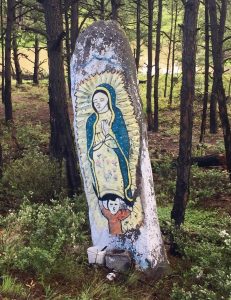 You never know what you will come across along Mexican roads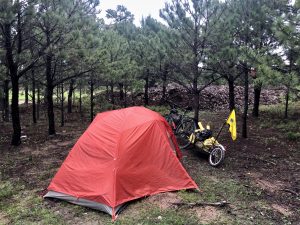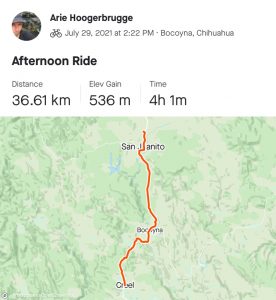 July 30
Km's Pedalled – 79 km's
Destination – La Junta
Some Notes – It was overcast and cloudy this morning.  Thankfully there was no rain last night.  It was nice to wake up in the tent this morning.  The terrain continues to be hilly and mountainous.  There was a mid afternoon rain shower and I just happened to be stopped at a capilla and was able to take cover.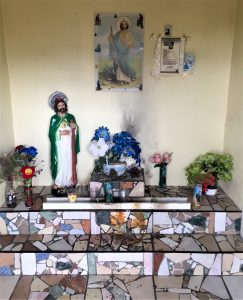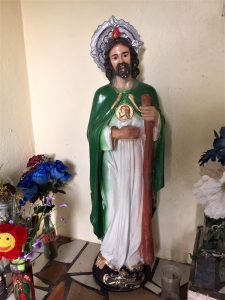 I was able to take cover in this capilla
As the mountains disappeared agricultural land appeared.  Towards the middle of the afternoon the terrain continued to be hilly but not mountainous.  There was on and off light rain through the afternoon but fortunately I never had to suit up in my rain gear.  A physically demanding day but I was constantly aware of how nice it was to be back on the road.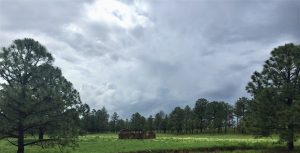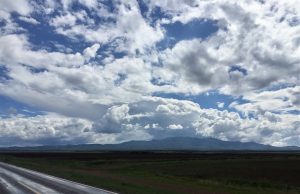 In La Junta I grabbed super at a chicken restaurant (at the turn off towards Chihuahua).  The owner attempting to communicate with me ended up letting me camp behind the restaurant.  He appears to own the hotel beside the restaurant and has a good sized backyard.  This was an unexpected but very pleasant surprise to be able to camp here.  The day was coming to an end and I was not sure how difficult finding a camping place was going to be down the road.  But tonight, apparently not to difficult at all.  The sky had some interesting cloud formations.  I thought the weather might get rough.  So far only light rain tonight.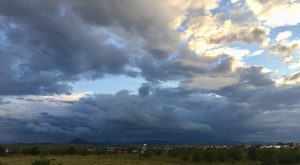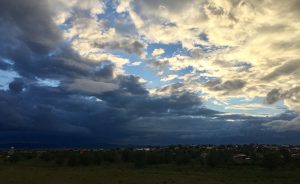 I wasn't sure what to expect from this sky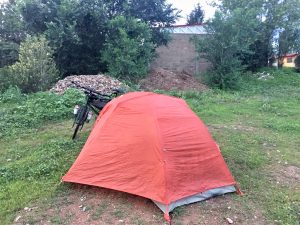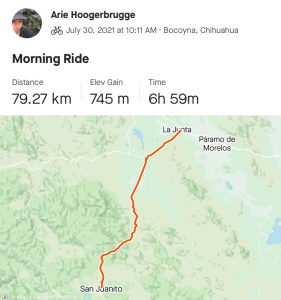 July 31
Km's Pedalled – 108 km's
Destination – Santa Isabel
Some Notes – Moving on this morning its all 4 lane highway with a shoulder (about 90% of the time).  The first 45-50 km's was flat except a headwind kept me from making any easy kilometres.  After Ciudad Cuauhtémoc it was all very long hilly terrain.  Everything about today beat me to death and I can not believe I pulled off the kilometres that I did.  The one thing about today was that the weather was beautiful.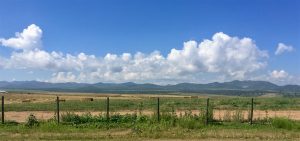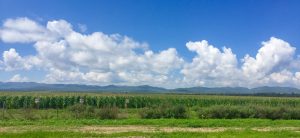 Agriculture land
I started out with a pretty crappy breakfast and I should have got something more to eat in Ciudad Cuauhtémoc but I pushed on assuming there would be some options down the road.  Not only were there no options but I came to my closest to running out of water.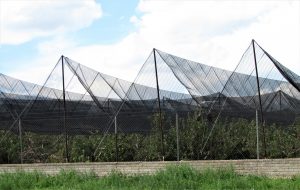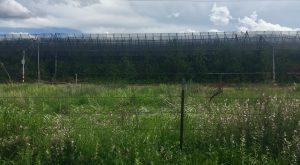 Apple orchards were common in and around Ciudad Cuauhtémoc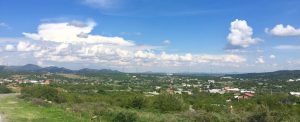 I actually biked into the dark for about an hour to get to Santa Isabel just to get something to drink.  Because of the late hour there will be no super.  But I am actually way too exhausted to eat or even set up my tent.  If it wasn't for the fact that I have experienced some sort of rainfall everyday for the last 2 1/2 weeks I would not have had the motivation to set up my tent.  That being said I can't believe I found a place to set up my tent in a town in the dark.  The only problem is I am hearing Mexican music in the distance.  I don't think I will ever acquire an appreciation for Mexican music in my lifetime.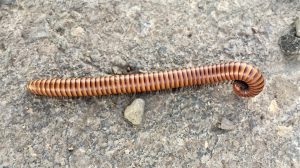 A species of millipede
I am so exhausted.  I am pretty sure thanks to my jewellery supplies and tools I am back to my Canadian winter biking weight of 180 lbs.  This is so unsustainable.  I can't wait until Chihuahua to purge my gear. And I can't believe after 22,000 km's I am adding weight to my load again.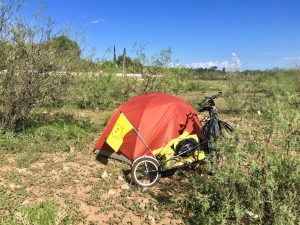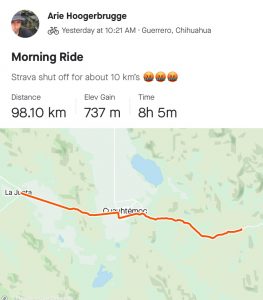 (Strava shut off for 10 km's)
August 1
Km's Pedalled – 76.5 km's
Destination – Chihuahua
Some Notes – I can't believe it's August already.  I slept pretty good last night considering that I slept on a hard ground as I did not have the energy to blow up my mattress and I discovered from that discomfort that I sunburned the back of my neck and face pretty good yesterday.  I also discovered I had some thorns stuck to the bottom of my tent.  I hope this doesn't cause any leaking in the future.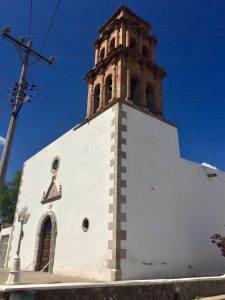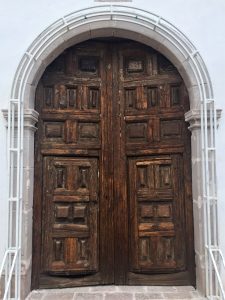 Parroquia Santa Isabel de Hungria
I can not believe how many flies are in this town.  From my tent to biking into town and the restaurant I had breakfast in.  I am convinced that there is a plague here.  I'm also not sure what was going on in Santa Isabel but the town was full of bikers.  I didn't even know there were that many bikers in all of Mexico.  Leaving Santa Isabel 2 bikers were pulled over and gave me 2 ice creams and $200 pesos.  If only the rest of my day continued on that note.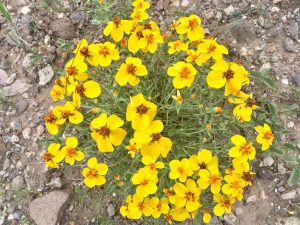 The hills continued for a short while but it was the headwinds that kicked my butt.  And then the shoulder completely disappeared for most of the rest of the day.  Biking on a 4 lane 100 km's/hour highway with no shoulder is not my idea of fun.
There was one good rain shower and luckily I came across a bus shelter in the nick of time.  There was also a lady on the far side of the highway attempting to fix a flat.  After the rain stopped I went across the highway to offer assistance.  She was attempting to loosen the wheel nuts before the car was properly jacked up.  Of course, being Mexico she did not have the proper tools to jack up the car.  With a screw driver (and the jack) I was able to jack the car up and that was when more qualified help arrived (someone who spoke Spanish).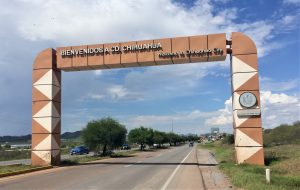 Welcome to Chihuahua
Arriving in Chihuahua I really didn't know where to go so I headed towards the historic center.  Through google I discovered that there was a hostel in town and then I discovered that it was closed.  I tried a few more hotels but they had no vacancy as it is Sunday evening after all.  I also realized that a hotel was not so practical trying to drag all my gear up a flight of stairs.  So, I headed out of the downtown to look for a motel.  And that's when things really took a turn for the bad.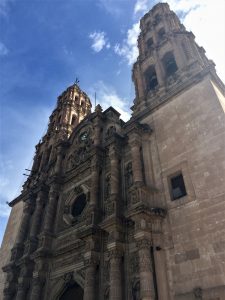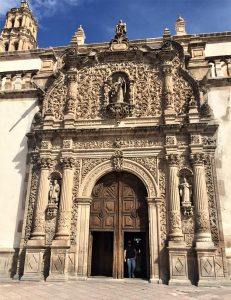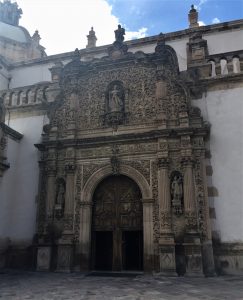 Metropolitan Cathedral of Chihuahua
As careful as I try to be, I hit a pothole.  I guess I am lucky I didn't break my wheel but I did end up with a flat tire.  Flat tires are a real pain for me.  I have to loosen my front bike rack from my bike frame in order to remove my front wheel.  There was a motel 2 km's away.  I decided to push my bike.  Not understanding Spanish can be problematic at times.  I thought I understood the lady but I couldn't believe what she was telling me.  When I asked how much for the night I was told that it was $250 pesos for 4 hours.  At first I couldn't understand why anyone would rent a hotel room for only 4 hours and then I clued in.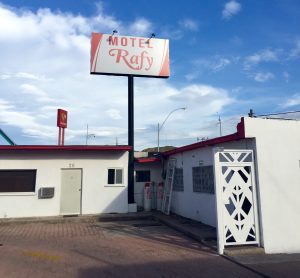 $250 pesos for 4 hours
Now I needed to fix my tire to keep looking for a room.  I know found myself at the very far end of town and I kept getting expensive prices for a room.  This day was just getting worse and worse.  It seems like biking Mexico is going to end up being way more expensive than biking the US.  This has me freaking out inside.  How did México become an expensive country to visit?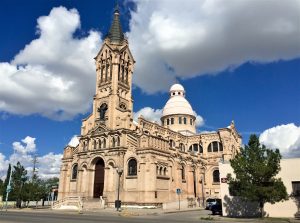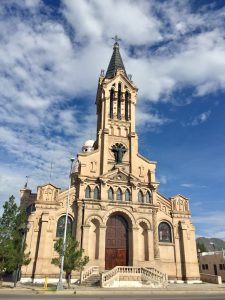 Church of the Sacred Heart – Templo del Sagrado Corazón de Jesús
The day was coming to end and it would be dark soon.  Trying to stealth camp in a city is not easy if not impossible.  There are people and dogs everywhere.  I decided to bike all the way back to where I entered Chihuahuas as I had seen some motels as I came into the city.  This would have me bike 11 km's back.  By this time I was beyond exhausted mentally and physically and it was starting to get dark.  What if I couldn't find a reasonably priced motel or one with vacancy?  Scanning my surroundings as I biked I was getting pretty worried.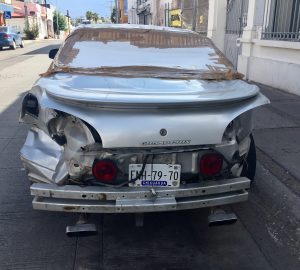 This car is so Mexican
I finally got to a motel at about 9 pm. The price was $340 pesos of $17 USD for the night including a complimentary condom on the night stand.  What a day!