How to plan your bike tour route.  And how did I pick my 50,000 kilometer route?
Picking my route was probably my most enjoyable part of planning my ride.  My guess is that I likely spent 100's of hours researching  this part of the bike ride.  My route is probably at least 50,000 km's long.  To put 50,000 km's into perspective the circumference of the earth at the equator is 40,000 km's round.
Resources to plan your bike tour route
So how on earth do you plan 50,000 km bike route?  Easy; first I bought a paper map of every single country in North, Central and South America (including the Island of Trinidad).  Then I purchased a hand full of books by Lonely Planet such as Great Adventures, A Year of Adventures,  A Year of Watching Wildlife, 1000 Ultimate Sights and 1000 Ultimate Adventures.  I also purchased 2 other books called 1001 Natural Wonders You Must See Before You Die and The New 1000 Places To See Before You Die.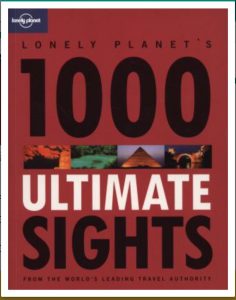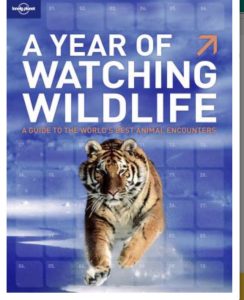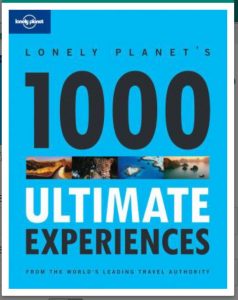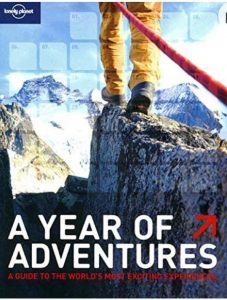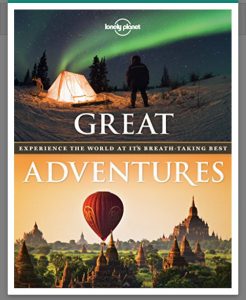 Resources to help you plan your bike route
First I flipped through every page of these books and flagged any and everything that fell under the 24 countries I plan to visit. Then I picked a country to work on and thumb tacked the paper map to the wall.  Then with the help of Google Maps I cross referenced the specific location of any flagged item that I flagged in those books.  I used those small colored circular  stickers to mark all the different location on the map.  I typically worked with two different colors per map.  One color was for "must see" destinations and the second color sticker stood for "would be nice to see" destinations.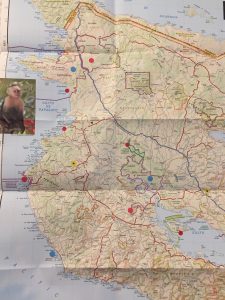 A map of Costa Rica.  Red dots = must see places / blue dots = would be nice to see and yellow (with arrows inside them) = direction
Once I finished going through all the destinations found in my books I turned to Google again.  I would Google such phrases as – Most beautiful places in ….. or Top 10 places to visit in …….  Always cross referencing with my existing notes and Google Maps.  My eyes became instantly trained for these types of articles  or beautiful photos of locations from around the world whenever they came across my Facebook feeds.
Anyways, after sufficient research was done on a country I would try to connect "the dots."  I would look to see if it was possible to "reasonably" connect all the "must see" destinations and how many "would be nice to see" destinations also lined up.  For most countries I feel like I was able to line up close to 90% of the must see destination and getting most of the would be nice to see destinations also.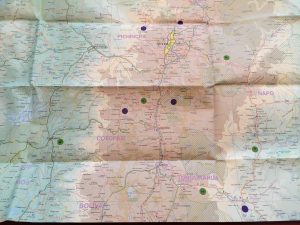 Ecuador – blue spots places to see and green spots are directional arrows
Once completed planning my bike route for one country then I would move on to the next country and so on and so forth.  Most of my routing was worked on and completed in 2011-12. But I am forever finding new places thanks to the internet and Facebook and adding those places to my notes.
It should also be mentioned there are certain countries where the routing is pretty obvious to begin with.  Such as Canada; you are pretty much traveling the TransCanada Highway from St John's NL to Calgary AB for example.  Other countries that where pretty straight forward were countries like Nicaragua and Panama. Once all 24 countries were completed I would use Google Maps again to connect all my destinations to add up my kilometers per country and then add my totals up and that is how I got that crazy number of 50,000 km's.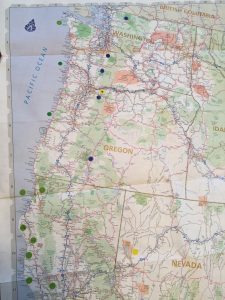 US Pacific Coast
For many of the countries what highways, back roads and country roads I plan to take is yet to be determined.  I don't see that as crucial to my planning at this point and many of those decisions will be made in the moment.  You always want to be flexible.
Other cyclists like to leave a lot of this kind of planning to chance and are intentional about avoiding the tourist "hot spots."  For me I hate the idea of missing an amazing experience or place simply because I didn't do a little research.  My classic example of this in 2004 I visited Cathedral Grove on Vancouver Island which was an amazing place.  During my 2011 bike ride to Vancouver Island I discover less than 140 km's away from Cathedral Grove were these amazing temperate rainforests out at Pacific Rim National Park.  I still can't believe I missed out on these amazing rainforests in 2004.  Also some of these tourist hot spots are hot spots for a reason.
Planning you bike route builds an amazing wave of excitement and anticipation for the greatest adventure of your life.
Perhaps you are now interested in how I picked my bike?
21 Crazy and Not So Crazy Ways I saved Money For my Bike Ride