Back in 2011-12 when I was doing the bulk of my research for this bike ride there was one bike in particular that was on my radar – the Surly Long Haul Trucker.  The Surly Long Haul Truck is kind of the go-to bike for bike touring. But during my research into this bike I discovered a bike that I fell in love with – the Surly Big Dummy. Though I felt that it was given the dumbest name ever for a bike – no pun intended.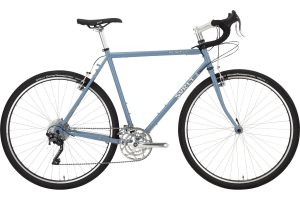 Surly Long Haul Trucker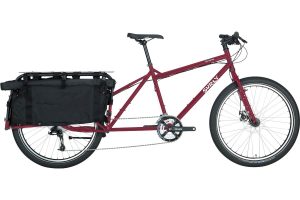 Surly Big Dummy
For the longest time I debated in my head between the two.  I am sure I even dreamed about the decision.  The Long Haul was the more practical choice, but the Big Dummy was the cool choice.  The Dummy had two things going against it.  The cost – $2,150 USD.  That's a lot money for a bike and if it ever got stolen?  And the practicality of transporting this bike anytime you couldn't pedal it for one reason or another such as break down, flying or taking it on a bus.  Debating these two bikes would turn into years of debating in my head; and then the coolest bike ever came along.
The Big Fat Dummy; another dumb name for a bike.  Dumb name or not I really fell in love with this bike.  But if I thought the Big Dummy was expensive?  The Big Fat Dummy is $3,025 USD with the same transportation challenges.  The other consideration that I was taking to affect was that Surly is not really a big name in Canada.  I emailed all the Toronto bike shops that distributed Surly, thinking surely Toronto would have a market for cargo bikes.  And while the bike shops that responded where happy to order me one for $4,500 plus HST none of them carried this bike in stock.  That is a lot of money to drop on something you are only able to experience via a website photo.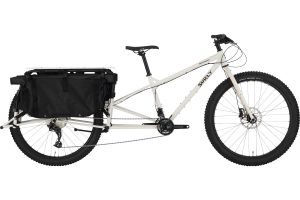 Surly Big Fat Dummy
Fast forward to only a few months ago I found myself window shopping at Mountain Equipment Co-op in Burlington ON.  It didn't take long for me to spot the MEC Provincial Trail Bicycle.  Upon inquiry and expanding my conversation about finding a bike for a bike ride I was hoping to do one day I was steered towards the MEC National Bicycle.  This was their all round best touring bike they sold.  I did a little research and discover that it was the equal to the Surly Long Haul Trucker and even $200-400 cheaper.
Backtrack to a day and half before my 46th birthday while in Oregon this past May I find out from my beautiful (American) fiancé  that she has cancelled my VISA to have us married and me living in the US.  The proceeding conversation lasted less than a minute longer as I knew US Immigration was not going to give us a second chance to figure our issues out and so any further conversation was a waste of time.  I hung up the phone and took another minute to process the fact that the bike ride I thought would never happen due to a future marriage was not only going to happen; but it needed to happen fast.
A week later, back in Burlington I dropped $1,627 (inc HST) on a MEC National right then and there.  Was able to connect with their Master Mechanic – Trevor Simpson to negotiate all the custom building that I would need done.  At that stage it was a no brainer.  I am almost never in or around Burlington (because of my work) for more than a few hours every other week.  I needed to be able to work with someone and I needed that someone to be in Hamilton or Burlington.  MEC was the obvious choice for a bike for both cost and quality not to mention most of all the rest of my camping equipment still needed would also come from MEC.  Additionally there are MEC stores all across Canada for maintenance and warranty work.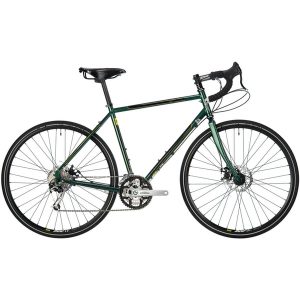 MEC National
Some of the upgrades of mention are replacing the drop down handle bars (I hate drop down handle bars) with Surly Moloko handle bars, a Shutter Precision Dynamo Hub (produce my own power to run bike lights and charge cell phone), KLite bike lights (best bike lights in the world), studded tires, fenders, Surly bike racks and Ortlieb panniers.  At the time of writing this; bike included I have spent  $5,500 taxes included.  Perhaps another $500 to go.  While I am at it I should also give a shout out to Outspokin Cycle of London ON.  They have supplied my with most everything MEC does not carry as part of their inventory.  They were even great to see me after hours depending on when I was trucking it through London..
There is really only one thing about the MEC National that I would have wished for differently.  The widest tires (with fenders) I can run with is 700 x 38c.  Which is actually 3mm wider then my original touring bike that I used in 2011 but much narrower then the Long Haul Trucker at 700 x 56-62. I would prefer wider tires for pedaling across Canada in the winter.  But my MEC National looks amazing.
I still daydream about that Big Fat Dummy though.
Perhaps your interested in how I picked my route?