August 29
Km's Pedalled – 120 km's
Destination – Kamloops
Some Notes – I had a host waiting in Kamloops. So I basically pedalled non stop to Kamloops.  I took almost no photos.  Beautiful day but a fair bit of headwinds. I am not sure the last time I pushed this hard all day.
The route was very beautiful. It follows the South Thompson River.  Traffic was busy as usual.  It was beautiful but there was not much to photograph until I got closer to Kamloops.  The landscape has changed.  Things are more arid and desert looking.  It really is a pretty beautiful route.  There is a pretty monstrous climb in Kamloops.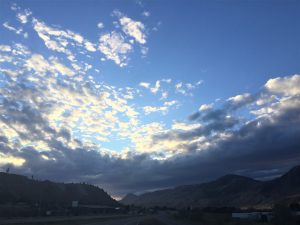 Kamloops
I pedalled 120 km's today.  Only in Saskatchewan did I pedal 118 km's.  This actually the furthest I have pedalled all spring and summer.  I discovered that my trailer tire is flat again.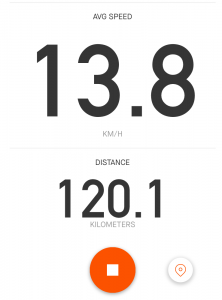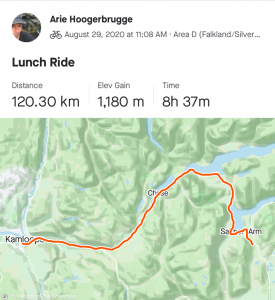 The most kilometers since getting on the road in Kingston ON
August 30
Some Notes – I went to bed pretty late and because of how beat I was from yesterday am I taking a down day.  My trailer tire had multiple punctures in the tube.  I had some fine steel slivers in my tire.  It took a while to actually to get every puncture patched.
It was actually a very "unproductive day."  But I made no attempt to be productive.  I just mainly hung with my hosts.  My hosts are Dawn Gillingham and Will Robins and Dawns adopted son Harrison.
Dawn actually was very serious into bikes and bike touring when she was younger.  I could tell she really longed to be back on the road on her bike again.  Dawn use to live in Halifax and our introduction was thanks to my "super fan" Dale Spence in Halifax.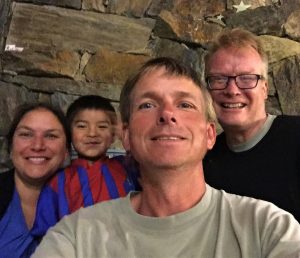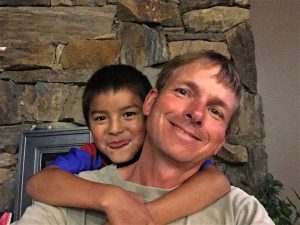 Dawn, Harrison & Will
August 31
Km's Pedalled – 80 km's
Destination – Hwy 99 junction
Some Notes – Today is overcast and cooler temperatures but the sun eventually came out.  Today is also with lots of hills and climbing and of course lots of headwinds as usual.  The landscape continues to be beautiful.  It's good to be back in my tent again if even for a few days before I reach Vancouver.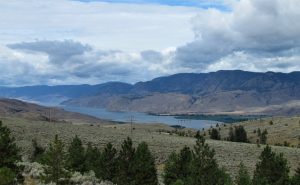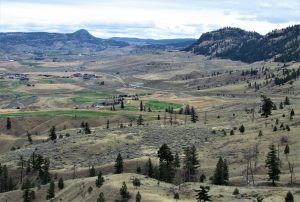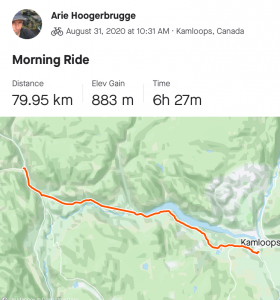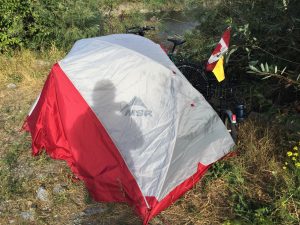 September 1
Km's Pedalled – 88 km's
Destination – Lillooet
Some Notes – A beautiful sunny day.  I actually took my pant legs off.  There were some hilly spots but, then a lot of down hill also.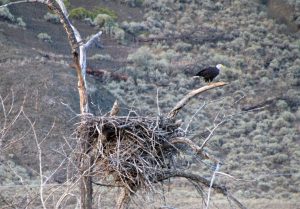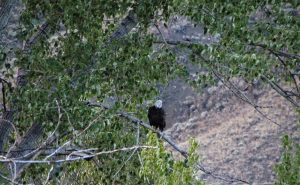 Bald Eagles
This route follows an amazing section of highway along the Fraser River. And the traffic has died right down   I totally recommend this way to Vancouver.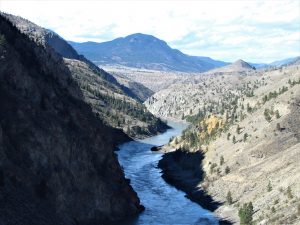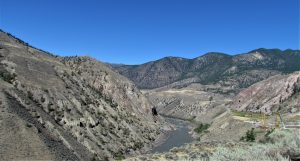 The Fraser River
I ran into a cyclist just outside of Lillooet.  He was heading east.  I felt sorry for what he was about to tackle.  I don't think I would ever want to do this route east bound.  The mountains climbs are huge heading east.
I went into Lillooet for groceries and am camped just west of town.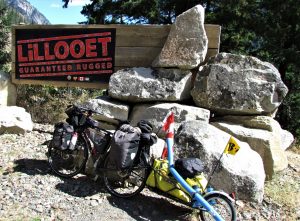 Lillooet British Columbia
There was a wicked wind storm tonight.  Many times I wondered if me and my tent would blow away?  I was camped near the river.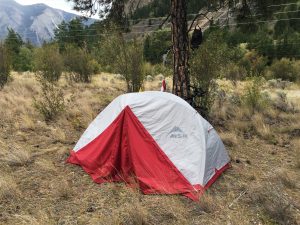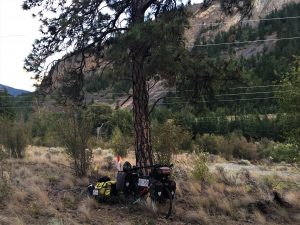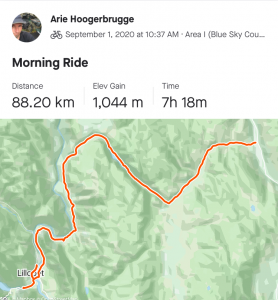 September 2
Km's Pedalled – 45 km's
Destination – Blowdown Creek (river crossing)
Some Notes – I didn't sleep great last night at all. That wind storm did something to my allergies – it had me stuffed me right up.
Another beautiful sunny day. But killer mountains to get out of Lillooet – real killer.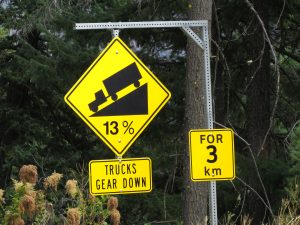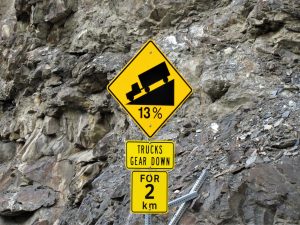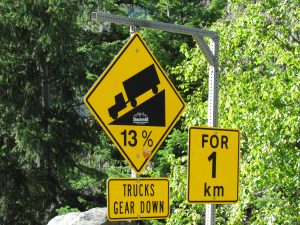 The first 20 km's getting out of Lillooet was absolute killer.  I think the hardest climbs in my life.  There was at least 3 13% grade climbs that went of kilometers at a time.  I was so beat I can't remember how many climbs only that it never ended.
Then the highway went up down, up down.  It actually felt a lot like Northern Ontario.  And that's when the headwinds kicked in.  Fortunately the headwinds didn't seem to last.  I can't believe how few km's I pedalled today.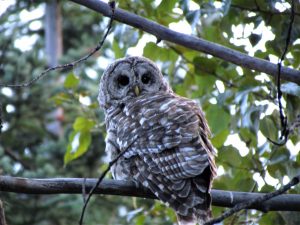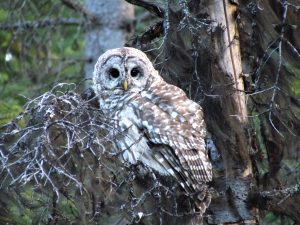 The Barred Owl – actually considered an invasive species in the west
I camped beside the river.  I met a couple living in a van for the last 3 years from Quebec where I was camped.   Their website is called FarOutRide.com.  A super interesting story about how they live off of Amazon affiliate sales based off the supplies and equipment used on their van build.  They make more money from their website then they did as engineers and then they mountain bike all summer long and snowboard all winter long.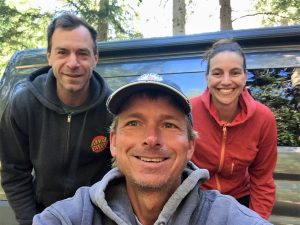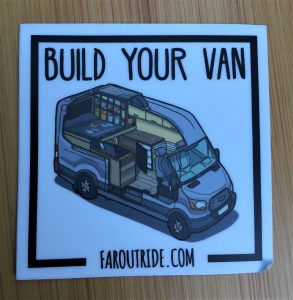 Antoine Gagne & Isabelle Richard of Quebec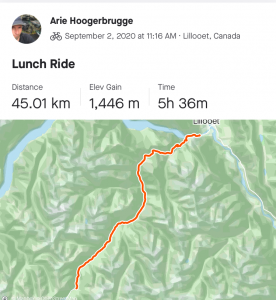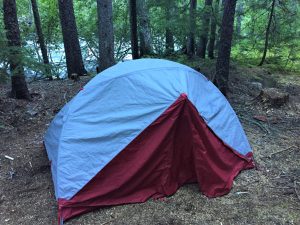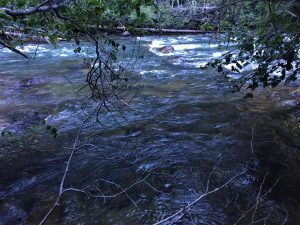 September 3
Km's Pedalled – 58.5 km's
Destination – Pemberton
Some Notes – Beautiful and sunny as usual.  A tiny bit of headwind.  There was a crazy 13 km's downhill into Pemberton.  The fastest and longest downhill in my life.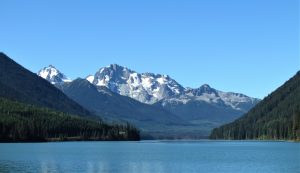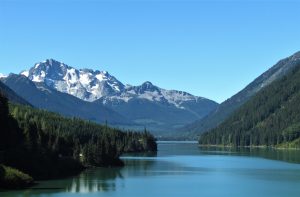 Lillooet Lake
I thought I met a potential host (for Whistler) at the top of the mountain and then I thought I met another host (for Pemberton) at the bottom of the mountain.  Both potential offers fell through.  No big deal.  And I met someone in town who tried to get me host at a B&B in town but that didn't work either.  So I am camped west of town.
I spent most of the afternoon talking to this fella who tried to get me a room at the B&B.  If he sent and posted the photo he took of us I would have posted it here.  John??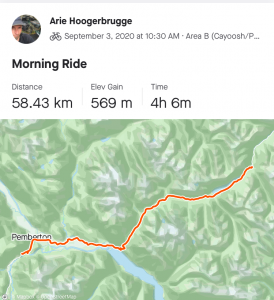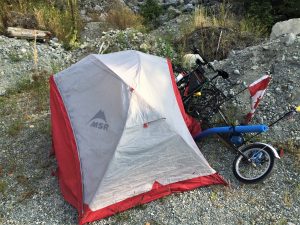 September 4
Km's Pedalled – 78 km's.  My Strava app says 69.5 km's but the app kept shutting down
Destination – Just before Alice Lake Provincial Park
Some Notes – Another beautiful sunny day as usual.  The 20 km's getting into Whistler were tough with lots of mountain climbs.  My feet were completely dragging until I got to Whistler.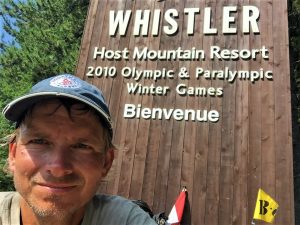 I stopped for a Big Mac combo at McDonalds's and got some groceries and then I got out of town.  I find towns like Banff, Lake Louise and Whistler to be too full of tourists and all I want is to get out as quickly as possible.
I saw my first traffic jam of the ride of people coming into Whistler.  The line of vehicles went for miles and miles and miles.
The highway was generally downhill most of the rest of the way getting out of Whistler.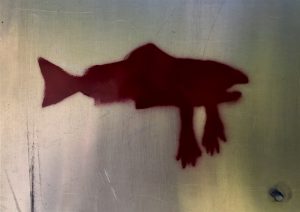 Runny paint or genetically modified salmon?
I continue to observe in the mornings the lack of birds in British Columbia.  All the mornings from getting back on the road (in Kingston Ontario) right to the Rockies I would wake up to many many birds calling in the mornings.  But once I hit the Rockies it seems the birds have disappeared.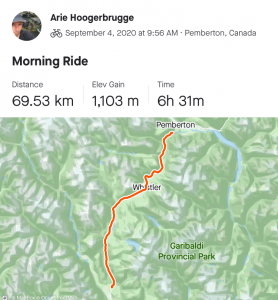 British Columbia – My 10th Province (Aug 21 to 28)