August 21
Km's Pedalled – 80.5 km's
7 km's to BC border / 73.5 km's more to Golden
Destination – Golden BC
Some Notes – An overcast and cloudy day.  I set my alarm for 6:30am and we were on the road by 7:30am.  Bruce drove me 440 km's to Lake Louise and I was on the road by 1pm.  I figure Bruce drove me and for me over 1,100 km's this past week.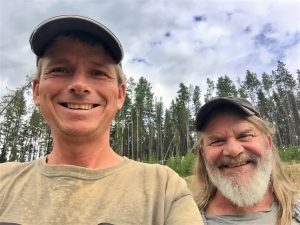 Bruce Oconner totally went above and beyond
Getting into British Columbia it was still overcast and cloudy with light rain and a strong enough headwind to frustrate me.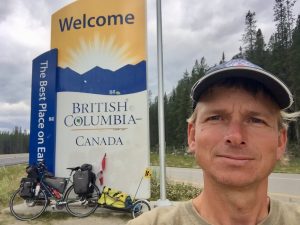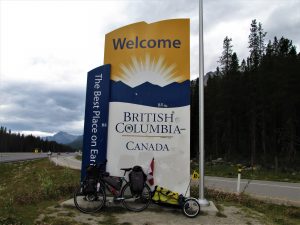 My 10th and final province
I got to Kicking Horse Hostel in Golden and totally was beat.  Another cyclist told me about this place.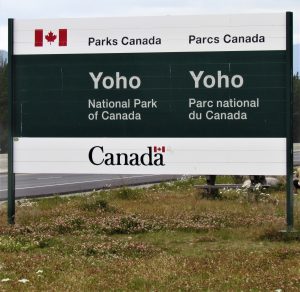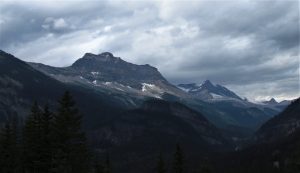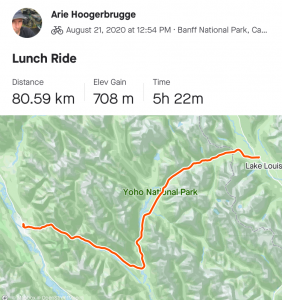 August 22
Some Notes – I sat in front of my computer the whole entire day.  At $10 a night I plan to stay 3 nights to get completely caught up on blogging and photo editing.  I got all my all my photos edited and some posted.  And I got 3 blogs finished and posted.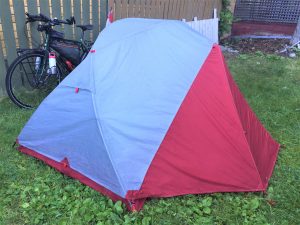 August 23
Some Notes – I sat in front of my computer again the whole day.  I finally was able to get Flickr up to date.  I also got 2 more blogs written and posted and we (me and Brandon) got a road show recorded and posted.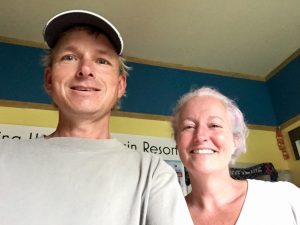 Tanya at Kicking Horse Hostel in Golden
August 24
Km's Pedalled – 79 km's
Destination – the base of Rogers pass (80 km's from Revelstoke)
Some Notes – I had all types of weather today.  There was lots of climbing and headwinds.  I got a late start because I slept in as usual
I went to the Northern Lights Wolf Interpretive Centre.  I saw their sign on the highway and it was only 5 km's off highway and I decided I wanted to see wolves.  At some point shortly I will do a separate blog post on it and that will be found HERE.  It only costed $12.  It was okay but was very difficult to take photos and even view some of the wolves.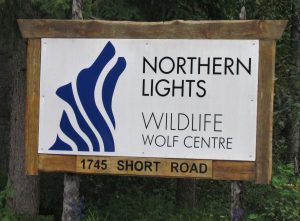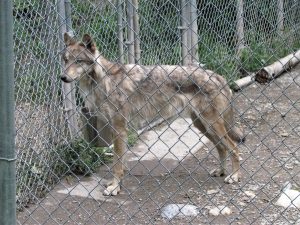 The centre has 7 wolves; six were bred in captivity and a new pup that was discovered in Alberta on the side of the road.  One of the wolves was out on a walk; apparently they take them out in the bush and give them the run of the land for a few hours at a time.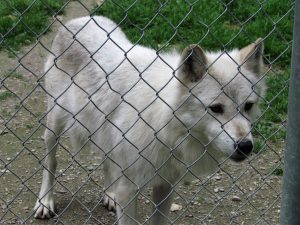 The pup was shy and I never saw it.  Three other wolves were easy to view and 2 were very difficult to view because of cage layout and design.  The centre would be better off saying they only have 5 wolves.
Because of chain link fencing photos are very difficult; which I guess makes sense.  The layout of the cages was not well thought out at all.  I an only assume opening to the public was an afterthought.  But I learned a few things about wolves and I am glad I went.
I also pedalled through Glacier National Park today.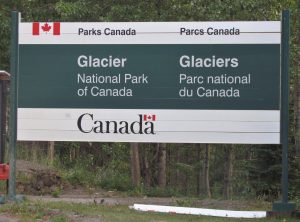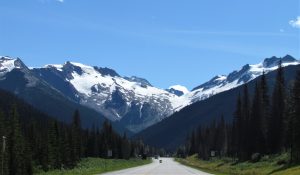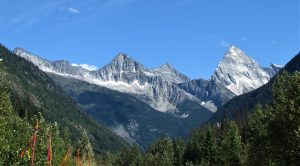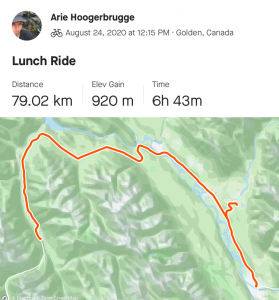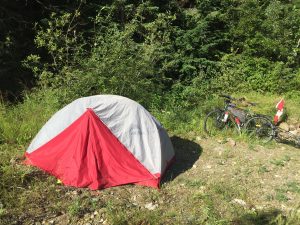 August 25
Km's Pedalled – 92 km's
Destination – Revelstoke
Some Notes – A beautiful, sunny day.  When I started my morning I was fairly low on water.  I should have brought more from Golden.  Fortunately I found water pretty quickly at the top of Rogers Pass at the pass's interpretive centre.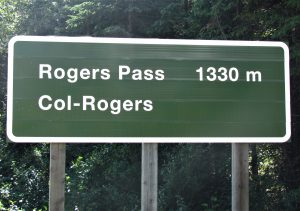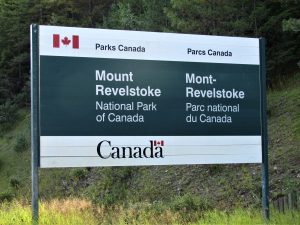 So today I made it over Rogers Pass and pedalled through Mount Revelstoke National Park.  I walked 2 boardwalks.  I walked the Hemlock Grove boardwalk in Glacier National Park.  The Hemlock Grove is apparently the only inland hemlock/cedar rainforest in the world.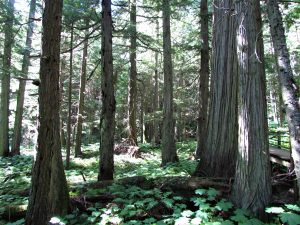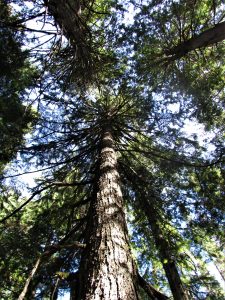 Hemlock Grove Boardwalk
I also walked the Giant Cedars Boardwalk in Mount Revelstoke National Park.  They figured these trees were only seedlings in the late 1400's.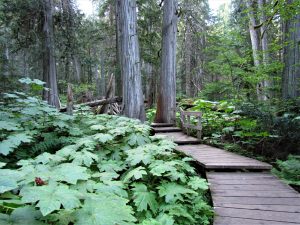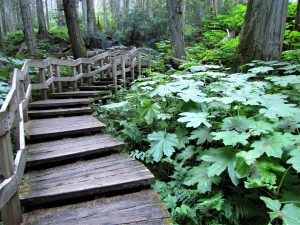 Giant Cedars Boardwalk
Today I had strong headwinds and lots of climbing.  My trailer tire also got its first flat tire.  I am at approximately 9 flats in total.  I was totally exhausted getting into the town of Revelstoke.  Tonight was actually a bit of gong show in Revelstoke between navigating construction, getting groceries and then trying to top up my water bottles at a gas station or a McDonalds.
I ended up making dinner in the city park because it was already dark and at least I could use a picknick table.  I actually met a family from Hamilton there.  In an attempt to make a connection with them I mentioned being the original owner of The Reptile Store.  Of course they knew about it and had actually purchased a lizard from the store.
Because it was already dark the only camping spot I found was the turnout before you come into town (west side) right beside the highway.  It was so horrible and noisy.  One of the worst campsites in months.  I tried to sleep to podcasts and music in my earbuds.  Nothing worked.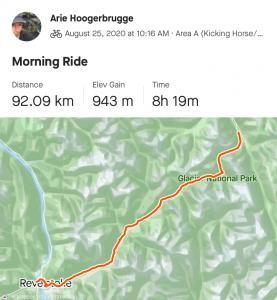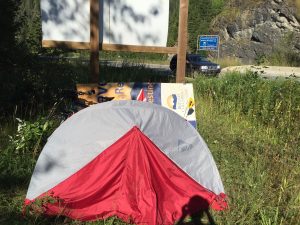 Right beside the highway
August 26
Km's Pedalled – 97 km's
Destination – Salmon Arm
Some Notes – I totally slept like crap.  Another beautiful sunny day again.  Lots of headwinds and as usual lots of ups and downs but a bit more down.
Ever since Golden traffic has been heavy, fortunately there are mostly good shoulders but generally bridges have no shoulders.
I am being hosted by Hermann Kerr.  Hermann had offered to host way way back in a Facebook comment.  He actually responded to my inquiry about hosting I and so I actually have 2 hosts in Salmon Arm.  Hermann is also a fellow cycle tourer but rides a recumbent trik (like my hosts in Regina).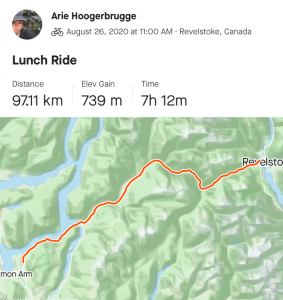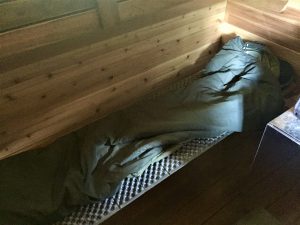 Sleeping in the sauna to avoid the bears
Me and Hermann had very interesting conversations all night.  Leaving me with – What is actually important to me?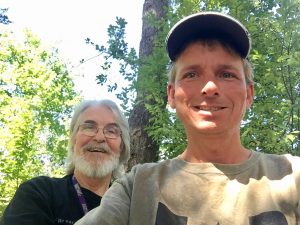 With Hermann Kerr
August 27
Km's Pedalled – 11 km
Destination – Salmon Arm
Some Notes – I was actually supposed to connect with the Starkman's (my Calgary hosts) who were on vacation.  But they were running late.  So I got a photo instead.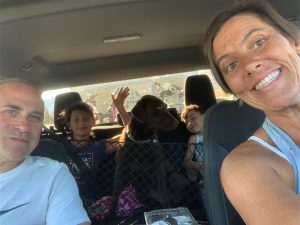 The Starkman's
My hosts for this evening come through an old PEI host – Craig Constain.  So thanks to Craig I have a second host here in town.
This evening I received a new message came from a new host in Kamloops.  It sounds like this his will be thanks to my Halifax host – Dale Spence.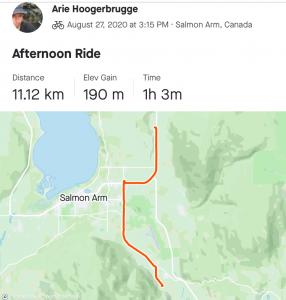 August 28
Some Notes – I decided to stick around Salmon Arm another day.  My hosts Bruce and Hilary are taking their boat on the lake (Shuswap Lake).  I don't like getting wet or sticking my head under water but I will always get on the water when the chance provides its self.  It was a beautiful day on the lake and we went over to Moose Mulligans in Sicamous for lunch.  And then we came home to steaks for super.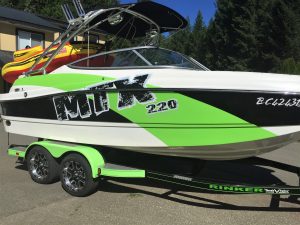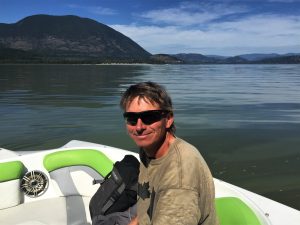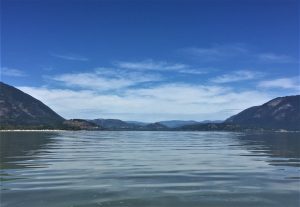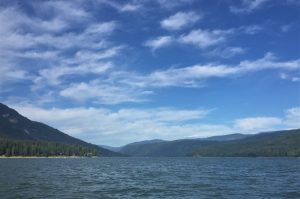 Alberta Completed – Aug 16 to 21 & Summary