January 3
Life in the jungle: Last night Derrick said he was planning to come down and help replace 4 rotted/termite infested pieces plywood in my crawl space with plycem.  Good call on Jack for using termite-magnet-plywood under my house.  About $200 USD in plywood wasted plus labor.
Anyways, as I was pulling the rotted plywood out from under my house Derrick messaged that he could no longer come today.  Which worked out ok because we got rain this morning.   In fact, we got on and off rain throughout the day.  Which for my recent coconut transplants I was quite thankful for.
After breakfast I went to the ponds to continue cleaning and chopping vegetation.   After a few hours I biked for groceries.  I stopped by Saul's place and he had 185 logwood posts for me to inspect.  Before dark his son delivered the first 100 to the house.  And before dark I was able to pot a bunch of my hibiscus cuts from a few weeks ago.  But they are not looking so good.  I finally installed my bedroom door.  Its main purpose is strictly security.  All my personals can now be locked up.  Overall, I was fairly productive today.
January 4
Life in the jungle: I needed to stick around the house this morning waiting for the second load of posts to arrive.   Which they did.  Between yesterday and today 185 posts at $5 BZ a post = $925 BZ or $462 USD.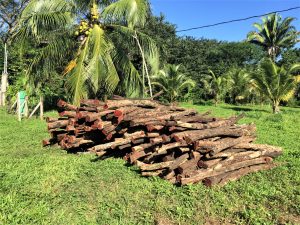 185 Logwood posts
Derrick was than supposed to show up to help me with enclosing the hurricane shelter (replacing rotting plywood) but called me to tell the hardware shop that I bought the plycem from yesterday only had 2 sheets instead of 4 (that I had paid for).  Oh well, such is Belize.  It rained anyways.  I am not feeling very productive today.  I need to be working on my work permit but my lawyer did not get back to me yesterday and my internet signal is not strong enough to open the Labor Departments website on my computer.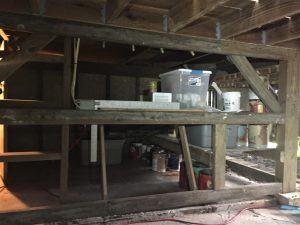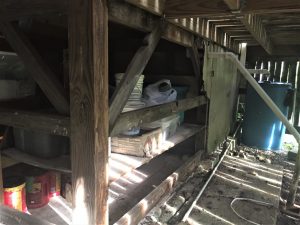 Waiting for plycem to be installed on my hurricane shelter walls
These are the days that stress me out.  Running around and getting nothing of substance accomplished.  Piling on that I just keep spending money.  An Airbnb booking or 2 would go a long way in lifting up my spirits.  If I had an internet connection, I think I have a lead on an online job that would at least make me a few dollars a month.  Some expenses that I was not really counting on is a new wheelbarrow.  (Right now, I share a wheelbarrow with Jack and Jill.  I don't want any unnecessary shared items and the wheel is rusted out and tire is virtually rotten).  It's apparent that I need to buy a chainsaw.  Derrick is too busy and I am falling behind in projects.  But the reality is I need one for myself and paying him $65-75 USD a day I could pay the chainsaw off in 3 work days.  I think I would also like to look into buying a push mower.  I have always disliked weed whacking but actually enjoy grass cutting with a push mover.  The problem is that push mowers are expensive ($600 USD) and don't last long.  And a push mover does not completely replace a weed whacker.
I weed whacked a portion of the front yard and the entrance to the ponds.  The first half hour was pretty miserable getting back use to weed whacking again after 11 years.  I then took a break and worked on a portion of my Belize work permit.
After that break I shoveled and spread sand across my front yard.  I am not sure how many loads of sand I moved but I worked into the dark.  After going inside, I was so tired I had to really drag my butt out of my hammock.  I was feeling pretty unproductive this morning but the day overall turned out pretty productive and that was also in part because the rain held off virtually all day.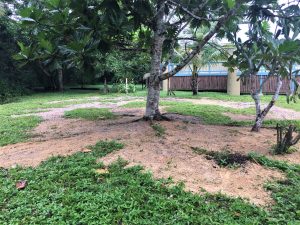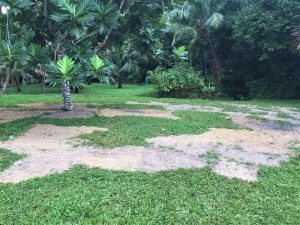 Smoothing out my front yard with fill
January 5
Life in the jungle: Light rain first thing in the morning so I continued moving dirt.  I actually pretty much finished that project and it wasn't really on my radar.  I than planted/bagged 60 papaya seeds and 20 watermelon seeds.  From there I headed to the ponds to get some work done there.   A very full day.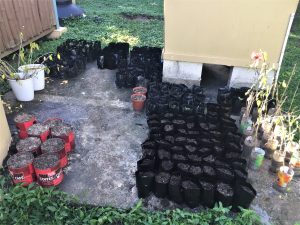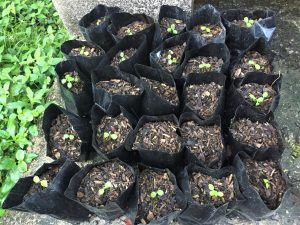 Planting papaya and watermelon seeds
The afternoon became sunny.  Overall the weather was perfect as usual.  The number of bird species that I noticed was pretty crazy today.
January 6
Life in the jungle: I worked at ponds before and after breakfast.  In the interest of slowing my pace down a bit I did a little yard maintenance in the afternoon.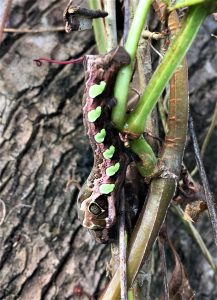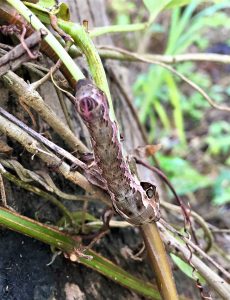 Found at my ponds – Gaudy Sphinx Moth Caterpillar
The weather was perfect again.  I found much of my day frustrating.  I am waiting on people for 3 things that I have had to bug them about and you shouldn't have to bug people about things.  I am pretty sure in my 48 years on this planet no one has ever had to bug me or remind me about anything.  It's hard for people like me to navigate the world with people in it.
January 7
Life in the jungle: I started my morning chopping and cleaning around the ponds.
This afternoon I went into the village to use Derrick's internet.  His mother from over 300 ft from the internet source was streaming videos and I couldn't even open my Gmail.  I can't seem to escape frustration no matter the day.  I can only hope for better days.
Later on, I did some yard work with my machete.  Nothing helps my day like swinging my machete. Tomorrow a guest arrives for a month.  This should be an interesting experience as I have never had a roommate for a month let alone with my kind of routine.
January 8
Life in the jungle: A mixed day today.  It rained through the night and the rain woke me up at 6 am.  I started my morning with some last minute house cleaning in anticipation of my guest.
I then finished up some yard work and had breakfast.  I ran up to the grocery store to pick up a new wheelbarrow but it was too big for my trailer.  No worries.  Derrick was picking up and delivering some plycem later on for work under the house.
On my way home on our road I came across a 5ft+ boa constrictor crossing the road.  What a beauty and a find.  He had just eaten a good sized meal so I couldn't really disturb him (catch him).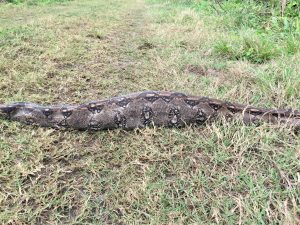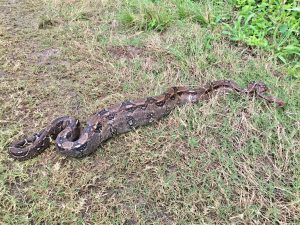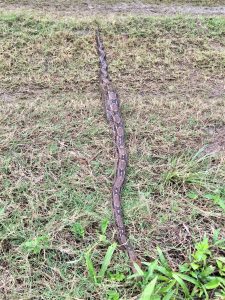 What a beauty!
I did some chopping in the coconut field to stay close to the house.  Later in the afternoon Derrick arrived and delivered everything (my plycem and my new wheelbarrow) plus took all of Jacks junk that has been cluttering my crawl space.  It felt better than Christmas morning as a kid to get rid of this junk.
I spent the later part of the afternoon moving dirt to smooth bumpy areas of my front yard and to stay close to the house for when my guest would arrive.  From the morning the weather had me thinking it was going to be a miserable day but the afternoon cleared up nicely.  Our road is a muddy mess though.
My new guest Heath showed up in the dark having to push his bike down our road because he rides road style bike with ultra thin tires.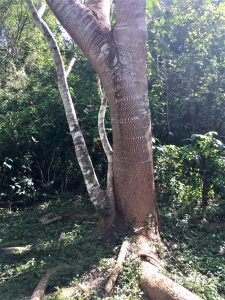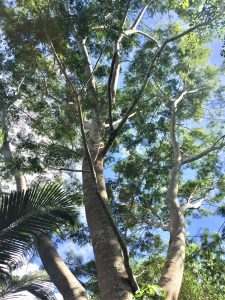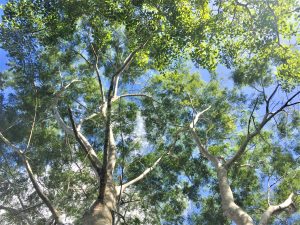 I planted this Tubroos tree in 2010
Belize Part 8 (Dec 30 to Jan 2)
Glossary
Glossary of words or people that may or may not be part of this blog post.  This glossary will be at the bottom of every blog post for Belize.
Jack & Jill – These are my ex-property managers (names changed).  They are Canadian, they introduced me to Belize in 1997, sold me their house in Belize in 2003, and rebuilt my house from 2014 to 2018.  I have known them for over 30 years.  After almost 20 years of me supporting their life here in Belize Jack decided quite unexpectedly to declare "war" on me right before Christmas 2021.  They live on the farm, but not on my land.
Wayne – He is the son of the original owners of the farm (both owners are deceased).  The original farm was 2 – 30 acre pieces minus 2 – ¾ acre parcels for my house and 2 – ¾ acre parcels that Jack & Jill own which were all originally purchased from the original owners.  In 2017 Wayne sold me 40 acres of land from the original 60 acres (30 acres plus 10 acres).  Wayne lives in his parent house and has a few cows on his remaining 17 acres of land.
Nery – a local in the area that helps me with certain projects when needed.  A very knowledgeable guy originally from El Salvador. He teaching me a lot about farming and tree.
Derrick – a local in the village that helps me with certain projects when needed.  Mostly he helped early on after my arrival to Belize.  He doesn't help me so much into the future.
The ponds – I have 2 large (300ft long x 50ft wide x 10ft deep) ponds on my 30 acre parcel of land which is basically jungle.  I have about 60 coconut trees (mostly mature) around the ponds.  I have plans to plant a few hundred papaya trees here plus other fruit bearing trees around the ponds.
The coconut field – I have about 400 coconut trees planted (various growth states) on about 3 acres of cleared land of the 10 acre parcel.  I plan to add various fruit trees to the same field as soon as I can.
The river lot – my house sits on a ¾ acre lot.  I have a second joining ¾ acre lot that allows me river frontage on the Belize River
The dry – Belize has 2 main seasons.  The rainy season and the dry (no rain)
Chopping – using my machete to clear brush and unwanted trees