January 9
Life in the jungle: Because of how rough our road is getting, Derrick had to walk down our road.  Derrick came to install the plycem (plywood/cement mix wall boards) on my basement storage rooms.  I should mention Wayne (the other Belizean living on the farm) continues to drive the road slowly destroying the road every day instead of giving the road time to dry out in the sun.
It took a good part of the day to complete that job but now all my tools and supplies can be properly secured and all the termite infested plywood has been removed.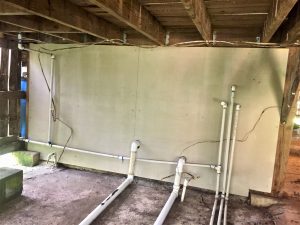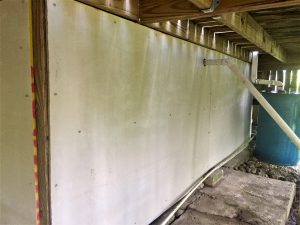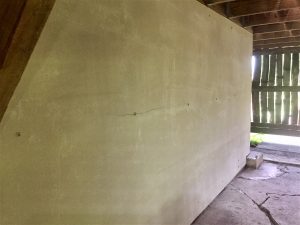 New plycem walls
Before Derrick showed up, I did a little chopping in the coconut field.
Things are going very well with my new guest.  We have lots to talk about and have the commonality of bike touring.  But I realized this evening that due to my introverted nature and now living in my house alone that his presence has been overwhelming to my system.  Had Derrick not worked here at the house this morning I would have had some hours to myself on the farm.  I will need to ensure I have some down time to rebuild my mental strength on a regular basis.
January 10
Life in the jungle: A hectic and hot day in the city.  The bank was closed due to a Covid outbreak.  I was able to use the ATM of course.  I had 2 main missions today.  To get a bunch of my work permit papers printed off and take the bus to Ladyville to try to get Internet access sorted out.  In Ladyville I got more promising news about getting internet at some point but they are still out of equipment.  But I did talk to they guy who would be coordinating the installation.  So, I feel better about that.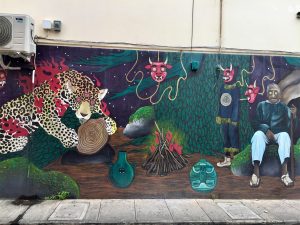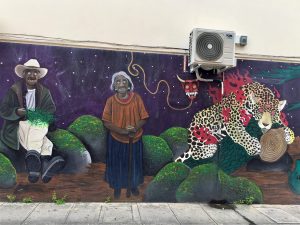 Belize City
I actually met my guest Heath at the Digicell store.  He had biked from the farm to get his new SIM card.  From there he biked and I bussed back to the village where we went to the village grocery store so I could show him that and get our groceries.  Getting back home my day was done.  I am very exhausted.
January 11
Life in the jungle: Last night I knew I needed more sleep so I didn't set my alarm and slept in until 8am.  This morning I cleaned from Sunday's work in the basement.  Later in the afternoon I chopped in the coconut field.  I have been trying to balance getting work done and the disruption to my day by having a guest (Heath) here for a month.  Having Heath here is great and I am certain his disruption to my day is a necessary disruption that I need in my life.  It's been quite a while since I have interacted conversationally with anyone.  But I have also discovered how much I need to swing my machete every day.  It's like therapy for me in clearing my head.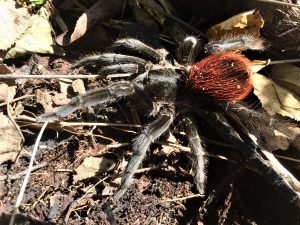 A nice Red Rump tarantula
January 12
Life in the jungle: I set my alarm this morning and when I woke up, I felt – not sick but as if I had been sick for the last week and now I was better but in a very weakened state.  While I felt this way before I have never felt this way for no good reason.  Yesterday I felt great, I got a few hours of chopping in and had a big super.
I basically was passed out in my hammock until after 3 pm.  After that I was feeling better.  I put all my Belize Tourism Board taxes together and all my Belize Work Permit paper work together.  Today is the first time I never got out of my sleeping clothes (pajamas).
January 13
Life in the jungle: Waiting for the bus I seen a Crested Caracara eagle.  I didn't think they were in Belize.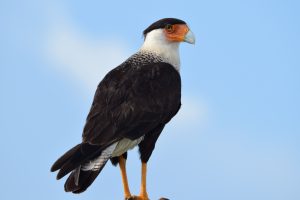 Crested Caracara eagle (random photo off the internet)
I started my morning in the city getting passport photos for my work permit.  Arriving at the Belize Tourism Board is was informed that everything was done online and that my license was expired.  [I would later discover that it was not expired.]  So, I went to the internet café and immediately submitted my renewal online.  From there I took the bus and went to the Belize Treasury Dept to get a $25 receipt and $20 postage receipt for my work permit. Now all my paperwork is ready for my work permit. Arriving back in the city I got a few supplies for home.
Back at the house I was able to 100% submit my work permit application.  [I would later discover that most of the paper work never uploaded.]
Jill came over asking for electricity money with a balance owing that she couldn't explain and when I asked her about the $75 I gave her for electricity January 4 she had no recollection of it.  Jack has never responded to my emails since he declared war on me.  I have a feeling that this current situation might not go so well.
I cleaned papaya seeds tonight
January 14
Life in the jungle: I tossed and turned all night last night getting almost no sleep.  This friggin electricity bill!  There is an alone 74 women living beside me and I have to do what is right and be a good neighbor at the same time dealing with a nut case husband that has declared war on me.  And of course, there was no response to my email inquiry from yesterday evening.
I started my morning chopping at the ponds.  I spotted an adult Speckled Racer snake locally known as Guinea hen.  He was impossible to catch and than I found a good sized female Red Rump tarantula and a huge (what I assume is a) Rhino beetle larva.  I brought him back to the house to show Heath.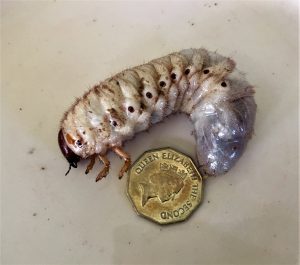 Giant Rhino beetle grub (??)
After breakfast I had some weed whacking to get done.  But part way through that job I got an email response from Jack about my request to understand the electricity bill.  His plan was to basically extort money out of me or he is going to make every effort to see me in jail and fined $1,000's of dollars (???))
"As of last night, my prime mission for today was to send you to jail and cause you thousands in fines and penalties as well as nixing any chance of you getting a work permit or residency……
…. attached is a new Licensing Agreement which states that I will pay Jill $200 a month and the entire electricity bill each month.  If I adhere to this agreement then you get your business signed over to you at the beginning of 2023. Blah, blah, blah."
That email kind of put a dampener on my daily work from there.  Later in the afternoon after getting groceries I stopped in the village to have a few beers to take the edge off.  Back at the house I sat by myself for a while and basically just "released" all the drama and consequences of my day and whatever future I have to face – good or bad.
In a way having Heath here is good as in a way I do not feel like I am facing all this alone but at the same time I need more alone time to think everything through.  While I can't do anything about Jack's hatred for me or stop him from what any harm he attempts to bring me.  Someday this will all be a bad memory but I want to make sure that I did not fall to his level and that I still did what was right.  I feel horrible for Jill that her husband was so short sighted and selfish that he would cause all of this with her down here all by herself and stuck in the middle.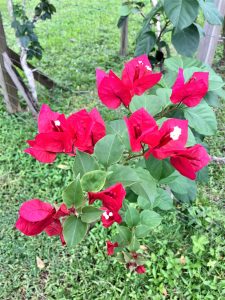 Belize Part 8 (Dec 30 to Jan 2)
Glossary
Glossary of words or people that may or may not be part of this blog post.  This glossary will be at the bottom of every blog post for Belize.
Jack & Jill – These are my ex-property managers (names changed).  They are Canadian, they introduced me to Belize in 1997, sold me their house in Belize in 2003, and rebuilt my house from 2014 to 2018.  I have known them for over 30 years.  After almost 20 years of me supporting their life here in Belize Jack decided quite unexpectedly to declare "war" on me right before Christmas 2021.  They live on the farm, but not on my land.
Wayne – He is the son of the original owners of the farm (both owners are deceased).  The original farm was 2 – 30 acre pieces minus 2 – ¾ acre parcels for my house and 2 – ¾ acre parcels that Jack & Jill own which were all originally purchased from the original owners.  In 2017 Wayne sold me 40 acres of land from the original 60 acres (30 acres plus 10 acres).  Wayne lives in his parent house and has a few cows on his remaining 17 acres of land.
Nery – a local in the area that helps me with certain projects when needed.  A very knowledgeable guy originally from El Salvador. He teaching me a lot about farming and tree.
Derrick – a local in the village that helps me with certain projects when needed.  Mostly he helped early on after my arrival to Belize.  He doesn't help me so much into the future.
The ponds – I have 2 large (300ft long x 50ft wide x 10ft deep) ponds on my 30 acre parcel of land which is basically jungle.  I have about 60 coconut trees (mostly mature) around the ponds.  I have plans to plant a few hundred papaya trees here plus other fruit bearing trees around the ponds.
The coconut field – I have about 400 coconut trees planted (various growth states) on about 3 acres of cleared land of the 10 acre parcel.  I plan to add various fruit trees to the same field as soon as I can.
The river lot – my house sits on a ¾ acre lot.  I have a second joining ¾ acre lot that allows me river frontage on the Belize River
The dry – Belize has 2 main seasons.  The rainy season and the dry (no rain)
Chopping – using my machete to clear brush and unwanted trees