September 5
Km's Pedalled – 90 km's
Destination – Vancouver
Some Notes – Putting my riding clothes on this morning my clothes are saturated and heavy with sweat.  This is the seventh day without a shower and I have been riding in hot sunny days with tremendous amounts of climbing.
Today was overcast, cooler and headwinds.  There was also a lot of up and downs all day, fortunately the ups were not too crazy.
I have never seen so many Lamborghini's and Ferrari's as I have the last 2 days.  I didn't even know they had made (in production) as many as I saw.  And there was lots more traffic jams for people getting into Squamish for the long weekend.
I stopped in Squamish to take photos of The Chief (mountain) and Shannon Falls.  I have received tons of honks and waves in the last few days.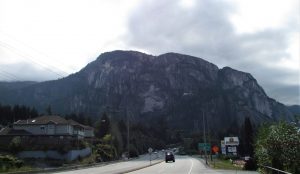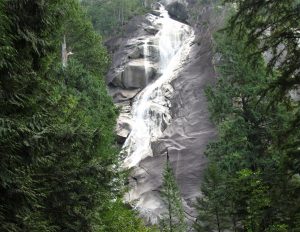 The Chief and Shannon Falls
Getting into Vancouver I had no bike brakes.  With 170 lbs of bike and gear plus my 160 lbs this is not a good mix for the hills found in Vancouver.  I arrived at the Hi Hostel downtown Vancouver to discover that it is not being used as hostel at this time.  I had to bike over to Jericho Beach for their other location.  I am actually a little familiar with this end of town as I had spent some time in the Kitsilano area back in 2011.  I had been to the No Frills grocery store here many times before.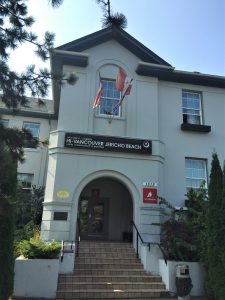 HI Hostel Jericho Beach
I finally got my shower and stayed up until 4am editing photos.  If I do not work late when I get to a hostel I toss and turn all night thinking of all the work I need to do.  It is far better just to be productive.
It is good to be back in Vancouver.  I so enjoyed living here for about 8 months back in 2011-12.  I have so much to do here I have no idea if I will ever leave.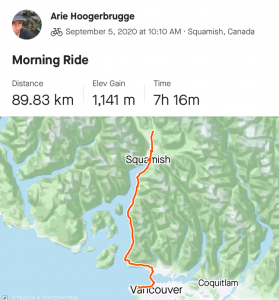 September 6
Some Notes – My priority today was to get my bike dynamo hub looked at.  I noticed my bike lights were not working after I had the last tune in Calgary. I had a few recommendations to go to Bike Doctor.  Bike Doctor sent me up the street to Mighty Riders.  Ed at Mighty Riders said he couldn't look at my bike until at least Thursday.
From Mighty Rider I made my way to MEC.  I noticed the other day that my one tent pole segment was cracked.  The lady at the counter was able to replace the segment and fix my tent in about 10 minutes.
I wasn't really sure what to do next but I pretty quickly noticed that there were these murals everywhere.  So I spent the afternoon taking photos of murals.  I found myself much like in Moose Jaw Saskatchewan going on wild goose chases that kept leading me to more murals.  I took about 100 photos.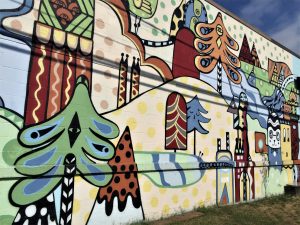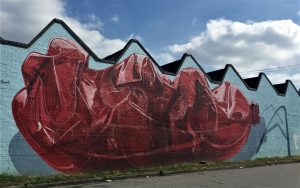 Vancouver Murals
As the day was get on I realized I should try to make my way back to the hostel.  That is when I had the most crazy and amazing experience.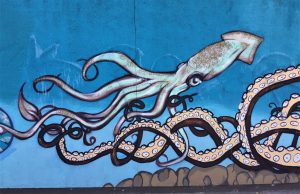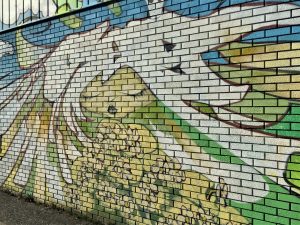 More Murals
As I was looking at phone to get my orientation some guy came up to me and asked if I was Arie?  I asked him his name and he told me he was Bruce Barton.
2.5 million people live in Vancouver.  And Bruce said he recognized my smile, my (Voortman Cookie) baseball hat and my steel toe work boots.
Bruce heard about me many many months ago while on a bike ride at Ontario St & 18th Avenue in Vancouver. A random strange came up to him and asked him if he had ever heard of Safari Arie?
This is another one of those amazing stories that I simply can not make up.  I should also mention that I also instantly recognized Bruce's name as his name pops up all the time on Facebook for "liking" my photos all the time.
I ended up joining Bruce and his wife for beers and dinner and then they drove me back to the hostel.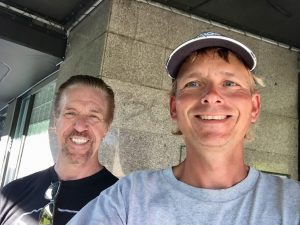 With Bruce Barton
September 7
Some Notes – This morning a long time Facebook follower Orlando Schmidt from Abbotsford came and picked me up to take me out to breakfast.  I always enjoy connecting and meeting with those who have been following my ride.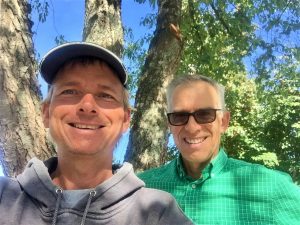 With Orlando Schmidt
I then another Facebook follower John Leung call me about being on a YouTube/podcast show he does called – The Healthy Way Vibes.
I connected (via messenger) with Andy Sward.  Andy is someone who is a plogger (picks up garbage while they go for a run).  We're going to connect in person on Thursday.  (This has since become a Saturday visit)  People talk about how my ride is inspirational.  Andy inspires me because he is actually accomplishing something by making the planet a cleaner place
And then I connected with another cyclist – Ray Chin who I met Sault Ste. Marie.  I am going to his place for dinner tomorrow evening.
And then I did a Safari Arie Road Show with my Brandon.
So it felt like a pretty busy day.
September 8
Some Notes – I got my photos up to Flickr.  I can only seem to do that if I get reasonable internet speeds.  The internet speeds here are a real hit and miss.  Which is pretty frustrating.
I am thinking of hiring a Public Relations consultant.  I set up an account on Freelancer.com last night and I actually got a response.  And I thought I had this guy interested until he disappeared ¾ of the way into our conversation???
I was also able to recorded some audio for a YouTube video we are working on.  It is an updated intro/promo video for the channel and ride.  The finished video can be found HERE.
Later in the afternoon I took the bus to east Vancouver to have dinner with Ray Chin (the cyclist I met in Sault Ste. Marie earlier this year.  I stopped at the Indigo Book Store on the way to have a look at what magazines are currently being found on the shelves that might be relevant to "my lifestyle."  I had an enjoyable evening at Ray's and then bused it back to the hostel.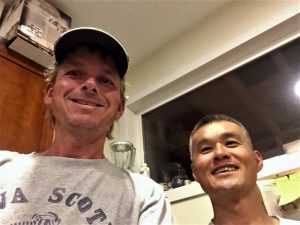 With Ray Chin
Walking through Vancouver this evening and back to the hostel feels strangely familiar but not in a great way.
Someone from my "Vancouver past" reached out to me – Shannon Stange.  We went to the same church – Reality Church in East Vancouver when I was living there.  He had been on holiday's and just come home and "felt sure" I was somewhere near Vancouver.  So he sent me a message via Messenger and of course I was in town.  So we are going to do lunch tomorrow.
It sort of seems like I didn't get very much done today but on the flip side I don't think I have really stopped to even breathe.
September 9
Some Notes – I took the bus to town and met Shannon at Bon's On Broadway.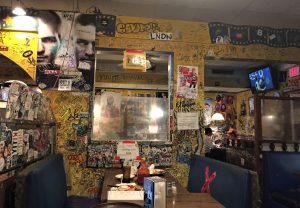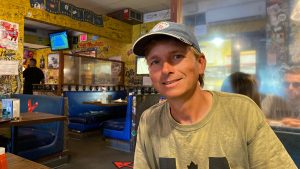 At Bon's On Broadway
On my way I was thinking about why the familiarity of walking in Vancouver last night felt "not great."  And that is when it hit me that I was developing a routine when I lived in Vancouver.  And I think routine is good if you live a more normal or traditional life with the things most people have (family, home marriage etc).  But when are like me – route is a fairly scary and with an empty feeling.
Last night I actually watched a movie that I had watched before called August Rush.  The movie strikes a cord emotionally for me and I think it is the need make sense of my life and the things around me and that things will actually work out.
I had a really good time and conversation with Shannon.  I am starting to think about "things" and I am having these conversations that I am craving.  I am so glad he reached out.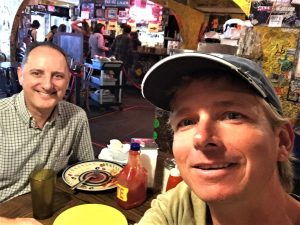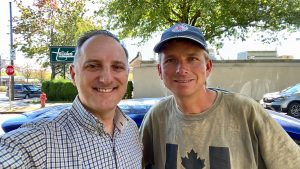 With Shannon Stange
I bused it back to the hostel and called home (PEI).  Then I took a nap; all this socializing and talking to people is very draining on me even and especially if it's "all good" connections and conversations.
A first draft of this new YouTube video is complete.
I was able to finish 1 ½ blogs this evening.  I go to bed late every night; which is a good thing, I think.  I am getting things done yet it seems I have so much work to do.
September 10
Some Notes – YouTube intro/promo video is complete and I am really happy with it.
A Facebook follower – John Leung had invited me on is podcast/YouTube show called – The Healthy Way Vibes.  The show went a good hour and I really enjoyed myself.  It was interesting because in the pre-recorded session leading up to the show recording I was talking about something which lead to the usual "when are you writing a book?" comment.
I responded that I never write about the deeper more thoughtful things that go on in my head because I never know where to start and I can barely keep up with "it was another sunny day" type posts.
And that's when it hit me that I need more of these thought provoking and intellectual conversations in my life to help me make sense of "all of this" and to get everything that swirls around in my head out.  So I reached out to Brandon who is excited about the possibilities of this new format of show that I suppose could also become a podcast??
By the time this conversation was over it was 3 pm and I still had not eaten at all today and the kitchen was closed for another 2 hours for "Covid-19" cleaning.  I walked to the business section of this neighborhood to grab a meal and then walked back.  By the time I was back I was in need of a nap for today also.
After my nap I post the new YouTube video to 35ish Facebook bike groups but it seems like no one is on Facebook this evening?  YouTube has been a real challenge to grow an audience.
Tomorrow me and John Leung (from this morning) will connect in person.
British Columbia – Getting closer to Vancouver (Aug 29 to Sept 4)