October 19
Some Notes – Today was very busy day.  First thing this morning I met up with John, Fatima and met for the first time Fred and Saireen all from The Healthy Way Vibes show. Tomorrow I am on their show for a check-in on the bike ride.
After that I got very busy dealing with my media kit draft and trying to figure out how to proceed with a press release regarding me entering the US.
I then did 2 YouTube shows with Brandon and then I jumped on some calls.  Updated the website a few Facebook posts, trying to figure out travel insurance.  Organize some computer files and started and completed a Vancouver Island blog post.  Jordan sent me a new draft of the media kit 90% complete.  It looks absolutely amazing.  When it is complete I will link it HERE.
 October 20
Some Notes – Spent morning trying to figure out a better bike mirror.  Bob (my host) found me one online and tracked the model down in the city.  I then did a check-in with The Healthy Way Vibes.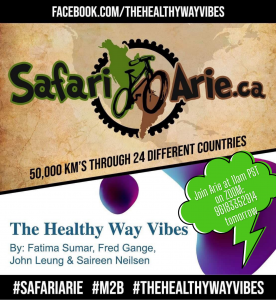 I then headed downtown to pick up that bike mirror and meet up with Andy Sward for lunch and a good bye.  Andy was so generous to give me his solar panel that he uses on his runs.  Thank you Andy!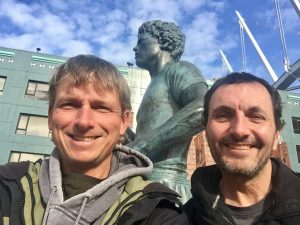 With Andy Sward at the Terry Fox Plaza
Then did some shopping for some odds and ends and picked up my new US credit card.
This evening making final edits to Media kit.  I am having no luck with travel insurance to the US.   The go-to insurance provider for bicycle touring is World Nomads Insurance.  They won't insure me during travel restrictions.  Then I reached out to Safety Wing, they won't insure me as soon as I received any kind of sponsorship money.  A few other insurance companies will only insure to US residences.
October 21
Some Notes – I woke up to an email from Matt my PR guy suggesting that I will have travel insurance.  He has a friend that runs an adventure travel insurance company.
Me and Bob went to the museum of Anthropology.  I actually really enjoyed it.  It's not cheap but cool.  And then we went to the Pole of Reconciliation at the university.  We went looking for a box for my trailer with no luck.  I was pretty exhausted by the time we got back.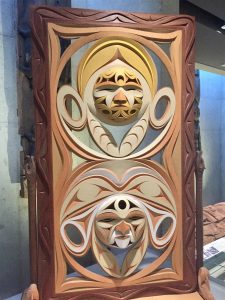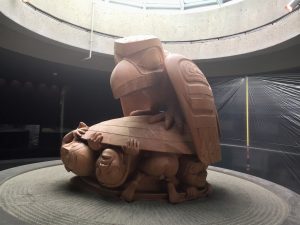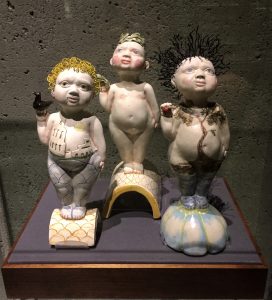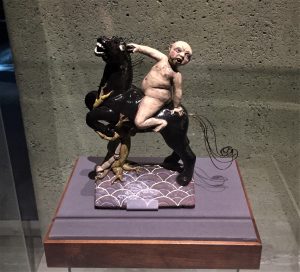 The Museum of Anthropology pretty much had everything there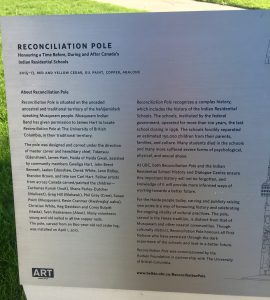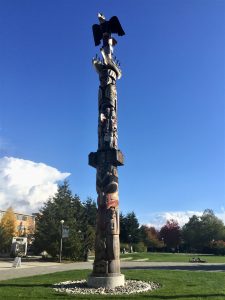 Reconciliation Pole
Later this evening I got another blog post complete.
October 22
Some Notes – First thing this morning I went to The Bike Doctor on Broadway to help get my bike boxed and have my small front ring looked at.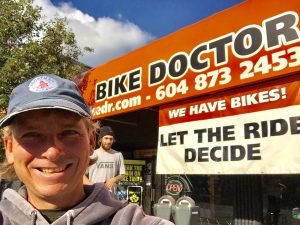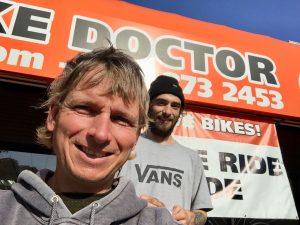 Bailey had reached out to me on Instagram about connecting in Vancouver.  Turns out that he was a bike mechanic at The Bike Doctor.  The thing was that he had actually quit 3 days earlier and only came in to help me with my bike!!
I was able to get bike boxed but my small ring was impossible to remove.  The shop did not have a proper crank so they installed a one-piece crank that should last me to end of the US.  Bob came and picked me up and then we went looking for a box for the trailer.  Which resulted in success
I was able to get another blog post completed and got to bed after 2:30 am.  Actually I haven't gotten to bed before 2am since getting back in Vancouver.
October 23
Some Notes – I had a really good conversation with Buddy Insurance and it looks like I will be insured for accident insurance but not health insurance.  So I will not have Covid-19 coverage entering in t he US.
As soon as all that was confirmed I purchased my plane ticket to Seattle.  I fly Sunday October 25 at 2:30pm.  I got another blog post posted this evening and finished editing the Anthropology Museum photos and posted to Flickr.
October 24
Some Notes – Just tying up some lose ends and boxed my bike and trailer.  I have way too much weight.  I think this is going to cost me a few dollars. I am little worried.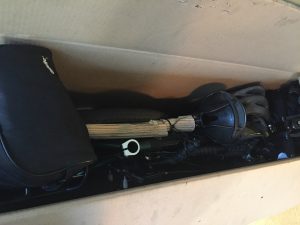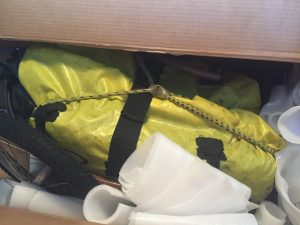 Bike & Trailer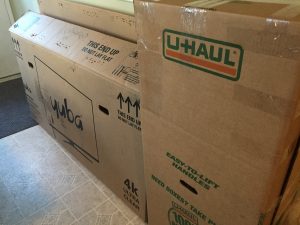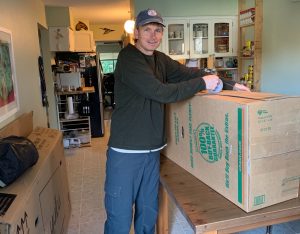 Boxed
This evening I was able to work on my audio/text for what will be my Western Canada documentary film.
October 25
Some Notes – Pretty much all I had to do is tape up my bike box and load it into the car.  Said my good byes to Diane, Bobs wife and Bob took me to the airport.  Bob actually parked the car so he could help me with my boxes and getting them to x-ray.
Everything went super smooth.  I am Flying with Alaskan Airlines.  They charged me $100 for my bike, which sounds like a lot but the box weighed in at 90lbs and they charged me $30 for the bike trailer that was at least 50lbs and the guy was nice enough to not charge me for my other checked bag.  Security and customs went smooth on this end.  So all that remains is US customs on the American side.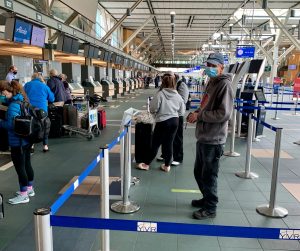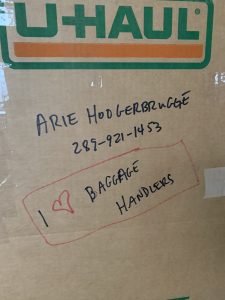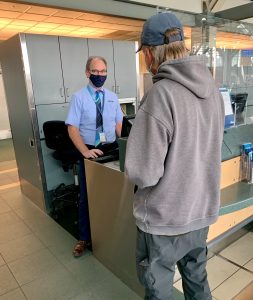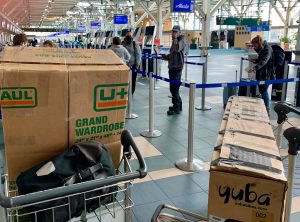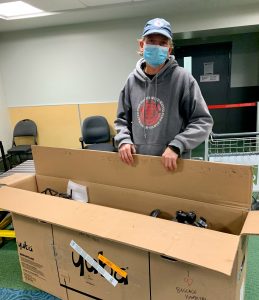 At Vancouver Airport
So far a very smooth day.  So long Canada.  If things go as planned see you in a long time from now.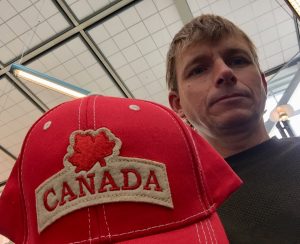 Time for a new one.  May this hat bring me the luck my last one did
British Columbia Summary
It goes without saying that British Columbia and Vancouver Island are beyond beautiful.  I can't really add much more than what everyone doesn't already know.  My time on Vancouver Island was one of my favourite sections/times pedalling Canada.
By the numbers
I pedalled 2,011 km's across BC and Vancouver Island and spent a whopping 69 days in BC.  I did not anticipate spending this long by any means.  But being on the verge of leaving Canada for some time and not really being sure of what lay ahead of me in the US I wanted to get a few things done before I left.  I spent like 2 weeks in Vancouver before I got on the ferry to Vancouver Island and then ended up spending 3 weeks on the island before going back to Vancouver for a week.  I never anticipated spending that long on the island and for the longest time the original plan was to simply use the island as a border crossing into the US.  It took about a week back in Vancouver to get my flight and some kind of accident insurance figured out.
Being in BC as long I was I spent a few dollars.  I spent $804 on food and I spent $1,408 on other expenses which was obviously way more then expected.  The rough breakdown is as follows – $512 on hostels, and almost $500 on bike related repairs etc. and $300 on new boots and pants.  And then a few other odds and sods beyond that.
Unrelated to those expense between my flight and related expenses came to a total of $507.57.  Which is way more than a likely charge of a $30 ferry ride from Vancouver Island to Washington.