October 4 to October 10 Summary
From arriving at the Allen's in Qualicum Beach on the 4th until the 9th I barely left the kitchen table.  I started working from the computer late morning but my average bed time was 2am or later.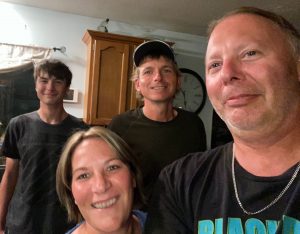 Spencer, Rennee & Bruce Allen
During this time I edited the over 1,800 photos taken to Tofino and back and upload them to Flickr.  Me and Brandon were able to record 2 YouTube shows.  I was able to write and record the audio for the Ontario YouTube documentary and the Prairie to Badlands YouTube documentary plus 2 other shorter video projects.  I wrote 5 blog posts.  12 emails were sent to various newspaper medias.  Organize all my British Columbia GoPro video footage.  I shared photos and a YouTube video in 2 separate posts to about 25 Facebook groups each.  And I dealt with all the usual daily tasks most people have to deal with such as answering emails, online banking preparations for entering the US, dealing with an AZ license medical form requirement, drying out my tent, and dealing with a plugged septic system and termite issue in Belize.
I had plans to move on down the road on October 9th but a few emails came in between (and to) my new public relations guy and web guy mostly regarding graphic lay outs for a new project in the works.  But these emails took so long and then it got kind of late with crummy weather outside.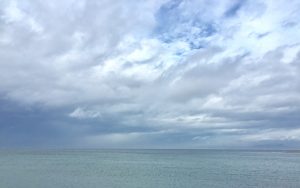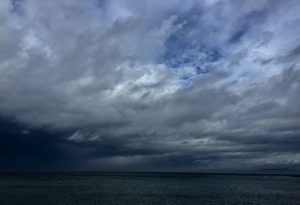 At the beach today – extreme editing on both spectrums of light/dark editing
Sticking around today caused my plans to change for tomorrow now.  I now have plans to help collect firewood with Bruce.  We ended up going out to Port Alberni in the forest to a logged area where they (logging companies) stack scrap logs for people to cut for firewood.  Driving out there, cutting the wood, loading the truck and trailer, driving back, splitting and then stacking the wood took most of the day but it was the least I could for sticking around 6 days (lol, smh).  Bruce and Rennee wanted me to stick around for Thanksgiving weekend.  I pointed out that I had now been under there roof for 6 days.  If friends or family called up telling them they were going to visit them for 6 days you (or anyone) would probably freak out.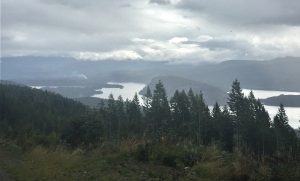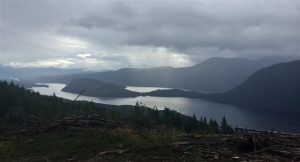 The view from collecting firewood
October 11
Km's Pedalled – 54 km's
Destination – Water pumping station to the east of Nanaimo
Some Notes – The forecast was calling for rain and rain I got.  I knew by the end of the day I would be soaked and I am.  I biked 46 km's in the rain to Nanaimo hoping to use the medical walk-in-clinic to get my medical exam done for my truck driving license and the place was closed (early) for the day due to no doctors.  This has me pretty worried about tomorrow and potential wait times.
***I got a message from friends back in Ontario a few months ago that a letter from the Ministry of Transportation was requesting a mandatory medical exam be completed to maintain my trucking license.  While I have no plans to drive a truck again it is an important license to keep.  Through some research I was informed that as long as the doctor was Canadian the exam could be done anywhere.
Messaging Rennee on how wet I got getting to Nanaimo she said Bruce was happy to come get me.  I simply responded I new exactly how wet and miserable it would get and "When life gets too comfortable, we forget who we are. It's only in our discomfort when we remember who we are."  And this why I chose to move on today in the rain.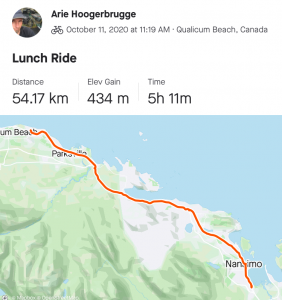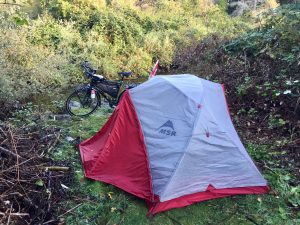 October 12
Km's Pedalled – 34.5 km's
Destination – East side of Ladysmith
Some Notes – The first part of the day was sunny and then got overcast.  No sun equals cooler temperatures for sure, it's definitely October.
When I wake up I usually check Facebook comments and respond accordingly, this helps to actually wake me up.  I woke up to a comment that Pascal Longhi was in Nanaimo.  In fact, not knowing that I was also in Nanaimo he had just pedalled past my camp site 15 minutes earlier.  So Pascal turned around and we had breakfast and caught up on our travels.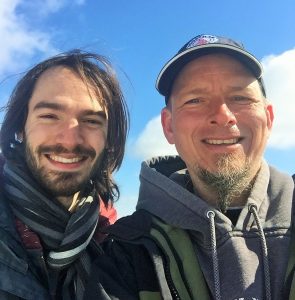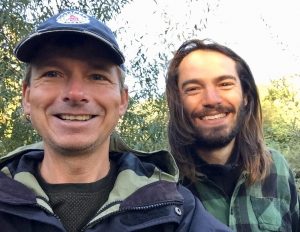 Pascal Longhi (left photo from Montreal/ right photo from Nanaimo)
If long time followers recall, Pascal reached out to me when I arrived in Montreal and gave me a 4 hour walking tour of the greater Montreal area and up to the top of Mount Royal.  Pascal was planning to bike from Montreal to Vancouver when the weather got warmer and he finally caught up to me.
How crazy that we connected the way we did.
After our breakfast I biked back to the medical clinic and I was able to get my medical check up completed.  It took a little longer than I hoped but quicker then I expected.  Apparently I am healthy.  Who knew?
Upon leaving the medical clinic I found a new pair of socks and a sandwich on my bike.  I needed a pair of socks!  I also did a newspaper interview with a Grimsby ON newspaper which you can read HERE.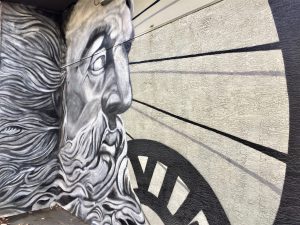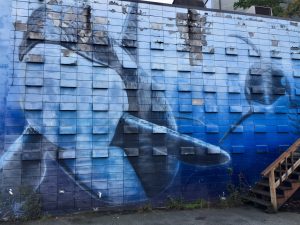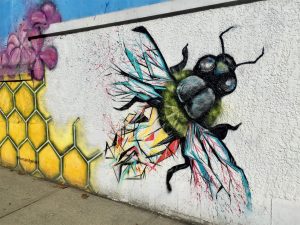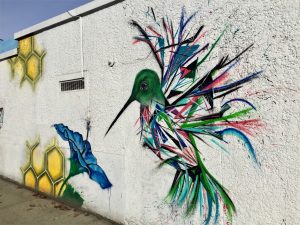 Murals in Nanaimo
I stopped at Petroglyphs Park in Nanaimo but I was unable to decipher the petroglyphs from the [etched rock] graffiti.
I basically got no where down the road today.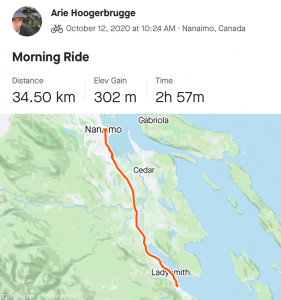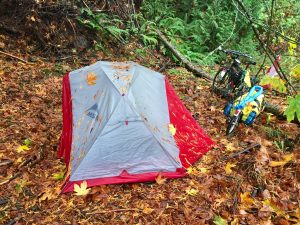 October 13
Km's Pedalled – 52.5 km's
Destination – Cobble Hill
Some Notes – It rained all night last night.  This morning in my tent, while I was awake I was disturbed by some saying "good morning."  I was then told that this was not a designated camping spot.  I don't know who the guy was and I was camped behind a Save On Foods grocery store.  I said that it was pretty obvious that it was not a designated camping spot.  I'm not sure if the guy thought camped behind a grocery store was my idea of a new home but I was glad he forced my head out of the tent.  I was able to see through the trees that the sun was trying to shine.  This would be the first time I was ever asked to move my tent.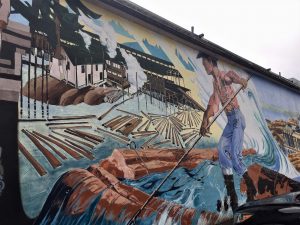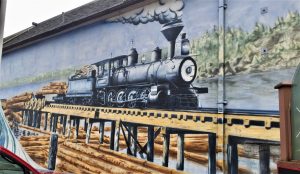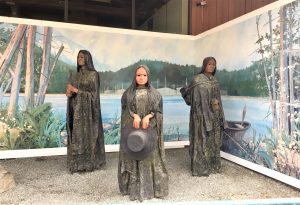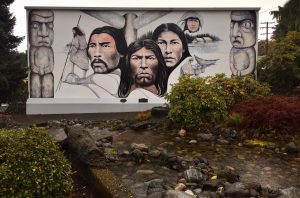 Chemanius
I headed to Chemanius which is a pretty small town famous for their murals.  For the first part of the day the sun was doing it's best to come out but while in town the rain got heavy enough for me to need to take shelter in a Subway.  Then the sun came back out but then a wind storm hit strong enough to take power lines down came out of somewhere.  In fact while biking a long a forested area some small branches snapped off and landed beside the bike as I was pedalling.  And then a tree snapped and fell.  This is a pretty freakish feeling hearing a snap but not able to see which tree in the forest is about to fall and what direction it is falling.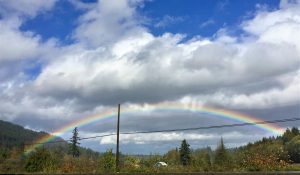 From Chemanius I headed to Duncan which is famous for its totem poles.  Between the two towns I took about 300 photos today.  While in Duncan I did a Round 2 on the Bike Tour Adventures podcast.  You can listen to episode 1 HERE.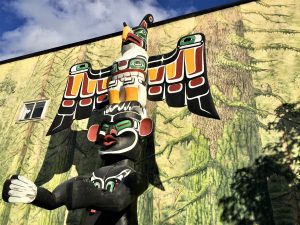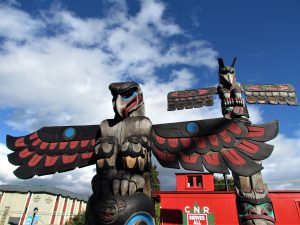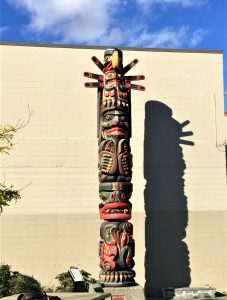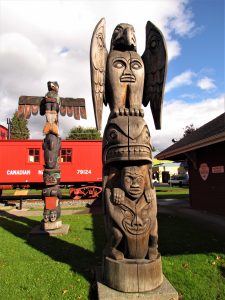 Duncan
After the podcast I headed to Tim Hortons for a wind down and warm me up coffee.   While at Tim Hortons there was a guy who was watch YouTube videos pretty loud with no headphones.  The conversation went something like this:
Me – Dude you got headphones?
Dude – No
Me – Do you mind taking that outside
Dude – Why
Me – It's bothersome
Dude – It's only bothering you
Me – Isn't that enough. How would like it if I was only bothering you?
YouTube gets shut off.  I enjoy my double double coffee.
As I leave, buddy follows me a few seconds later leaving his stuff on the table inside.  I think this could get interesting
Dude comes out and offers his hand to shake – "Sorry"
Me – Sorry for what?
Dude – You were right and I was rude about it
Me – Your apology is totally accepted.  We shake hands
The biggest comes smile crosses his face.
This guy did not strike me as someone who had a lot of courage.  To apologize to a stranger takes a lot of courage.  I know if I goof up in the future his goofy smile will pop into my head and convict me pretty quickly.
Tonight I am hearing owls in the evening as I set up my tent.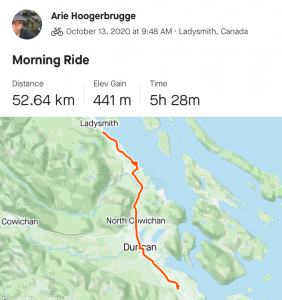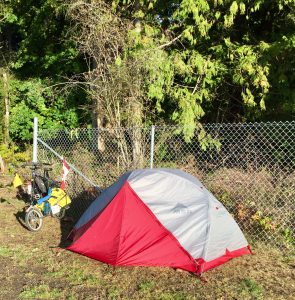 Vancouver Island Part 2 (Sept 30 to Oct 4)