The genesis of this ride
In 2011 I did a 6,500 km bike ride through all of western and northern Canada.  Simply check out the map for reference.  This ride would ultimately be one of the greatest experiences of my life.  About half way through as I was heading south on the Cassiar Highway in British Columbia.  I remember looking all around, completely surrounded by forest, mountains and wilderness.  I remember that it had been a wet summer, being rained on virtually everyday, but I remember thinking that this was the greatest experience of my life. And I asked myself how do I take this experience to the next level?  The Canadian Arctic to the bottom of Argentina popped into my head instantly and from that moment forward that became my life goal.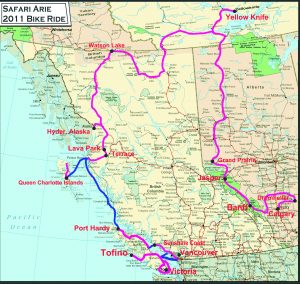 My 2011 Bike Ride Route
From that moment every lifestyle choice or decision was based on making my goal a reality.  On occasion I was distracted by scenic routes, u-turns and dead-ends as I like to call them.  But I never lost the dream.
Shortly into the planning of this ride back in 2011 I did decide to add a cross Canada route with intentions of biking across Canada from St John's Newfoundland up to the Dempster Highway (our Arctic highway) and then south to Vancouver.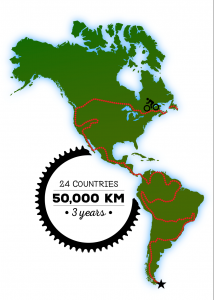 My Plans
(Side note due to Covid-19 the Canadian Arctic has been taken off the ride – for now)
How this ride started suddenly
One of the scenic routes that turned into a dead end very suddenly was a failed engagement.  This engagement initially had me coming to terms with the fact that this ride may never happen (given a much longer story).  Anyways on May 16, 2019 I found myself no longer engaged with a decision to make.  At the time I was a long haul truck driver very eager to end this career as much as it was the best job I had ever had in my life.  Moving forward I had 2 choices.
Do the bike ride that I had been planning for almost 8 years at the time or go home to my home in Belize.  Wisdom dictated I should go home to Belize (due to my financial investments there) but at this stage there was still a small opening of time to make a go of my bike ride.  If I went to Belize I would forever regret not doing my bike ride for as long as I lived.  So the decision was actually very easy at the time and I have never regretted that decision for a second.
The only problem was that at the time of making this decision I had no bike, no gear and no website but I was working 80 hours a week criss-crossing America to California every 2 weeks in the truck.  I estimated that the quickest that I could be ready to bike across Canada was December 31, 2019.  And that was fine by me because as a result of this failed engagement was the need to prove to myself that I was strong enough as a man and for such an adventure.
Ultimately my determination and drive in combination of everything going as planned and as smoothly as it did aloud me to push my start date to November 12, 2019 all while maintaining my 80 hour a week work schedule.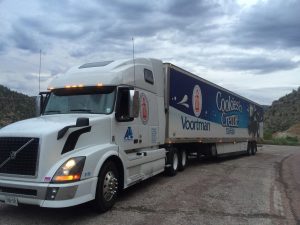 Home for 6.5 years leading up to my bike ride
Milestones or moments of great significance along my route
1). My start date of November 12, 2019 at the Terry Fox memorial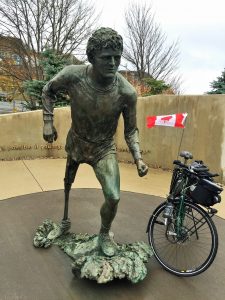 2) Crossing Newfoundland – everyone said that I couldn't
3) First day of Spring – March 19 pedalling 4,900 km's into Kingston ON. I survived winter
4) Thunder Bay ON – pedalling 6,650 km's to reach the Terry Fox memorial there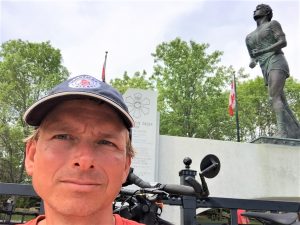 Thunder Bay ON
5) Coquitlam BC – cleaning Terry Fox and his parent's gravestones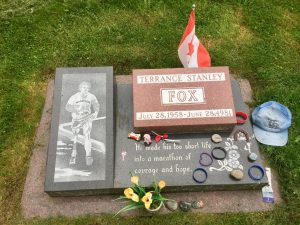 Coquitlam BC
6) Victoria BC – Terry Fox memorial – Canada crossing complete. Memorial to memorial & all 10 provinces.  Pedalling 12,340 km's over 284 days with a record 54 hosts.  55 after getting back to Vancouver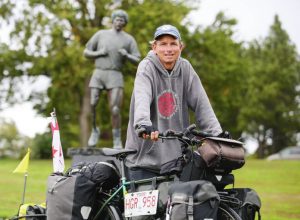 Ride Completed in Victoria BC
What made my ride one of the greatest rides ever pedalled
The hospitality, generosity and kindness across Canada but especially Atlantic Canada.  Atlantic Canada set the standard and the rest of Canada simply followed suite.  My ride gave hundreds of Canadians an opportunity to be part of a pretty great story.
They say between 200 and 300 people bike across Canada every summer.  What made my ride so different and special is that most cyclist usually have between 5 and 10 hosts, on occasion a few more.  I had a record 55 hosts before I fly to Seattle Washington.
Keeping in mind that I pedalled during a pandemic and I completely bypassed the most populated part of Canada and my home town where all my friends and acquaintances live – the GTA or Greater Toronto Area.  Missing out on many more hosts.  I should also point out that I rarely reached out for hosts, generally only in some of the bigger cities.  Most hosts reached out to me or came from past hosts.
Also, of important note.  During my first bike ride in 2011 I only ever had 1 host.  The Allen's originally lived in Grande Prairie AB.  The only reason they were a host was because the husband Bruce worked for an uncle of mine and my laptop had crashed and I need to have a place to stay while I sorted a broken laptop out.  So the truth of the matter, hosting was never on the radar as a thing to pursue.
Some provincial memories and locations of significance
Newfoundland – St Johns / Terry Fox Memorial / Cape Spear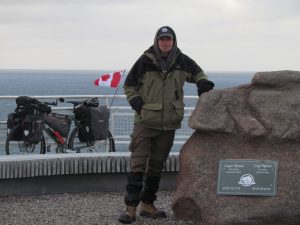 Cape Spear Newfoundland
PEI – the east, north and west shores of PEI / Entering PEI is when the random acts of generosity caused some serious reflection on the need to be flexible and go wherever the generosity took me.  Irene MacIsaac of Charlottetown in particular caused me to completely rethink and be open to possibilities that I could not even image.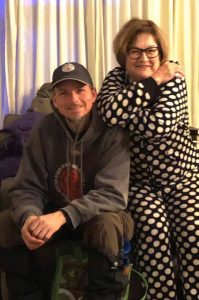 With Irene MacIsaac
Nova Scotia – Eastern shoreline of Bay of Fundy / South west Atlantic Ocean shoreline / Peggy's Cove / Cape Forchu / How impossible that it was to go anywhere in Nova Scotia without being recognized.  I believe this was in part largely to a post Amanda Campbell of Amherst NS posted on Facebook.  That post was shared 600 times or more.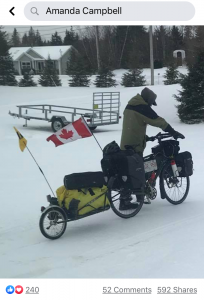 This post that went with this photo created a lifetime of stories and experieinces
New Brunswick – my coldest most challenging nights in a tent / continued Atlantic Canada generosity and hospitality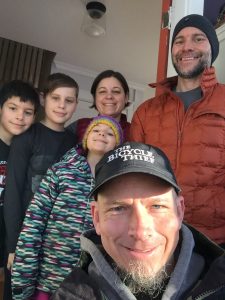 A Warmshowers host that hosted me during their kids birthday party so I could get out of the cold
Quebec – challenging days pedalling west along the St Lawrence River / Quebec City & Montreal / Being recognized in Montreal
Ontario – Ottawa / being recognized twice in Ottawa / spending almost 60 days in Kingston due to Covid-19 / living with my aunt for 60 days during Covid-19 / getting through Northern Ontario / Terry Fox Memorial in Thunder Bay / taking Hwy 11 to Ft Frances / biking across Ontario in a post Covid-19 era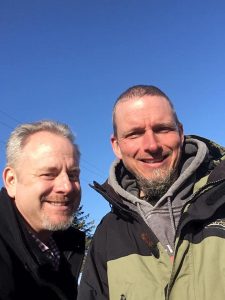 Recognized by Brian Kostick as I pedalled towards Ottawa
Manitoba – Winnipeg / CFB Shilo / how pleasant Manitoba was after pedalling a physically demanding Ontario
Saskatchewan – Moose Jaw / making my way to Great Sand Hills and how flat and vast Saskatchewan really is
Alberta – Dinosaur Provincial Park / The Hoodoos / Calgary / Banff / Jasper / being recognized in Jasper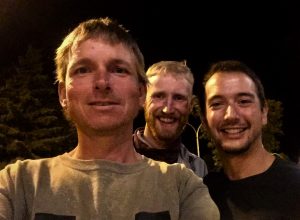 Recognized in Jasper AB by Anthony & Chris
British Columbia – Being picked up in Jasper to spend close over half a week in McBride and taken to the Ancient Forest thanks to Bruce Oconner / biking the Sea to Sky highway / arriving in Vancouver / being recognized in Vancouver / cleaning Terry Fox & his parents gravestones / Pacific Rim NP & Ucluelet / temperate rainforests / Victoria and finishing at the Terry Fox memorial
The generosity and hospitality never ended leaving Atlantic Canada and is continuing right to the very last day in Canada being driven to the airport at fly to Seattle.  There are easily 100 stories in Atlantic Canada and another 100 stories leaving Atlantic Canada.
It is simply not possible to reference every story but to give a taste as to how wide ranging the stories are let me give some highlights (that have not already been referenced in this post)
Being given a free night in hotel in Newfoundland had me more excited then a kid on Christmas morning
Being invited into my first home on Newfoundland in the middle of a really miserable winter storm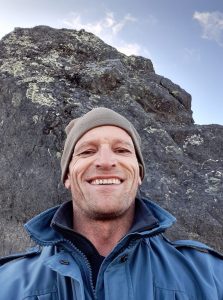 Sean – the first stranger to invite me into his home out of a horrible snow storm
Being waved down a driveway in PEI
Having my Super Fan Dale Spence's parent actually hit the road and come looking for me in NB & NS just to meet me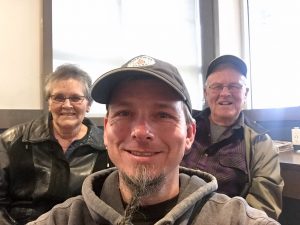 Doris & Hanson Spence went looking for me and found me
Being instantly recognized in Advocate in one of the most isolated parts of NS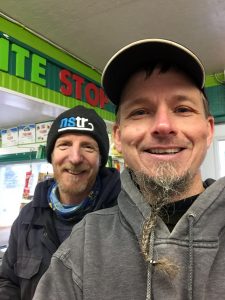 This guy recognized me in the middle of no where NS
Being given the use of a house all to myself, but asked not to lock the doors when I leave because she lost the keys years ago (in Advocate)
The school bus driver that reached through his bus door because he wanted me to have a Tim Horton's gift card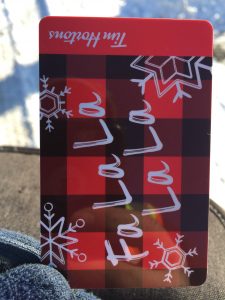 Figuring in rural NS someone one must know the bus driver that handed me this?  Via my Facebook post Steve's daughter recognized her fathers generosity.  Two generations of a family following my ride independently
When me and my Super Fan Dale Spence met a lady that actually gave me the hat off her head but was too embarrassed to take a photo without her hat because she was embarrassed by her messy hair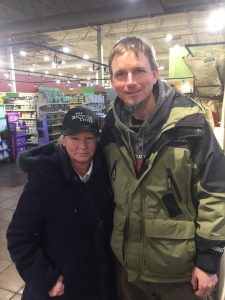 Marian Girroir gave me the hat off here head – zoom in on the hat – The Bicycle Thief
The gift of joy that I witnessed between two people that had lost their significant others tragically but found each other
Wayne Arrowsmith who woke up at 5:30 am to take me to a CBC radio station to do a radio interview and then arranged for me to be on CTV news that night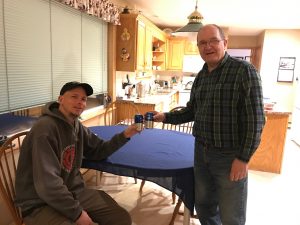 Wayne Arrowsmith – a super generous host
The lady that was waiting at the top of a hill on a cold February day because she recognized me as "that guy" and raced home to warm up some soup for me. And then as we were saying our good byes another car pulled over because they recognized me as "that guy" and handed me $10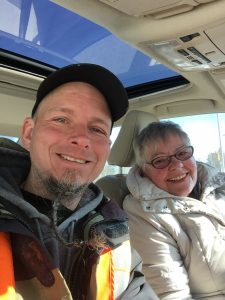 Margo Campbell of NB was standing on the cold on a hill.  Margo had raced home in her car to warm a bowel of soup for me
Being handed probably between $500-$700 in $10's, $20's, 50's and gift cards in Atlantic Canada
Randomly running into Sandy Carr the truck driver that brought me out to Atlantic Canada to start my ride – twice
Pascal Longhi who reached out and gave me a 4 hour walking tour of Montreal when I arrived there and then crossing paths with him in Nanaimo over 7 months later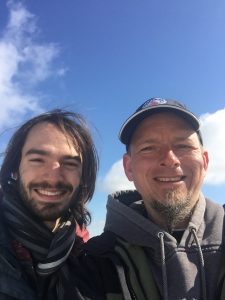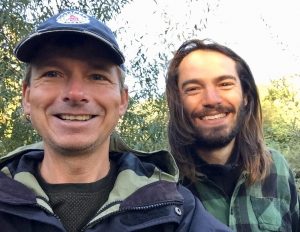 Pascal in Montreal and then in Nanaimo 7 months later
Being recognized twice in Ottawa. Once while biking the second time while trying to buy a laptop in Best Buy
Connecting with Brandon MacCaskill through my youngest brother Ryan to become my YouTube guy and acquiring a great friend in the process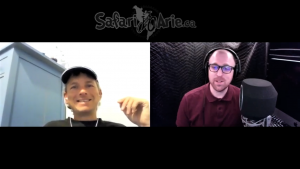 With Brandon MacCaskill
Receiving both a $20 (from a local) and a hosting invitation (from a bike ride follower) hours after getting back on the road from Kingston ON post Covid-19
Connecting with another truck driver from my past – John Ligtenberg in Tweed ON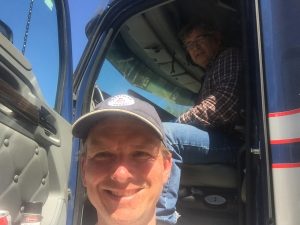 Connecting with my old friend John
Getting to jump in with a hold an 8ft, 200 lb alligator in Bonfield ON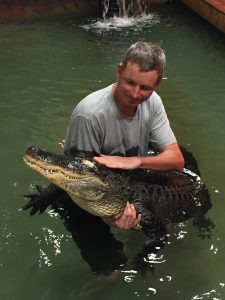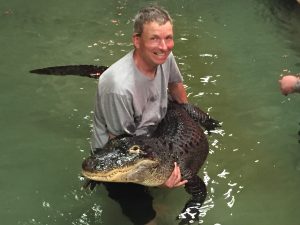 With Mojo the Alligator
Connecting yet again with another truck driver and my trainer Harry Ludwig in the middle of no where on my way to Fort Frances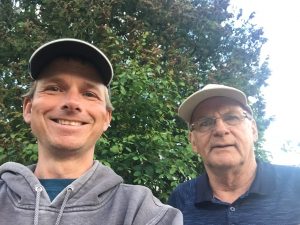 Harry Ludwig the driver that trained me and once called me the "cheapest Dutchman he ever met"
Being stuck in Fort Frances for an entire week due to a bike mechanical issue with a roof over my head the whole time thanks to Tara MacEachern
Spending almost a week on CFB Shilo with a long time bike ride follower Steve Sloat and the super cool t-shirt his wife Kathy made me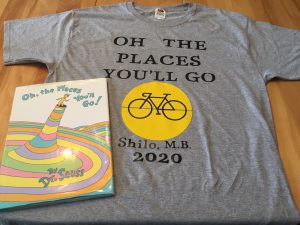 A gift from Kathy Sloat
Being recognized as a guy that is biking across Canada in Empress AB and instantly given a place to set my tent up for free, a shower and meals for as long as I stayed all within a minute of walking into the local general store
In the process of looking for a host in Calgary, thanks to friends in Hamilton ON getting a host in the Hoodoos! Who knows anyone who lives in the Hoodoos?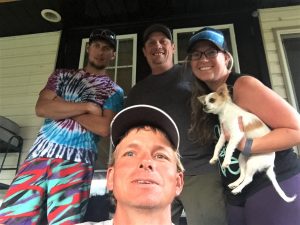 Hosts in the Hoodoos AB!
By chance connecting with a fellow cyclist Ha Phan who I had been passing intel to for almost 4 months as she was biking across Canada right behind me. We connected on her last night in Jasper
Being invited to and picked from Jasper to McBride BC on a Tuesday morning, taking to Ancient Forest and then Friday morning taken back to Lake Louise to continue pedalling west. Bruce Oconner drove approx. 1,150 km's between Tuesday and Friday on my behalf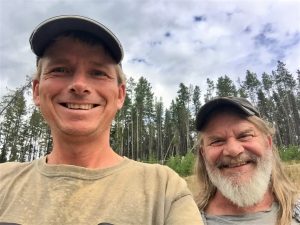 Bruce Oconner – A great guy!
Being recognized in Jasper by fellow cyclists Chris and his friend Anthony and then almost 2 months later being hosted by Chris in Nanaimo BC
Being handed a get out jail (or ticket) card from a [RCMP] host in Kamloops. No names to protect the officer's identity (LOL)
Being recognized in downtown Vancouver by Bruce Barton. Bruce recognized my hat, my smile and my steel toe boots.  Bruce found out about me because a random stranger came up to him many many months earlier and asked him if he had heard about Safari Arie.  Have you ever heard of a crazier story?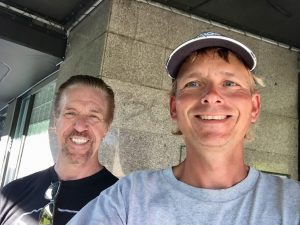 Bruce recognized my in Vancouver
Meeting a real life hero as Andy Sward or Million Bottle Pledge who has run across Canada 3 times in an effort to pick up 1 million bottle and cans off our roads and highways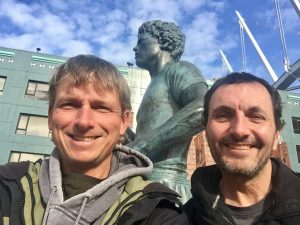 With Andy Sward at the Terry Fox Plaza in Vancouver
Reconnecting with my one and only host from my bike ride in 2011. The Allen's were originally from Grand Prairie and had since moved to Qualicum Beach.  This family is actually friends with the Campbells in Amherst NS when both families lived in Grande Prairie.  I believe it was the Campbell's who were so instrumental in being recognized as often as I was in NS.  How is that for another crazy story?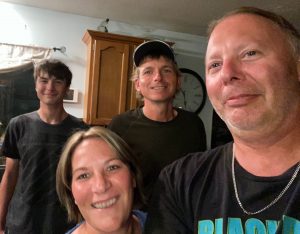 The Allen's – my only hosts from 2011
Patagonia Victoria being my first sponsor – providing me with a rain jacket and rain pants

My 55th and last Canadian host in Canada is long time friend Bob Dynes and previous landlord from my retail/wholesale store called The Reptile Store back in 1999 – 2002
I apologize for all the stories that I could not include in this blog post.  The good news is you can find them all HERE.
I continue to process and ask myself – why me?  The story is still unfolding.  I have attempted to acknowledge and reflect on familial connections to this ride HERE.  Me and Brandon (my YouTube guy) also attempted to discuss this topic HERE.  Ultimately, as pointed out the story is simply still unfolding.  But I will endeavor to push on and continue to be open and responsive to all those I connect with in person and online since the day I started this epic ride.
"Epic does not happen on the couch"