November 13, 2019
It was a warm day, almost 15 degrees with a light drizzly rain on and off. Today was all about checking out St John's. From what I had seen so far – an amazing town and a lot to see. I started with Signal Hill not too far away from the hostel. Signal Hill not too far, but my gosh what a climb up that hill. I guess I should say – walk up that hill. There was no way I could pedal that hill.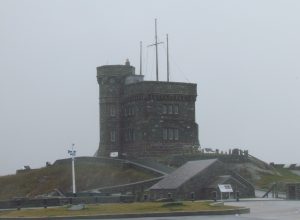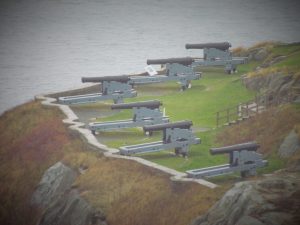 Signal Hill is a hill that overlooks St John's. Most of the hill is considered a National Historic park. The highest point is 548 ft high. It feels like straight up too. Due to its strategic location overlooking St John's and The Narrows – the only passage from the Atlantic Ocean to St John's harbor. Fortifications were built on the hill beginning in the mid 17th century. On December 12, 1901, the first transatlantic wireless transmission was received here. The United States even maintained anti-aircraft guns on the hill during World War 2.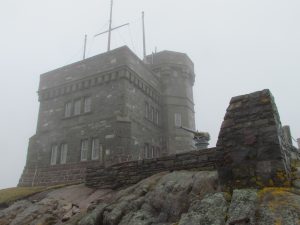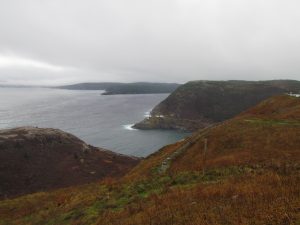 The main structure on the hill is Cabot Tower built in 1897 and opened in 1900.
From Signal Hill I pedalled a short ways to Quidi Vidi. Quidi Vidi is a neighbourhood in St John's and pronounced " Kiddy Vidi." Quidi Vidi harbour is known as "The Gut" and is also located adjacent to Quidi Vidi Lake.
From Quidi Vidi I seemed to zig zag my way all around the city looking for all the different churches and assorted architecturally impressive structures. St John's sure has its share of impressive churches and structures. I visited Basilica Cathedral of St John The Baptist, the Anglican Cathedral of St John The Baptist, Gower Street United Church, the Masonic Temple, St Andrews Presbyterian "The Kirk", St Patrick's Catholic church, the Supreme Court and other churches.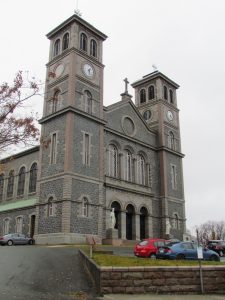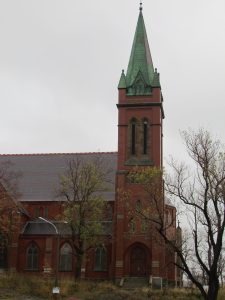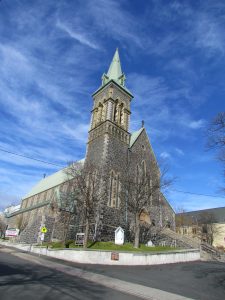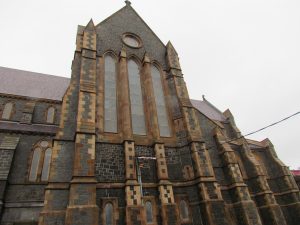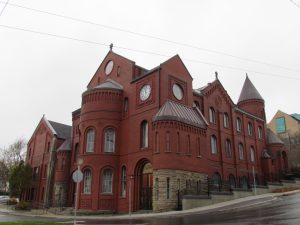 Then I took the street east along the harbor and visited The War Memorial. An impressive memorial. A little further east was the Terry Fox memorial. I did take a few photos of bike beside the statue of Terry Fox but I could not bring myself to take a selfie. I felt I hadn't earned that and was a bit emotional during my time there.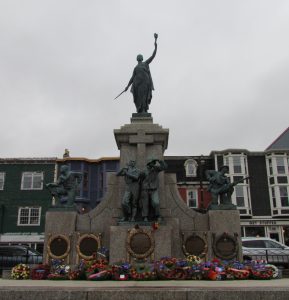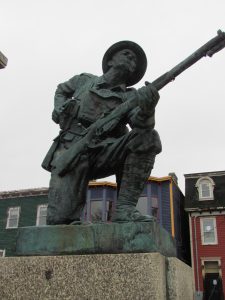 The Terry Fox memorial is a bronze sculpture that was erected exactly 32 years after Terry's Marathon of Hope began on April 12,1980.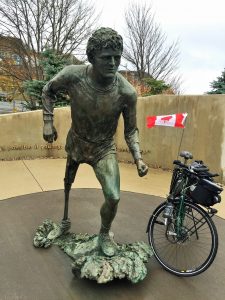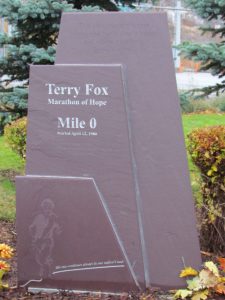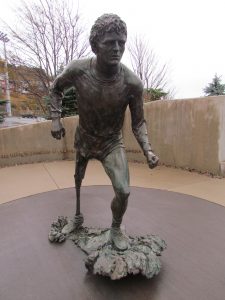 St John's is a very very hilly city. Not exactly bike friendly from certain perspectives. I observed many a vehicle spinning their wheels on the wet roads to get to the top of some the steep mazes of residential streets. Many many of the homes are brightly decorated earning its downtown the nickname Jellybean Row. Down every street around every corner was another section of these amazing colored homes. In a truck I have driven through 1000's of different cities across Canada and America. St John's is by far one of my favorite cities ever visited.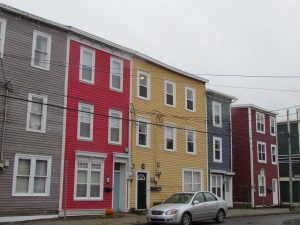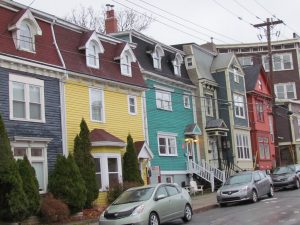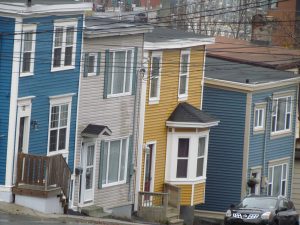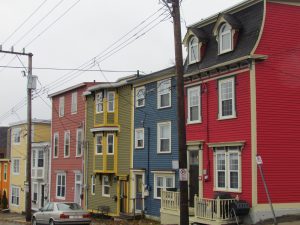 The day was pretty amazing and had me cycle 20km's (sometimes in circles) today. I recommend to anyone and everyone. Go visit St John's Newfoundland!
Please check out my Photos page for lots more photos