November 14, 2019
So today was the day.  Time to escape St John's.  I had pretty much seen what I had come to see and I knew I had to make a break for it.  But man was I worried.  The ride to cape Spear was a huge eye opener for what I was in for.  And my ride to Cape Spear didn't even include my trailer.  Technically I hadn't even pedaled a mile properly and fully loaded and I knew whether I needed the gear or not I am way overloaded.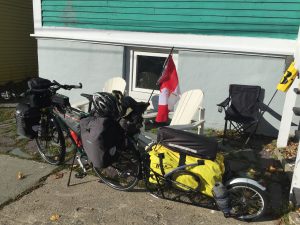 It wasn't easy getting out of bed.  Been going to bed late enough and not sleeping the best because of what I had ahead of myself.  But get out of bed I did.  I did my best to get myself as organized as much as possible the night before.  But by the time I had my bike loaded I think it was darn near 11:30am.  I had procrastinated as long as I could.  I even considered living in St John's the rest of my life and never leaving.  But that thought only lasted a fraction of a second, but it would solve my immediate fears and concerns.
The first 5 minutes out of the hostel I was like "Oh my goodness, I am so dead."  But I had no choice to but keep pedaling west.  I followed the residential street that paralleled Hwy 2 to the TransCanada.  Eventually I had to get on 2 and quickly was on the TransCanada heading west.  Getting on the TransCanada was bit of a moment.  I was heading west I was feeling more in control of the bike and I had the confidence to keep moving west.  I was escaping St John's.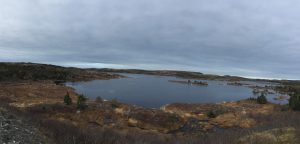 Fortunately it was a sunny day.  No wind to speak of; perhaps a breeze here and there.  The temperatures were above freezing, but I feel the breeze brought a bit of a wind chill to possibly freezing.  I know there were times I was cold.  The TransCanada has a shoulder about the width of a sidewalk.  Could be better but could certainly be a lot worse.
I was able to get 30 km's west from the hostel in downtown St John's.  I only pedaled to about 3:30pm.  My temptation is always to push it further but I have to fight my internal urges.  Technically this the first time setting up camp during a bike tour in over 8 years.  And while I didn't think it would be too difficult finding a camping spot I really wanted to get a tiny bit off the TransCanada due to highway traffic noise.   And there are only so many exits of the TransCanada out here.  Also, I simply cannot be on the TransCanada after dark.  No exceptions.
My exit would be Hwy 61.  And I found a side ATV path just a few hundred feet down the highway  – perfect!  A 100 ft or so down the path I found a perfect clearing – perfect!  It was a good decision to stop and camp when I did.  I even made a fire while I made dinner on my stove.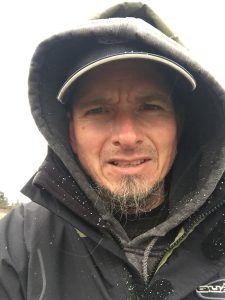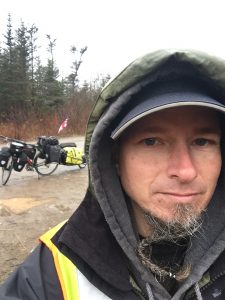 I think temperatures dropped to -3 or -4 C.  I slept pretty good though.  This was probably the coldest temperatures that I have slept in to date.
I think I got up after 7am (Friday November 15).  It's amazing how long it takes to break and pack camp.  In a truck I am ready to go in 20 minutes from getting out of my bunk.  Not bike touring though; takes an hour + to get things packed up and bike loaded.  Regardless I was getting a better, earlier schedule.  Fortunately the day started sunny and cloudy; above freezing; once again no wind; possibly a breeze here and there.  The sun didn't last long and cloud was the dominate feature in the sky.  I feel the breeze brought a bit of wind chill.  Once again I was cold at times and at times my finger tips got pretty cold.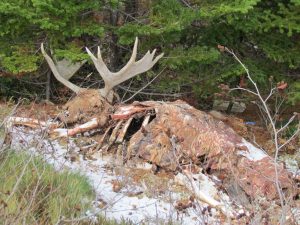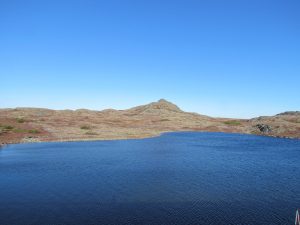 The TransCanada so far as been pretty good.  I mean it's all mountains but the climbs are pretty gradual all things considering.  So far nothing is flat; you are either going up or down.  Like I said, up is pretty gradual and going down you tend to get a bit of a chill.  The good news is that I am taking my breaks at the top of the mountains not at the bottoms.  Also taking my breaks at the top of the hills allows my base layers to wick the moisture I just created away from my body.   So now the chill on the downhill is not so much due to the sweat on my back being wicked away from my skin.
The important part is that I am making it up the hills.  Not bad considering the day before I didn't think I could even get out of St John's.  I think I pedaled to about 4pm and I completed 57 km's today.  Small victories.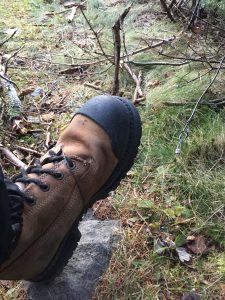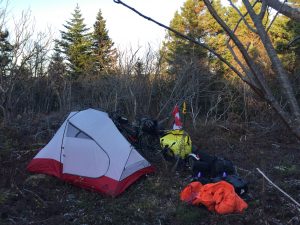 My first campsite and I got caught in hunters snare of all things!
I got as far as Whitbourne.  What a boost to the day to end my day at a (warm) local diner – Monty's.  First proper meal of the day; I couldn't bring myself to cook breakfast this morning.  I am not sure how to deal with breakfasts in the morning.  Too cold; just want to get moving.  The plan tonight is to camp out back of the restaurant and take advantage of breakfast here in the morning.  So I don't have to solve this problem tomorrow morning.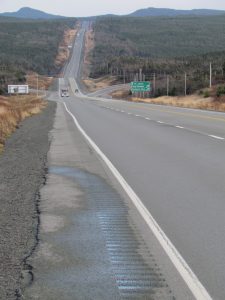 Everything about this province is up and down!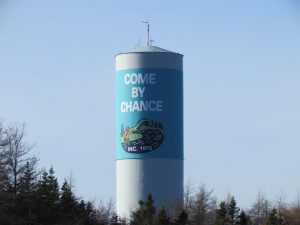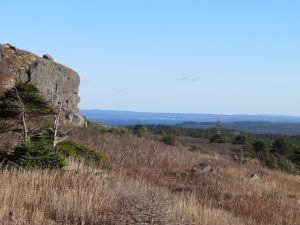 Tomorrow they are calling for rain for the first part of the day.  Not sure how I want to deal with rain.  I was never a big fan of pedaling in the rain on first tour (during the summer).  Pedaling in the rain at this time of year sounds frigged.  But this is Newfoundland; as if I even have a choice?
You can check out more photos on my Photo page here