On March 9, 2020 I had the privilege of visiting the Montreal office of One Tree Planted at the Montreal We Work Office.  Now that spring and summer are upon us I hope to engage and learn from tree planting and environmental groups that I may cross paths with.  The plan will be to at least turn what I learn into blog posts.
When I arrived at the office the office was very busy with activity and I was fortunate to be able to talk to 3 different ladies as they came and went depending on phone calls they were scheduled to make or receive.
What did I learn about trees and tree planting?
Some of the things I learned about trees was things such as mangroves sequester 16% more carbon than traditional trees.  Also that research and study is going into introducing species of trees that are not historically native to certain areas.  An a example of this is in British Columbia they are planting Aspen trees to address and deal with increased forest fires in the west.  Apparently Aspen trees are more fire resilient.  Research and study is helping with planting trees in Florida for example.  In Florida they are planting trees in a certain way to help block hurricanes.  I also learned that part of the escalation to the fires in Australia had to do with the Eucalyptus trees literally exploding because of the trees being oil based.
Most everyone working at One Tree Planted has some form of further education.  An education in political science helps in this field to help understand how non-profits and government organizations work.  Project managers have more of a scientific education because they are dealing with predominately with their different projects.  Some of the team has been tree planters in the past giving them a strong background in the industry.
It is very apparent that the people I spoke to are very passionate about being at One Tree Planted and testify that everyone working there are very passionate about being there.  One Tree appears to have a very supportive network to help their team express and grow their passions.
One Tree Planted Purpose
The core of One Tree Planted is being the in-between for corporations wishing to offset their carbon footprint and different planting organizations.  Many corporations are interested in "one for one" meaning they have a tree planted for every item they sell.  One Tree Planted helps facilitate that tree planting.
Success Stories
I asked the ladies if there was any impactful and success stories that came to mind.  They very quickly mentioned two stories.  I have simply  "cut and pasted" the overview and impact these projects have had from their website.
The Orca Project
Overview – The Endangered Southern Resident Orca have called the stretch of Pacific Ocean from Northern California to British Columbia home for millennia. Every year, as the Orca's migrate North to South and back again they rely on the West Coast Chinook salmon for food (nearly 80% of their diet). However, salmon stocks are diminishing due to loss of habitat and increasing pollution – ultimately impacting the Orca downstream. Planting trees along rivers and streams of the Pacific Northwest restores habitat for the endangered orca. Trees help reduce pollution and improve the health and quantity of salmon for the orca to eat!
Impact – Our amazing partners across the Pacific Northwest have identified critical forested areas that need to be restored in order to have the greatest possible impact on the well-being of the Southern Resident Orca. Planting trees around the rivers and streams that feed into the Orca's habitat reduces water contamination, lowers toxicity, protects salmon spawning grounds, and improves Orca food supply. These projects will bring benefits to other species of wildlife, as well as the communities in the surrounding areas.
Read more about and donate to this project here 
Uganda
Overview – Uganda has a rapidly growing population which is putting a great deal of stress on the country's forests. A larger population and an influx of refugees are increasing demand for firewood, pushing agricultural expansion, and expanding land settlement – all of which is having an adverse impact on tree coverage. Uganda now experiences one of the highest rates of deforestation in the world. Like most of the country, Western Uganda (part of the Albertine Rift) is a biodiversity hotspot, home to the most endemic and threatened species of vertebrates on the continent, many of which rely on the forest for habitat and food.
Impact – Our partners are working with local farmers in Western Uganda where they are planting trees which will provide sustainable food and income for land owners by growing fruits, nuts, and medicines. Planting trees in this area of Uganda will reduce erosion and improve the health of the soil degraded by agricultural expansion, aid in restoring riparian zones, and give local plants and animals a better habitat. Another aspect of this project is to train farmers on a range of topics from health to climate resiliency. These trees will be rigorously monitored and cared for as they will eventually be used to generate carbon offsets – meaning your trees will last a long, long time!
The one impact that the Uganda project is providing according to my interview but not mentioned on the website is that this projects is also providing many sustainable jobs for woman.  And the difference has been very obvious.
Read more about and donate to this project here
The Key to a Successful Fundraiser
Part of the secret to a successful fundraiser is to keep it simple such as one for one and of course with a good story.  For example at any kind of event or sale – $1 dollar is donated for every attendee or sale.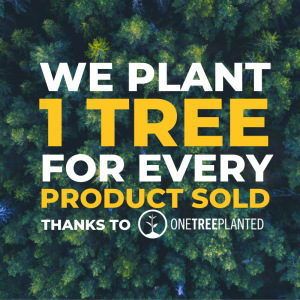 Greatest Challenges
OTP greatest challenge at the moment seems to be that they are growing so fast.  Which is a great thing.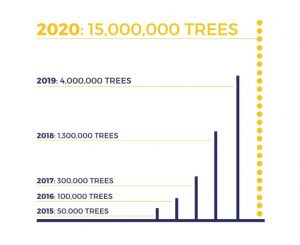 OTP is always working towards better monitoring of tree planting and the health of the new forests through better and more efficient use of satellites, apps, maps, GPS coordinates and drones.  Developing better technology to monitor and plant trees.
When I asked for some book recommendations I was recommended "The Golden Spruce" by John Vaillant and "Drawdown" by Paul Hawken
I would like to thank the 3 ladies that took their time out of a busy day to answer my questions.  Those 3 ladies are Taviana MacLeod, Caitlin Griffin and Cassandra Vitiello.  Thank you One Tree Planted for everything that you do!
You can find more information about One Tree Planted at https://onetreeplanted.org/