Little did I know back in grade 9 the first small seeds of my greatest passion were being planted.  No pun intended but from all the way back then a secret passion that I was not even aware of was growing and that passion was for trees.  My childhood passion has always been reptiles and amphibians and it still is today.  But without trees and forest and jungle and natural habitat these amazing creatures will never survive.
In the late 1980's my best friend in grade 9 & 10 was a guy named Phil James and one day he became a crazy nut for trees.  It seemed everywhere we went he would quiz me on tree identification.  Phil pointed out the differences between leaves and tree bark and this and that.  Truthfully at the time he drove me nuts with those quizzes.
I have another memory of a Royal Palm tree being cut down in 1998 near our farm in Belize for building material.  I recall being physically sick to my stomach because of the massive opening in the forest canopy the felling of this tree caused as result of knocking other trees to the ground.
A few years later a baby mahogany tree was planted on our farm in Belize.  At the time it was not an overly celebratory experience (for myself).  But little did I know that it was another seedling stages of what has become my legacy mission and vision.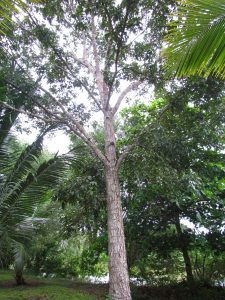 The Great Mahogany
The mahogany tree is the most important tree to Belize's history.  This tree was harvested and exported to Great Britain from the 1770's until the 1950's.  The tree was exploited and was never replanted.
In 2003 the Mahogany Tree was placed as an Appendix 2 species on CITES (Convention on International Trade in Endangered Species).  Mahogany wood is very valuable for its rich color, workability and the fact that this wood does not swell or split.
The Birth of a Dream
In the mean time our lone mahogany tree was growing and had since started dropping seed pods.  Those seeds were planted in plant bags; and those seeds grew into seedlings that were planted on the farm, given away or sold.
In 2014 I realized my legacy plan and dream was to start a tree farm to raise seedlings for the reforestation of rainforest and jungles in Belize.  And the mahogany tree would be my inspiration and my focus.
I have yet to officially start on my tree farm but have started my research and have spent some time with Ya'axche Conservation Trust of Belize to help give direction and instruction.
I plan and hope to visit and learn from many of the conservation organization that are local or globally working in the countries I plan to pedal through.
I want to raise and have planted as many seedling trees as our farm can produce and then even more.  I want to see the planet covered in trees.