January 12
Km's Pedalled – 57.5 km's
Destination – Claremont
Some Notes – With my last night with a roof over my head I went to bed at 2am.  This bed time had me leaving Whittier and on the road just after 1 pm.  Glen gave me good directions to get out of town and was pretty easy to do so.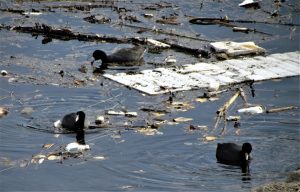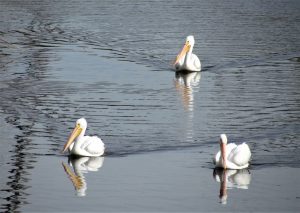 Notice the garbage (left photo)
Today was my hottest day yet.  Today was the first day on the road in the US in t-shirt.  I biked a little into the dark due to urban sprawl.  Finding a place to camp was not easy and I got pretty lucky finding a camping spot in the middle of everything.  It was an interesting location because basically a 1,000 feet all around me were streets and sidewalks and cars.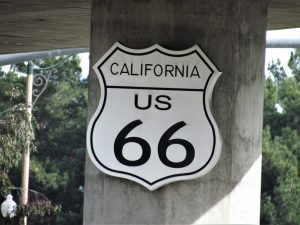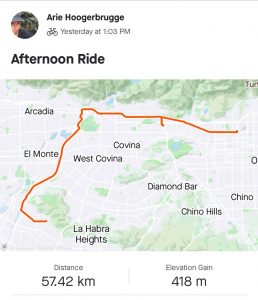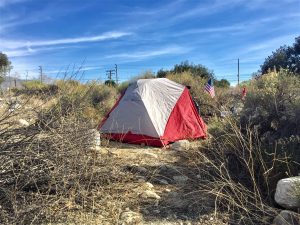 January 13
Km's Pedalled – 45 km's
Destination – almost in Keenbrook/below Cajon Pass
Some Notes – I chilled in my tent for the first time in a long time.  Even after taking 6 days In Whittier and as relaxing as it that was there was very little of that time where nothing is going on.  Almost never did I get a chance to just chill (due to my urgency to maximize my work effort).
It's either working on the computer until very late at night or socializing with the hosts.  The great part about this morning was what got me on the move was the tent was getting warm inside.   Which is not a bad problem in the middle of January.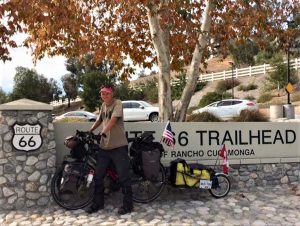 If you didn't look around to realize everything around my tent you would think I was in this beautiful place.  Suntan lotion was applied and sunglasses on even before I got on the road.  Not a bad way to start your day.
Never have I transitioned to such different weather/climate then yesterday now that I am away from the coast.  Granted when I entered California the sun became pretty much a constant every day which was a relief from the overcast and rain of Washington and Oregon.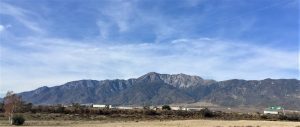 With a late start I did not get as far as hoped.  The other event that became part of my day was meeting Jeff.  Jeff was in his mid-fifties living in a trailer parked on the shoulder of the highway.  In other words, basically homeless.  I liked Jeff right away and he confessed that he had no real human contact anymore other then his dogs for companionship and one of them had been killed right in front of him on the highway he was living beside only days ago.
So I told myself "Jeff talk away and take all the time you need."  It didn't take long before stories of suicide (at a young age), death of a fiancée and unborn child and a murder suicide by his father were shared.  And how he even put a gun barrel into his mouth once.  We talked for about an hour and a half.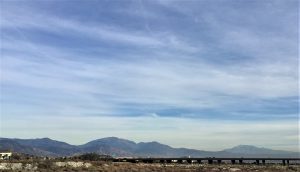 Jeff believed in God and the devil.  All I could tell him that was a horrible burden for him to carry (from such a young age) and that the human soul and spirit were never designed for such trauma.
I told him whenever I hear such stories, I wonder who that person was meant to be that the devil went after them they way he did.   Jeff looked at me incredibly.  He said no one ever said that to him or did he ever think about it in that way.  In a different place and time Jeff would for sure be my friend.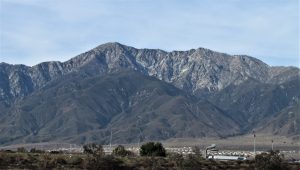 I was going to continue biking in the dark to get up through the mountain pass and make up for lost time but it just gets too dangerous to pedal on the road in the dark.
Yesterday and today I am currently camped right off historic highway 66.  And as of this evening camping spots are no longer difficult to find.  That part I love.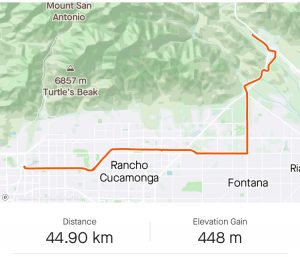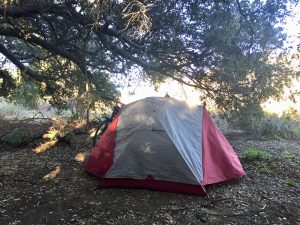 January 14
Km's Pedalled – 75 km's
Destination – south of Kramer Junction
Some Notes – The winds started some time in the early morning to the point I had to cook breakfast in my tent under my vestibule.  Breaking camp I was forced to stuff my tent instead of rolling my tent up.
The day started with a pretty wicked headwind as I started my climb up Cajon Pass.  The temperatures were awesome all day.  Probably about half way up this huge pass the winds subdued.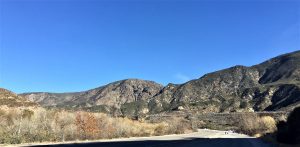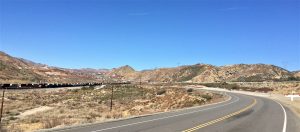 From my understanding reaching the summit I am entering the high desert.  This is my first time of course biking into a desert.  Going into the desert the terrain was fairly level perhaps a very slight decline the rest of the day.
Biking the desert and with perfect temperatures made for a great day.  Except my bottle of Dr Pepper fell off my bike at some point this afternoon.   That pissed me off.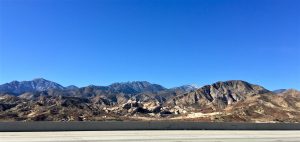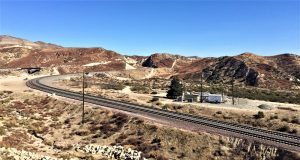 Considering how long it took me to climb the pass and I still pedal 75 km's and had my tent pitched right before dark I made great time down Highway 395.
The desert got pretty cool pretty fast once the sun went down.  But cool, not cold thankfully.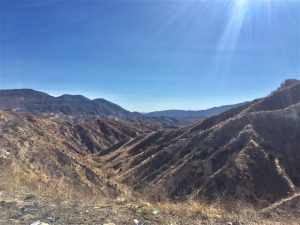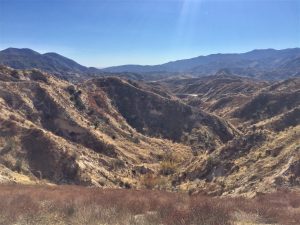 FYI for cyclists camping in the desert.  You have to be so careful pushing your bike to a camping spot due to cactus spines.  So it's better to pick your camping spot before dark and not push your bike in the dark over cactuses.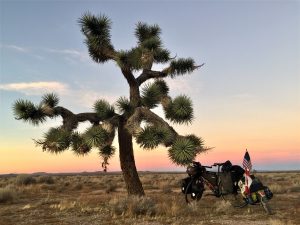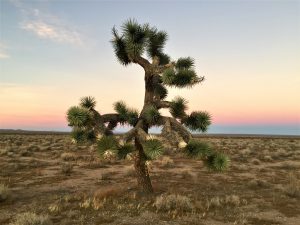 Joshua Tree
I also keep my boots in my tent at night in case of scorpions.  It would only be a matter of time before something ends up in one of your boots.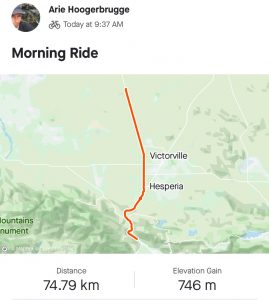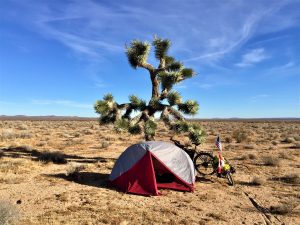 January 15
Km's Pedalled – 54 + 12.5 km's (Strava stopped)
Destination – Red Mountain
Some Notes – A beautiful sunny, hot day.  The headwinds were light.  Most of the day was fairly flat or a slight incline.  The desert out this way is pretty vast.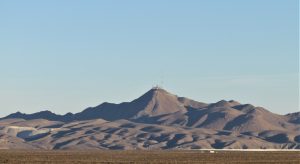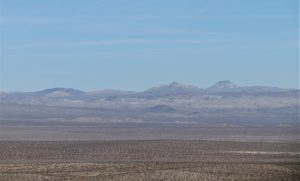 I was offered a free shower at the Pilot truck stop in Kramer Junction   It's only been 3 days and I am use to 6+ days between showers.  I am sure in a day or two I might wish differently about not taking the opportunity for a free shower.
Though I never stopped at that truck stop (I would stop at nearby Barstow) I actually use to cross that junction on Hwy 58 often in the truck headed back home to Canada.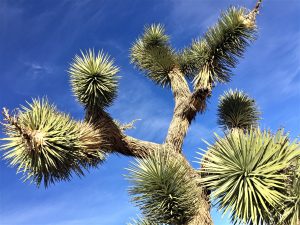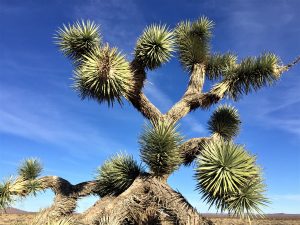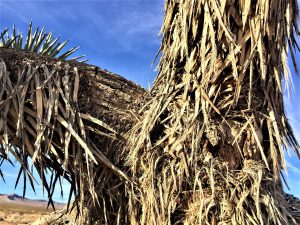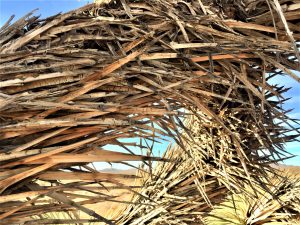 I needed to get as close to Ridgecrest as possible for breakfast tomorrow as I will be out of food tomorrow morning.
But I still fell fairly short of my hopeful kilometres by close to 20 km's.  So I will likely be starved by the time I arrive Ridgecrest.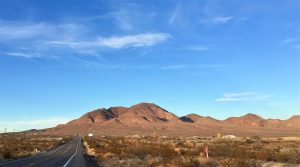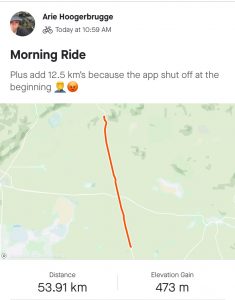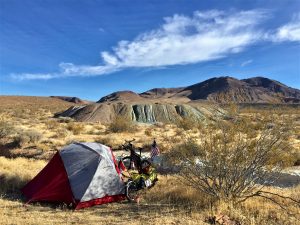 January 16
Km's Pedalled – 50 km's
Destination – just outside of Ridgecrest on Hwy 178
Some notes – There are a few things I enjoy as much (when the temperatures are perfect) as lying in a tent in the morning in my sleeping bag with the tent fly moving ever so gently in the lightest of breezes. If only it didn't get dark so quickly in the day this time of year I wouldn't feel the urgency to get moving so quickly.  And now I want that shower I gave up yesterday.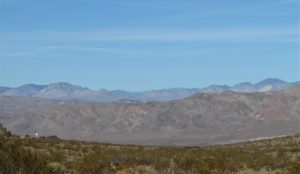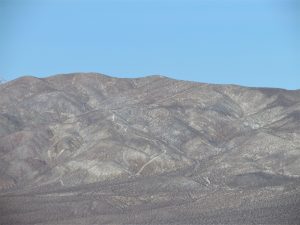 I got lucky.  A few miles up the road was Randsburg and I had a double burger (at a reasonable price) because I expected to be closer to Ridgecrest last night and was out of groceries (breakfast) this morning.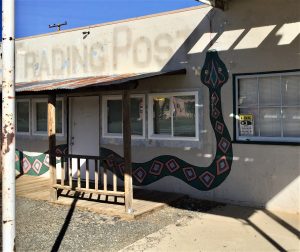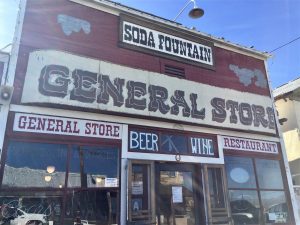 Randsburg
A beautiful day weather wise.  A slight head breeze but much of today is lots of downhills anyways.
I stayed in Ridgecrest for a while to charge my laptop.  I thought that I did not get to far today but I actually got further then expected because I didn't expect 50 km's for the day.
I love this camping anywhere and everywhere.  I have also seen some chipmunk type creatures.  A Google search determined that they were called a Panamint chipmunk (Neotamias panamintinus)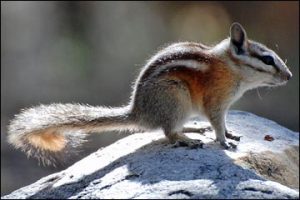 Panamint chipmunk (Neotamias panamintinus) (not my photo)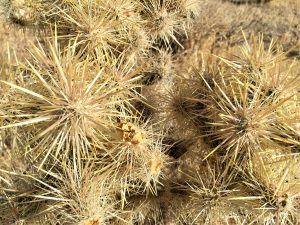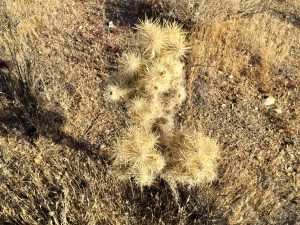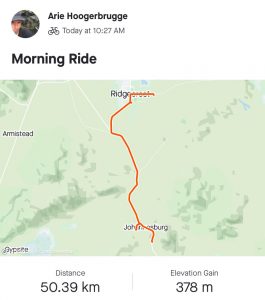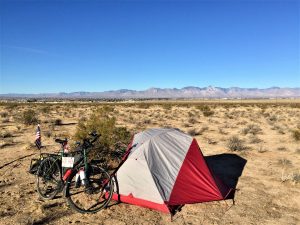 California Part 7 (Jan 4 to 11)
California Part 6 (Dec 31 to Jan 3)