December 31
Km's Pedalled – 84 km's (Strava shut off for about 10 km's)
Destination – Cambria
Some Notes – Sometime in the night the tent started to shake from the wind and it never did stop shaking all night.  Fortunately, while I did wake up often I was able to fall right back to sleep every time.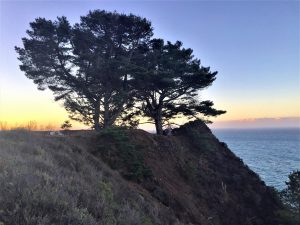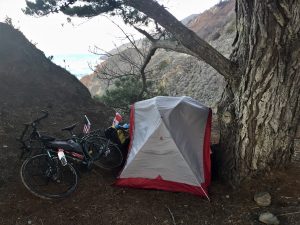 As if last nights grief wasn't enough.  I woke up to a trailer flat.   This morning I had to pack my tent like a stuff sack because of the wind.
I had to make breakfast down the road because of the wind and when I finally did stop I got to see a porpoise while making breakfast.  And I have seen a few seals swimming along the coast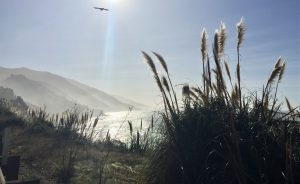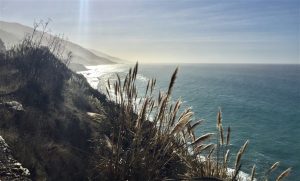 A lot of frogs calling along the coast the last few days??  I am not sure what they are and what their source of water is?
In Gorda Station they tried to sell me a 1 litre bottle of Sprite for $5.79.  No thanks.  I was warned supplies were scarce and expensive through this section of California.  Cycle tourers be warned.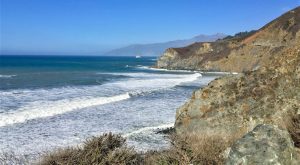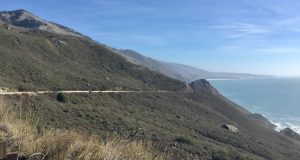 A beautiful sunny day with nice temperatures but some big climbs that creates a lot of sweat which becomes cold against the skin.
Later in the afternoon the terrain really leveled out. A pleasant surprise considering the climbs of the last few days.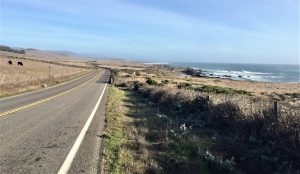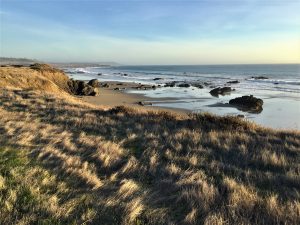 I feel like 50 cars honked and waved at me today.  Definitely an increase in friendly vehicle interactions during this part of California than anywhere else in the US.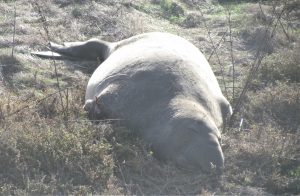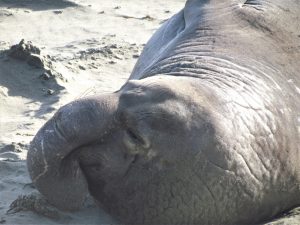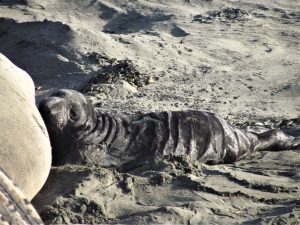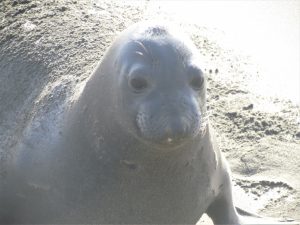 I came across a beach of elephant seals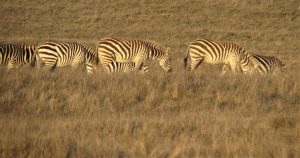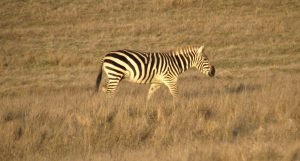 And a herd of about 25 zebras
I am camped beside the highway.  A little noisy but I found it before dark.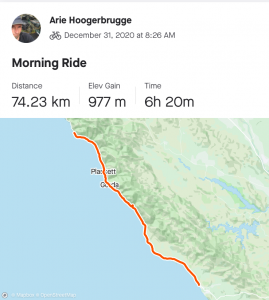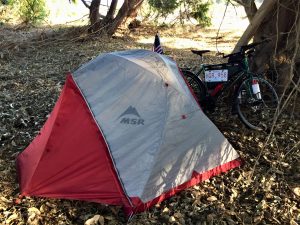 January 1
Km's Pedalled – 74.5 km's
Destination – Right between Edna & Arroyo Grande
Some Notes – I feel grimy.  Eight days without a shower.  Actually, I feel grimy every day.
I realized that I have so few showers a month in the US that I can count how many per state. Three showers in Washington, 5 in Oregon and 4 in California to date.  So, 12 showers since I entered the US on October 25 and technically 4 of those 12 were a second shower I was able to take advantage of at an existing host.
Passing through Cayucos Beach, other than a "few" people wearing masks you would never know Covid was going on there.
And that was also when the scenery started to get dullish.  The terrain continues to stay fairly flat.
In San Luis Obispo I was once again kicked off the Hwy 1.  It was well into dark by the time I found a place to camp with a pretty big climb to end my day.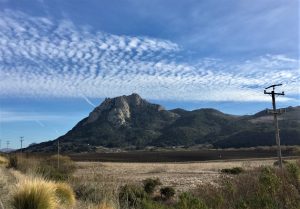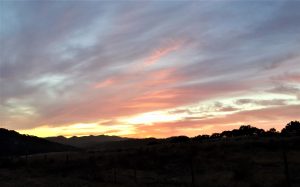 Yesterday I reached out on Warmshowers for a host because of how bad I need a shower.  I received a response right at the end of my day of no dice.
Standing in the dark soaked in cold sweat with no real hope or expectations of a shower anytime soon sucks.
Campgrounds are going to be expensive; state park campgrounds are closed.  I have some hotel points but it's the weekend.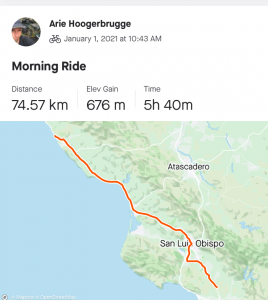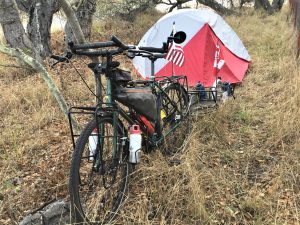 January 2
Km's Pedalled – 45.5 km's
Destination – Just south of Guadalupe
Some Notes – A pair of deer visited near my tent this morning I can hear them graze and watched them walk off from inside my tent.
In Arroyo Grande I stopped at the Walmart for groceries.  A woman by the name of Louise took an interest in my bike and gear.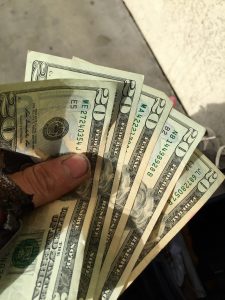 I was still around when she was done her shopping and she handed me this. It left me pretty speechless. And it might of done the trick to help lift my spirits from this slump I continue to find myself in since Christmas.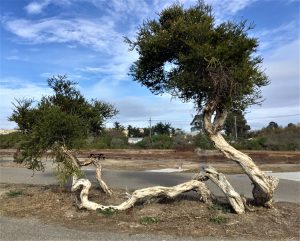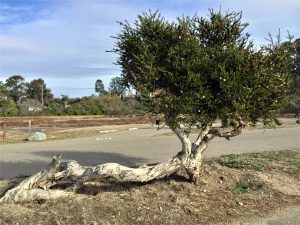 I then visited the Butterfly Grove in Pismo Beach.  It doesn't look like I am going to see the Monarch Butterflies in Mexico when I pedal through.  Truthfully, I was disappointed.  They seem to hang way up in the trees practically out of view and/or their numbers are dreadfully low.  It was certainly not like the experience you think about when you see the photos full of butterflies.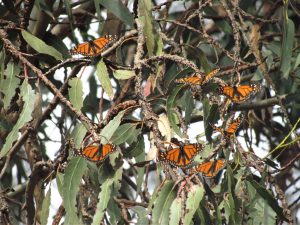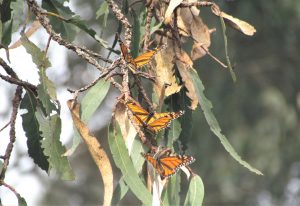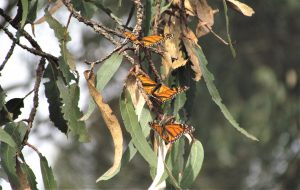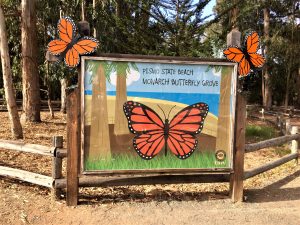 I am only 7 miles from Nipomo. The only significance Nipomo is for me is that was a town I have been to about 4-5 times in the truck.
The road gets rough beyond Guadalupe.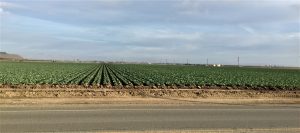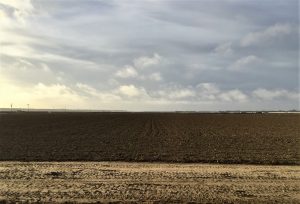 My camping spot is not very pretty tonight at all.  Leaving Arroyo Grande is all agricultural farm land.  I was lucky to find a hidden area right beside the road between fields.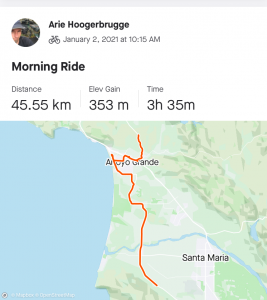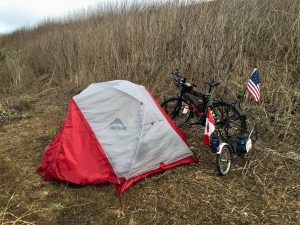 January 3
Km's Pedalled – 71 km's
Destination – Almost in Las Cruces
Some Notes – I woke up in the middle of the night to 1,000's of very tiny ants in my tent.  Lesson learned.  Make sure tent zippers and all bags are sealed before bed and moving south to warmer climates.
After going to bed as early as I do because of when it gets dark and then spending 20 minutes squishing ants in my tent and then realizing that for some reason heavy equipment had shown up in the middle of the night and was working all night (about a mile away) I did not fall back asleep for hours and hours.
This morning I lie in my tent.  The heavy equipment appears to be gone.  I watch a few handfuls of ants wander the walls of my tent.  Ants from the outside trying to figure out how to get inside my tent. Thankfully these are tiny ants that don't bite.  And I hear a lot of birds singing outside my tent
Besides grimy I think I am finally feeling myself since Berkeley.
Not the most exciting day.  A few mountains to climb.  I tried to camp at the campground in Lompoc but the tent section was closed.  All campgrounds seem to be closed.  Thank goodness for the solar charger from Andy Sward.  I have been able to keep my batteries charged all the way from Berkeley.
The scenery continues to be a little unexciting.  I didn't take a single photo of a landscape.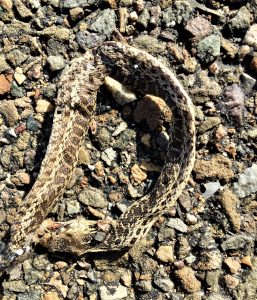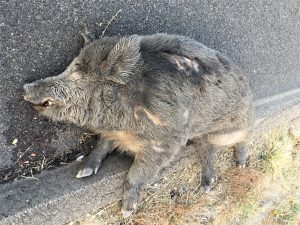 Today I found a roadkill Pacific Gophersnake (Pituophis catenifer catenifer) and I came across a roadkill wild boar.
I am camped next to the road and it is way noisier tonight then last night.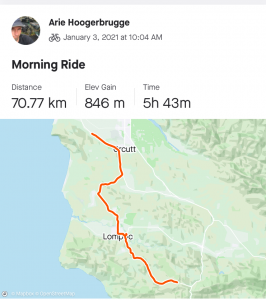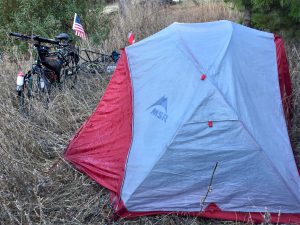 California Part 5 (Dec 25 to 30)