This is Part 1 of an 11 part blog series of bike touring through California.  My route brought down the Pacific Coast Highway to Los Angeles and then across and north to Death Valley.  Exiting Death Valley from the south Las Vegas Nevada.
December 1 of bike touring California
Km's Pedalled – the last 5 km's in Oregon & first 46 km's into California
Destination – Redwoods National and State Park
Some Notes – Last night was another 3 am bedtime.  So a late start as usual.
Only 5 km's and I was in California.  It's been a while since I was last in California – Last time I was in California was the end of October 2019.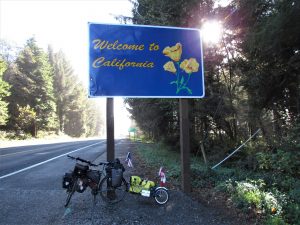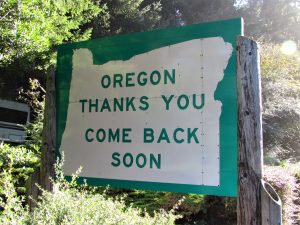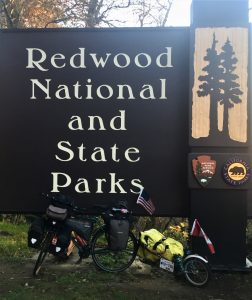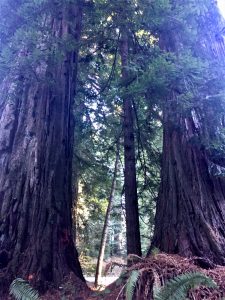 A beautiful sunny day.  Pretty flat roads all the way to Crescent City.  And then the climb started and never did end before dark.  I got lucky seeing a trail off the highway and am camped at the base of some huge Redwood trees.  I can't believe that it is December 1st today.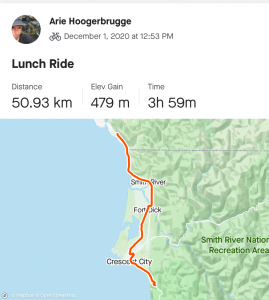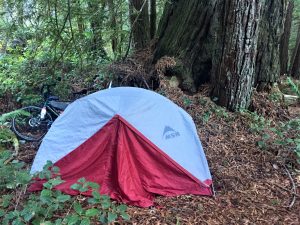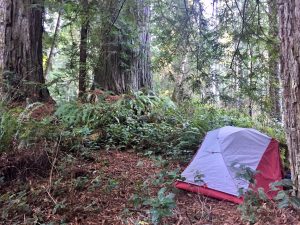 December 2 of bike touring California
Km's Pedalled – 53 km's plus 8.5 km's
Destination – almost in Orick
Some Notes – Late night was the warmest temperatures that I have experienced in the US.  I actually took my second pair of warm socks off in the night.  When I woke up I was so comfortable I refused to get up.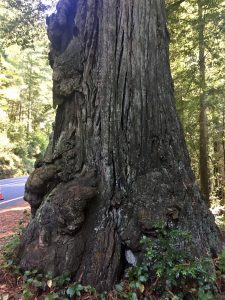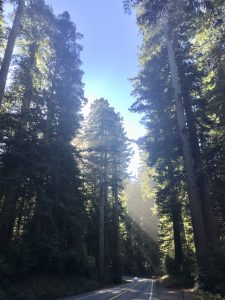 Notice the little car in the second photo
A long day today because it seemed that all I did was climb mountains.  Also, a sunny day but because the trees are so tall I spent most of the day in their shade.   And with the sweat I collected climbing all day it made for a chilly day.  In Klamath I stopped to visit the drive-thru tree.  It only cost me $1.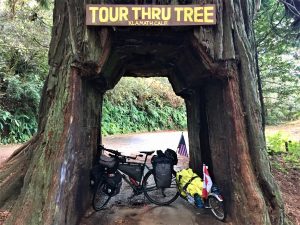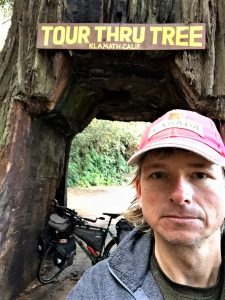 I was camped in a cul-de-sac along the 101 when a park ranger came by and informed me that I was camped on state park land and I would have to move.  I was so pissed.  Nothing suggested that I was on park land and it was dark.  Being forced to pack up my camp I ended up biking 8.5 km's down the highway in the dark and set up camp [somewhere else] in the trees.
This was not how I wanted a good day to end.  This is the third time authorities have visited my camp sites since getting to the US.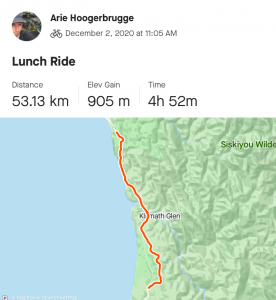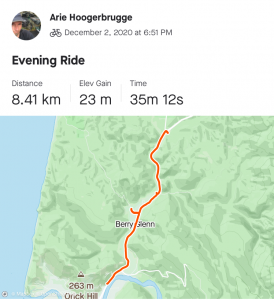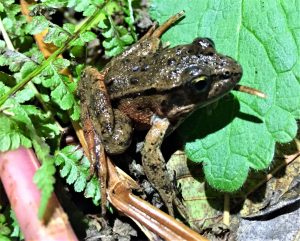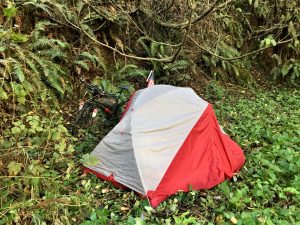 Last night some Red legged frogs were hunting for bugs
December 3 of bike touring California
Km's Pedalled – 37 km's
Destination – Patricks Point State Park
Some Notes – I got up early enough but had to buy groceries first before breakfast which is not very efficient way to start your day.  On the flip side I had a great view during breakfast.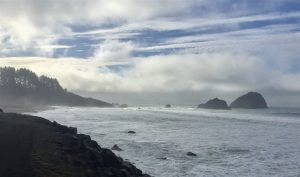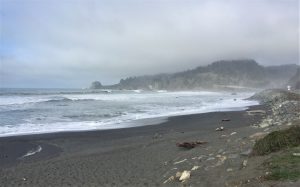 California Coastline
Also did a Road Show with Brandon at the beach.
So far another sunny day, but as usual quite chilly in the shade.  I didn't get very far today.  Lots of climbing as that seems to be all one does on California highways.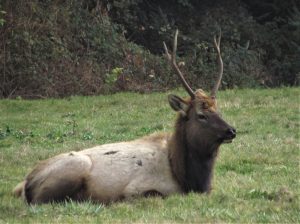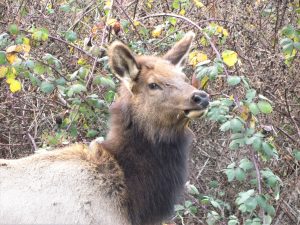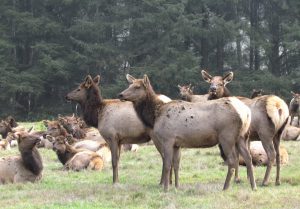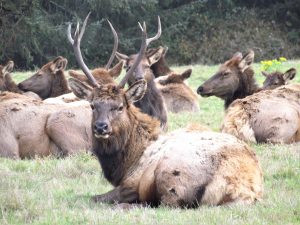 Roosevelt Elk
Along the way I saw a herd of elk today and hiked a bit in Patrick Point State Park.  I even got stuck hiking in the dark and then it took forever biking in the dark trying to find the hiker/biker camping area.  Lots of really good photos this afternoon.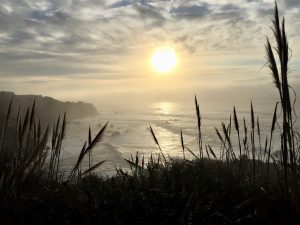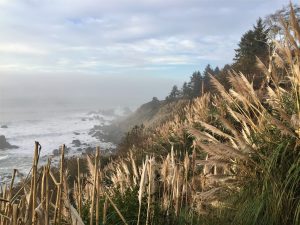 Patricks Point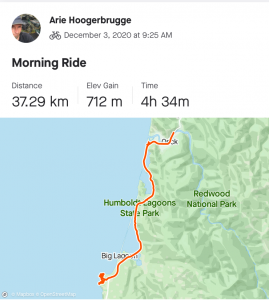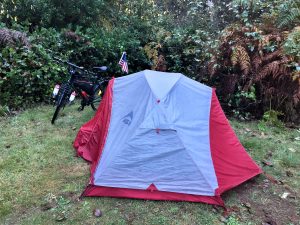 December 4 of bike touring California
Km's Pedalled – 90 km's
Destination – between Worswick and Fortuna
Some Notes – So today didn't exactly go as planned on many fronts.  But that wasn't exactly a bad thing ether.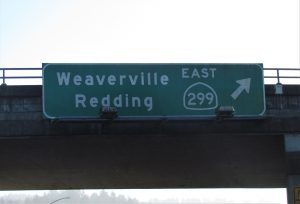 For anyone looking for a pretty amazing highway to travel.  I travelled this highway a few times in the truck
First I wasn't expecting as much flat freeway as I pedalled today.  Which is a good thing.  Actually a great thing considering how many hills and mountains I have climbed since getting into California.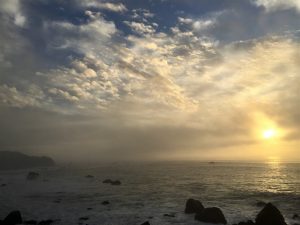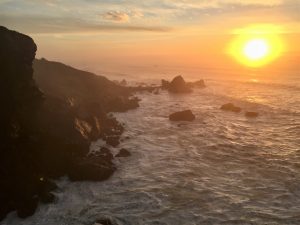 Patricks Point from the evening before
Today was probably the least scenic day in months because much of my day was on a wide freeway.  But that meant more sun (on me) then I have had since getting into the US which is a good thing.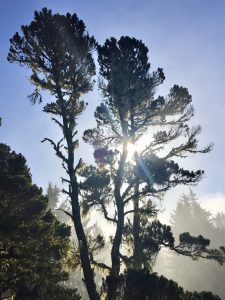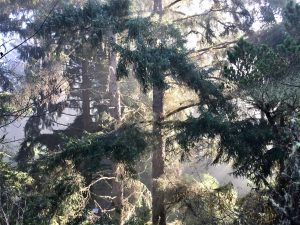 Patricks Point
I wasn't expecting Eureka to of any interest what so ever and I was totally wrong about that and ended up taking over 200 photos in the city.  And I even got a cool gift under weird circumstances.  Eureka has a huge homeless situation for sure.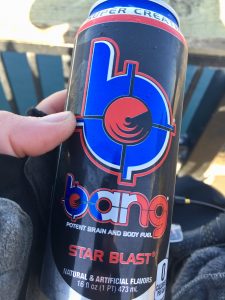 I received this gift because I was photographing a mural and not pooping in the alley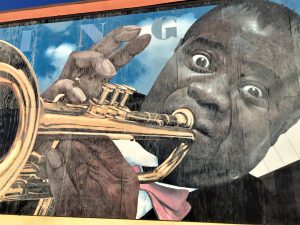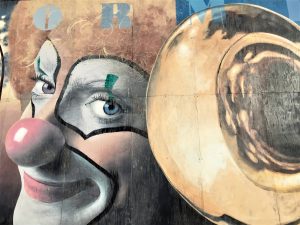 Murals in Eureka
It was nearly impossible to find a camping spot tonight and I pedalled almost 20 km's in the dark looking for a spot.  Which ultimately got me much further down the road then expected.  Which isn't a bad thing either.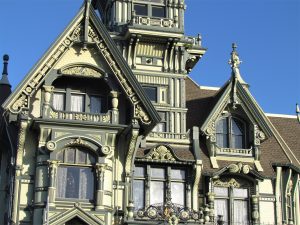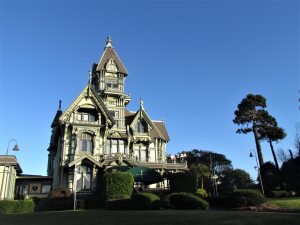 The Ingomar Club – Eureka
I am camped in what looks like an area that the roads department sometimes dumps organic waste (dirt & branches).  It actually looked abandon.  The area was gated but I was able to squeeze my bike through.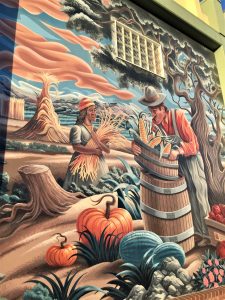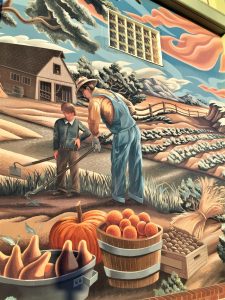 Eureka
As I was totally settled in my tent for the night probably around 10:30 pm you can imagine my surprise when I heard someone walking past my tent.  Then a voice called out to say that a crew (of some sort) was coming tomorrow to clean the area up.  You have to be kidding after all the work and biking it took me to find this place.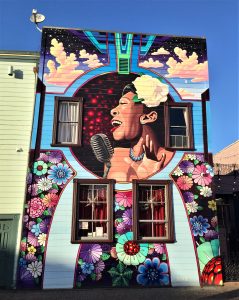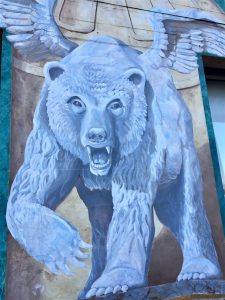 Murals in Eureka
I poked my head out of the tent and I couldn't really see anything (because of the dark) but I could make out a guy pushing a bike.  I asked how he knew of this?  He said he had been warned by the sheriff because he was homeless and been living in the area.  I asked him what time as if he would know (??) He responded 9am.
Well rather then move I would set my alarm for 7am.  So I guess we will see what happens in the morning.  Over all another great day.  [Since setting my alarm for 7am I have been setting my alarm regularly ever since.  It only seemed to make sense considering how early I set up camp.]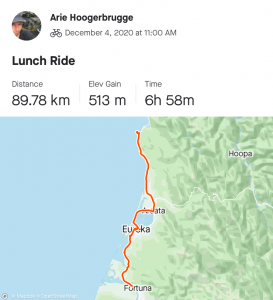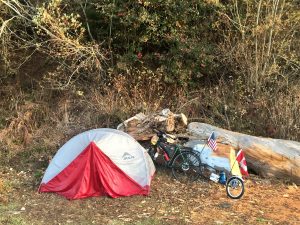 December 5 of bike touring California
Km's Pedalled – 60 km's
Destination – Burlington Campground (Avenue of the Giants)
Some Notes – So I feel like I camped in a pretty isolated area (off of Hwy 101).  Between 2 small towns and about 20 km's south of the city of Eureka.  But I could not believe how many homeless people walked past my tent last night.
And then when I woke up this morning a few more homeless people walked by.  There must be a tent city further down the trail.  At 9am a clean up crew did arrive but they simply looked like volunteer locals to pick up garbage.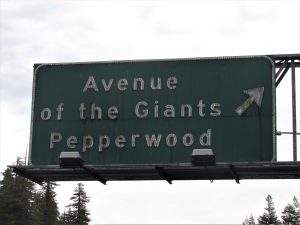 Bike touring California
The sun came out early this morning but disappeared for much of the day.  Getting to the Avenue of the Giants was a bit of a slog.  Fairly flat but I seemed to be up against a bit of a head breeze.  I miss yesterdays sunshine.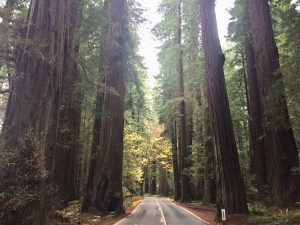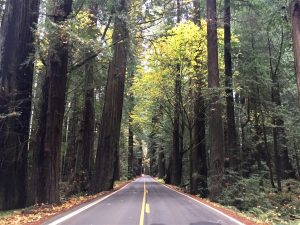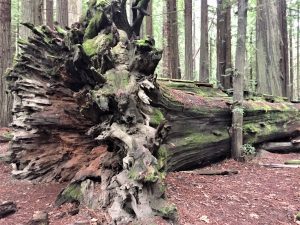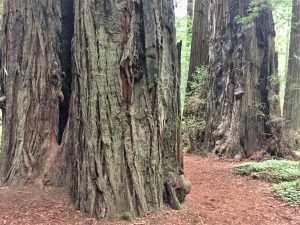 Avenue of the Giants
The Avenue of the Giants is awesome and I am taking my time going through them.  Taking time to hike and take photos.  I feel I somehow raced through the Redwood State Park in the north.  Today I took over 200 photos.  The area is defiantly a US highlight for me.  A great day for sure.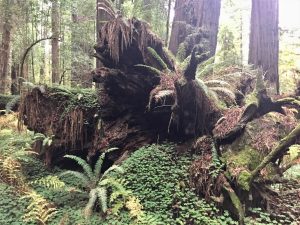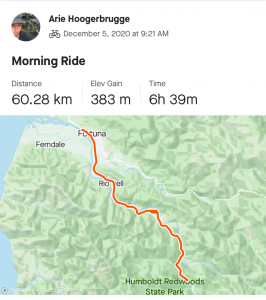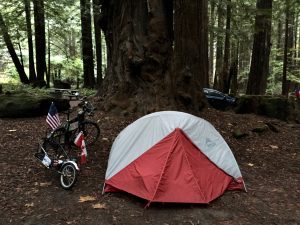 California Part 2 (Dec 6 to 11)
Oregon Part 4 &Summary (Nov 28 to Dec 1)