November 24
Km's Pedalled – 123 km's
Destination – Same spot as last night – the highest mountain peek between Florence and Reedsport
Some Notes – A noisy camping spot last night.  I am close to the road but not so close to the ocean.  Lately the ocean waves crashing against the shores have been drowning out car traffic.
I took a chance and left my tent set up and gear inside my tent and biked 61.5 km's and back to get my tent pole into a light head breeze.  By the time I got to my tent pole it was lightly raining.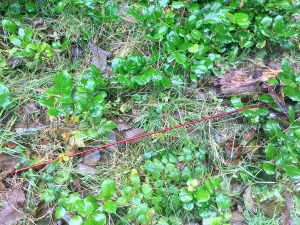 Exactly where I left it
By the time I was turned around the rain got heavier and I was biking back into a headwind????  Where was my tailwinds???  Biking from Florence south the rain got very heavy and it was dark by the time I got to my tent.  If I am not soaked outside from the rain I am soaked inside from the sweat – I am completely soaked through and through.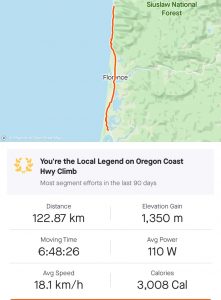 Because of the rain storm I thought without the cross member thingy for my tent things would be wet in the tent by the time I got back (from the tent being partially caved in on itself).  Fortunately, things were dry inside and somehow I managed to get my soaked self inside the tent and into my sleeping bag completely dry.  But everything that I would wear tomorrow is wet and they are calling for rain all day tomorrow.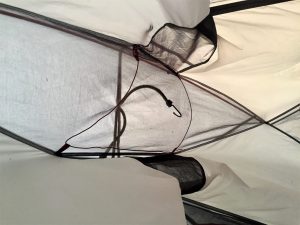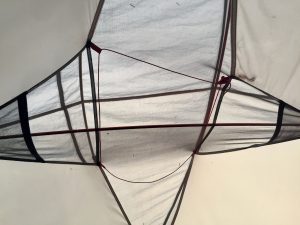 Before & After
I have no idea what to do yet.  I can't believe that I had a day like today.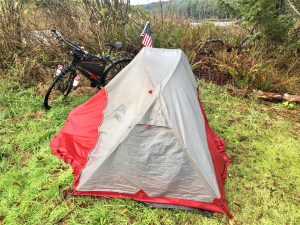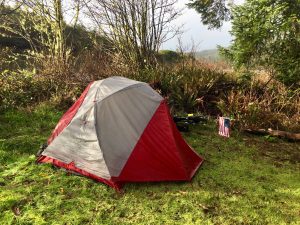 Before & After
 November 25
Km's Pedalled – 16 km's
Destination – Winchester Bay
Some Notes – I got a text message from my old Saint John New Brunswick host Wayne – MSR sent my tent replacement parts to Wayne instead of next host in Brookings Oregon.  I am really not very happy with MSR Warranty department.  This is the 4th screw up and I have only delt with them 4 times???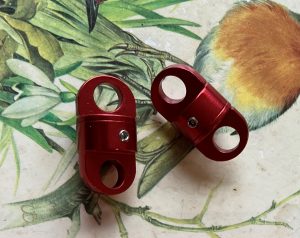 Sent to Saint John NB instead of Brookings OR
[Almost 2 weeks ago I reached out the manufacture of my tent (MSR) because a widget on my tent poles had snapped.  The first time I dealt with MSR on my bike ride I had the parts mailed to Saint John NB.  So instead of reading my email with an updated shipping address they went to my file and used my first original shipping address.]
And then I received an update email from Belize regarding the flooding down there.  We have pretty much reached the flooding limit and are experiencing the most flooding ever thanks to 2 hurricanes back to back.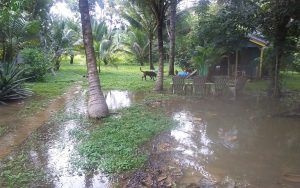 A photo sent from Belize of the cabana my property mangers live in.  My home is out of sight in the background and that flooding is the river that runs along side the cabana
The weather looks much better already.  The sun is out this morning.  I called ahead and there is a RV campground not too far away.  Seeing how most of my clothes are wet and I haven't showered since the winery I think it is time to take a day and see if I can get a few things done.  They are calling for sun over the next 3-4 days.
I got my shower and laundry done.  I was able to get a few things done on the computer and a few batteries charged and then the internet speed went super slow.  I guess I am not sticking around another day.  It was a cold evening.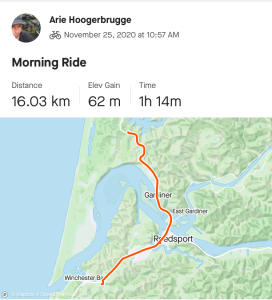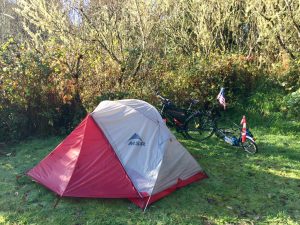 November 26
Km's Pedalled – 54 km's
Destination – Sun Set State Park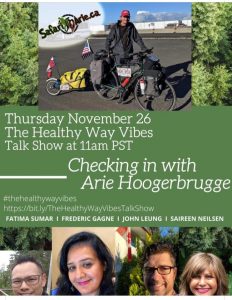 Some Notes – A late start to my day.  But more importantly I woke up to sunshine.  The morning started out with a check-in to The Healthy Vibes show.  It was basically 1pm when I finally hit the road and 2 minutes down the road I realized my trailer tire was flat.  And then 2 hours later the trailer got a second flat. I think I am at about 12 flats for the ride so far.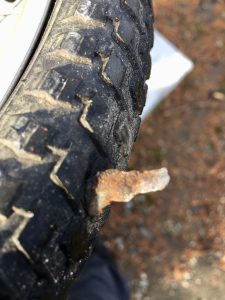 My second flat of the day
Since leaving Florence I have been going through the Oregon Sand Dunes Recreation Area.  Unfortunately you wouldn't necessarily know that if it weren't for all the dune buggy rental businesses along the highway.  Geographically the dunes are west of the highway with a corridor of trees between the highway and dunes.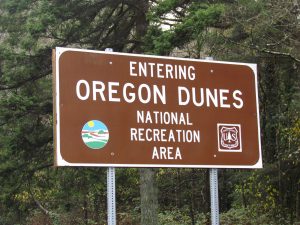 I sorta got stuck in the dark trying to find a place to camp.  And I even missed my turn which was fine as I am still pointed south.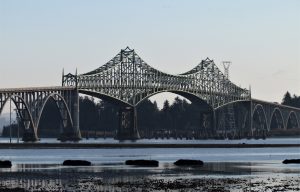 McCullough Memorial Bridge – Coos County
Tonight I am camped at Sun Set State park.  It wasn't the plan to pay for camping again tonight but being dark out and not seeing other options for the last 20 km's pedalled and only $9 a night for hiker/biker I gave in.  But I did get a good 20 km's further then expected.
Pretty much sunny all day.  It sure does get cold if you are not in the sun though.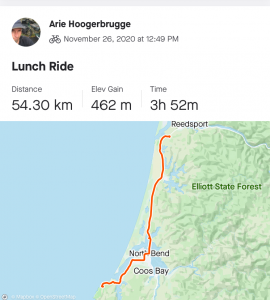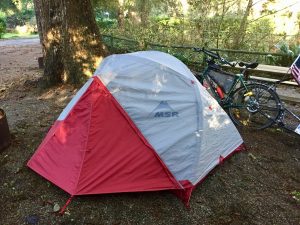 November 27
Km's Pedalled – 57.5 km's
Destination – Bandon
Some Notes – I had a moment of inspiration last night about a future project and that kept me awake into the wee hours of the night.
I didn't realize it last night in the dark but I turned down a dead end road the lead me to last nights state park/campground.  And then this morning when I continued to head south through the state park the road unexpectedly ended.  Luckily it was only 6 miles back to Hwy 540.  But it technically had me doing a late start again (by the time I was actually headed south properly).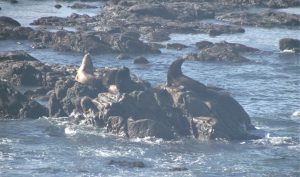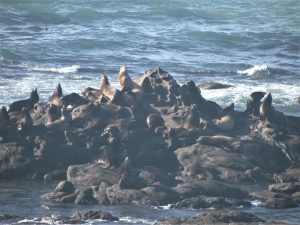 Seals
I took Hwy 540 along the 101.  A few big hills to climb this way.  Put isn't there always hills?
A sunny day but I am always cool to cold if I am not in the sun, which usually I am not because of the position of the sun at this time of the year and how high the trees are.  I am so looking forward to California.
I caught a Redstripe ribbon snake (Thamnophis proximus rubrilineatus) on the road when I did a u-turn to identify another (dead) snake that turned out to be another Redstripe ribbon snake.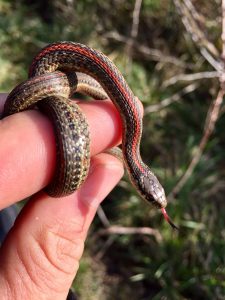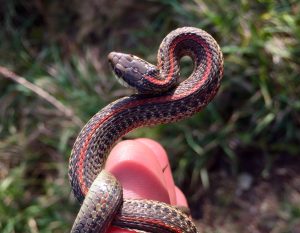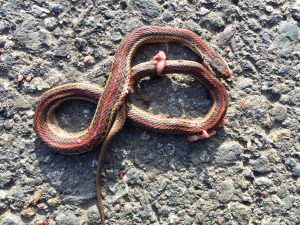 Redstripe ribbon snake (Thamnophis proximus rubrilineatus) & the dead one 8 ft away

I am camped down a gravel road tonight. It's always a challenge finding a place to camp right at the right moment of dusk.  Trying to take advantage of every minute of light but not get stuck in the dark.
Because it was getting dark, I missed Coquille Point in Bandon.