November 28
Km's Pedalled – 82 km's
Destination – Wedderburn
Some Notes – A chilly morning as usual but the sun continues to shine.  I bypassed Cape Blanco State Park which was also on my radar to visit.  But I knew beyond the state park I would get lots of coastline scenery anyways.  I am planning/trying to be in Brookings by Sunday afternoon with time to spare.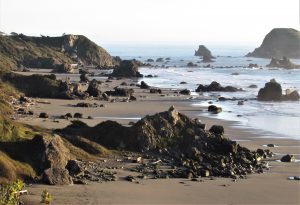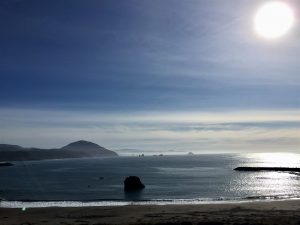 I saw my second cycle tourer since arriving in the US.  He was headed north.  Not my preferred direction.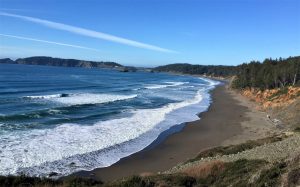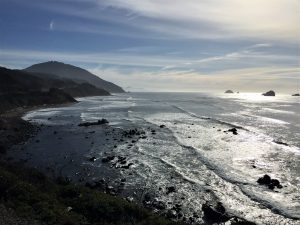 I camped on the beach this evening.  Its amazing how difficult to line up timing and location to get to be able to camp on the beach when you are cycle touring.  A pretty amazing sunset tonight.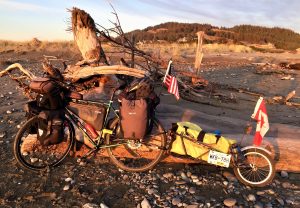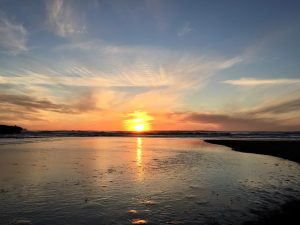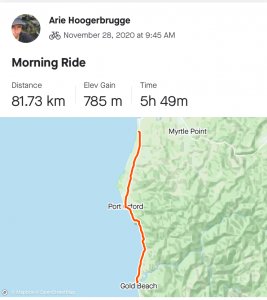 November 29
Km's Pedalled – 58.5 km's
Destination – Brookings
Some Notes – I never slept on the beach on an ocean before.  You can imagine my surprise when I looked outside my tent this morning to see the water and waves closing in my camp site.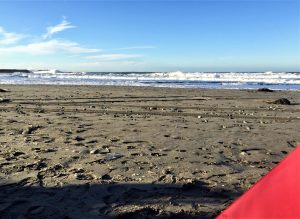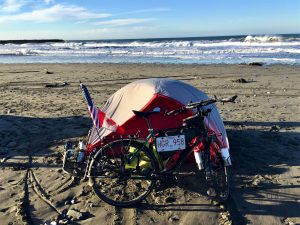 With a view from inside my tent
It was a bit of a rush and a skipped breakfast to get everything packed up quickly.  Attempting to pack up my tent on a windy beach did not go very well either.
By the time my bike was loaded and ready to move the ocean was about 20 ft away from my site.
I ended up meeting a wonderful couple on a road(van) trip.  By the time our conversation had ended and I was ready to hit the road it looked like the ocean was about 5 ft from where I was camped.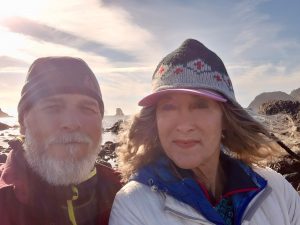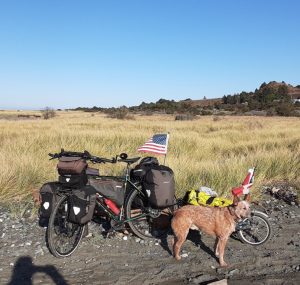 Chris and Anne and one of their dogs checking out my bike
I continue to be amazed at how friendly Americans have been.  Except the word "amazed" is not the right word because of course they are.  This is not my first time in a America.  But an interesting observation is that while I had tons of hosts and acts of generosity in Canada, in the US it seems people are bit quicker to approach you to ask about you and what you are up to.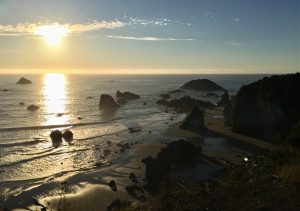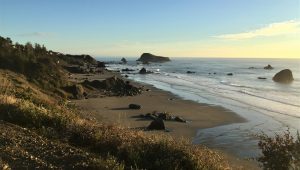 Because of my rush pack up job on the beach I missed breakfast.  I stopped at Gold Beach BBQ just as they were opening for the day.  Shortly after being served an older homeless guy came by and without hesitation the restaurant got him something to eat.  I can only imagine how devastating Covid-19 has been on the independent restaurants with no tourists or eat-in options.  And how quickly I saw them give this guy something to eat.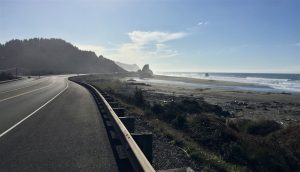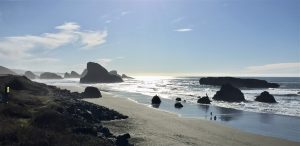 Biking through Samuel H. Boardman State Scenic Corridor had many multiple viewpoints worth visiting.  Of course I stopped at the easy viewpoints but bypassed many others.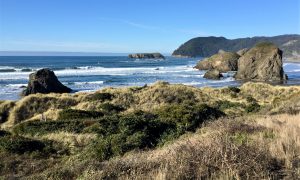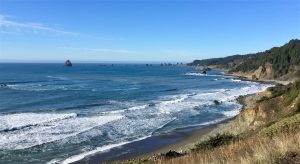 Due to the time of day and dusk falling quickly I was unable to visit Harris Beach State Park in Brookings.  I am staying with Todd and Beverly Rigby thanks to my aunt Cynthia who lived in Brookings many years ago.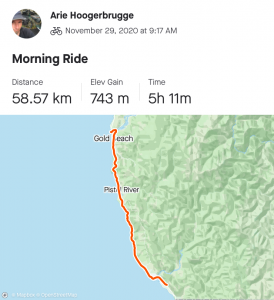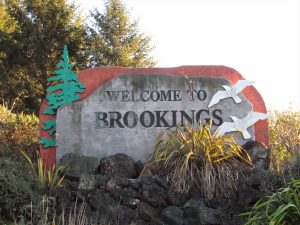 My final city before California
November 30
Some Notes – I am sticking around today waiting for those tent parts the accidentally got shipped to New Brunswick last week.  They ended up arriving later in the day.
I stayed up extremely late last night working away and am busy working away on the computer again today.  But I am also having a wonderful time here.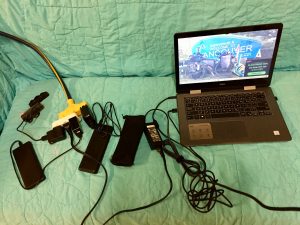 The minute that I can get down to work I usually have 5-6 things charging at once
December 1
What can I say about December 1st in Oregon?  Only 5 km's until I got into California.  So not much but happy to be heading to some sunnier days.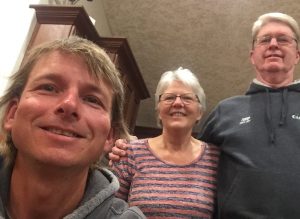 With Beverly & Todd Rigby
Summary of Oregon
What can I say about Oregon?  I have been to Oregon close to a dozen times driving a truck.  Ever since my first visit Oregon has been a favourite state to visit.  That being said biking through Oregon during the month of November has definitely had its challenges.  Namely rain and cold.
Admittedly I have actually been pretty lucky with rain.  Yes I have been rained on but it could have been way worse.  Probably the big one is the cold.  I find myself cold everyday but generally all day with no real way to warm up.  If you are in the sun it's pretty good but it's pretty amazing how little that you are in the sun.  Dusk comes very quickly at 4:45 pm and there is no sunlight in the trees when you camp.  Which means there is no sun in the morning when you wake up and break camp.  The Oregon coast is pretty hilly with some pretty big climbs that produces a fair amount of sweat which doesn't help in the cool, chilly day.
The average temperatures during the day are mid teens (Celsius) and single digits at night.
I find the Oregon highways to be a bit on the dangerous side with many many places with little or no bike shoulder.  Which is strange for state that is so famous for its cycle touring.
On a huge plus the Oregon Coast is as about as beautiful as anyone could ever hope to see.  The hiker/biker campground prices at state parks range from $9 to $10 so at least that is reasonable.
By the Numbers
I bike 963 km's over 21 days with 3 hosts.  So I took about 5 days and one day I biked 123 km's (61.5 km's back and forth) to retrieve a tent pole.
I spent $203.67 on food and my other expense mostly revolved around bike repair/parts – $131 and campgrounds/laundry – $76.53.  I also paid $56.15 for my monthly accident insurance thanks to Buddy Insurance and $63 to ship a box of stuff back to PEI.
Everyone should come visit Oregon.  You will not be disappointed.