December 6
Km's Pedalled – 64 km's
Destination – Piercy
Some Notes – According to the lady that took my money this morning for camping in Burlington Campground (Avenue of the Giants) California is on the verge of a complete lock-down thanks to Covid-19.  I am not sure what this will all mean moving forward through California but these are truly unusual times.  Probably my biggest issue is simply charging batteries.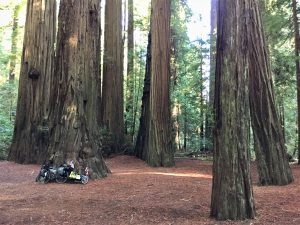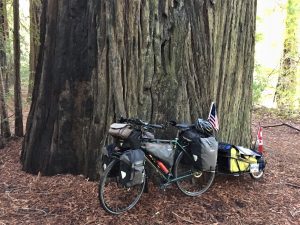 Avenue of the Giants
Today was a beautiful sunny day and truly an amazing day to be in the Avenue of the Giants.  Avenue of the Giants is another US highlight like my experiences at the rainforests in Washington – in particular Hoh Rainforest.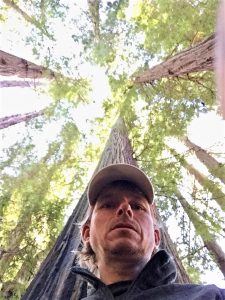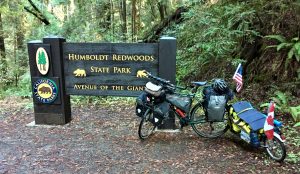 I took 120 photos today.  My batteries are so low.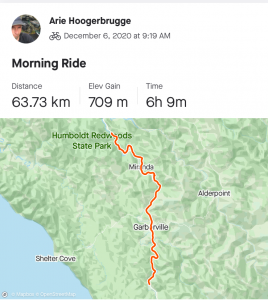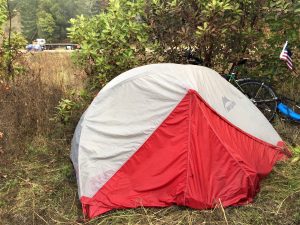 Camped beside the highway
 December 7
Km's Pedalled – 64.5 km's
Destination – almost in Westport (Westport Union Landing State Park)
Some Notes – A cool morning getting out of the tent.  The sun was there but the fog needed to lift first.  California has been a pretty foggy state.  But the sun came out eventually and remained all day.
Getting south of Leggat I came to my largest and longest climb since getting in to the US.  I had been warned multiple times about this climb.  The whole day had me climbing 1,158 meters up.  A few things, first it wasn't as bad as I thought it would be.  Granted I was lucky that I was biking this climb in December and not the California heat of July.  But it was not nearly as difficult as the climbs I did during the first 20 km's west of Lillooet British Columbia back on September 2.  The second thing was that I didn't realize that there was a second climb coming shortly afterwards.  That one took me by surprise.  But even a bigger surprise was the California coast appearing out of nowhere when I cleared the forests for the last time.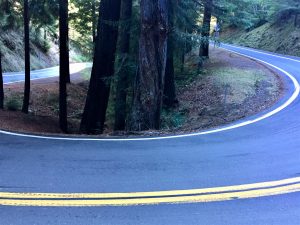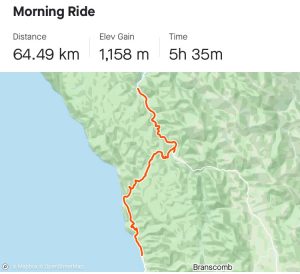 Big climb at Leggat
Today was a really good day for sure.  Midway between both climbs I came across two adult male elk.  One of the elk had an amazing set of antlers on it.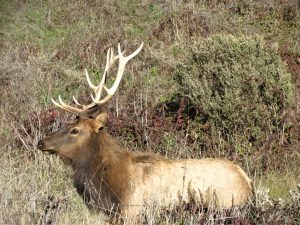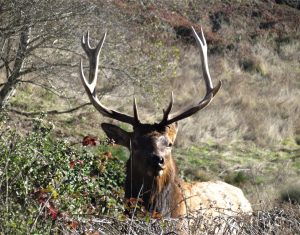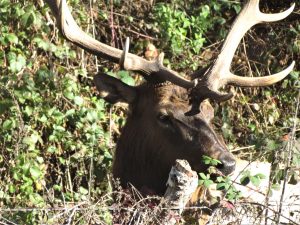 Roosevelt Elk
I am camping at Westport Union Landing State Park.  It is a narrow strip of land a long the coast.  I was not impressed when I saw that hiker/biker price at $10.  I only decided to stay because I noticed an electric car charging station that included 2 regular outlets.  My batteries are about as low as they have ever been.  So for $10 I have both outlets in use.  [As I type this post  I am sitting outside in the dark with the roar of the ocean a few hundred feet away.]  The plan is to sit out here and work (maybe watch a tv show or 2) as long as possible and then tomorrow morning to come back to the charging station and sit here all day or until I get kicked out of the park.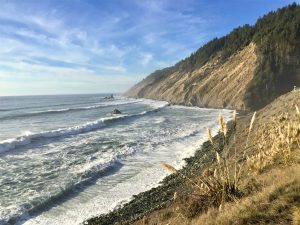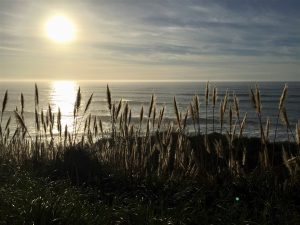 California Coastline
Unexpectedly some California state parks don't have an option to pay via pay VISA (like they did in the north) and I paid with my last $10 bill for tonight or I would probably stay another night.   I will see in the morning if there are any options for me to stay.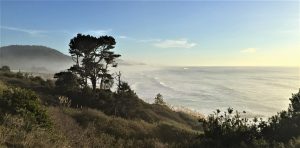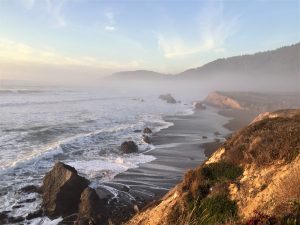 But tonight saved me about $25 because I didn't need to stop at an RV campground at top rate.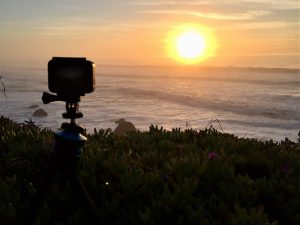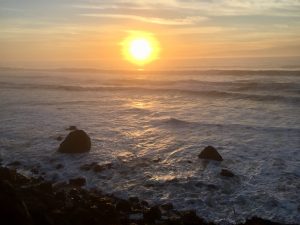 I was able to get a nice sunset on time lapse with GoPro tonight.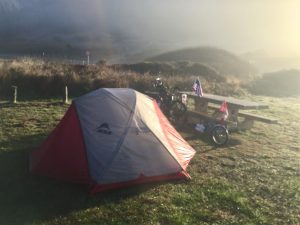 December 8
Km's Pedalled – 22.5 km's
Destination – Almost in Fort Bragg
Some Notes – I stayed up past midnight last night working on my laptop past midnight in the dark.  I was able to charge more than expected in an evening and I even got a few things accomplished.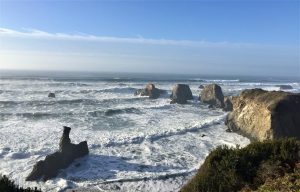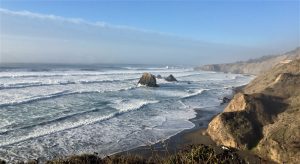 California Coastline
It was a chilly night, colder than anticipated.
Today I hung out at the charging station working on the computer   This morning I discovered that the park even had wifi so I worked away until after 2:30pm this afternoon.  But I can't stay as I have no more cash on me.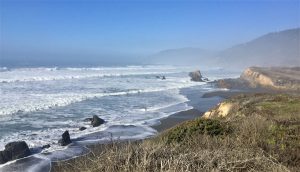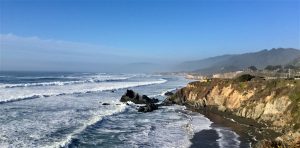 California Coastline
It's so hard trying to find a place to camp some nights.  It seems like lots of options during the day.  But that doesn't help when you need a spot – 30 minutes before sunset.
This evening I went behind what looks like a no longer used community center just north of Fort Bragg and then there was some trail in behind that went into the trees.  Some nights I end up in the weirdest places.
A sunny day but the fog came in super thick and fast this afternoon.  That killed most of the coast line views for the first few kilometres that I biked.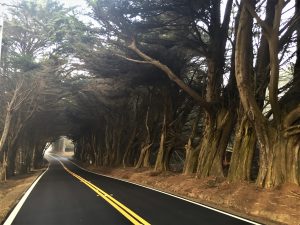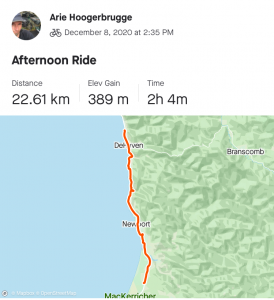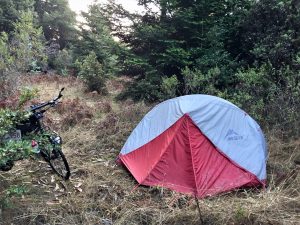 December 9
Km's Pedalled – 39.5 km's
Destination – Caspar (cemetery)
Some Notes – I spent most of the day in Fort Bragg.  A neat little town and the Glass Beach shoreline was pretty amazing.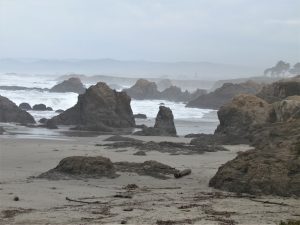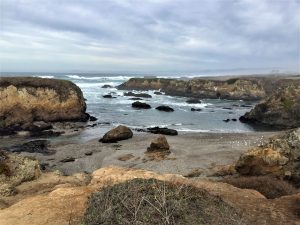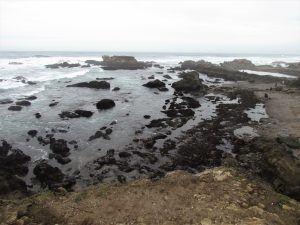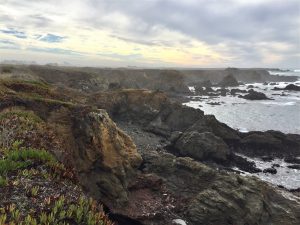 Fort Bragg & Glass Beach shoreline
I picked up a USB chargeable headlamp in Fort Bragg because charging my rechargeable AA batteries is becoming too difficult.  I can charge this new USB headlamp battery with my power packs).  I had the outdoor shop charge the battery and my one power packs while I checked out the town and the Glass Beach shoreline.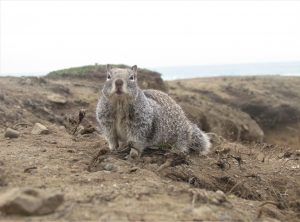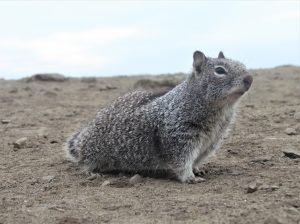 A California ground squirrel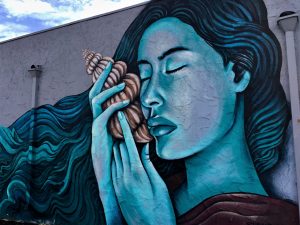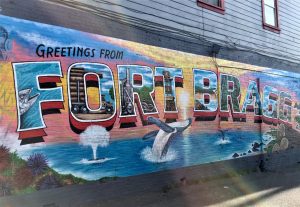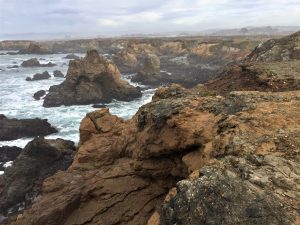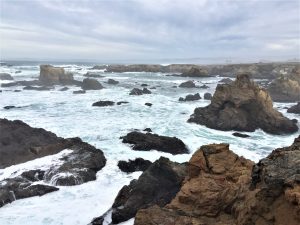 Fort Bragg & Glass Beach shoreline
Over all a beautiful sunny day.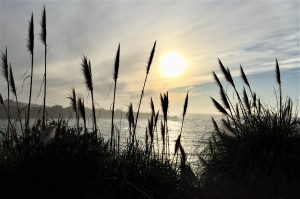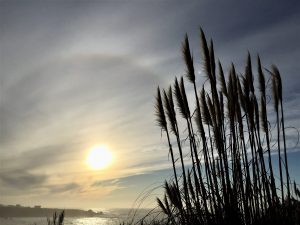 Fort Bragg & Glass Beach shoreline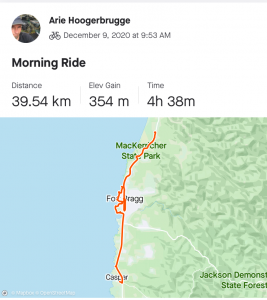 December 10
Km's Pedalled – 68 km's
Destination – Point Arena
Some Notes – Beautiful sunny day as per usual in California.
Mendocino is a pretty cool town.  I wish I had all the time in the world to photograph the architecture in these kinds of towns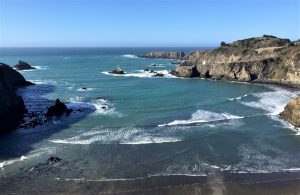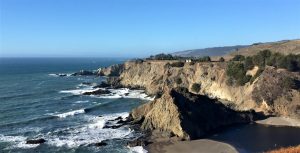 California Coastline
Lots of bluffs and climbs.  Actually a few wicked climbs. I visited Russian Gulch today.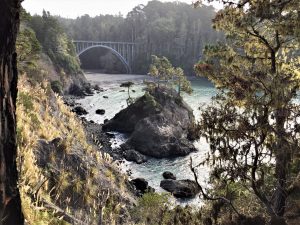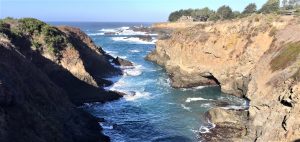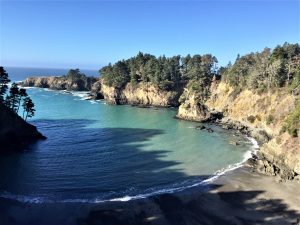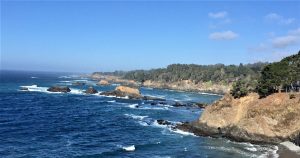 Russian Gulch area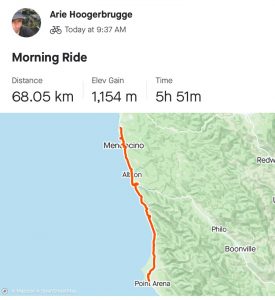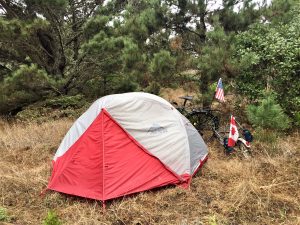 December 11
Km's Pedalled – 68 km's
Destination – Kolmer Gulch (South of Timber Cove)
Some Notes – I woke up to overcast skies and by the time breakfast was finished a few rain drops had landed.  While it did stay overcast all day the rain wasn't too bad.  Only twice did I have to put my rain pants on.
I went looking for Bowling Ball Beach this morning but I think because of high tide I couldn't find it or reach it.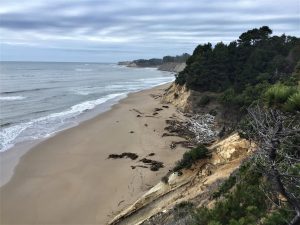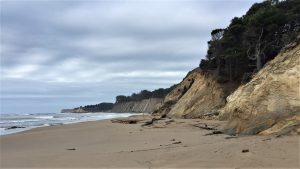 Looking for Bowling Ball Beach
Today wasn't so bad with the climbs.  Things were a little bit more level. I biked past the Sea Ranch.  If you are interested in reading more on this unusual place you can find out more HERE
I had a hard time finding a camping place tonight.  It was on the verge of being dark.  I am sort of in between a switchback on the highway.
The crummiest part was that it started to rain while setting up my tent.  So all my bike bags got wet right before they went into the tent.
So it's been 6 days since I had a shower but 11 days (Brookings OR) since I did a laundry.  I feel about as grimy as I ever have on this bike trip.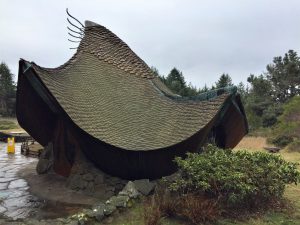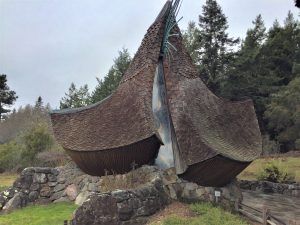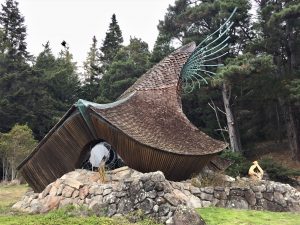 I have no interest reception. I used up my laptop batteries last night and it is raining hard out tonight.  Between the rain, grimy and "no service" on my phone things could be worse but they could also be a lot better.
I need to find an RV campground tomorrow for laundry, a shower and charging station.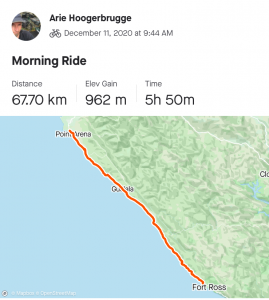 California Part 1 (Dec 1 to 5)
Oregon Part 4 & Summary (Nov 28 to Dec 1)