March 5
Life in the jungle: I started my morning chopped the river lot behind my house.  Then I went to the hardware store for a final load of 1×4 lumber for the cabbage wood project.
I discovered by not running my water pump, pumping water from the river for a few days that my water line was drained of water.  I spent over 4 hours trying to get water pump to start pumping water.  The check valve has malfunctioned.  Finally in the last second before giving up the water line was bled of any air and started working.  So, I did a laundry.  Unfortunately, this waterline problem is not actually fixed.  If I ever leave for a few days, I suspect the waterline to drain again.  So, I will have to get another (expensive) valve for when that time arrives.  [For now, I run my water pump every single day even if its for a minute to keep the waterline full with water.]
I ran a tank of gas through the chainsaw on the river lot and then cleaned all the downed trees right up until dark.
While I chose from about 6-10 different jobs/projects to do everyday I am aware that my life has become a routine.  I wake up around 6 am, open all my windows and usually start my morning chopping at the ponds or coconut field.  I generally always start my day with a job that requires me to swing a machete.  I have breakfast around 10 am.  Sometimes I take a nap.  I then choose from 5-6 potential projects/jobs and do them until 6 pm.  I sit on my deck for about 10-15 minutes right before dark.  I then close my windows up, make a bowel of popcorn and watch an episode of Star Trek.  After that I take a shower.  While I make dinner, eat and wash dishes I watch 2 more episodes of some show and then I go to bed between 9:30-10 pm.  I go to Belize City an average of once a week for supplies and I go to the village grocery/hardware store probably 3 times a week.  Sometimes more if I am getting planting soil or need lumber.  I can only carry so much on my bike at a time.  This is my life week in, week out.  On a positive note, all this done within a tropical jungle paradise full of animals and birds and all the noises they make.  I am extremely lucky to have all the natural stimulation from my surroundings.  If I was in Canada, I would be going absolutely crazy.
March 6
Life in the jungle:  I started my morning chopping at the river lot.  At about 8:30 – 9 am the La Ruta Maya canoe race started going by on the river.  Read more about La Ruta Maya canoe race HERE.  My chopping at the river lot came to an end at about 10 am due to a heavy rain shower.   I guess there will be no "dry" this year?  After breakfast I took a long nap in my hammock.   The rain sort of killed my afternoon working plans.  The next best use of my time is to go back to chopping the river lot.  The only thing is my right arm, particularly my right elbow is sore.  I am pretty sure I suffer from tennis elbow in my right arm.  So, a nap seemed like the best logical choice after breakfast.  I spent the afternoon chopping at the river lot until dark.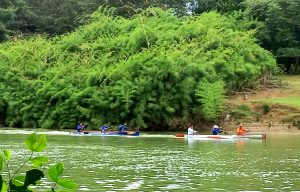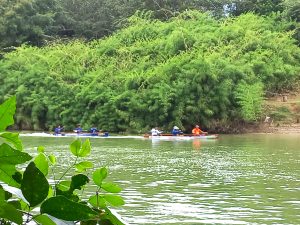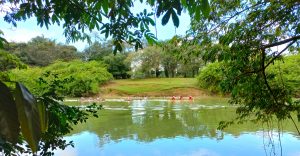 La Ruta Maya canoe race
March 7
Life in the jungle:  I saw something on the road this morning.   Was it a bush dog or a jaguar?  Two totally different animals.   I try to be so vigilant when on our road as it only takes a second for a jaguar to cross the road.  But alas I will never know what I saw this morning.
After waiting for the bus for about 20 minutes a woman in the village walked by and mentioned that today was a holiday and there is no bus service today.  So instead, I biked to the grocery store and got groceries.  By the time I got back home I hadn't really lost anytime in my day by going out to the village to catch a bus to the city.
After breakfast I continued working on framing my cabbage wood frames that I started the other day.  And then I ran out of lumber so I needed to make a trip to the hardware store.  On the way home I got a flat tire.  So, this afternoon I completed the framing, I did some painting of my deck furniture.  I fixed my flat tire along with 4 other punctured bike tubes that had been piling up.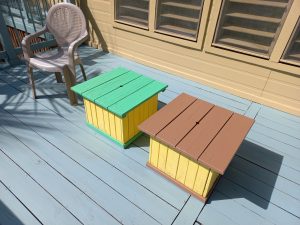 Painting from aqua green to brown
March 8
Life in the jungle:  A largely uneventful day in the city.  But this was the first time in the city I didn't have to wear a mask in the streets.  Now we only have to wear a mask on the bus and inside businesses (which is still very unnecessary).  My main mission in the city was to connect with Belize Electricity to set up a new account and transfer Jack and Jill off my meter.  Jack and Jill have been on my meter with the bill in their name.  I have to get them off my meter along with my house as their bill is getting bigger and bigger.  I won't contribute to the bill anymore since Jack's war on me and Jill holding my business license hostage but I don't want the electricity cut off if I have Airbnb guests.
My electricity account is now set up.
March 9
Life in the jungle:  It's been a little while but I am back to starting my day working/ cleaning at the ponds.  After breakfast I painted my last deck table.  This afternoon I ran the chainsaw at the river lot.  I am finally finished cutting the bush/trees out of the area that I hope someday I can get an excavator to dig me a pond.  I need some kind of pond dug out so that I can use that excess dirt to level the lot.  I have cleared about half the lot that contained mostly very young trees.  I do not want to remove any more trees than needed or any mature trees.   The area can also easily accommodate a future greenhouse or some cabanas.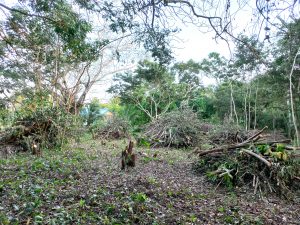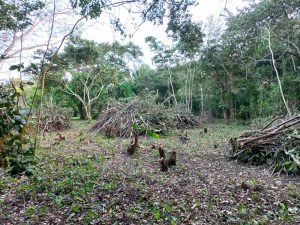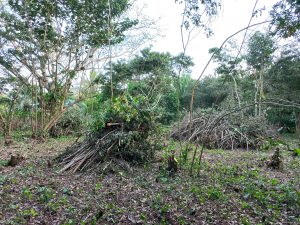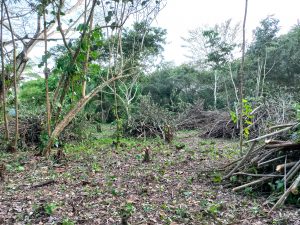 Burn piles at the river lot
Someone from the electric company came and did a final reading on my meter and my meter is now in my name.  I sent an email to Jack giving him 30 days to have his power line taken off my pole.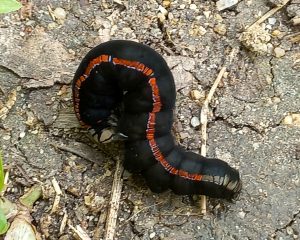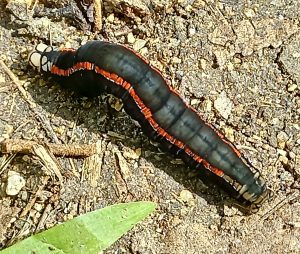 Unidentified caterpillar
March 10
Life in the jungle:  I started the morning working at the ponds.  After breakfast I worked in the coconut field cleaning up the burn piles, I burned the other week and burned 3 more brush piles.  I also did some yard and river lot work until dark.  A very exhausting day.
March 11
Life in the jungle:  I am finally finished chopping/cleaning the far mound at the ponds.  After breakfast I took a nap on my hammock.  In the afternoon I brought the chainsaw out to the ponds.  I went through 3 tanks of gas.  I also discovered something ate 10 of my papaya plants.  This is bad.  I am exhausted.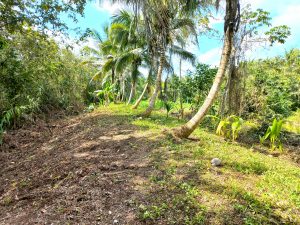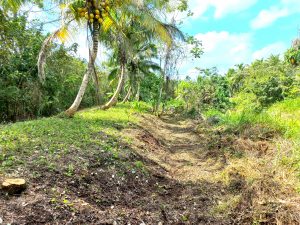 Chopping and cleaning at the ponds
March 12
Life in the jungle:  I started the morning at the ponds.  I cleaned up all the brush and limbs from yesterday's chainsaw work.  It felt like the hottest morning ever with no breeze.  I also collected up any dropped coconuts.  After breakfast I went for groceries.  In the afternoon I burned the last brush pile in the coconut field from the original cleaning of the field.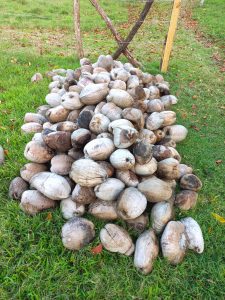 My coconut pile grows
It was the hottest day with no breeze since I arrived in Belize today.  High 90's today.
Belize Part 16 (Feb 19 to March 4)
Glossary
Glossary of words or people that may or may not be part of this blog post.  This glossary will be at the bottom of every blog post for Belize.
Jack & Jill – These are my ex-property managers (names changed).  They are Canadian, they introduced me to Belize in 1997, sold me their house in Belize in 2003, and rebuilt my house from 2014 to 2018.  I have known them for over 30 years.  After almost 20 years of me supporting their life here in Belize Jack decided quite unexpectedly to declare "war" on me right before Christmas 2021.  They live on the farm, but not on my land.
Wayne – He is the son of the original owners of the farm (both owners are deceased).  The original farm was 2 – 30 acre pieces minus 2 – ¾ acre parcels for my house and 2 – ¾ acre parcels that Jack & Jill own which were all originally purchased from the original owners.  In 2017 Wayne sold me 40 acres of land from the original 60 acres (30 acres plus 10 acres).  Wayne lives in his parent house and has a few cows on his remaining 17 acres of land.
Nery – a local in the area that helps me with certain projects when needed.  A very knowledgeable guy originally from El Salvador. He teaching me a lot about farming and tree.
Derrick – a local in the village that helps me with certain projects when needed.  Mostly he helped early on after my arrival to Belize.  He doesn't help me so much into the future.
The ponds – I have 2 large (300ft long x 50ft wide x 10ft deep) ponds on my 30 acre parcel of land which is basically jungle.  I have about 60 coconut trees (mostly mature) around the ponds.  I have plans to plant a few hundred papaya trees here plus other fruit bearing trees around the ponds.
The coconut field – I have about 400 coconut trees planted (various growth states) on about 3 acres of cleared land of the 10 acre parcel.  I plan to add various fruit trees to the same field as soon as I can.
The river lot – my house sits on a ¾ acre lot.  I have a second joining ¾ acre lot that allows me river frontage on the Belize River
The dry – Belize has 2 main seasons.  The rainy season and the dry (no rain)
Chopping – using my machete to clear brush and unwanted trees