May 25
Km's Pedalled – 74 km's
Destination – 24 km's to Williams
Some Notes – A sunny hot day.  I started this morning with my last views of the Grand Canyon near the visitors center area of the park at Mather Point.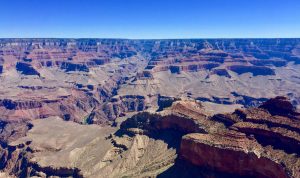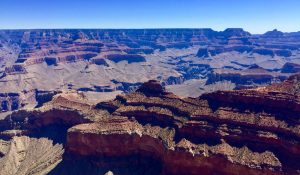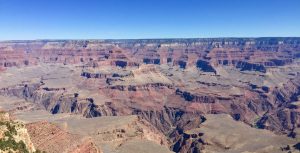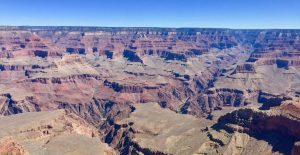 Parting views of the Grand Canyon
At 11:20 am local time I did a Healthy Way Vibes check-in.  I left the Grand Canyon at 12 pm.  There must have been a line up 2 miles long times two rows of cars waiting to get into the park.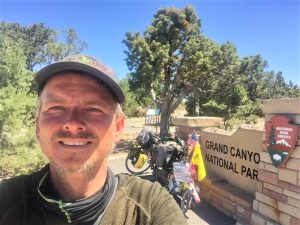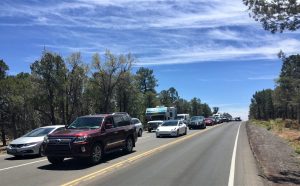 A long line up to get into the Grand Canyon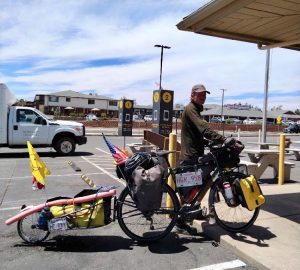 Always meeting people
I am headed towards Williams and my front derailleur is now giving me grief by not shifting nicely into the small ring.  There is a bit of wind heading south.  It was hard finding a place to camp tonight.  All the land is fenced off around here.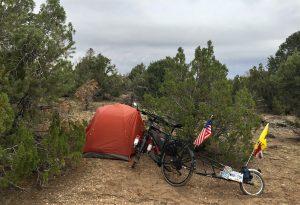 May 26
Km's Pedalled – 24.5 km's
Destination – Williams
Some Notes – A short but slow bike ride to the Loves Truck Stop in Williams.  16 days without a shower.  I think I keep breaking new records.  I am frustrated by the fact that they have no laundry here.  The rest of my entire day was consumed by organizing and then editing my photos.  I was able to edit all my photos since Moab except my Grand Canyon South Rim photos this afternoon and evening.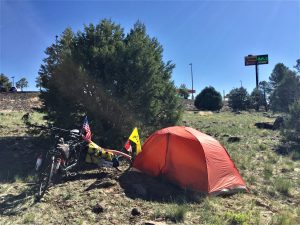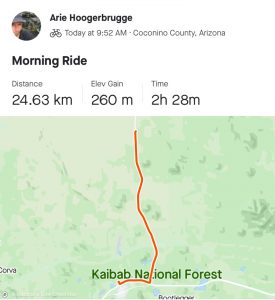 May 27
Some Notes – Last nights weather was quite cool.  Thank goodness for the sunshine but inside the truck stop is air conditioned so it is uncomfortably cool.  I needed to figure out some last minute Amazon purchases before Mexico.  That chewed up some time.  I was able to write up all my blog post up to date.  Unfortunately, without free wifi posting will need to be done down the road.  I then worked on editing my photos from the south rim Grand Canyon.
About 24 hours was spent in front of the computer over the last 2 days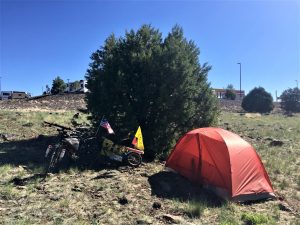 Behind the Loves Truck Stop
May 28
Km's Pedalled – 100 km's
Destination – Historic Route 66
Some Notes – Last night leaving Loves Truck Stop I had a soreness and pain in my inner thighs and rear hips.  I have never felt this kind of soreness or pain before.  I slept no problems last night but when I woke up this morning the pain was back and worse.  I couldn't even bend down to roll up my sleeping pad this morning.  I have no idea what is causing this.  I was quite worried and wasn't sure if I would be able to get on the road.   I biked into Williams for some groceries.  I noticed and seen something I have never seen before.  The cemetery in Williams is in the woods?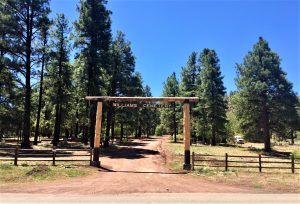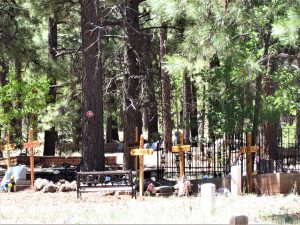 A cemetery in the woods
A good part of my day was biking Interstate 40.  I actually don't really mind biking on the interstate as there is generally very good shoulders.  I did come across a section of Interstate under construction that had a about a 300 foot section with NO shoulder.  300 feet of no shoulder on an American interstate shoulder is about as risky as it gets on a bike.  Thankfully the truck that came up behind me during this experience slowed right down.  You really do merge into the lane not knowing if you will still be alive on the other end of the experience.
I came into the town of Seligman to top up water and saw my first 2 real cowboys with gun belts.  The one guy had a gun belt like right out of the movies and bullets in his belt and was wearing spurs.  And his horses had rifle holsters with rifles in them.  Of course, I have seen American civilians with a side arm before but this was my first real cowboy.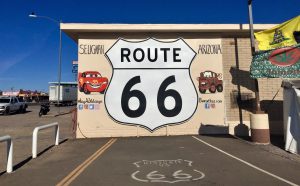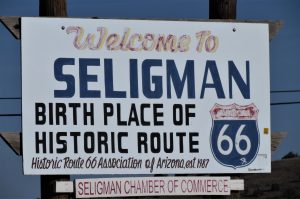 I bought a mango Pepsi and decided to take historic Route 66 to Kingman even though it means an extra 14 miles.  I am camped 50 ft off Historic Route 66 as everything is fenced pretty close to the road around here.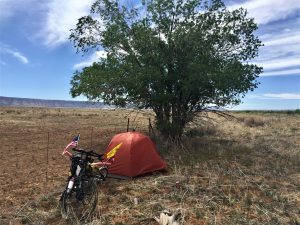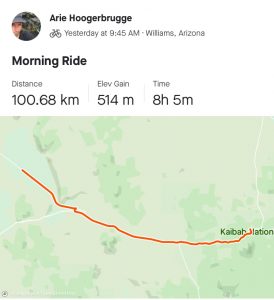 May 29
Km's Pedalled – 96 km's (Strava shut off for about 13.5 km's)
Destination – Kingman
Some Notes – After some late nights and early mornings I did not want to leave my tent this morning and the shade of a tree and breeze blowing through my tent accommodated my desires.  Ever since leaving the Grand Canyon the sun has my tent cooking hot supper early in the morning.
Last night was some of the most comfortable temperatures for sleeping that I can remember in a while.  This can only mean things are going to be getting warmer and then hotter.
Whatever soreness that attacked me in Williams seems to be gone.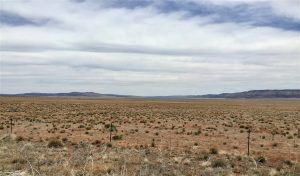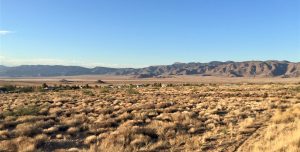 Vast & flat & full of prairie dogs
This section of country is vast, flat and full of prairie dogs.  Today was a rather uneventful day pedalling and listening to podcasts the whole day.  I ended up getting stuck in the dark and pedalling into the dark eventually finding a side road between homes and fences.  No cover to be found anywhere.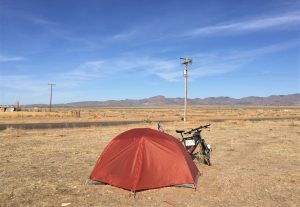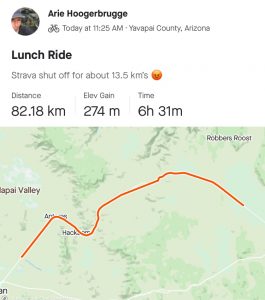 May 30
Km's Pedalled – 21 km's
Destination – Kingman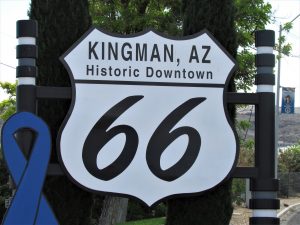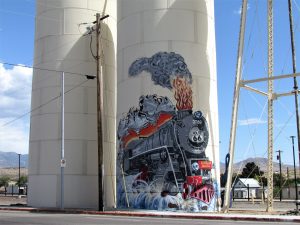 Some Notes – I did a little bit of shopping this morning.  I replaced my worn out pants and socks.  I also purchased an extra external drive.  I can't keep up with my photo and video uploading into the cloud and at the same time my computer and other external drive are always red-line full.  I have a rule – I require a minimum 2 back-ups until an image or video is officially in the cloud.  I can't ever replace photos or video footage of this bike ride if my computer or external drive failed me.  On my first bike ride in 2011 my computer died.  Originally, I was told everything was lost.  When I was finally able to get my computer back 6 months later (long story) I discovered the photos on my computer.  But I never forgot the near loss.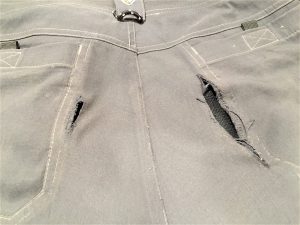 Worn out pants
I then made my way to the Flying J truck stop and grabbed a free truck stop shower.  Check out my blog post HERE on how to get a free shower at a truck stop.  This shower is probably the soonest shower I have ever had on my bike ride that did not involve a host.  I was also able to finally get a laundry done.
I spent the rest of the day and evening posting and publishing 5 posts – Utah Part 6, 7, 8 and Arizona Part 1 & 2.  I was even able to get a bunch of photos in the cloud with I did not think possible on truck stop wifi.
I left the truck stop at 12 am.  I am camped about a mile and half away in a large vacant field practically in the middle of town.  I don't know if I know anyone who would try camping here.  The temperatures are so mild/warm I am not using my (tent) fly.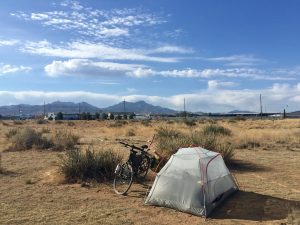 Setting up my tent I was reminded of spending New Year's Eve here in Kingman in 2015.  I got stuck in a snow storm in my truck the shut the interstate down and I spent the night at the Loves Truck Stop a few miles away.  The night was also significant because it was the first time I ever put on truck chains.  The weather and ice was so bad I watched about 20 trucks need and get towed in the truck stop parking lot.  And I realize that doesn't sound believable but that's what was going on and I wasn't about to run into the same problems.  So, I chained up in a truck stop parking lot for New Year's Eve and the next morning just drove away while everyone else needed a tow truck.
Arizona The Grand Canyon Part 1 May 17 to 20
Arizona The Grand Canyon Part 2 May 21 to 24