May 21
Km's Pedalled – 24.5 km's plus a ride all the way to the South Rim Grand Canyon.
Destination – South Rim Grand Canyon- Desert View Viewpoint
Some Notes – A late start this morning.  But I needed a light day anyways.  The sun is shining as usual.  But there is a lot of wind.
There is fine debris particles on my tent between my tent and tent fly and even finer debris particles inside my tent because of last nights wind.  I have had that in the desert with sand but never in a forest.
From the north rim Grand Canyon back to where I came out on Hwy 89A (on May 17) was a 100 km's backtrack.  I hope don't have to do another backtrack that far again.  And it's about 320 km's between the north and south rim.
The winds were strong getting on the road.  From the viewpoint of the Vermillion Cliffs valley, I could see a pretty miserable sand storm across the valley.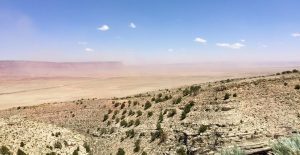 A sand storm at Vermilion Cliffs
I got a few miles into the sand storm when Don and Bridget Flake pulled up and offered me ride.  I had mixed feelings about accepting the ride from the actual need for a ride.  I mean it wasn't fun to be in the sand storm.  But from multiple perspectives I accepted the offer.  First, because they were really determined to fit my bike and gear in their truck.  Secondly, I try to connect with everyone I can.  Thirdly, I am actually anxious to get to Mexico sooner than later and fourth there was an aspect where it was potentially dangerous for me to be on the road.  The winds were super strong pushing me all over the road with virtually no shoulder.  And visibility was not great (because of the sand).
They had dropped one of their boys off at the north rim supper early this morning and were on their way to the south rim to pick him up later tonight.  They offered to take me all the way to the south rim.  I wasn't entirely sure if should accept or not but I decided I had no reason to so no.  Like I said I am trying to get to Mexico sooner than later and it's not like I am "trying to cross America."  I have actually biked more kilometres across America than I planned and more kilometres than America is wide already.
By car to drive between Vancouver to San Diego is 2,250 km's and from Portland to New York City is 4,700 km's.  So far I have biked (and hiked) about 6,900 km's.
There was a few really cool places along Hwy 89A I would have stopped to visit and take photos for sure.  But it was a sand storm so they would have been crap photos anyways.  So, I accepted the ride to the south rim saving me at least 200 km's and probably 3 to 4 days.  Hwy 89 and 64 did not seem to be the most interesting of highways either.  So it is what it is and I am at the south rim now.  Hwy 89 also looked pretty dangerous with 4 lanes of road and no shoulder.   So, I have to believe that by divine intervention the Flake's saved my life.
It's cold, windy and the first views of the Grand Canyon (south rim) are not great because of the sun's position and haze.  I am staying by the first view point tonight – Desert Viewpoint and will see what tomorrow brings.  I am going to bundle up to the best of my ability and sleep on the ground behind some juniper trees.  They are calling for a low of -2 to -3C tonight.  And even a bit colder tomorrow night.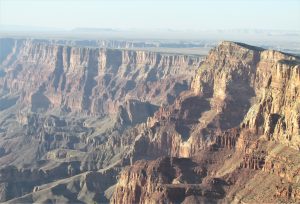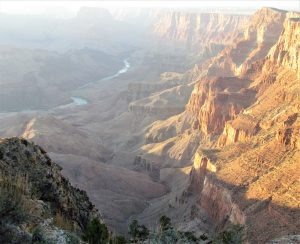 Hazy first views of the Grand Canyon from south rim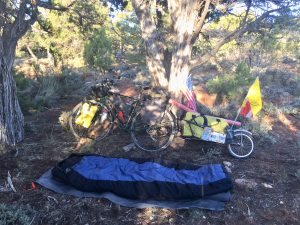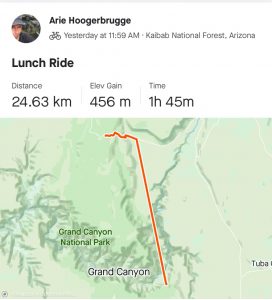 May 22
Km's Pedalled – 62 km's hike and bike
Destination – South Rim Grand Canyon in the forest inside Grand Canyon Village
Some Notes – A cold night last night.  The day started bright and sunny but turned cloudy.  A cool breeze most of the day.  It was an awesome decision to stay put yesterday (at Desert View viewpoint) as yesterday's haze cleared up nicely.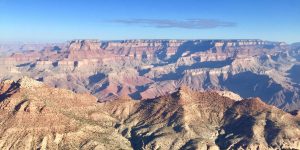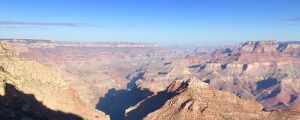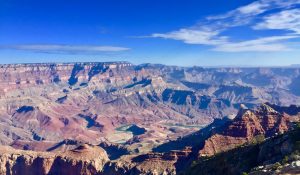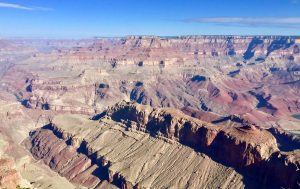 Clearer views from the south rim
I visited every viewpoint along Desert View Drive.  The south rim has tons of viewpoints unlike the north rim.
I also hiked the South Kaibab trail down to Skeleton Point.  A very different landscape and trail then the north rim trail.  It took me a little less than 4.5 hours to hike 9.6 km's back and forth (4.3 km's one way) with a 5,160 ft drop in elevation.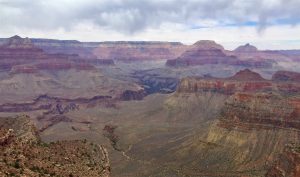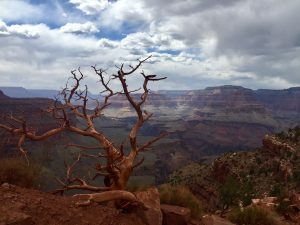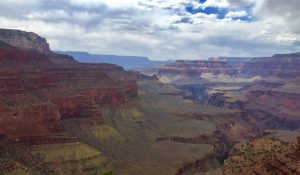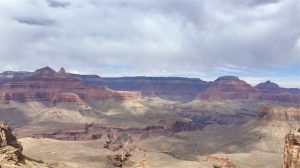 South Kaibab trail
My weather app says a low of -6C tonight.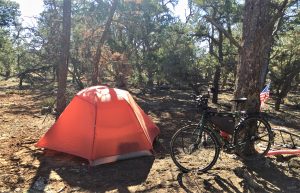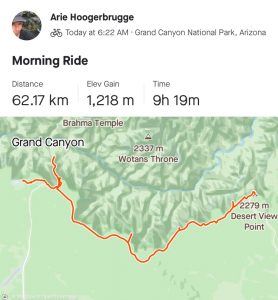 May 23
Km's Pedalled – 29.5 km's
Destination – South Rim near Hopi Point Viewpoint
Some Notes – Last night was not as cold as they forcasted.  After breaking camp and loading my bike I discovered a flat front tire.  I think this is only the second front flat tire in the US.  But this is not how I wanted to start my day.
I then discovered that I need to loosen my front rack just to remove my front wheel (a result of a front rack rebuild in San Francisco).  And then I cut my thumb knuckle in the exact same spot when I cut open my knuckle fixing my rear flat tire last week.
A guy walked past me while I was just starting to fix my flat and because I was still around by the time he got back from buying groceries he gave me a big package of cooked chicken legs.  What a score.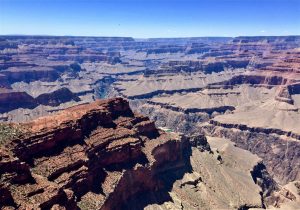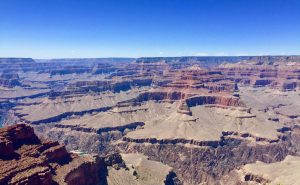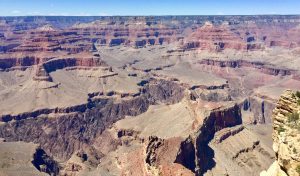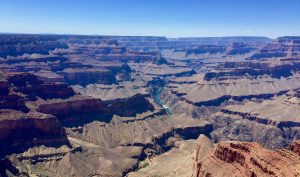 Today's views of the Grand Canyon
I am biking towards Hermit Rest at the far end of the park.  I met 2 couples (1 from Oklahoma and 1 from Virginia).  They asked about my ride and my bike overall.  I casually mentioned that I had no rear brakes.  The husband from Oklahoma offered to look at and help me with the brakes.  He ended up helping me to adjust them and I learned a few important lessons on adjusting and changing my brake pads.  My little daily headaches keep working out for me today.  I then continued to bike out to the end of the park.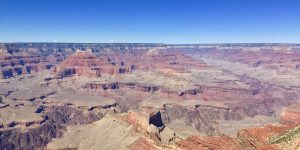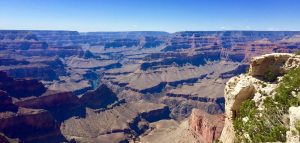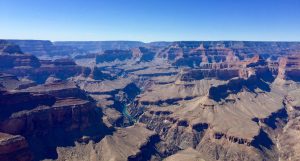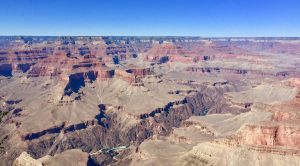 The Grand Canyon
Somehow my day got away from me???  I was planning to hike The Bright Angel Trail today and be ready to leave the park by tonight.  I ran out of daylight today.  I guess I am staying at the Grand Canyon one more night.  They are calling for a low of -3 tonight.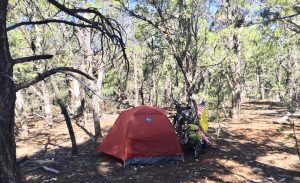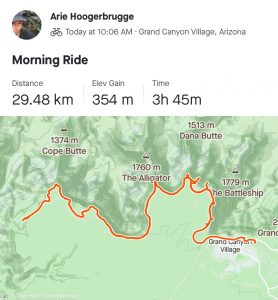 May 24
Km's pedalled – 25.5 km's (hike & bike)
Destination – Near the visitors center underneath the stars
Some Notes – My day started out with a Road Show with Brandon.  I than I hiked a portion of the Bright Angle Trail – the easiest hike of the 3 I did (at the Grand Canyon) and less beautiful.  The biggest difference was climbing out in the heat of the day.  It was a 17 km's/ 6.5 hours hike to Indian Garden and back with a 3,800 ft elevation drop.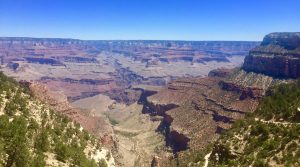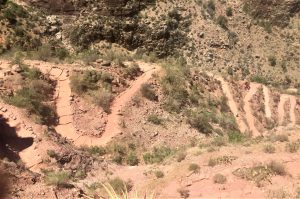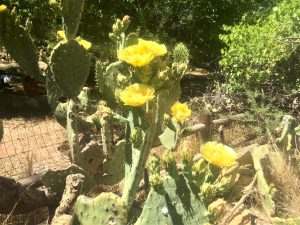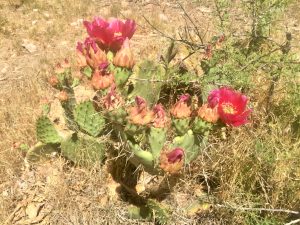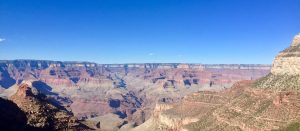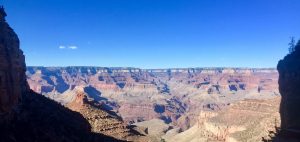 Bright Angle Trail
Between both Grand Canyon rims, I did 3 hikes of 49 km's in total.  The rim-to-rim hike is 38 km's.
I can now safely leave the US as I have now seen everything.  There was a guy hiking into the Grand Canyon wearing latex gloves, clear plastic bag/hairnet over his head/hair and complete full face respirator gas mask.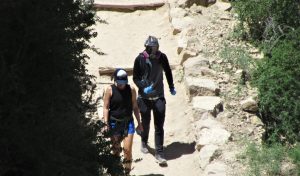 Latex gloves, plastic bag hairnet and full face respirator mask
I ran out of daylight this evening thanks to a phone call from my good friend Harry Ludwig.  So I am camped near the visitor center underneath the stars.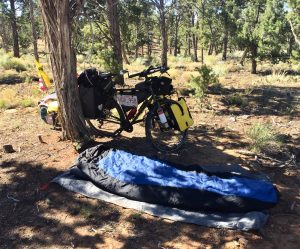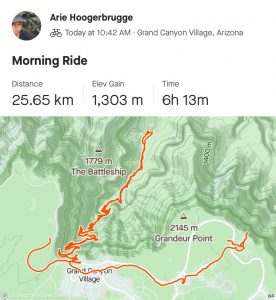 Arizona Grand Canyon Part 1 (May 17 to 20)
Utah Part 8 – May 16 & Summary