May 17
Km's Pedalled – 51 km's
Destination – Jacob's Lake
Some Notes – A very breezy morning and windy afternoon.  Today was a rough and physically demanding day and a very slow 32 km's over a bumpy hard packed gravel road.  And then 20 km's of climbing.  I am over 7,000 feet and in a regular forest now.  I haven't been in a forest since Bryce Canyon NP.  A very very long day.  My website is still down after 8 days.  I am at my wits end.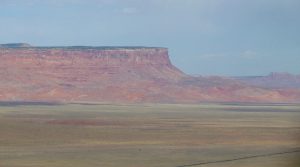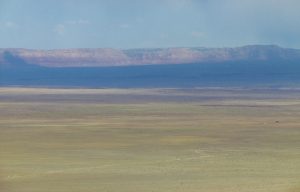 Vermilion Cliffs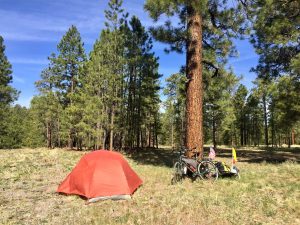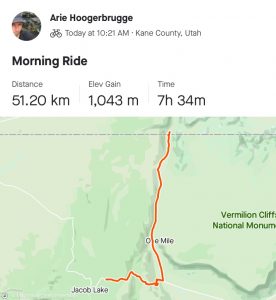 May 18
Km's Pedalled – 80 km's
Destination – North Rim Grand Canyon
Some Notes – Today I am 48 years old and my website is finally back up.  All I care about is my website is back up.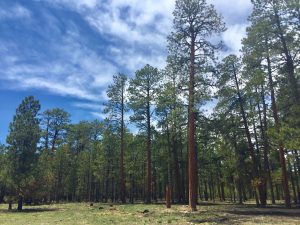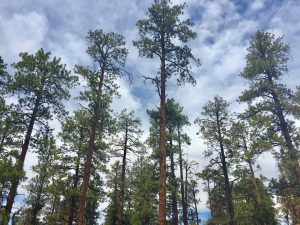 Back in the forest
It's so nice to be in the trees again and hear the wind through the trees and the sounds of forest (birds).  A physical day of up and down over hills.  Did I mention that it is so nice to be out of the desert?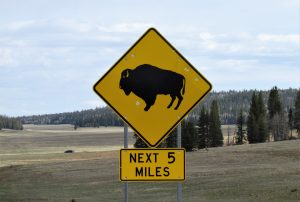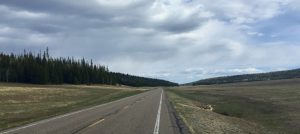 I never saw any but I didn't expect the sign either
Getting into the Grand Canyon National Park the elevation started dropping and dropping and seemed to never stop dropping.  I hate going down.  Everything that goes down must go back up.
I reached the Grand Canyon.  Five minutes into my views my parents called and sang happy birthday into the phone while I was getting my first views of the canyon.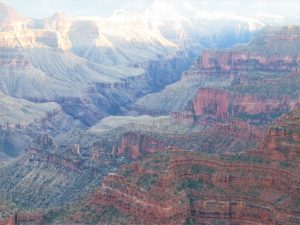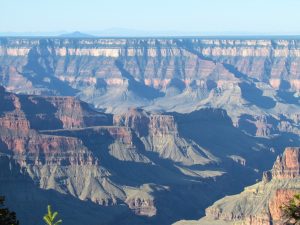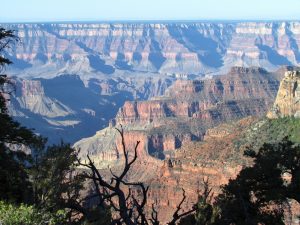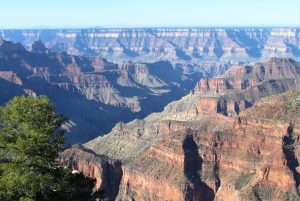 The Grand Canyon
Stealth camping is not an option near the main rim/view.  I waited until dark and then made super by some picnic tables and blew up my sleeping pad and am sleeping under the stars.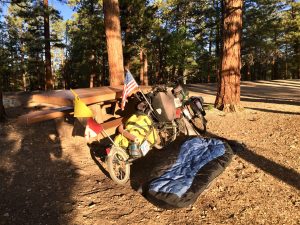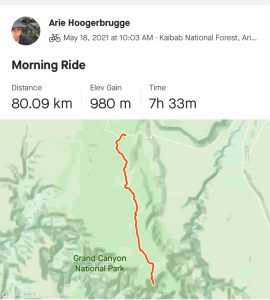 Some info on the North Rim
The Grand Canyon receives about 5 million visitors a year.  Only about 350,000 to 450,000 visitors visit the north rim.  The north rim is also closed between mid October and mid May due to snow and is about 1,000 feet higher in elevation.
May 19
Km's Pedalled – 30.5 km's (mostly hiking)
Destination – North Kaibab trailhead
Some Notes – I can smell myself this morning and I camped under the stars!?!
Looking out over the Grand Canyon this morning I realized reaching the Grand Canyon is sort of a big deal and an accomplishment and maybe even surreal.  Somehow different than all the other national parks I had just finished visiting in Utah.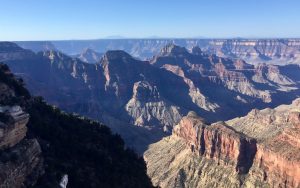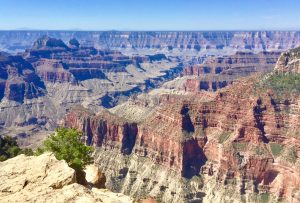 The Grand Canyon
I continue to meet a lot of people thanks to my bike and trailer.  Rich and Kay from Scottsdale AZ bought my breakfast this morning
There is only so much to see at the actual north rim so I decided to hike the North Kaibab trail into the canyon.  11 km's DOWN to Roaring Spring (destination) and then 11 km's back UP to my bike.  I was going to shower first but the showers were closed.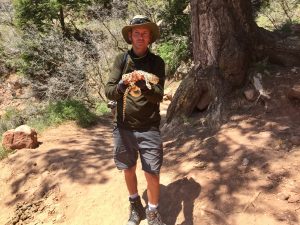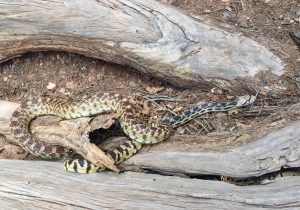 I found a bull snake!
I found a bull snake!!!!  I was desperate to find one since Alberta.  I have seen a few dead ones on the road in Alberta and Utah.  Because I used to sell them and use albino bull snakes for reptile shows I so desperately wanted to find a live one.  I ended up doing little reptile shows for the people walking by on the trail.  She was a female 5 feet long.
Between arriving at the Grand Canyon and my parent singing happy birthday last night and finding this bull snake I wont soon forget 48 years old.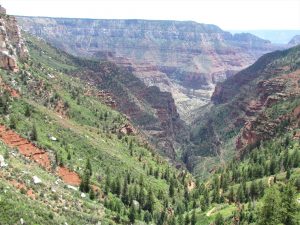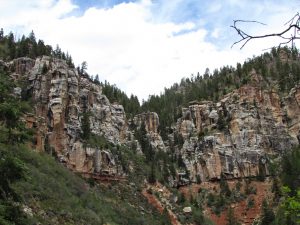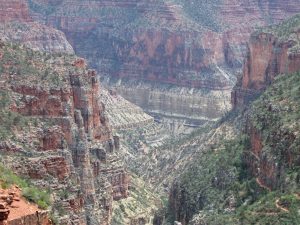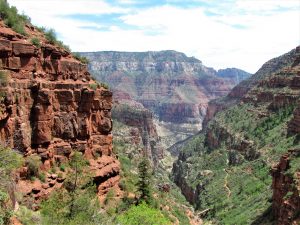 North Kaibab trail
There was no Roaring Spring, possibly a spring, but not roaring.  It's kind of crazy to realize I am half way to the bottom of the canyon.  It's not across to the south rim but it's a heck of hike.  It was very windy in the canyon but temperatures were great.
Elevation Stats – 8,250 ft elevation trailhead // 5,200 ft elevation at Roaring Spring (3,000 ft down & 3,000 ft up).  The Colorado River is at 2,400 ft elevation.  Trailhead to the Colorado River is 5,850 ft.  Therefore, I hike halfway down the Grand Canyon.
I am camping/sleeping right beside the trailhead access under the stars without a tent again.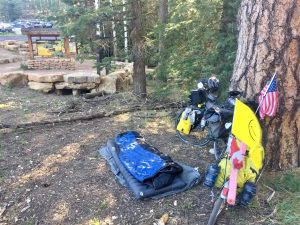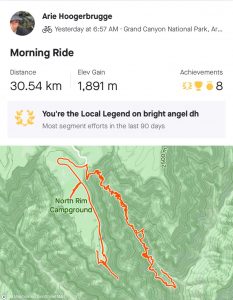 May 20
Km's Pedalled – 101.5 km's
Destination – Jacob Lake (I am camped across the road from 3 nights ago)
Some Notes – I got up at 7 am.  I could hear people were hitting the trail before 5 am
I biked up to Point Imperial.  Imperial Point is the highest point in the Grand Canyon at 8,803 ft/2,683 m. I figured I should check out one more part of the north rim before heading to the south rim.  It's a 14 km's one way road to the highest Grand Canyon view.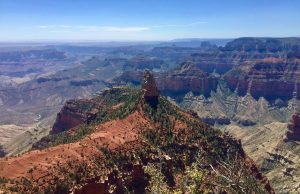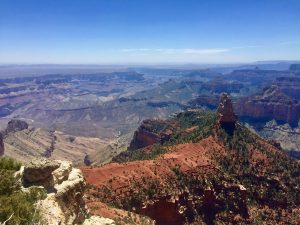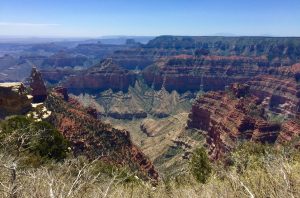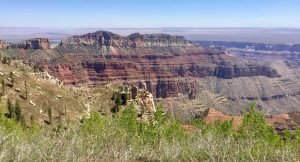 Point Imperial
It was wickedly windy.  I was only up there for 30-40 minutes before I turned around and headed back.
Many times today I would have to simply stop biking for a few moments or risk being blown off the road.  Sometimes it would be a headwind and I actually started pushing bike at one point because it was easier.
I stopping at the restaurant/lodge/grocery store in Jacob Lake and I continue to smell myself (indoors).  I had no expectations of reaching Jacob Lake tonight.
Two very physical days in a row.  Yesterday was a huge hike and today I can't believe I broke 100 km's with some serious elevation.  It's been a long time since I broke 100 km's.
The wind is wicked sounding tonight from my tent.  I hope a tree doesn't come falling on me.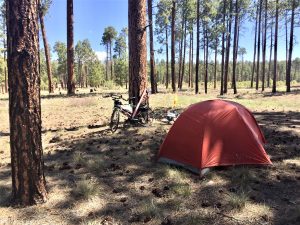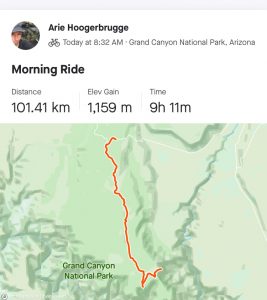 Utah Part 8 – May 16 & Summary