May 11
Km's Pedalled – 88.5 km's
Destination – between Bluff & Mexican Hat
Some Notes – A different day than yesterday but another physically demanding day.  Cool temperatures this morning again but with full sunshine.  The sunshine makes all the difference.  Not nearly the climbing as yesterday but still enough climbing.  The landscape was far vaster with a fairly strong crosswind most of the day.
The temperatures got much warmer into the afternoon and the sun was on me all day.  The area around Bluff is quite beautiful but a few miles after leaving Bluff came an unending climb.  All the elements plus pushing the kilometres has me pretty beat.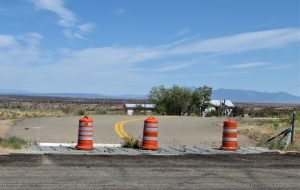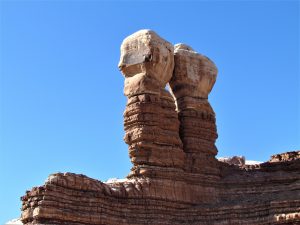 Navajo Reservations are closed  //  Twin Rocks – Bluff
Four Corners Monument is closed. That sucks.  Four Corners Monument is where the corners of Utah, Colorado, New Mexico and Arizona meet.  The monument is run be the Navajo Indians.  Everything Navajo is closed I think until September.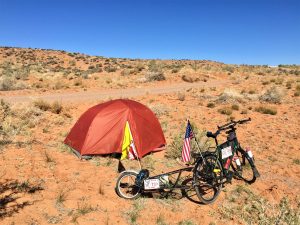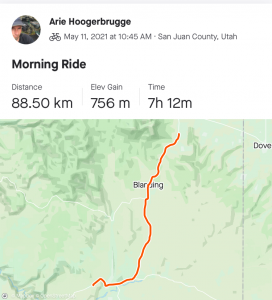 May 12
Km's Pedalled – 55.5 km's Utah & 6.5 km's Arizona
Destination – just into Arizona
Some Notes – I had to drag my butt out of bed.  The sun was out in full force as common in the desert so I was pretty sun burned by the end of the day.  There was some climbing but not as hard a day as the past few days.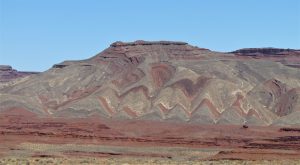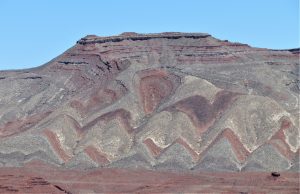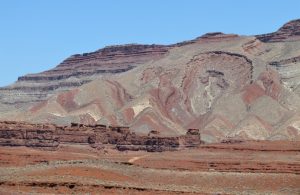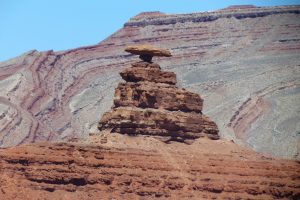 Mexican Hat Rock
I met a van-traveler named Barry at the junction of Valley of the Gods.  He basically said I was looking at them from where we were.  There was a gravel road that went for miles and miles and eventually switchbacked up a mountain which gave you a great view of the valley but that was it.  We talked for well over an hour so I decided to bypass Valley of the Gods all together.
I biked through Monument Valley into Arizona.  The photos would have been better with some clouds and position of the sun.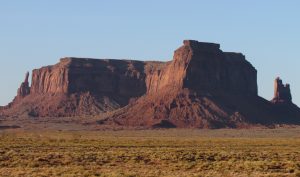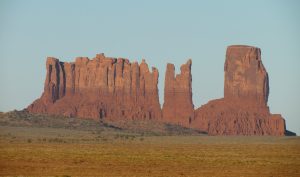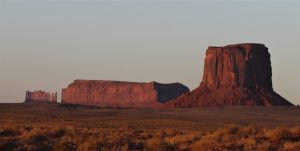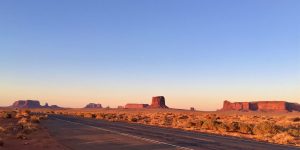 Monument Valley
I didn't think about the fact I was leaving Utah and am now in Arizona.  I still have a few miles left in Utah on my way to the Grand Canyon.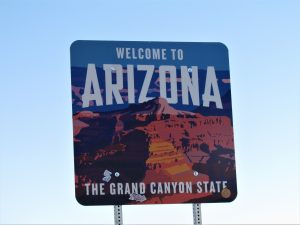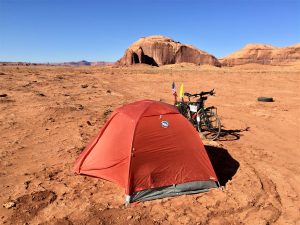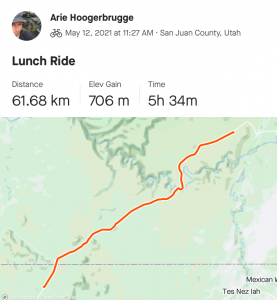 May 13
Km's Pedalled – 71 km's
Destination – On Hwy 160 not too far from Hwy 98 Junction
Some Notes – I had to drag myself out of bed again this morning.  A lot of traffic last night went down the dirt lane I was camped nearby.  It turns out that there was a bunch of Navajo homes at the end of road.  And a dog visited my tent last night and barked me out of my sleep in an instant and then he disappeared???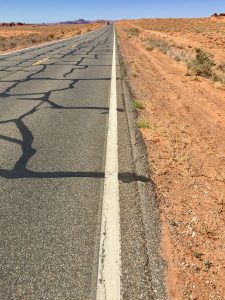 No safe shoulder in Arizona
A hot sunny day with highs in the mid to high 20's Celsius.  So not horribly hot by any means, but the sun is very intense.  Sun glasses are mandatory every day and the sun washes out the colours of the landscapes.
In a Kayenta an old Navajo man asked me for food because he was hungry.  I gave him a can of chilli and a box of Kraft Dinner.  He went under a tree and ate the chili cold right out of the can.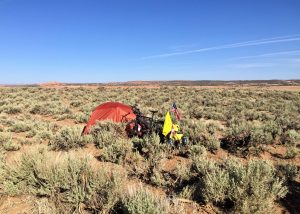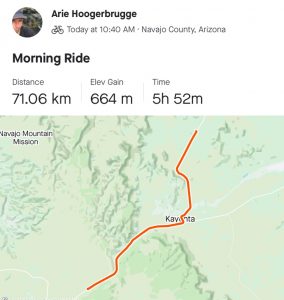 May 14
Km's Pedalled – 91 km's
Destination – 30 km's to Page
Some Notes – So four days ago I decided that I could not eat another box of Kraft Dinner even if it meant starving.  And then the next day I came to the same conclusion about fried eggs for breakfast.  And now this morning I reached the point of throwing up at the thought of another bite of hot dogs.  So basically all I have left to eat is chunky soup.
A mostly frustrating day.  My website has been down for almost 5 days now.  I discovered what I think was a flat tire on my rear wheel but when I pulled it all a part, I couldn't find a leak.  So, I filled it with that tire slime that I picked up in St George and continued on my way.  This would be my first rear flat tire since receiving my (rear) puncture resistant tire in Saint John New Brunswick.
I couldn't find a camping spot either and ended up biking into the dark a ways.  This whole highway is fenced off.  I am camped way too close to the road so tonight will be noisy.   I was in no mood to eat either.  It was going to be chill or chilli so what's the point.  I listened to podcasts most of the afternoon to distract me from frustrations of my world.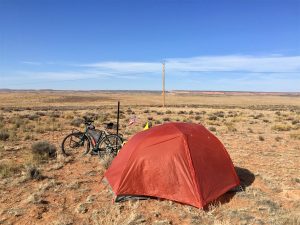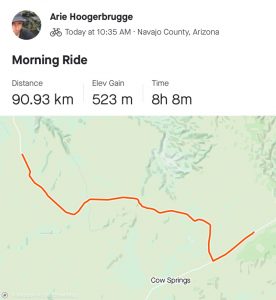 May 15
Km's Pedalled – 54.5 km's Arizona & 29 km's Utah
Destination – Cottonwood Canyon access in Utah
Some Notes – My rear tire seems fine this morning.  Another sunny day with some clouds to enhance the blue sky.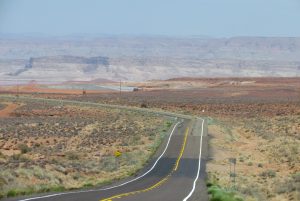 Antelope Canyon was closed due to Covid-19.  As mentioned earlier all Navajo parks are closed.  At first I was not happy about this.  I have seen enough photos of Antelope Canyon to know it's worth the visit.  [Later on, I researched to find out that it costs $38 to get in!!!!  Now I am thankful that it was closed so I can blame Covid-19 and not my cheapness.]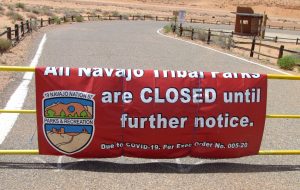 Antelope Canyon – closed
I made it to Page by lunchtime.  It wasn't until after I went shopping for food did I decide to go north on Hwy 89 to go to the North Rim of the Grand Canyon.  Last minute I decided I was going to go south on Hwy 89 to go to the North Rim and then very last minute I changed my mind again.
This also gave me an opportunity to see and visit the Glen Canyon Dam and Lake Powell.  And because I am north on Hwy 89 I am also back in Utah once again.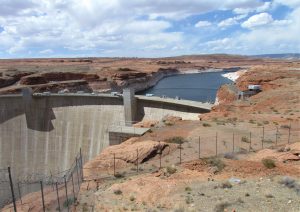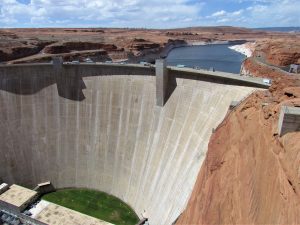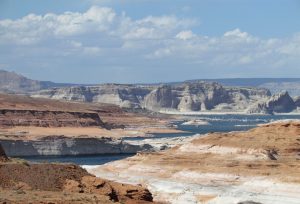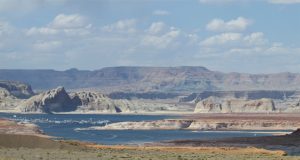 Glen Canyon Dam & Lake Powell
I bought way too much food. You would think after a year of buy groceries on the road I would have figured this out by now.
I continue to meet people every day and over the last few days people have even stopped on the side of the road to see if I need water or food.  A cop even stopped to ask me if I realized how isolated Hwy 89 to Kanab was. Then he wanted to know if I was armed (against people and dogs).  I said I was Canadian. We don't worry about arming ourselves against people.
Is it okay to document that a girl (and her female friend) pulled over to give me some water and granola bar?  But more importantly she had a really nice smile.
I am camped in a parking lot of an access road to Grand Staircase-Escalante National Monument Park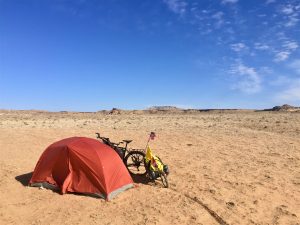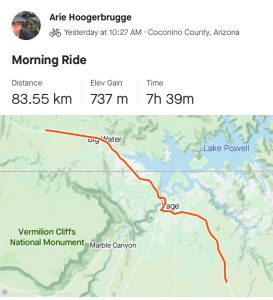 Utah Part 5 (April 30 to May 2)