April 30
Km's Pedalled – 74.5 km's (with a little hiking)
Destination – camped within a mile of yesterdays spot
Some Notes – A sunny hot day.  Little did I know that a mile up the road that most of the climbing from yesterday was about to come to an end.  As far as elevation gain there was one main climb in the day and the rest of the day was pretty much rolling hills.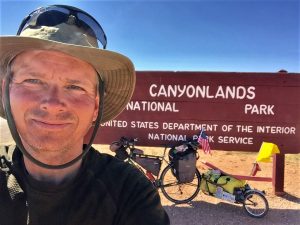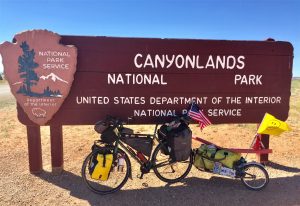 I was surprised to be charged a $15 entrance fee as a cyclist into Canyonlands National Park as I was not changed at any of the other national parks in Utah.  I ended up getting through and seeing all the main attractions the park offered.  While there are hiking trails in the park most of them are not necessary for a cyclist because all the best views are just off the main roadway such as Shafer Canyon Overlook.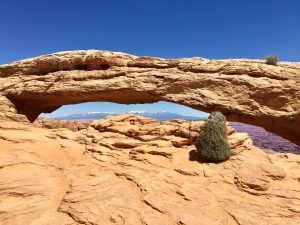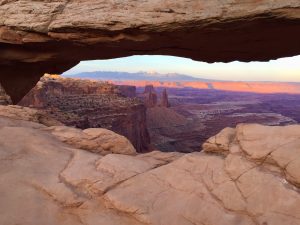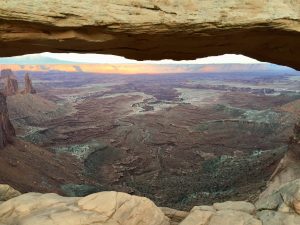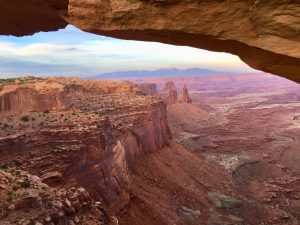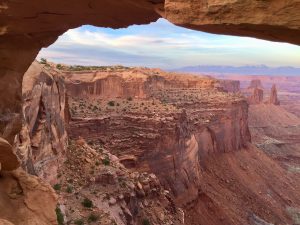 Mesa Arch
It's a different kind of park then the other national parks visited because it was almost like pasture land between the canyon views.  I highly recommend doing the short hike to Mesa Arch.  I also did hike out and recommend hiking the Grand View Point Overlook at the very end of the highway.
I was going to check out another side section of the park towards Upheaval Dome but at the Grand View Point Trail head I met some guys (& a gal) from Montana.  Which turned into a cold beer, a gift of an inflatable sleeping pad and a fancy chocolate bar from Guatemala.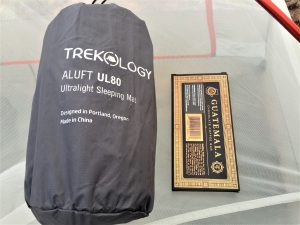 Inflatable sleeping pad and chocolate bar from Guatemala
But by the time we parted ways and I got back on the road to head towards the park exit the sun was too low to have any expectations of any good photos on the western canyon side.  So, I ended up revisiting Mesa Arch on the east side for different photo options due to the suns current position.  This actually turned out to be a good idea as I ended up getting the best photos of the whole day in that 20 minute revisit.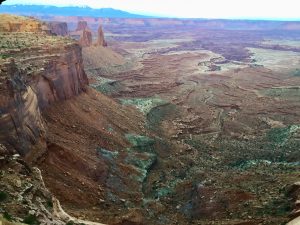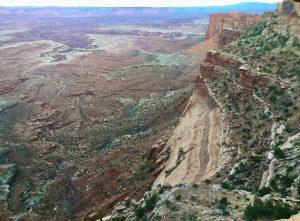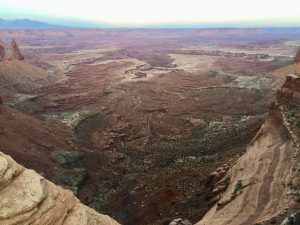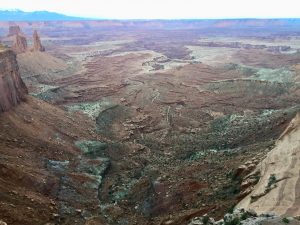 From Mesa Arch
It didn't take long to get dark and I biked 20 km's in the dark plus I made super at the visitor center to take advantage of the picnic tables.   By the time I was out of the park with my tent set up (only about a mile from last's nights camping spot) it was midnight.
Yesterday and today were very long days. I posted 387 photos from Canyonlands NP to Flickr.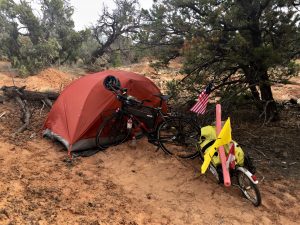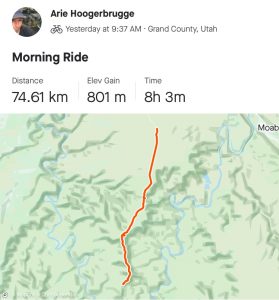 May 1
Km's Pedalled – 61.5 km's hiked and biked
Destination – almost in Moab
Some Notes – It was a $4 admission fee for a cyclist to get into Dead Horse Point State Park.  A much smaller park than Canyonlands NP but one I think that you want to spend more time hiking.  I did a good few hours of hiking around the actual Dead Horse Point.  I also continue to meet lots of people interested my bike ride.  I posted 245 photos from Dead Horse State Park to Flickr.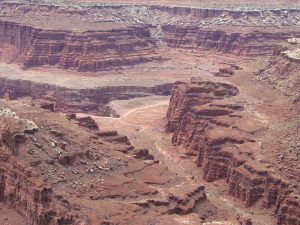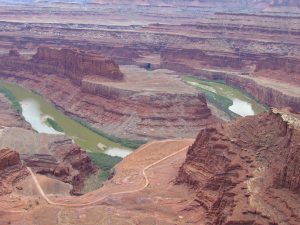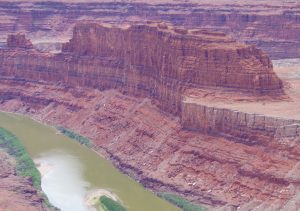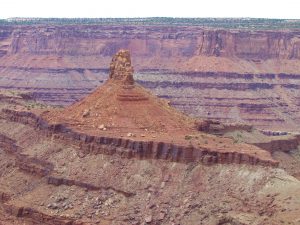 Dead Horse State Park
A sunny hot day and I had a wicked crosswind leaving the park that became a great tailwind going down the mountain towards Moab but than became a headwind when I reached the bike path that paralleled along Hwy 191.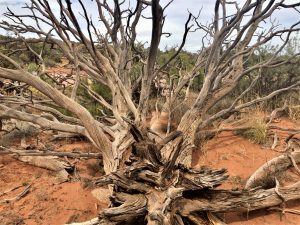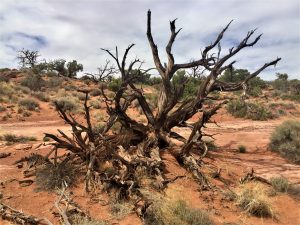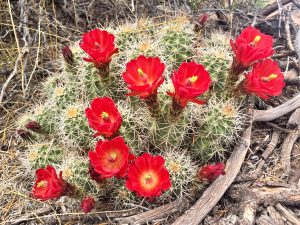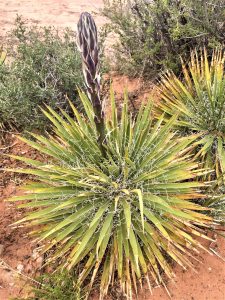 The desert is in bloom
I had planned to go into Moab and pick up supplies for Arches NP tomorrow but it was too much after such a long day yesterday and day before.  I found a good enough hiding place along the bike path just before Arches NP entrance to camp and that was good enough for me.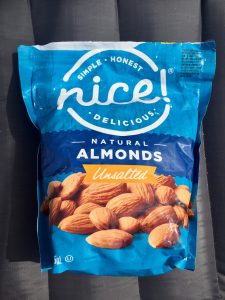 Today's random gift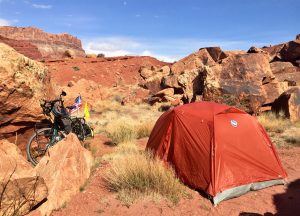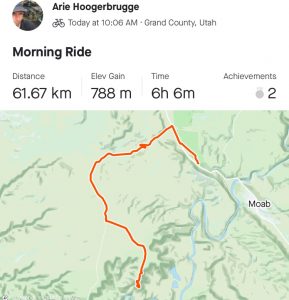 May 2
Km's Pedalled – 55 km's hiked and biked
Destination – a 4×4 road across from Balanced Rock in Arches NP
Some Notes – After all these past long days I was in no mode to get out my tent this morning.  Thank goodness it's Sunday and a day of rest.  The slight cloud cover and temperatures actually allowed me to sleep until 10am.  I am sleeping way better with this new blow-up sleeping pad.  But it does take a bit of air to fill.
Most of today was about frustration and changing my attitude wasn't going to help.  I got a very late start and then I had to bike 13 km's back into town for groceries.  I was going to go to McDonald's for breakfast/lunch until I saw the drive-thru lineup.  I went through this a few days ago already and I wasn't going to make the same mistake twice.  I went to Wendy's and I gave up after the drive thru line did not move for over 20 minutes.  Great, nothing to eat all day and now I have to tackle the switchbacks into Arches NP with no food in my stomach.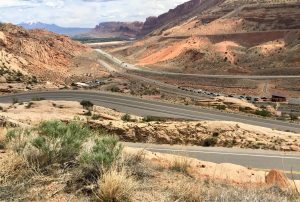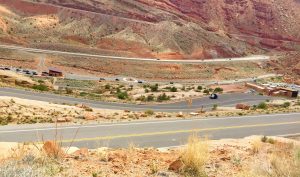 Switchbacks into Arches National Park
Fortunately, there was no admission charge for me to enter the park with a separate bike path entrance.  And fortunately, the switchbacks are never as bad as they look.  But beyond the switchbacks was uphill for what seemed like ever and ever.  And then the weather hit.  I had to suit up in my rain gear for about 20 minutes and stand in the rain.  But after that cleared and I was back to climbing and climbing and then the headwinds hit with full force.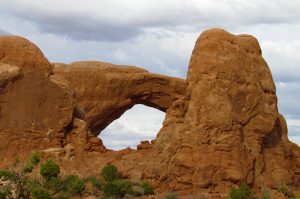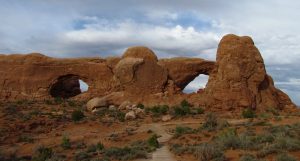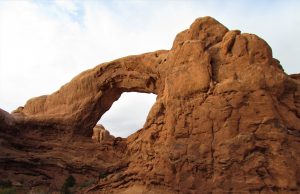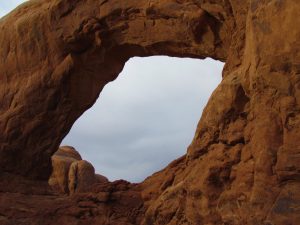 North & South Windows
Because I would be camping near Balanced Rock I biked straight to the North and South Windows, Turret Arch and Double Arch to check that area out first.  That was about the best part of my day for sure.
I was on a 4×4 road by Balance Rock right before dark and found a place to camp just as it started to rain again.  I needed to camp on the rocks because the rain had turned the desert to mud.  I can't stake my tent and the wind is blowing the tent in on its self.  And now with the wind blowing and I can't make super.  And I end up having to switch places with my gear and sleeping pad "inside my tent" because of a hump of a rock near the center of the tent.  What a nightmare.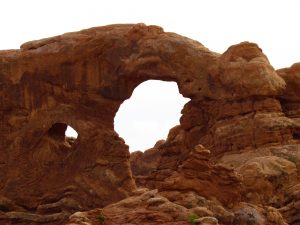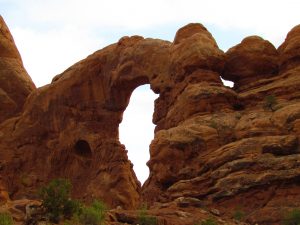 Turret Arch
I decided right before bed to go back out side and make super as my hotdogs were only going to last until breakfast and I could not eat all 8 hotdogs for breakfast.  And then getting back into the tent I sat on my buns for tomorrow's breakfast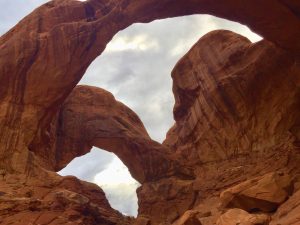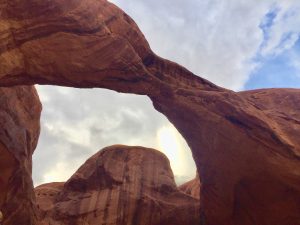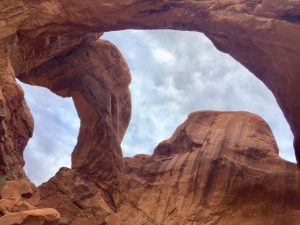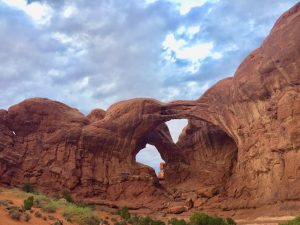 Double Arch